A few days ago I was waiting for the bus in the ridiculously long line at Beşiktaş Square – some mornings the line turns around the whole square and forms surrealistic spirals – when a guy just cut a few places in front of me. That was followed by a general silence and a tacit acceptance of his outrageous behavior. Then, I surprised myself by telling him off. A half-voiced "Sıra var, abi" got out of my mouth. In an ideal world, I would swiftly admonish him and send him on his way to the back of the queue, to the crowd's acclaim. Of course, in the reality of Istanbul, my weak complaint was received with some shy nods, and the guy still jumped the queue and got on the bus anyway.
At that very moment I had two choices –which crossed my mind like a cheap version of "Sliding doors." I could either confront the guy and start a fight (and get my ass kicked, as he seemed the kind of "kıro" guy really up for a fight). Or I could come to Yabangee and rant about it in a passive-aggressive piece with futile results. I enjoy writing and I am chicken, so I chose the second option.
So, what more unhealthy way to transform my frustration and negativity than writing my own rules to queue in Istanbul? Because in Istanbul, everywhere is a queue: queuing is almost a way of life. I am aware that some of the behaviors I describe here are not at all exclusive to Istanbul. But after three years of admiring the curious human behavior behind the act of forming a line I decided it was time to leave proof of some of the ludicrous situations I've encountered. So here is the list of the rules of etiquette for queuing properly in Istanbul. And remember folks, this is just for giggles: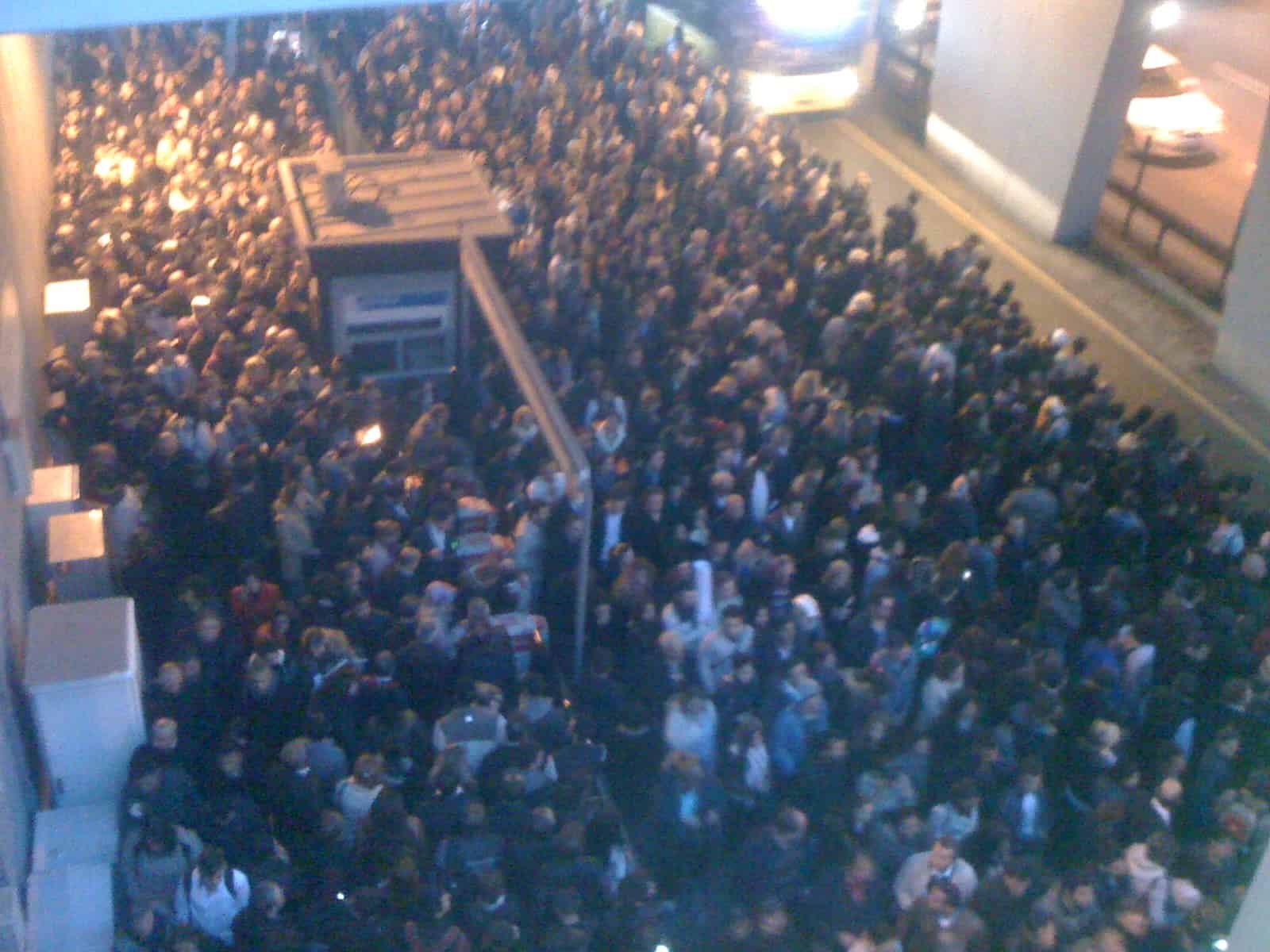 If you are waiting in line to exit a ferryboat, it's allowed to form a second line parallel to the main one to test if two people can fit at the same time through the tiny doorway.
When standing in line to board the metro, you are encouraged to get on the train as soon as the doors open instead of letting passengers get out first, because this totally makes sense.
If you are queuing to board a bus, it's acceptable to align yourself next to the person in front of you, start talking loudly on your phone and sneak in first.
Be aware that there is not just one queue to access the bus, but a range of them according to which side of the street from which people are approaching. Priority is assigned according to your level of strength to claw your way in.
During the boarding of a transportation vehicle, if the person in front of you takes more than half a second to place their Istanbulkart on the electronic reader, it's permissible to scan yours first and cut the line because God forbid you have some patience. Also, if the person in front of you has an insufficient amount on their card, please grumble loudly.
While waiting in line at an ATM. it's understandable that you leave no space between you and the person completing their transaction so you can properly check their financial status.
When you have to wait in a traffic jam, the general rule is whoever honks the most has priority.
If you are elderly, especially a teyze, you can directly jump the queue. Then, when someone objects, you can act surprised and reason that you didn't notice the long queue and/or you thought it was a different line. Next, display an adorably naive attitude, remain there and cut the line.
When waiting for a taxi, it's acceptable behavior to walk against the flow of traffic to gain a positional advantage, wave your hand at the oncoming taxi and proceed to skip the line.
For every situation above, the general the rule is: Don't be patient. Forget that everyone's in the same boat and always display exasperation and aggressive behavior.
So what do you think dear readers? Did this list leave out some odd behavior? Share your funny stories in the comments.