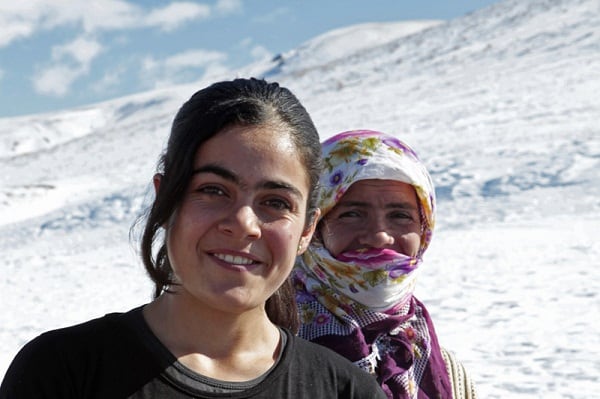 You might have already noticed that Istanbul is a place that can be hard to comprehend. Thousands of years of history, millions of inhabitants, and uncountable overlapping cultures come together in this one spot.
Like any other expat, though, I'm trying my best. In my most recent approach, I figured that to understand a society, it can be advisable to shift perspectives.
With this in mind, I attended a documentary screening plus discussion in Kadıköy's Akademi Café. The event was arranged by ONAR, a newly-founded women's network that focuses on cultural mediation and social issues. Sometimes, and that day was such a case, they also dive into feminist matters.
The documentary, an independent project called "Girls of Hope," carried us to rural landscapes in the province of Van. Snowy highlands, stone cabins with little to no furniture, families with seven, eight or nine children sitting on carpets; their world resembles the scenery in the movies of Yılmaz Güney. The men of the house sit and drink tea, the women deliver it. Here, we meet young girls dreaming of schools.
Illiteracy rates among women reach 45% or more in some provinces. The distance of girls to education, and the resulting distance to power, is the subject of the film. The concrete impact of said distance becomes visible in the fears of the "girls of hope." Being married off to strange men in their teenage years, for example. Although marriage before the age of eighteen is forbidden under Turkish law, it happens nevertheless. Assuming the role of a mother and housewife in the early teenage years often deters the girls from further studying and eventually, from their own career. One of the girl's mothers, we learn, never left her husband's property during their entire marriage.
Besides the considerable financial implications (books cost money, plus those children attending school might be needed to help or work at home), it's also an issue of attitudes; many do not consider it appropriate for girls to go to school. During the documentary, a father describes how he was the first in his village to break the tradition and allow his daughter to study. A female alone outside of the house, not under the control of men, is in itself a danger to the namus, the family honour. The life of the girls we see in the documentary are often left to choose between arranged marriage at young age or the other path, the unspoken one, the warrior's life in the mountains.
Here, CYDD (Çağdaş Yaşamı Destekleme Derneği) enters the stage, adding a third option. This NGO is providing scholarships to young girls yearning to go to high school and beyond. Small amounts of money with heavy weight.
The viewer of documentary is bound to notice the dedication, the stubborn will the girls put into their dreams. There is a girl walking six kilometres through ice and snow to her school daily, and enjoying it. Another girl is seen every morning milking the cows — the family's lifelines — before heading to class. Another student has trouble with her neck because, in the absence of a table, she can only study on the floor. The film lets the girls speak for themselves, free to tell their own stories, which they do in an emotional and touching manner. These young women were born into a life of nothing but hardship. They fight to get more out of it.
While there is a lot of support from the families, there is also resistance. The film shows two teenage boys trudging through the snow, pondering over the pros and cons of sending girls their age off to school. On one hand, yes, girls should be allowed to get educated, as it might help them escape the challenging village life. But no, they might also learn the wrong things, bad things, and end up making out with boys.
At one point, a CYDD worker tries to persuade a young man, perhaps seventeen, to allow his sister to attend school. A lot of people are around, and they also question him about why he won't let his sister study. But the boy, unable to articulate himself, can only repeat one sentence again and again, like a barrel organ. No, is what he says, I don't want that.
The villagers later exchange theories about why he doesn't give in. Maybe he's jealous about the scholarship, or he wants to trade his sister for berdel, the practice of exchanging a young girl from one family with another family's daughter, each girl becoming a bride to one of the other family's unmarried men.
We had little more than a glimpse into the lives of the people shown. And while the villagers' theories about boy's lone defiance might be true, I'm inclined to read something else into it.
The boy is unemployed, without ambition or perspective. He can't contribute to his community. All he has is this decision over his sister's fate, given to him by a patriarchal tradition as old as the mountains themselves. If the boy gave away this power, he would be left with the void. Useless for the family, without a say in the community. The boy is, by his own means, a prisoner himself, born into a role he wasn't free to pick, nor one that he is suited for, but around which he constructs his and his sister's identity. The burden put on his shoulders pins him to the ground.
I left the screening with two thoughts in my head.
First of all, I didn't really plan to go to an event about education for girls and leave pondering the roles and expectations of men and the impact these could have, but here I was. The thing with gender issues is that once you start seeing them, they're kind of everywhere. The day after the screening, the gruesome death of Özgecan Aslan was in the news. Didn't patriarchy, the assumption that men should have power over women, play a role in this crime, too?
On the other hand, a much more delightful revelation spiraled through my synapses after ONAR's movie time. How enlightening to attend an event so different from my usual field of work, how inspiring to relate what I saw to what I know!
This is an appeal I make to anyone living in a place as heterogeneous as Istanbul; it's the perfect opportunity to broaden your horizons. You can stumble upon lots of workshops, seminars or discussions organised by one or the other myriad interest groups that make up the leviathan that is Istanbul. For sure, you will find something unexpected to learn.
—
ONAR is regularly organising events and workshops, such as another movie screening in Kadıköy on the 10th of March. You can follow and contact them via Facebook: https://www.facebook.com/nardernek.
The team around "Girls of Hope" offers more information on the movie and their book on their website: http://girlsofhope.com/. They can also take any requests regarding CYDD.
Lukas Knopp is a blogger (livefromfaraway.wordpress.com) and contributor to Yabangee

Featured Image Source: Girls of Hope