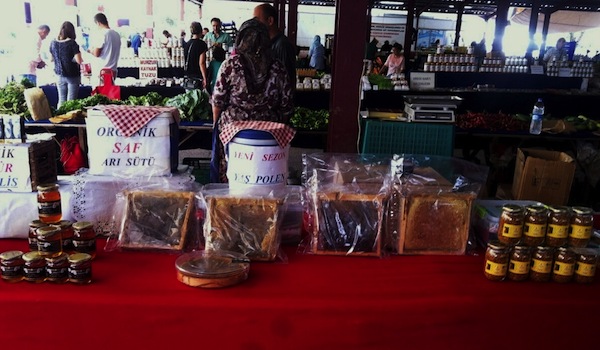 One of the great things about living in Istanbul (and Turkey more generally) is the incredible produce. Turkey benefits from more than a million acres of arable land, of which more than 75% is dedicated to crops. Out of this surplus has sprung a vibrant organic agricultural market, which has been developed over the years to meet the demand for such products from European countries. Major exports include nuts, herbs, honey and fruit juices.
The domestic market, however, is much luckier! Organic farmer's markets in Istanbul are usually filled with varieties of seasonal produce, cheeses, meats, eggs and even cleaning products. The purveyor of these weekly markets, The Buğday Association, has been in the business of establishing 100% Ecological Markets for the people of Istanbul since 2006.
The Buğday Association, founded by Victor Ananias in the 1990s, all began in Bodrum as a small booth at the local bazaar. Eventually, the booth became the Buğday restaurant and served local and seasonal dishes. In 2002, the restaurant officially transformed into "The Buğday Association for Supporting Ecological Living," thus becoming an umbrella organization for a host of projects. Today, the Association is known for its work regarding Organic Agriculture (100% Ekolojik Pazarları), Eco-Agro Tourism (TaTuTa), Ecological Living (Çamtepe Rural Center for Ecological Education and Research), Agro-Biodiversity (Seed Exchange Network) and Urban Agriculture.
In 2010, the Association added its 5th organic market in Istanbul to the list. Below you can find days and directions to organic markets which are generally held once a week.
1. Şişli (When: Saturdays, 7AM-5PM /Where: MAP)
2. Bakırköy (When: Fridays, 10AM-8PM / Where: MAP)
3. Beylikdüzü (When: Saturdays, 9AM-6PM/ Where: MAP)
4. Küçükçekmece (When: Sundays, 10AM-7PM / Where: MAP)
5. Kartal (When: Sundays, 8AM-6PM / Where: MAP)
Remember:
Featured Image Source: S. Juptner
Sarah Juptner is a contributor to Yabangee.