CIRCUIT Istanbul continue their streak of successful bazaars, this time celebrating Autumn on Saturday 4 and Sunday 5 November. The events continue to emphasize their mission of sustainable creativity and run from 13:00 to 18:00.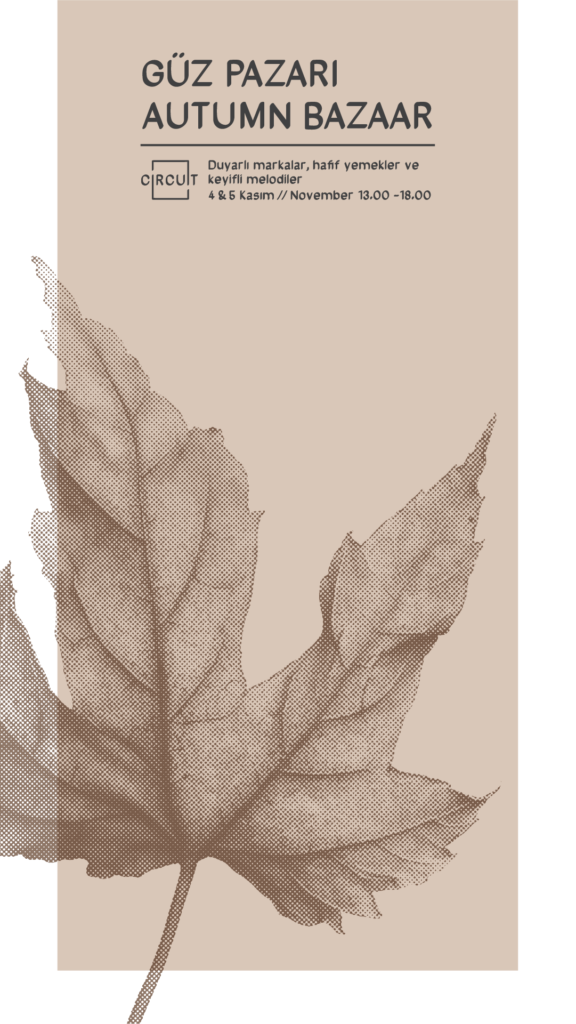 From the organizer:
CIRCUIT, a space for arts and events located in Yeldeğirmeni, Kadıköy, now organizes its forth bazaar for two days in a row, featuring sustainably-minded brands by designers from Istanbul. Join us over the weekend and discover new creatives and products, while enjoying tasty foods and a festive atmosphere.
In line with CIRCUIT's mission of sustainable creativity, the bazaar will maintain awareness on mindful design and on sustainable packaging. As with every event at their space, CIRCUIT requests that visitors do their very best to avoid bringing any single-use packaging to the space (disposable coffee cups, plastic water bottles, plastic bags, throw away food containers, etc).
The list of participant brands includes but not limited to handmade recycled paperwork design "Sukurusu", an activist clothing brand with organic and recycled fabrics "Reflect", Upcycled Tribal Jewellery UBIK LAB, Coffe Roasters "Kamarad Coffee", handmade Ipad and pillow cases "Sezcrafts" and many more.
—
For more information, check out the official Facebook event.
Images courtesy of the organizer
Rasimpaşa Mahallesi – Uzun Hafız Sokak No:39, Kadıköy 34716