In collaboration with ATÖLYE, Yabangee is excited to present our second Expat Spotlight, a new monthly series showcasing the freshest, most inspiring contributions being made by Istanbul's diverse international community to the city's cultural, sporting, humanitarian, and business spheres. An opportunity to share moving stories, reflect on personal experiences and participate in a resourceful dialogue, we invite foreigners and locals alike to come and embolden others.
Taking place in English, our second Expat Spotlight is set for Tuesday 21 March, centering on the theme of "writing". Doors are set to open at 19:00, with the proceedings begin at 19:30. Entry is free for all attendees and no RSVP is necessary. Security is present at the entrance.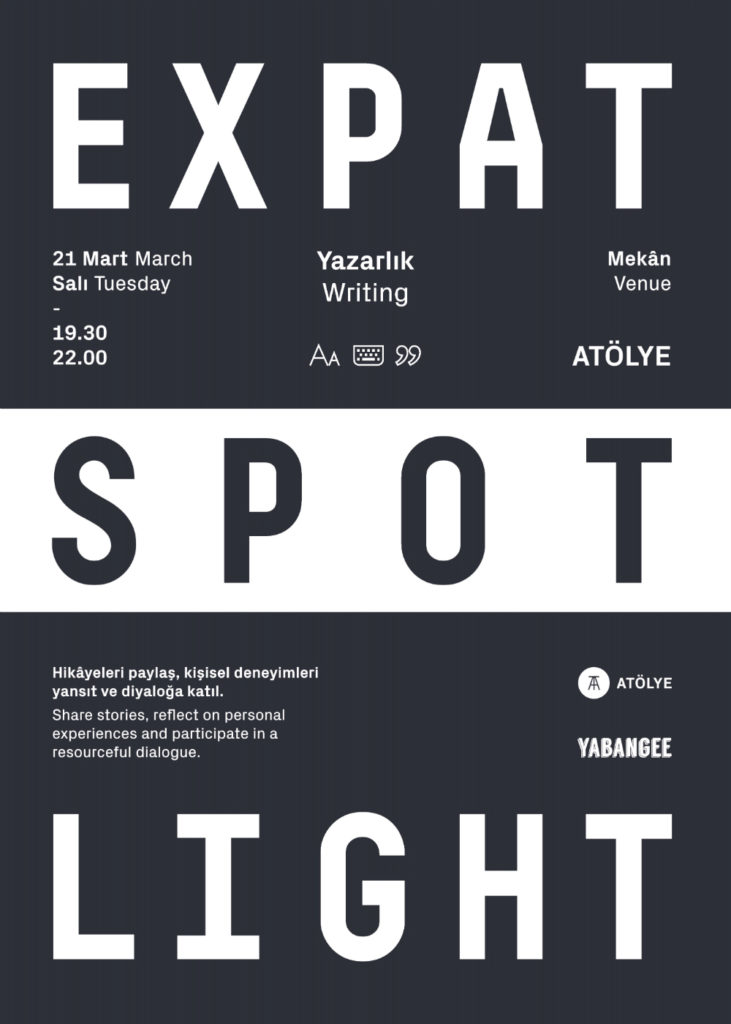 We're honored and excited to host guest speakers:
Katrinka Nadworny (MC) – (http://katrinkaabroad.com/)
James Tressler – (Author of Conversations in Prague, The Trumpet Fisherman and Other Istanbul Sketches, and Letters from Istanbul)
Luke Frostick and Thomas Parker – (Co-founders and editors of The Bosphorus Review of Books)
Paul Osterlund – (Contributor to Culinary Backstreets, Al-Jazeera English, Roads & Kingdoms, Balkanist & more)
William Armstrong – (Hurriyet Daily News, Turkey Book Talk, and https://armstrongwilliam.wordpress.com/)
Jennifer Hattam – (Freelance writer w/ contributions to The Atlantic, Cornucopia, BBC Wildlife, Time Out Istanbul and more // http://www.jenniferhattam.com/)
To stay in the loop on all developments, check out the official Facebook event.
Tarihi Bomonti Bira Fabrikası – Silahşör Cad. Birahane Sok. No. 1 – Şişli 34381