In collaboration with ATÖLYE, Yabangee continues to present Expat Spotlight, a monthly series showcasing the freshest, most inspiring contributions being made by Istanbul's diverse international community to the city's cultural, sporting, humanitarian, and business spheres. An opportunity to share moving stories, reflect on personal experiences and participate in a resourceful dialogue, we invite foreigners and locals alike to come and embolden others.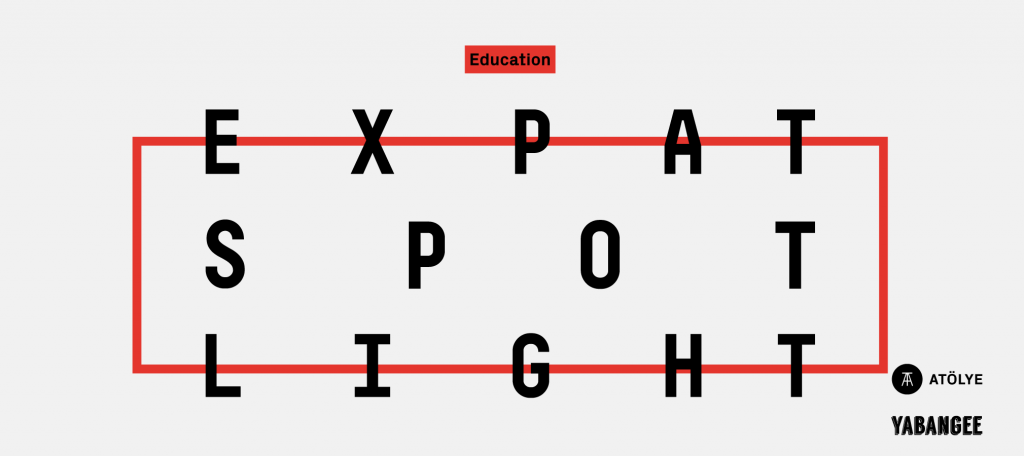 Taking place in English, the ninth Expat Spotlight event is set for Tuesday 16 January, centering on the theme of "Education."
The event is free.
The event starts at 19:30, with doors set to open at 19:00. No need to RSVP to join, and refreshments are provided.
Guest speakers:
Sheri Cavazos (Master of Ceremonies) has since left education to work as a sub-editor for an investment publication, but over a decade of teaching in Russia, Portugal and Istanbul has provided her with the patience, tact, impervious immune system, and caffeine addiction that comes with spending time in the classroom. Whether it's patiently eliciting responses while teaching her mom how to download Whatsapp, or quickly inventing drinking games at the bar, she's found the experiences you gain as a teacher never really leave you.
Milena Rampoldi is a freelance writer, book translator and human rights activist. She was born in Bolzano, Italy in 1973. She comes from a bicultural and bilingual family where from childhood she has understood the importance of multilingualism, multiculturalism, music, art, and cultural exchange and dialogue. She is the founder and editor-in-chief of the portal ProMosaik, promoting interreligious and intercultural dialogue.
Kathy Panton is a prep year teacher at Istanbul Technical University, where she's been working for ten years. Before that she worked in the Middle East, East Asia, and Eastern Europe, and also did some work in human resources. She's an IELTS examiner and an ex-Cambridge examiner. She spends her rather long holidays gardening and riding her bike in eastern Europe and Turkey.
Karen Van Drie is a librarian who has worked in the Istanbul market almost eight years. She works for Işık Olulları where students can use their library to read and research in five languages. She serves on the international board of the brand-new, grassroots Global Literature in Libraries movement working to get more translated literature into English-language libraries, and chairs their International School Committee. In August 2017, she served as Turkish Literature Month editor on the GLIL blog celebrating over 55 different Turkish literature titles. She also manages two international book clubs operating in Istanbul: Global Minds Book Club and Istanbook. Follow her blog 'Empty Nest Expat' (Twitter) and her celebration of reading called @EnSonNeOkudun.
Chris McLaren transplanted from Portland, Oregon to Istanbul in 2011, and currently serves as program manager for Small Projects Istanbul (SPI), a grassroots Turkish NGO dedicated to helping those displaced by conflict in the Middle East and North Africa region rebuild their lives, primarily focusing on education and livelihood. Informed by his previous experience working with marginalized communities in Los Angeles and teaching in Istanbul, Chris leads the development and implementation of programming for SPI's beneficiary community in Çapa, Fatih.
To stay in the loop on all developments, check out the official Facebook event.
Tarihi Bomonti Bira Fabrikası – Silahşör Cad. Birahane Sok. No. 1 – Şişli 34381