In collaboration with ATÖLYE, Yabangee continues to present Expat Spotlight, a new monthly series showcasing the freshest, most inspiring contributions being made by Istanbul's diverse international community to the city's cultural, sporting, humanitarian, and business spheres. An opportunity to share moving stories, reflect on personal experiences and participate in a resourceful dialogue, we invite foreigners and locals alike to come and embolden others.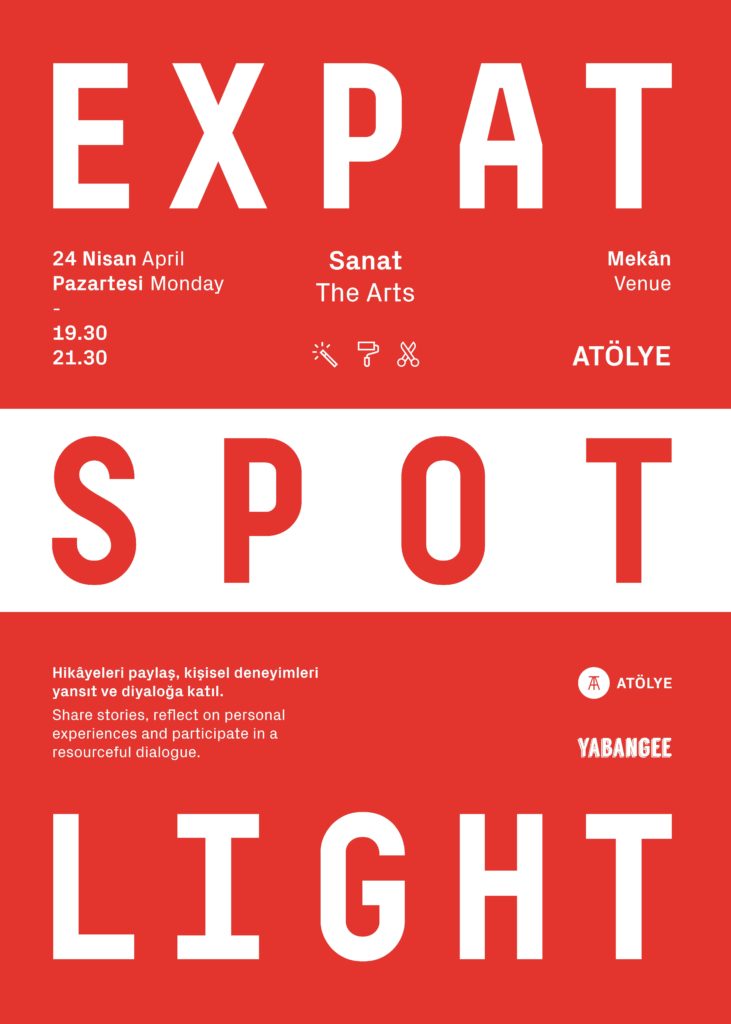 Taking place in English, the third Expat Spotlight event is set for Monday 24 April, centering on the theme of "the arts". The event is free.
The event starts at 19:30, however doors open at 19:00. No need to RSVP to join.
Our guest speakers include:
Joey Leskin (MC) is a tour guide, youth worker and culture and arts writer from London, UK, who has been living in Turkey for nearly two years. He spends most of his time running around Istanbul discovering new and exciting parts of the city, while trying to become an authority on the local beer scene by undertaking copious field research.
Merve Çağlar is the founding Director of SAHA, a unique philanthropic private funding mechanism for art from Turkey established in 2011. SAHA's structure and remit aim to provide democratic funding opportunities and a healthy and resourceful body for the support of contemporary cultural practices in Turkey. She is the co-host of a weekly live radio program where she conducts interviews with artists, curators, critics and art professionals.
Anna Zizlsperger is an editor, writer and curator from Germany who relocated from London to Istanbul in 2011. In 2012 she founded the independent non-profit Istanbul-based art magazine exhibist, which is currently the only English-language print publication focusing on Contemporary Art from Turkey with an international distribution.
Diana Page (http://www.dianapage.co.za/) is a painter, inter-disciplinary artist, and accomplice to creative collaboration from Cape Town, South Africa. Living and working in Istanbul since 2006, she now calls it home. Her work in painting, drawing and performance embraces an awareness of shifting urban landscapes and geographies. From her studio in Cayirbasi, Diana also hosts an online creative drawing course, 'Drawing with the Wondering Artist' which creates trans-border conversations around creativity, bringing together voices as a way of animating cities.
Omar Berakdar, a Syrian photographer, media artist and art activist, graduated originally as a chemist then he followed a study in Media Art History in Austria. He was born and raised in Damascus, then moved to Istanbul in 2012. Since then he was active in cultural / art-related activities then he was the Co-Founder of Hamish "Syrian Cultural House" in 2013 with group of activist and writers and then to focus on Art, he initiated arthereistanbul in 2014 where he is part of its managing team.
Claire Fondain originally from the West of France, passionate with writing and photography. She worked for six years on social-cultural projects for various associations and institutions in France, she also did some research on the use of media and access of information. She arrived to Turkey in 2015 following some art projects and then she get involved in arthereistanbul as a permanent team member and at the same time working on her documentary film project.
Markus Lehto of Joint Idea – Bio coming soon…
To stay in the loop on all developments, check out the official Facebook event.
Featured image from Expat Spotlight #2. Courtesy of Sina Opalka.
Tarihi Bomonti Bira Fabrikası – Silahşör Cad. Birahane Sok. No. 1 – Şişli 34381