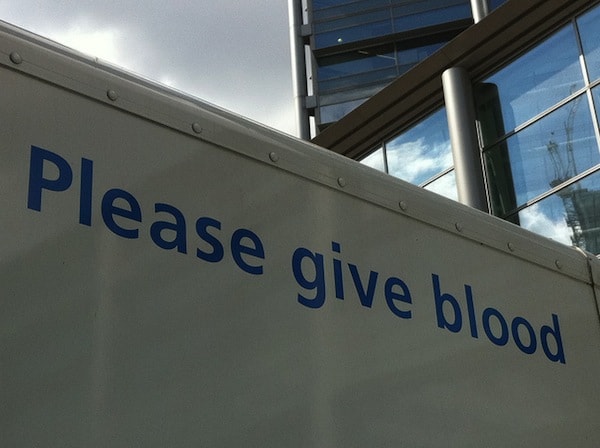 One of the simplest and easiest ways to help others is to donate blood. Back in Barcelona I was a regular blood donor, donating four times a year. I made a routine of it: walking around the city center, donating blood and treating myself with some nice delight after (churros con chocolate in winter and crema catalana ice cream in summer, if you must know). But during my time in Istanbul, it never crossed my mind that I could actually do the same thing here, being a yabancı and all. After passing by the blood service bus day after day on my way to work, I finally decided to ask if it was possible for foreigners to donate. The guy in charge initially hesitated — he looked at me as if I had confused the blood service bus with a kebap place — but eventually confirmed that foreigners can in fact donate, as long as they have their residence permit and TC foreigner number.
So last weekend I finally had some free time to go and fulfill my sense of social responsibility. The first thing you need to know is that you can only donate blood in Turkey if you are between the ages of 18-65, in good health and weigh more than 50 kg (they even have scales on site). But, let's be honest, who doesn't weigh more than 50 kg with all the delicious food that Istanbul has to offer? Yes, bal kaymak, I'm looking at you.
Some general recommendations are to drink plenty of water the night before and morning of, and to eat right before your appointment. Most authorities advise against donating blood on an empty stomach. Remember it's a donation, not a check-up.
The blood bank system in Turkey is overseen by the Turkish Red Crescent (Türk Kızılayı), Ministry of Health hospitals and university hospitals. TRC is the primary nongovernmental organization in the country with the aim of collecting blood from voluntary donors.
In general I found all the procedures to be fairly standard and almost the same as back in Spain.  The blood-mobile is basically a bus outfitted with medical equipment and donor beds. You enter the modified bus and sit in the front part while you fill in a form about your medical history to check your eligibility. I realized that the questions were almost exactly the same ones that I had answered when previously donating in Spain. Bear in mind that the form you have to fill out is only available in Turkish, so you either need to have a good Turkish reading level or go with a local in order to fully understand the questions.
Next you can expect the nurse to check your hemoglobin and iron levels. This will involve a small prick on your finger. The levels need to be within a healthy range to ensure you won't feel weak and nauseous. Simultaneously they go over your filled-in form with you. The nurse may ask you for further information and you have the opportunity to ask any questions you may have. The only difference I noticed was that they didn't check my blood pressure, but I also can't be sure if it was checked every time before. After that you go to the back part of the bus where you recline on the comfortable donor couch. Take a deep breath before the needle goes in, maybe look out the window and think about the good deed you are doing. They will extract around 450 ml of blood from you. Once they've gotten all they need, they will wrap a bandage around your arm and you will sit down for 5 to 10 minutes. This is to make sure that you are in good shape before you leave.
Donating blood is voluntary, so you won't receive any sort of payment. It's the same in Barcelona, but I have to say I missed the small gifts I was given back then (from pens and key-rings to t-shirts and, once, tickets for MotoGP). But of course we don't donate for the gifts, right? It's more for the good feeling of helping someone. Plus, you can have a snack and soda after donating. You should rest for a few minutes before leaving the blood-mobile and refrain from drinking alcohol for at least eight hours and smoking for two hours after giving blood. Do not do any heavy lifting or vigorous exercise for the rest of the day, and drink lots of water. Also eat foods that have a lot of iron (super easy in Turkey: mercimek çorbası, ıspanak, ciğer, and so forth). Having written your cell phone number in the form, you will be sent an automatic notification when enough time has elapsed for a new blood donation.
The main mobile units are in Kadıköy and Üsküdar (near the port) and there are more units spread across the city. You also can call 168 – only available in Turkish – to learn which mobile blood-collection unit is closest to your location. They also have a website (in Turkish) with all this information. There you can type your kimlik number and learn when you can do your next donation.
Blood transfusion is indispensable in lifesaving health care. Half of the blood collected in Turkey is done so through friends and relatives of the patients. It is a fast process and there are no health risks in giving blood. Moreover, among other benefits, it reduces the risk of heart attacks and strokes.
While the system for blood donation might not seem quite ready to receive foreigners, don't let the language barrier discourage you. Take a local friend with you, make your altruistic action of the day and reward yourself with a nice kahvaltı afterwards.
Santiago Brusadin is a contributor to Yabangee
Featured Image Source: HowardLake / Foter / CC BY-SA