In November, Yabangee contributor Devanshu Bawa and I were invited to the Indian Diwali Festival that is organized annually by the Friends of India Association (FOIA) and the Consulate General of India in Istanbul. I had briefly read about India and the Diwali tradition before, but I did not want to spoil the experience so I saved my questions to be answered by Indian expats in person. So if you don't have the faintest idea about it, no worries, we've got you covered. Here is all you need to know about Diwali, the Indian festival of lights.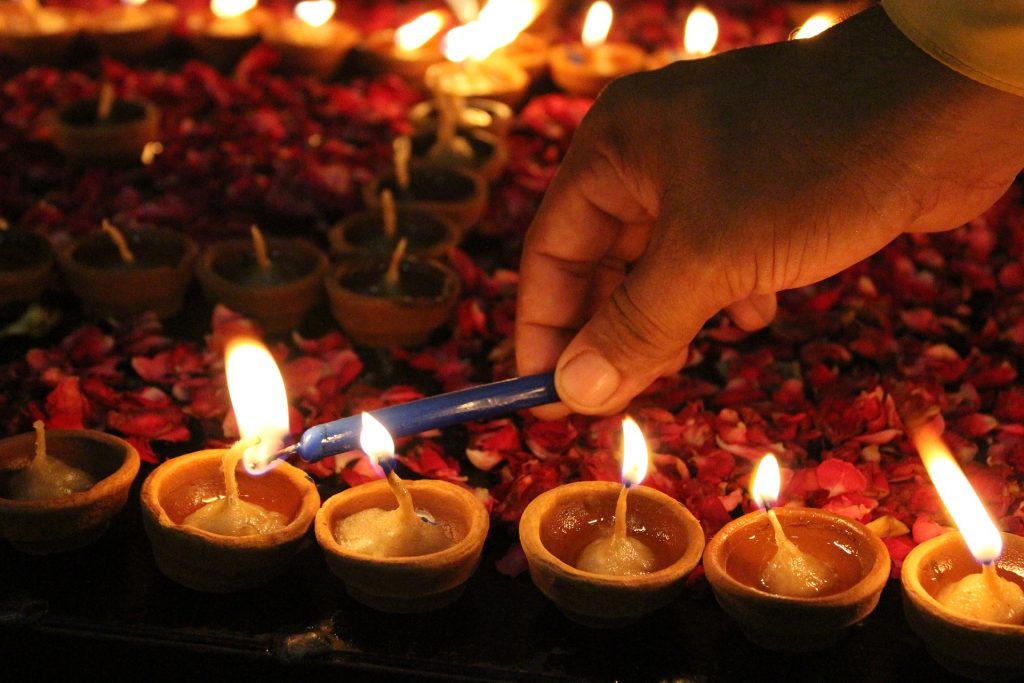 Diwali is to many Indians what Christmas is to Christians. In essence, it commemorates the triumph of light over the forces of darkness. Diwali literally means a row of lamps and it is celebrated not only by Hindus, but also by Jains and Sikhs too. The date of the festival is calculated according to the position of the moon and the Hindu lunar calendar and falls usually in October or November according to the Western standard calendar.
There are many stories from Hindu mythology associated with Diwali, but perhaps the most popular is the one about Narakasura. Mother Earth had a son named Naraka. He grew powerful and took pleasure in terrorising the inhabitants of the three worlds, by raiding cities and kidnapping women. He heard that the king of the heavens Indra had thousands of divine elephants in his army so he attacked the heavens to possess the elephants. Indra got furious and saught the help of Lord Krishna – the God of compassion and love – who was the only one that could beat Narakasura. Lord Krishna challenged Narakasura to battle and killed him easily. In the end, the good defeated the evil.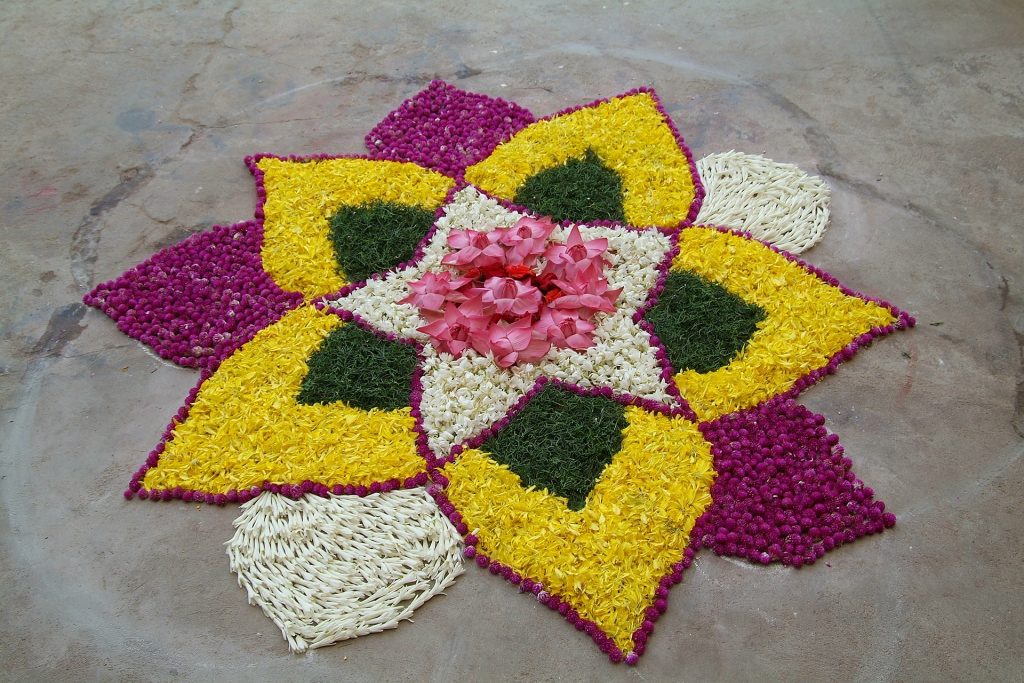 Diwali is a celebration that lasts for five days. The day before Diwali is called Narak Chaturdasi, the day of Narakasura`s death and a celebration for all. On this day women clean their houses and draw rangolis (pic above) on the doorway and courtyard with colored sand and flowers, along with footprints of Lakshmi – the goddess of fertility and prosperity. They light lamps and candles to welcome her as she is believed to visit the houses of her devotees on this special day. In fact, another name for Diwali is Lakshmi Puja.
People wake up early on the day of Diwali. After burning the effigies of the demon Narakasura, they take a bath, put on new clothes, have a special breakfast with various kinds of Indian food and visit their loved ones. Children are given candies and toys. During the evening, prayers are done to the goddess of Lakshmi and her statue is carried throughout the streets in procession. When it gets dark outside, fireworks are set off across the country. People spend a pleasant time with their friends and family.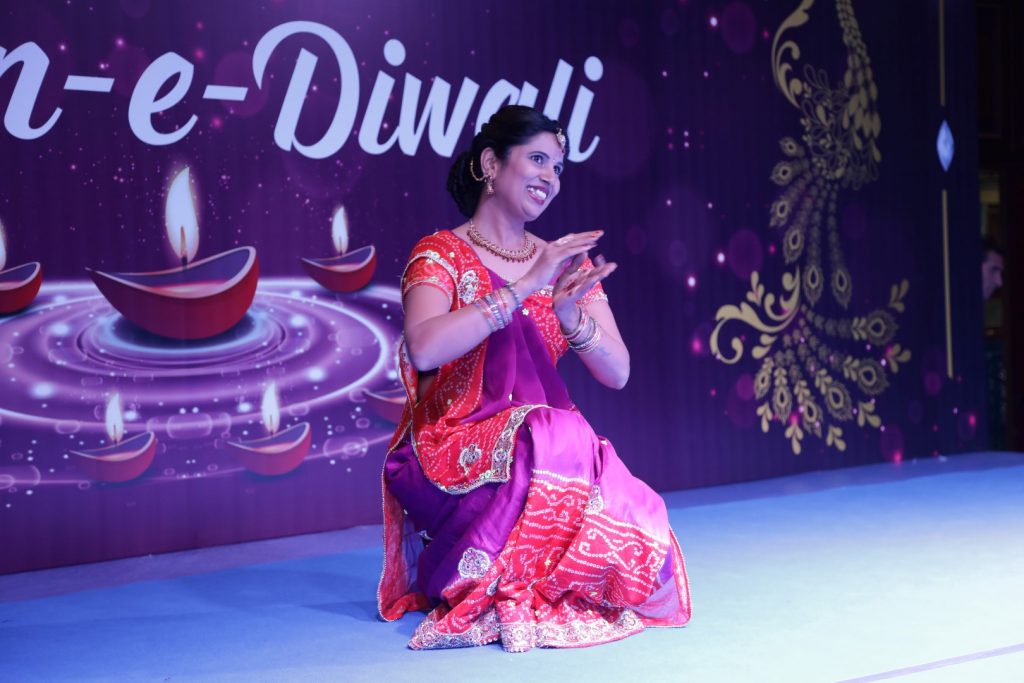 "To experience Diwali fully, you should visit India during late fall and get up before dawn to head for the flower markets," says the Indian woman that I saw from afar and tiptoed towards to take a photo of her mesmerizing traditional dress. "Flower vendors work feverishly to create bouquets of fragrant jasmine that Indians use to adorn their homes," she adds. "What brings you to Turkey?" I ask timidly and we start off an intimate conversation about her life and experiences here. "There are around 700 Indian expats in Istanbul," she explains, much to my surprise. "And most of them come here through marriage with Turks or for business reasons."
Meanwhile; I meet the president of FOIA, Anirudh Balachandra who says, "There is a big and diverse Indian community in Istanbul and our aim is to make them feel at home by organizing these events."  Diwali is their biggest event with 23 different sponsors including Vodafone and Turkish Airlines, and many participants each year.
Devanshu introduces me to one of his friends named Krishna. She is a lovely Indian girl in her late-twenties and we hit it off instantly. As the open buffet starts, we get in line for some Indian delicacies together.  "What is your spice level?" she asks. I laugh and show her that I am an Indian at heart. (Well, almost.)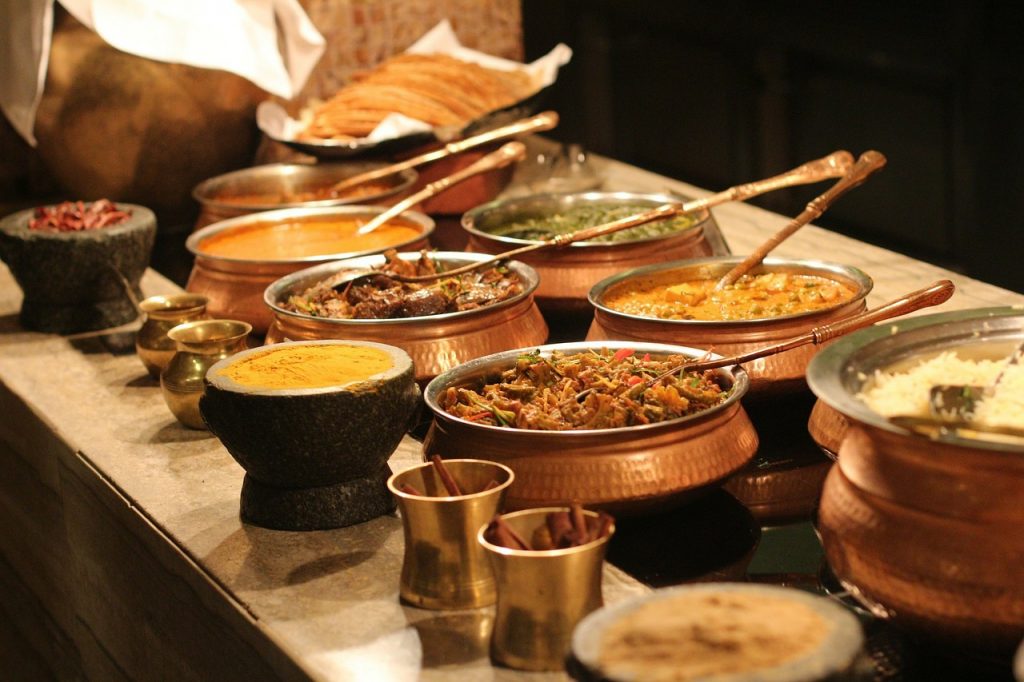 The menu is notably generous and the food is heavenly. We fill our plates with curries and sit at our table to watch the traditional dance shows on the stage. Krishna and Devanshu, on either side of me, keep filling me in about the food, the dresses and the dance moves. What a diverse culture and it's only the beginning!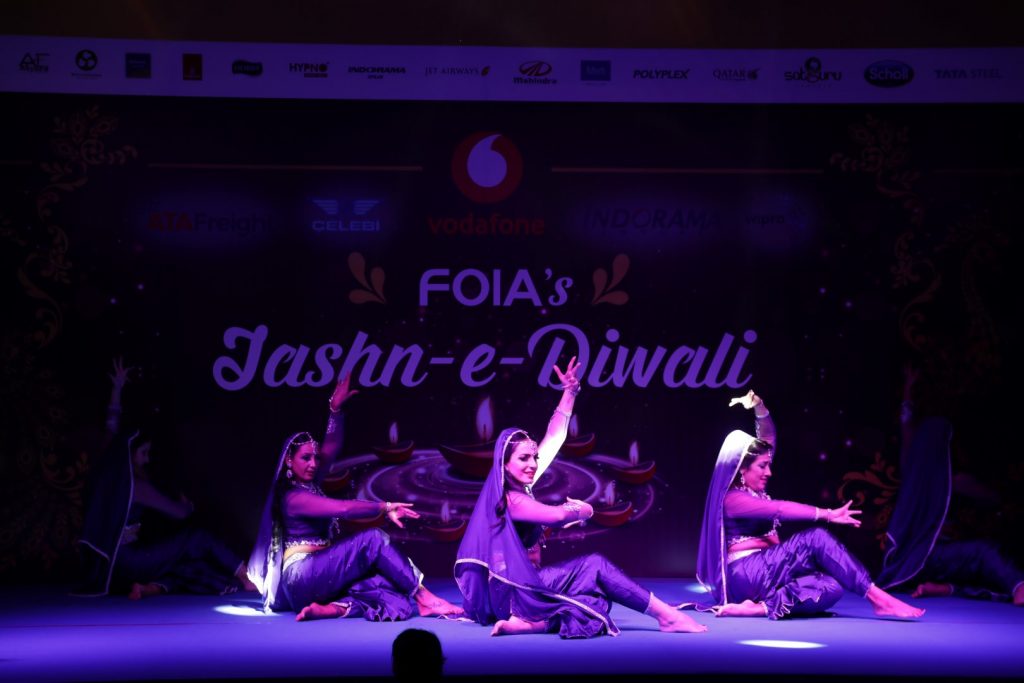 Once the performances are over, we know it is time to hit the dance floor. I meet Rajesh who runs a Bollywood dance studio in Karaköy. He teaches me some cool moves that I use the rest of the night to blend in.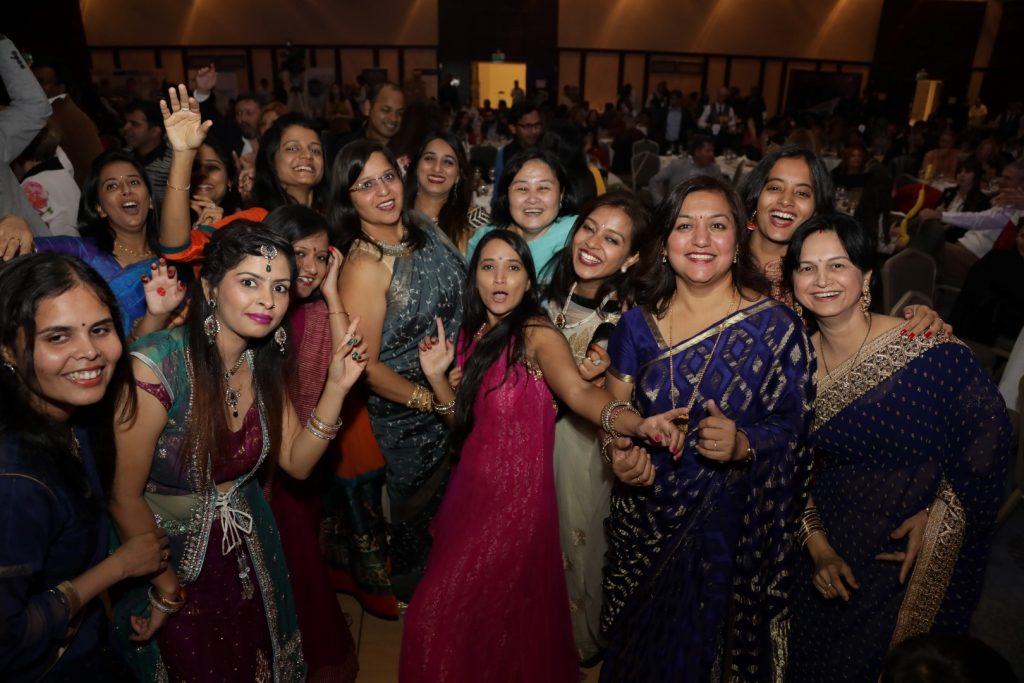 Before we end the night, I get a henna tattoo on my hand with an authentic Indian design at the henna booth. Best. gift. ever!
To keep up with the events of Friends of India Association (FOIA), make sure to follow them on Facebook.
Special thanks to Devanshu Bawa for photos.