On March 19, 2015, the MUSEUM OF GARBAGE opened its doors to a crowd of creative thinkers, activists and curious individuals. The space, a multistoried building in the heart of the winding streets of Çukurcuma, was packed with foreigners and locals alike, drinking wine from glass jars, beakers and tea glasses. A live band occupied the front room and the entire space was filled with an air of collective optimism. As a visual artist myself, I was intrigued with the idea of combining the very complex topic of waste in Istanbul with artistic expression. In order to understand the MUSEUM OF GARBAGE in its entirety — the idea, the process, the collaborators — I spent some time with Olivia Traut and Jessica Sim of FLYING roots. This ambitious duo graciously provided me with an in-depth look into the creation of the MUSEUM OF GARBAGE and the founding of FLYING roots.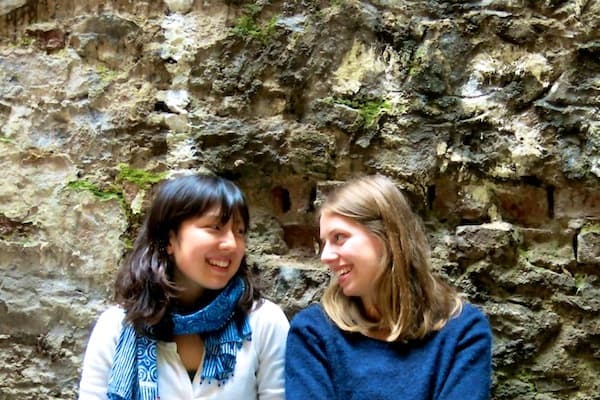 Give us some background on what brought you both to Istanbul, and how you formed FLYING roots.
Our thoughts to collaborate began in Belgrade in 2013, while we were studying together in the Erasmus Mundus MA in International Performance Research. We came across an application for an art residency in Hamburg and immediately began thinking of what we would like to do. Over a relaxed late-morning conversation, we came to our first ideas and continued to develop them while passing notes in a lecture later that day. It eventually became clear to us that the timing was not yet right to push the project forward, so we let it settle for another year.
Upon completion of our Masters, Jessica moved to Turkey and interned with Yeşilist. Soon after her involvement with green activism, we focused on the idea for the MUSEUM OF GARBAGE, eventually forming FLYING roots as a starting point that could potentially grow and create new bonds with other collaborators. Following many emails and Skype conversations, we eventually set a date and received a grant from the European Cultural Foundation for Olivia's travel to Turkey in early April. In Istanbul, FLYING roots grew with a fantastic team of collaborators, bringing the MUSEUM OF GARBAGE to life.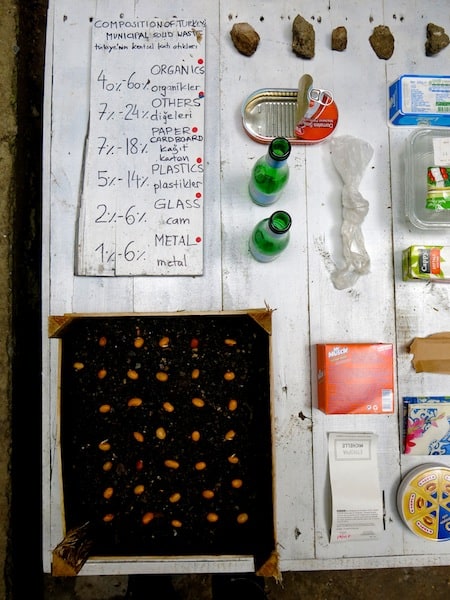 How did you come up with the idea for the MUSEUM OF GARBAGE?
The MUSEUM OF GARBAGE Istanbul is inspired by many artists, exhibitions, and research. While traveling around Belgrade in 2013, we visited The Museum of Broken Relationships in Zagreb, Croatia, which shows objects donated by people from all around the world that represent broken relationships between loved ones. We were both taken by the bold simplicity of the idea in being able to connect to every individual; waste production and responsibility follows a similar pattern.
Our ideas were also influenced quite strongly by each of our MA research topics — Jessica having studied performance initiatives as ecological activism and Olivia, participatory art practices. Garbage production, a growing concern and focus for us personally, shows a particularly complex situation in Istanbul. The MUSEUM OF GARBAGE grew out of this context and our observation of the responsibility of the individual consumer. Seeing ourselves as very much a part of this garbage-ecology, we began to develop the ideas for the exhibition that regard the individual and their active and integrated position. Garbage, as a relevant material for art production, is a growing subject within creative disciplines. The MUSEUM OF GARBAGE is perhaps new to Istanbul, but at the same time joins a global conversation of both garbage production and art production.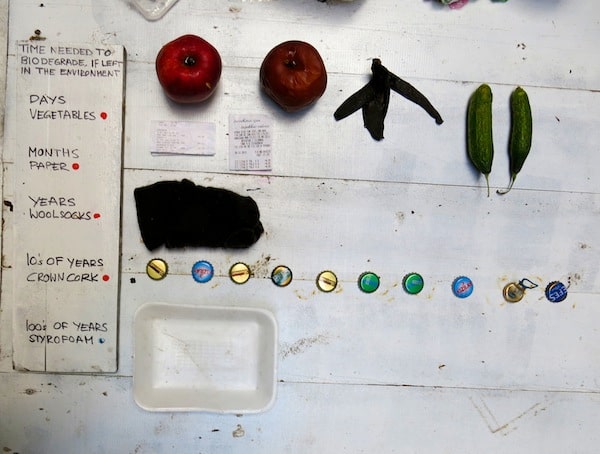 How would you describe the waste situation in Istanbul?
Regarding the dense population and the limited infrastructure, the waste situation in Istanbul is complex and, in a way, highly functioning. The collection system, taking together the so-called 'formal' and 'informal' sectors, might be one of the best organized around the world, compared to other cities facing similar challenges. For Istanbul, a more challenging question is the amount of waste that actually gets recycled or reused. A study by Gurdal Kanat published in Waste Management in 2010, reports that the majority of municipal solid waste collected in Istanbul, is landfilled or ends up in open dumps. This means that organic and recyclable materials, most of which would be recoverable, are mixed with hazardous materials. Moreover, garbage is as much capitalized as other goods, creating a profitable and also exploitative market. There are many aspects of the cycles, the management and the socio-economic status of the people involved, that are not very transparent to general public and cause controversial debates.
How do you hope this project will impact individuals?
In face of the vast repercussion of waste on the environment, and particularly wrongful waste disposal, individuals compose a large part of its production. We, FLYING roots, are dealing with the same struggles every day and are trying to find solutions and innovations on a micro level. With the MUSEUM OF GARBAGE, we intend not only to share these thoughts with people coming to the exhibition, but also to give space and opportunity to access facts and figures visually and process the information through interaction, with the objects displayed and the people around. It is a high demand for an art exhibition to trigger 'measurable' impact for everyday life, but we hope that visitors will come across situations in the future where they feel better equipped to decide for more environmentally friendly alternatives.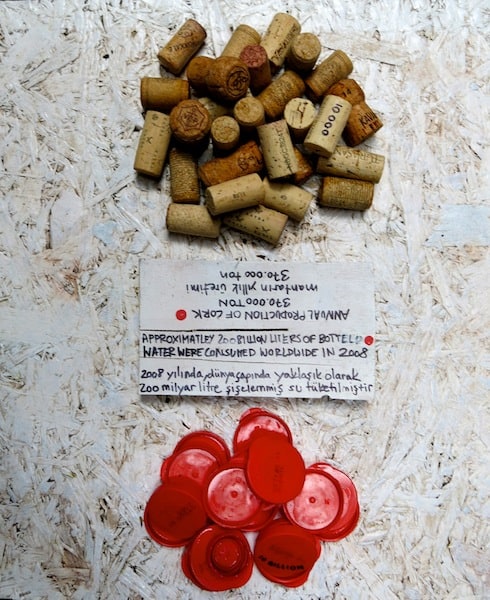 What have you learned from creating the MUSEUM OF GARBAGE?
We are still in an early stage to reflect fully upon what we have learned, though we definitely have had a long journey — being apart for most of the conceptual work and then coming together for a very intense preparation and duration of the exhibition. Somehow we found a very open and fruitful way to work together, build on one another's ideas, respect one another and create space to question. Then wanting to collaborate with other inspiring minds, we had to learn to change our routine and react to others' needs and creative processes, which might have been the most valuable experience for us personally. There are different stages you go through together in forming a team, and part of it can be painful as it reaches unexpected limits. Yet we always found a way to overcome stressful situations, to be clear and open about the process, to then return to positive energy and creative productivity. Through all of this, we continue to learn. We are grateful for every person involved in the collaboration, as the MUSEUM OF GARBAGE would not have been anything of what it was, if it were not for the team.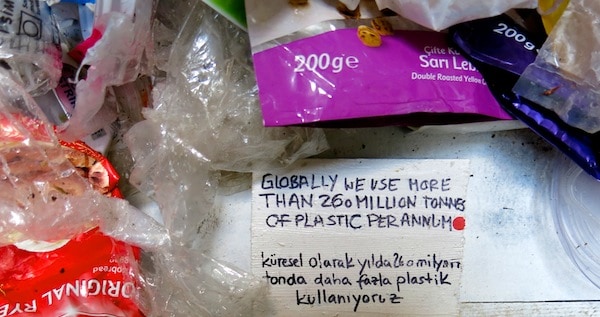 What can we do to reduce our personal waste?
Reducing personal waste begins with a conversation, the what and how of consumption and waste production. The individual consumer plays a particular role in transforming products of waste and in their initial disposal, also with the ability to influence through consumer choice, for example by regarding packaging and the sources of products. As consumers, our choices may oftentimes feel and also be limited, which can turn to frustration and a sense of insignificance. Nevertheless, we believe it is important to look for options to reduce, reuse, and recycle, and there are some ways to start to adapt habits. For example: refuse to carry a plastic bag, refill a reusable water bottle, use an ashtray, avoid one-time-use packaging, carry a reusable utensil, avoid plastic straws and paper cups, bring Tupperware to the market, separate household waste and learn of recycling options in your district.
Our own mission to that regard, rather than approaching these issues from a purely pedagogical standpoint, is to try to start with ourselves, which has also been an important part in creating the exhibition. Everyone has different strategies to process information and change behavior. From our standpoint, we can just hope to trigger thoughts and conversation with the help of aesthetic innovation and, foremost, lead by example; we want to challenge garbage production as a complex ecological system in which individual consumer choices play a significant and valuable role.
To learn more about FLYING roots, check out their website.