This post is sponsored by MDFV.
When you think of a blue cruise, fitness is not usually the first thing that comes to mind. But one unique company — Mediterranean Delights Fitness Voyage (MDFV) — had the brilliant idea to marry fitness and relaxation. They offer blue cruises that allow you to explore Turkey's Mediterranean coast while staying active. We spoke with Cynthia Paulauskas, one of the founders of MDFV, about why you should choose their unique form of blue cruising.
As the founder of MDFV, how did the idea for this unique concept all come about? What was the inspiration there?
The Mediterranean Delights Fitness Voyage sprang from a shared passion for fitness and travel. We are a group of friends who joined our small businesses together: one offers yoga and fitness, one charters a beautiful private boat and I have been traveling to off-the-beaten-path places since I was a child. We've been friends for years, spending joyful hours working out, hiking and traveling together. Because we are drawn to water, the Mediterranean is the ideal venue for us to share this love with others in intimate, personalized retreats. We'd love for you to come along.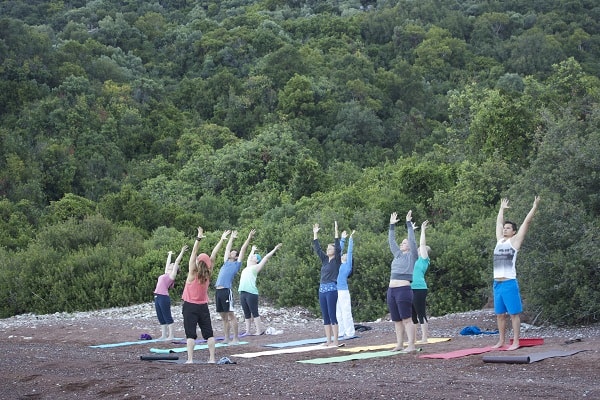 The fitness element really adds an interesting dimension to the project. It's the only one of its kind that we know of in Turkey. How has the reception been? Has it proved challenging to incorporate fitness into this style of holiday ventures?
The reception has been outstanding. It turns out that how people feel when they get home from a trip has a lot to do with how fondly they remember the trip. If they come home tired, out of shape and bloated, it puts a huge damper on all the otherwise fun memories they created. These voyages have tapped into that frustration, and people are thrilled to have the option to explore new areas, learn new cultures, eat amazing food — and experience all of this while hiking, swimming, and even working out on board while watching the sunset.
We've had overweight workaholics who haven't worked out since their 20s all the way to fitness fanatics who probably were working out on the flight over! It has been a great mix, and because of our boutique size we've been able to balance the experience and cater to everyone's levels and desires.
You offer three different voyages, which vary both in destination and structure. The locations themselves are absolutely stunning. Do you have a favorite or any you'd recommend for a certain type of person?
That's like asking a mother to pick her favorite child. It's impossible! We crafted these itineraries to each be unique and amazing experiences that we will love as we visit them time and time again. The easiest way to choose is based on date — we only have one boat, so we are doing one itinerary at a time. If date isn't an issue, then I don't think there is a way to go wrong.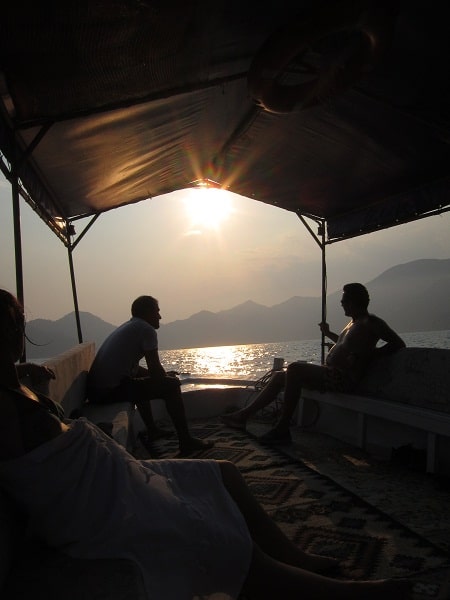 What is a typical day for a MDF voyager like? What could we expect?
You wake up, and decide whether you want to join the morning fitness class or go back to sleep. If you join fitness, you walk up to deck, and drink tea while watching the sunrise and waiting for the instructor to set up the class. After class, the bell rings for breakfast. You feast on eggs, veggies, sausage, fresh bread and honey, and if you didn't join fitness, the coffee and laughter around the table wakes you up. Then, we depart for a hike to a historical site. Ali leads the hike, explaining the history and culture of the region. Back on the boat we plunge into the Mediterranean to cool off, and then sit down for a well-deserved lunch. Salad, pasta, beans, feta, olives — all fresh and delicious. During lunch, the boat has taken us to another cove. And after lunch is play time. Swimming, backgammon, napping, exploring the new area. There is an evening fitness class, followed by more swimming and a scrumptious dinner of grilled fish or meatballs. Then, time to relax, watch a movie or play backgammon. The toughest choice of the day is always whether to go sleep in your cabin or spend the night on deck under the stars.
Here is a sample itinerary for the Blue Voyage:
Day 1 Arrival (Saturday) Arrive at the boat in Fethiye Ece Marina, depart for Kızılada cove, welcome dinner and orientation
Day 2 (Sunday) Yoga, breakfast, boat to Ölüdeniz cove, swimming and lunch, boat to Soğuksu cove, hike to Kayaköy Village, evening stretching, dinner, movie night
Day 3 (Monday) Yoga, breakfast, boat to Gemiler Island, hike the ruins, boat to Ağa Limanı Bay, swimming and lunch, hike to Cleopatra's Bath, boat to Sarsala Cove, evening stretching, dinner
Day 4 (Tuesday) Run to mountain lake with a hike back to the beach, breakfast, hike to Bedri Rahmi Cove, lunch, boat to Kille Bay, swimming, evening stretching, boat to Tersane Island, dinner on Tersane Island
Day 5 (Wednesday) Boat to Haruplu-Çakıllı Bay, breakfast, yoga, swimming and lunch, boat to Aşı Bay, hiking and swimming, dinner at Aşı Bay (with wine included)
Day 6 (Thursday) Yoga, breakfast, hike to Kaunos ancient city, crab and beer for lunch by Lycian tombs, riverboat to Dalyan mud baths, İztuzu beach, dinner
Day 7 (Friday) Yoga, breakfast, boat to Kumlubük Bay, swimming and lunch, boat to Kızılkum, fitness and swimming, dinner, excursion to bars in Marmaris Yacht Marina
Day 8 Disembark (Saturday) Breakfast, free time for shopping and lunch in marina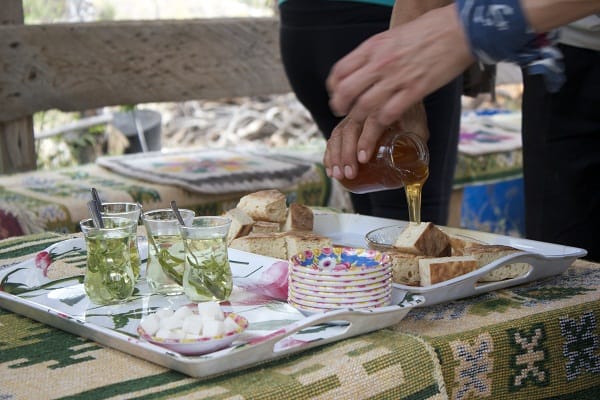 In that same vein, are there any activities on offer that you find particularly unique or rewarding?
The most unique and rewarding activities are determined by the individual. We've had people learn how to dive, and by the end of the voyage our instructor had him backdating off the boat. For others, the visit to the hamam and mud baths are the most outstanding. We've been consistently told that our hikes are the highlight — the nature is outstanding, and hiking to historical sites instead of being loaded on buses is a welcome change for touring areas.
As you have a number of people going on these holiday fitness journeys, are there any experiences that have been particularly memorable or surprising?
We have had an MDFV baby, which is very cool! A couple conceived their first child on board. And, we've had an MDFV engagement of a couple who met on board. We also had a MDFV breakup…but that was for the best as well! We have also had someone swim in the ocean for the first time in his life — granted he was wearing a life vest, but it was still miraculous to watch the smiles and laughter.
Any final words of wisdom for our readership in Istanbul who might be considering this as a holiday option?
Our trips are truly tailored to the guests. Come alone, with a friend, or with a posse. Come out of shape, or already fit. Come for the touring or for the relaxing. Just take a break from the hustle and bustle of Istanbul, and come breathe the sea air for a week you will never forget.
For more information about booking a cruise, check out MDFV's website and Facebook page. You can also contact the team at mdfvoyage@gmail.com.