Sound Ports Istanbul, in collaboration with Salon IKSV, Arkaoda, KargArt, Bant Mag and Flamme will organize a music event throughout the city at various locations from Friday 24 March through Sunday 2 April.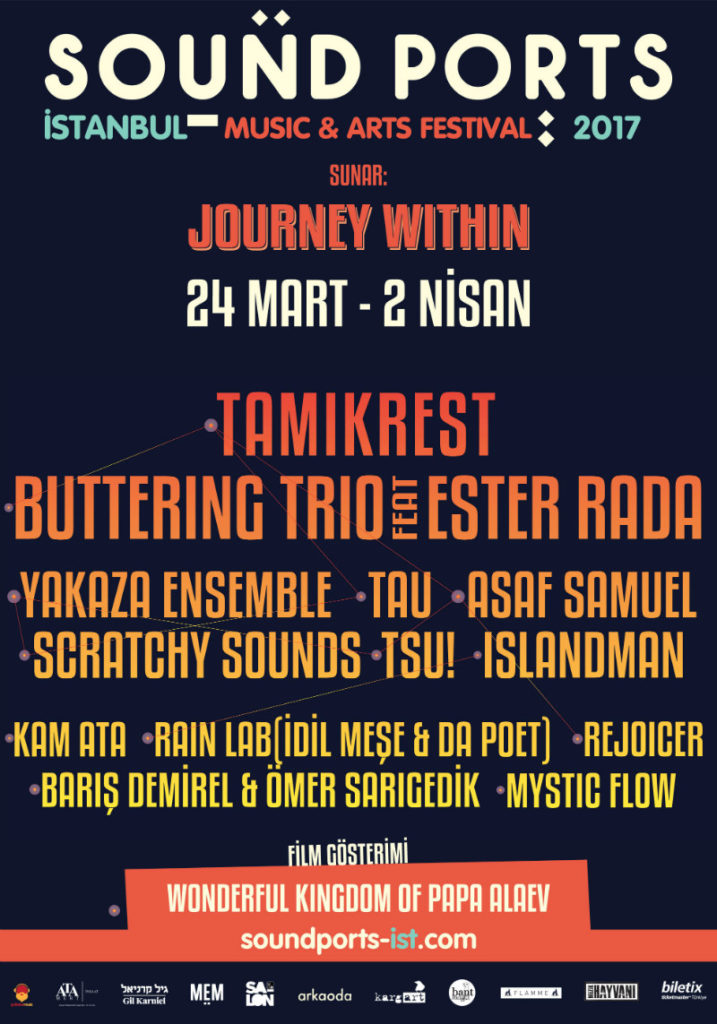 From the organizer:
Soundports is an independent music and arts festival dedicated to urban music, sub cultures, Mediterranean vibes, positive people and postive thinking. The first edition of the festival celebrated the long musical collaboration between two cities: Istanbul and Tel Aviv, under the theme 'Tel Aviv – Istanbul Connection'. The curation of the events and concerts aimed to bring new urban music from both cities and create a collaboration between two vibrant music scenes with today's sounds.
Since the first edition of the festival, our part of the world has been going through turbulent times. There have been several attacks in Istanbul aimed at civilians. These incidents have cast a dark mood over the city and its inhabitants. And this mood is disconnecting people from the outside world. We are turning in on ourselves, asking fundamental questions… What is going on? What should I do? What will happen tomorrow?
But these questions go beyond the present context. They are the basic questions of our fundamental philosophy. What is happening now, both in our region and across the world, is leading people on a personal journey. With the knowledge that the change starts in one's own mind and soul, we decided to set 2017's festival theme as 'Journey Within'.
Soundports 2017 does not aim to find the answers, but to bring a musical and artistic companionship to our journeys within ourselves. Soundports 2017 Istanbul edition is delighted to bring you artists, musicians, shamans and voyagers of urban Sufism, psychedelia, inner journeys, music and humanity.
The kick off will take place at Arkaoda on Friday 24 March after 8.30pm. Entry for the opening event will be free.
—
For more information, check out the official festival page or the program.
Arkaoda: Kadife Sokak No:18/A Kadıköy
Salon IKSV: Nejat Eczacıbaşı Binası Sadi Konuralp Caddesi No:5 Şişhane
KargART: Kadife Sokak No:16, Kadıköy
Bant Mag: Moda Mektebi Sokak. No:26/A Moda, Kadıköy
Flamme: Harbiye Cumhuriyet Cd. No:4 Cebel Topu Sk. 34373 Şişli
Images courtesy of the organizer.