Boğaziçi University — It has to have one of the most beautiful campuses in Turkey. With its American-style campus buildings, many of which are constructed out of blue limestone, and a prime position overlooking the Bosphorus, it's hard not to swoon. Yet surrounding the campus are some of the fanciest neighborhoods of Istanbul (excluding Rumeli Hisarüstü). Rumeli Hisarı and Bebek flaunt numerous bougie haunts, such as Lokma and Lucca, but there are ways to explore both neighborhoods without emptying your bank account. Here is a list I've compiled of (relatively) inexpensive places in the area after spending a thrifty summer living in Rumeli Hisarı.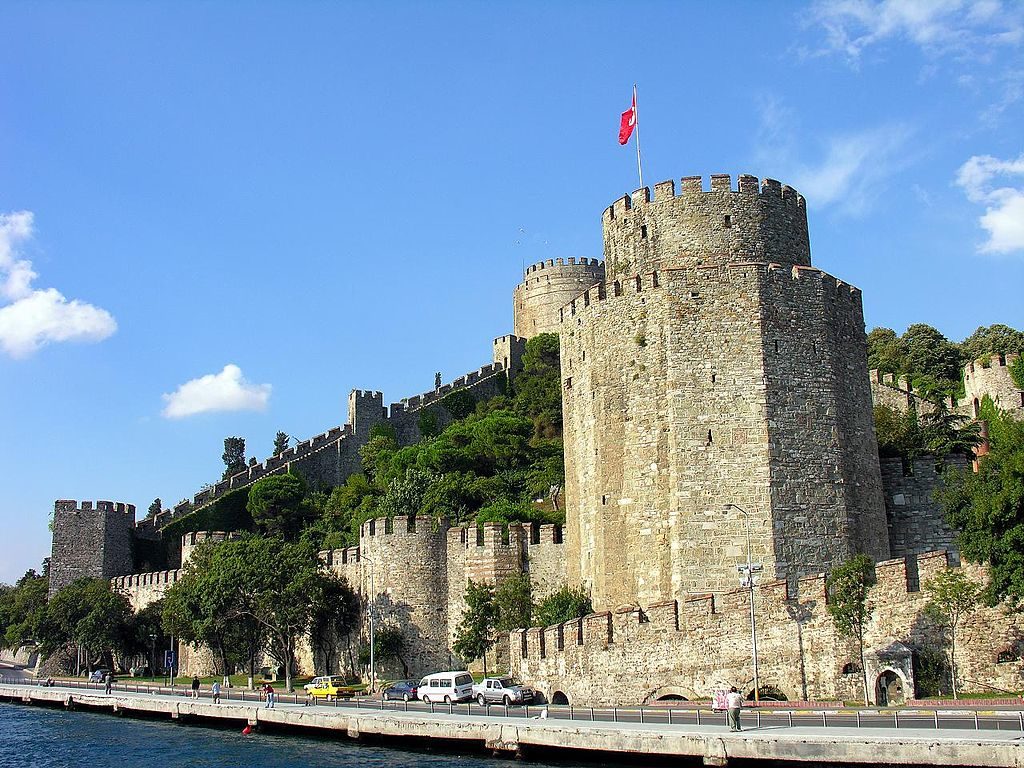 Rumeli Hisari
1. Rumelihisari: The fortress itself is pretty awe-inspiring. You can spend a good hour or two just scrambling up and down the walls (seriously, there are very few limits as to where you can climb). For those who want a more relaxing visit, the amphitheater provides an ideal spot to read for awhile and catch some sun. To top it all off, the views from the fortress are some of the best in the city. Entrance is 5 TL.
2. Borusan Contemporary: The central office of Borusan Holding Company, located in the Perili Köşk, doubles as an art gallery on the weekends. The first floor is solely a space for rotating exhibits, but the rest of the building is comprised of offices with art scattered here and there. Basically, you get to wander through some swanky offices and ogle not just Borusan's impressive art collection, but also the tangible bits and pieces of someone's work week – a note scribbled, a stack of magazines. It feels a bit voyeuristic but in a delightful, non-creepy way. Plus, the views from the top of the red brick mansion rival those of Rumelihisarı. Student entrance is 5 TL.
3. Kalite Köfte: This small establishment built into the side of Ali Petek Camii offers one of the best köfte sandwiches in the city, hell maybe even in Turkey. The sandwich is made with high-quality meat and freshly grilled vegetables, but it's the homemade red pepper paste that really takes it to the next level. Paired with a cooling ayran, this has to be one of the cheapest and most satisfying eats in Rumeli Hisarı. You can eat at one of the few tables situated outside of Kalite Köfte or you can get it to go and enjoy this deliciousness while sitting on one of the many benches along the Bosphorus.
4. Walk from Rumeli Hisarı to Bebek: This walk along the Bosphorus is stupidly beautiful. I spent many a summer night going on a leisurely stroll to Bebek, taking in the sea and the steep Asian coastline, not to mention the tankers chugging on past. It's also one of the prime running spots in the city, if that's your bag.
Bebek
1. Taps: Okay, so this bar is definitely not the cheapest place in the city, BUT it offers non-Efes beer and a nice view for people-watching (I prefer sitting upstairs right next to the window as opposed to outside on the sidewalk, which can feel claustrophobic with all the traffic). While the food is overpriced and, in my book, deserves a pass, it's a good place to nurse a cold beer.
2. Caffe Nero: Everyone raves about the Bebek Starbucks and its fabulous view, but the past few times I've been there it has been completely overrun – I'm talking a line that is 30 people deep. That's why Caffe Nero has become my go-to spot for getting work done. The prices are similar and if you walk all the way up to the top floor, there's a pretty damn good view of the water. Plus, when it starts getting unbearably hot out, the air conditioning feels downright luxurious. (Honorable Mention: For really delicious coffee, I've heard lots of good things about Cup of Joy, but have yet to try them out.)
3. Şok Market: Why would I put a discount grocery store on this list? Mainly because I wanted to let you in on a little secret: They sell some of the cheapest parmesan, blue cheese and gouda I've seen in the city. If you're hankering for some non-beyaz peynir cheese and don't want to break the bank, this is the best place to find it. Grab some cheese, a loaf of bread and have a picnic in Bebek Park.
4. Tea Man in Bebek Park: On the promenade along the water, very close to the Egyptian Consulate, is a man who has set up some small stools and tables and offers a tea-service out of his tiny boat. It's a perfect place to unwind after a long walk and, again, the view is pretty great (do you sense a theme?). Enjoy a cheap çay with a bit of friendly chatter before heading back home.
These were some of the places I frequented while studying at Boğaziçi (and still go back to today). Are there any places you like in the area that I've left out? Let us know in the comments!
Featured Image Source – Dennis Jarvis from Halifax, Canada – Turkey-1288 Uploaded by Randam (CC BY-SA 2.0)