In the back alleys of Tünel there is a bar. It has no sign or street entrance. You can call it a speakeasy. You can call it secret. But for the man standing behind the candle lit bar, it's all about the cocktails.
The name of the bar is Külhanbeyi and the man behind the bar is Kevin Patnode. For five nights a week, since New Years Day, Kevin has been crafting some of the best cocktails in Istanbul. The approach to cocktails at Külhanbeyi appears simple: a unique approach to quality ingredients seeded in nostalgia.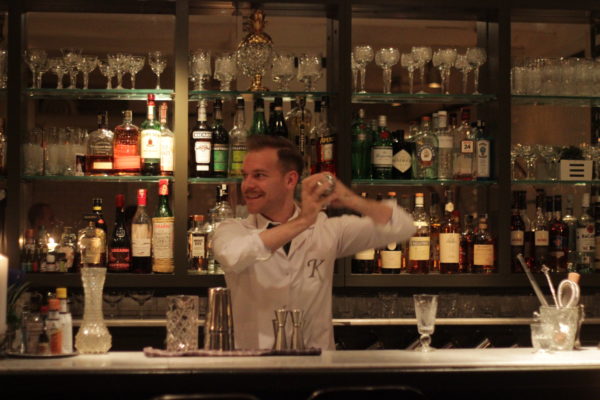 The bar has a firm hold on the past: pre-war details line the subway-tiled walls, drinks are served in fine glassware and schoolhouse mugs, and I swear my grandmother had the same settee in her house. Even the bartenders, smartly dressed in black ties and white serving coats, harken back to a time of yore. But the bar is decidedly modern: rap music thumps from speakers and the craft of the drinks behind the bar is as hip and inventive as any I've come across.
Craft cocktails, with their seasonally forward menus, fresh ingredients and top-shelf spirits, dominate bar scenes across the world. And while the art of applying kitchen standards behind the pine hasn't fully consumed Istanbul, Kevin and his fellow mixologist-in-arms, Sezer, are working hard to see that transformation happen, one craft cocktail at a time.
Kevin, originally from Rhode Island, was schooled in Boston and China, with stops in Toronto and New York City, where he first learned the joys of craft cocktail at the trendy Standard Hotel. When he came to Istanbul for work at the Robert College Summer Camp, he realized, like so many of us, that Istanbul was too good to leave. It wasn't long before he got behind the bar at Nişantaşı's trendy Nopa. Over the last three years it was at Nopa that Kevin honed his cocktail game and made a name for himself, even competing in the World Class Club Cocktail Championship last fall, where he finished in the top ten.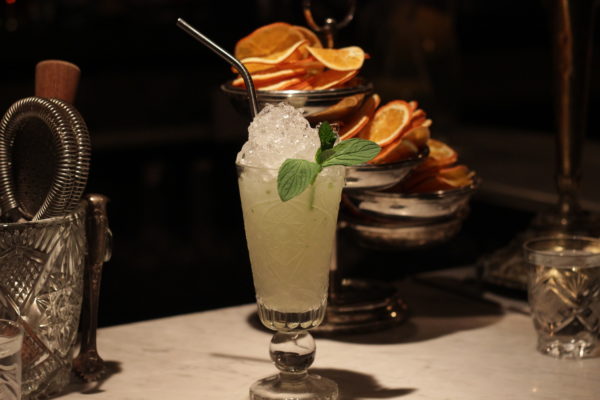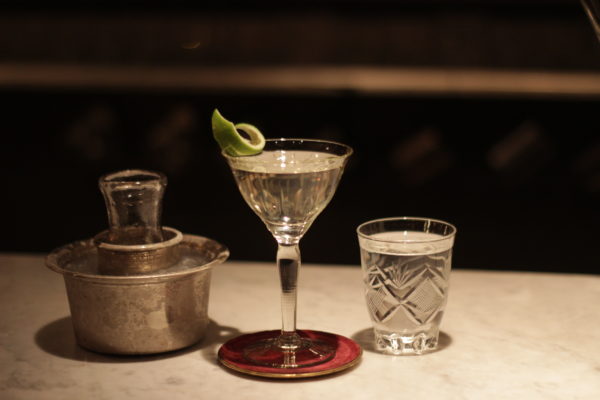 At Külhanbeyi the goal is simple: make great cocktails. The main draw are the specialty cocktails, which are an education of spirits for newbies and connoisseurs a like (if you fancy a classic or want to try something new, just ask). The idea is to make craft cocktails, an alien idea to greater Istanbul, accessible and approachable for every patron at the bar. The trick, Kevin says, is to find something that people are familiar with: like serving a gin martini in an ehlikeyf (used to keep glasses of rakı ice cold) or using locally roasted coffee. It's a thread of familiarity in something new. Even on your first visit you feel like you've been there before. A feeling so reminiscent you may never want to leave.
Names are important at Külhanbeyi. Have you ever wondered about the fez? Who wore them? What were they for? Kevin informed me anyone can wear them, but traditionally it was the men who worked at the Turkish baths. Over time, as the baths fell out of everyday use, the men that worked the coal rooms of the baths (known as the külhanbeyi) were better known on the streets of Istanbul as tough guys or thugs. They were manly men – not the types to drink craft cocktails by candlelight. When the team of Külhanbeyi were building out the space, it all came full circle when they found out that the bar was formerly a coal room for the Tünel funicular. The name stuck.
The names of the cocktails, which are almost exclusively drawn from Turkish idioms, also catch your attention. The drinks on the spring menu – new this week featuring more sour flavors, fresh squeezed juice, and riffs on classic cocktails – are no exception. The "Göte Giren Şemsiye Açılmaz" or "Once it Goes in Your Ass the Umbrella Won't Open" is a riff on a Southside that showcases fresh mint and Pastis, an anise flavored French liqueur, that will complement the meyhane you just came from or are about to go to. It is served over shaved ice and is tart and dangerously smooth, with a beverage umbrella to boot.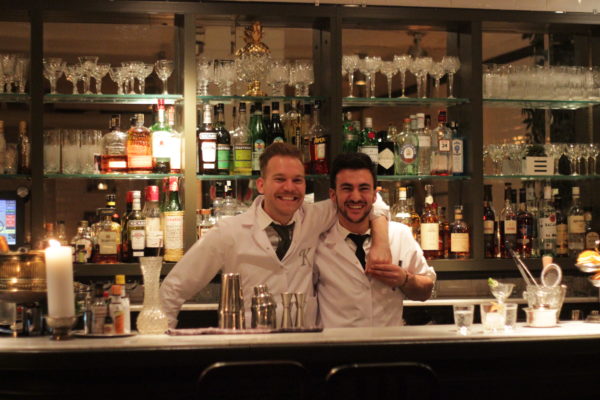 Since the weather is warming up, Kevin has been dreaming of Mezcal (aged tequila with a smoky flavor), which unfortunately isn't imported to Turkey. In any case, the new menu features tequila in ways that change the way you think about tequila. "You Came From the Mountains and Started a Fight in the Vineyard " is a stirred cocktail of Don Q, Yellow Chartreuse, and Cardamom Bitters; it is sweet, and earthy, and spiced all at the same time.
Kevin runs the bar and writes the menu on the idea that "a man [who] walks into a bar…" should be able to find something he wants to drink (same goes for the ladies). The idea is to offer you something truly special – something you won't find anywhere else – and perhaps something that will change your idea of a spirit or a cocktail.
There are big plans for the bar in the coming months. As always, the bar will act as stage for guest bartenders, and Kevin plans to host "Cocktail Classes" that include recipe sharing and tasting nights. You can follow all the happenings going on at Külhanbeyi via their Instagram account, that includes funny video clips of old Turkish movies and pictures of the cocktail of the week.
With all the emphasis on nostalgia and creating a new-yet-familiar space, I asked Kevin if running a craft cocktail bar in Istanbul sometimes feels like traveling back in time – before craft cocktails dominated bar scenes across the globe. He didn't think so. "It's a cool time to be here." I cannot agree more.
All photos by Svetlana Nekrasova
—
Külhanbeyi is open six 'til late Tuesday through Saturday at Asmalı Mescit, General Yazgan Sk. No:3, 34430 Beyoğlu/İstanbul. They are on Instagram and Facebook.
For bookings, contact: 0212 245 9515 or info@kulhanbeyi.co