We are sitting at the bar with the Bosphorus splayed out behind us, and Alex is telling me that making cocktails is "like a card trick: there's a certain aspect of vaudeville about it." The name Alex is ubiquitous with cocktails in Istanbul and I'm here to find out why. The bar, located at the top of George's Hotel, is Alex Waldman's new venture. Much like his previous venture – the busy "bar with no name" in Asmalımescit – the cocktails at George's showcase the skill and precision one hopes for in a perfectly made cocktail.
Over a few cocktails, as the sun turned the Golden Horn colors, we talked with Alex about the craft of mixing, the drinking culture in Istanbul, and the motivation for this new bar.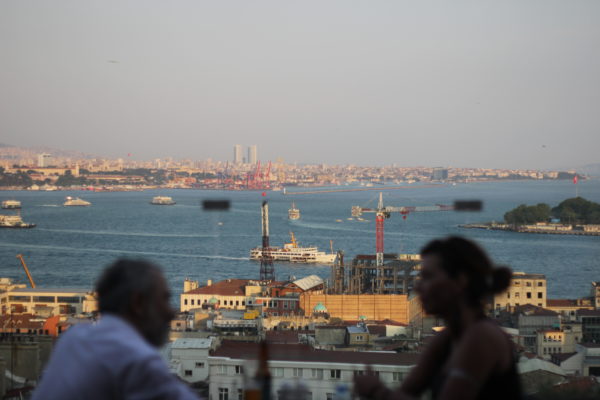 Alex's first incarnation of his American bar was Eleven. Only open two days a week, Eleven was a true speakeasy – located on the second floor of an office building with no sign and no license. Eleven introduced the world of cocktails to Istanbul from 2009 to 2011, and is often credited as the first taste of the cocktail scene in Turkey.
After Eleven, Alex worked as a guest bartender around town before opening what he refers to as "Little Bar", but is better known around town as "No Name Bar" or simply "Alex's". It was at Little Bar that Alex started making a name for himself in the cocktail game and discovered his vision for the type of bar that he wanted to work at, drink at, and give to the people of Istanbul.
George's Bar, opened at the end of April, is an extension of that idea with more seats, a better view, and a more extensive menu. Where the menu at Little Bar changes four to five times a year, on the bartender's whim, the menu at George's is always growing. Currently the "Late Spring" menu features a trio of gin and tonics and a swath of fresh cocktails like the Working Class Hero (tequila, vermouth, green chartreuse, and lemon bitters). The plan is to have a series of menu cards that feature the six basic drinks according to David A. Embury's The Fine Art of Mixing Drinks, a list of single malt cocktails, and drinks that tell a story.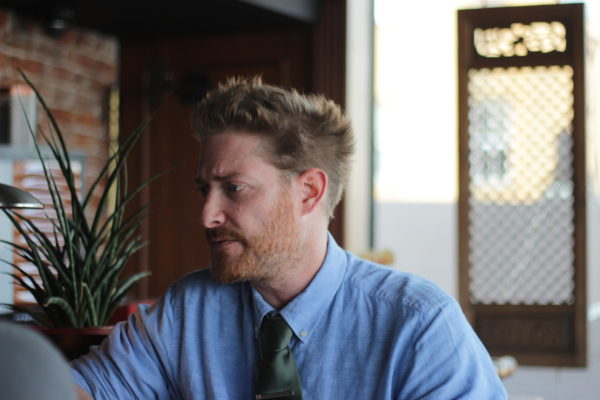 The story aspect is important to Alex. People go to bars for various reasons: for a good story, to escape their significant others, or for something as simple as a drink that tastes good. George's offers all of that, with an emphasis on being an American Bar – a bar where you go to be served a quality drink by a well-dressed and knowledgeable bartender in an inviting space. A bar should be versatile in its functions – community center on the one hand, personal temple on the other.
The idea of an American bar is, as Alex says, diametrically opposed to the drinking culture of Turkey. The cornerstone of imbibing in Turkey is rakı – it is communal and self-service. It's the kind of drinking where you can forget to exercise restraint, then stand up and find the world spinning. Sometimes you wake up aching in the morning with large patches of the night missing. That's not what George's is here to offer.
Part of what is unique about George's comes down to how much is made in-house. Because of importation restrictions, there are certain things Alex can't stock behind the bar, so he makes them. As well as carrying an arsenal of homemade bitters, syrups, and tinctures, Alex makes his own Amaro and several other liqueurs. It's a lot of trial and error, but there are certain items that he swears by – as they've been specifically crafted for the particular types of spirits he is able to stock. He is also keen to emphasize what he doesn't stock: Jack Daniels Old No. 7 and mixed tequilas.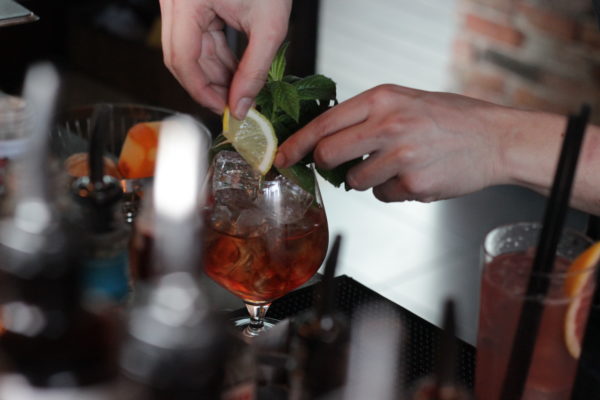 Alex seems to thrive in limitations, specializing in cocktails where he has to blend his own spirits and even created a prototype jigger for measuring drinks.
There are many lofty things that have been said and still are yet to be said about Alex and his drinks, but, as Alex told me, what it comes down to is that people want drinks that taste so good that they want more. He tells me the kind of bartender he wants is the guy "who, on a long flight" steals two bottles of airplane whiskey and scrounges up ice cubes and serves whiskey on the rocks. In his words, "Any bartender who is worth their salt knows a handful of drinks" they hold to a gold standard – "ones that never get sent back"; it's all a matter of playing the right hand.
There is a certain mastery happening at George's that you will be hard pressed to find around the city – at first glance it looks like magic, but that's part of the illusion.
—
George's is open seven days a week from 7:00am to 1:00am at Müeyyedzade, Serdar-ı Ekrem Cd. No:24, Beyoğlu, Turkey
Little Bar/Alex's Bar/No Name Bar is open Monday – Saturday 6:00pm – 1:00 am (2:00 am on Friday and Saturday nights) at Gönül Sok. No:7/B, Beyoğlu/İstanbul, Turkey
All photos by Svetlana Nekrasova