Sometimes in life you just need a place with cold beer and good music after a hard day's work. Beer Hall, located in the Akaretler neighborhood of Beşiktaş, is exactly that: a place to meet with friends (or better yet, strangers) and enjoy your hard-earned suds.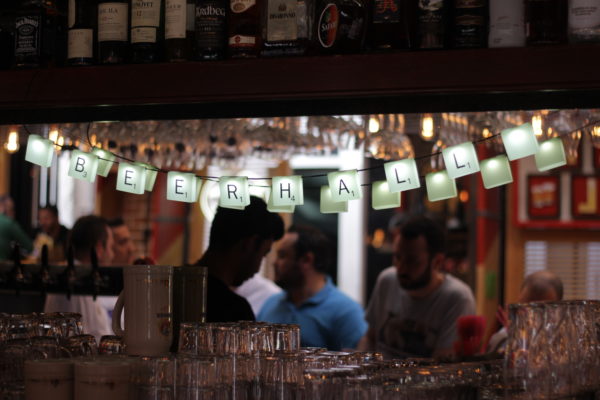 Located on the trendy Süleyman Seba Caddesi, Beer Hall is unassuming at first glance; the street entrance leads through a series of brightly colored hallways to an open hall with natural light pouring in from the glass ceiling. Neon signs litter the walls and shout "Never Give Up" or "No Drugs or Nuclear Weapons Allowed Inside" to those imbibing and eating at the large communal tables. Like all the best bars, the music is loud and heavily rock n' roll, with the likes of The Ramones and Bruce Springsteen blasting over the speakers as people, young and old, pack around tables.
Beer Hall seems to be THE after-work beer-drinking choice for those in the neighborhood, boasting a long bottled list with eight beers on tap, including everyone's favorite Turkish varieties and German expats like Beck's and Erdinger (poured in proper Weiss glasses). The bottle list – conveniently separated on the menu according to styles – has a flavor for everyone, including Turkish craft beers, Scottish microbrews and my summertime standby, Budweiser.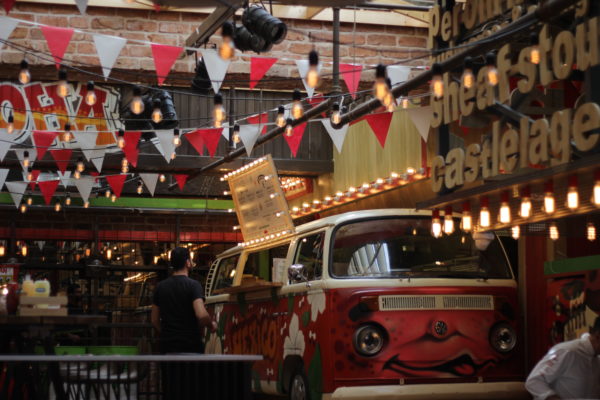 In addition to the beers, the menu also features spirits and wine, but most exciting are the beer cocktails. There are the usual suspects of shandies and micheladas, but also new takes on classics like the Flaming Submarine, which essentially takes the whiskey shot of a boilermaker and replaces it with an absinthe and limoncello combination.
The food, like the beer, is self-service, offering traditional American barroom fare with an eclectic food truck theme. There are multiple menus featuring hamburgers (try the Bitmeyen Burger, which consists of six small burgers sandwiched between two brioche buns) and hot dogs in a variety of styles and lengths are sold from one end of the hall. The other side of the hall entertains with kumpir, nachos, and tacos served from a Volkswagen bus converted into a food counter, while the Fries stand holds down the middle and delivers on everything that is fried.
Beer Hall is busy and doesn't take itself too seriously (I mean, there is a disco ball hanging in the middle of the restaurant). It does get busy after work, so be sure to show up early to carve out your beer-drinking space. Once settled, enjoy the cold beer, the tunes and the good times. And rest assured: the beer, just like the Springsteen song that blared over the speakers, goes down, down, down, down.
—
All photos by Sveta Nekrasova. Beer Hall is open from 12:00-02:00, seven days a week, and is located at Vişnezade Mahallesi, Süleyman Seba Caddesi 46, Beşiktaş.