We started Boza to Bourbon as a weekly place to find a beverage that you may have never tried or were dying to find. What's emerged, at least for me, is an exercise in nostalgia. How do we make amends with the history and traditions of this sprawling metropolis and its bold (albeit sometimes slow) move into the 21st century? How do we, as consumers, walk that fine line of old and new? How do we, as adopted İstanbullu, seek out, hold on to, and adopt the history we don't fully know?
Perhaps no place captures that spirit quite as well as 1924, a restaurant nearly as old as the Turkish Republic. First opened by Russians fleeing the Bolshevik revolution it was closed in 2011, but reopened its doors at the end of 2015 bringing back memories for Istanbulites young and old. When it first opened, 1924 was near the epicenter of Istanbul's social life during the jazz days of the Pera Palace Hotel; it was a place where elites — from Greta Garbo to the King of Spain — could get together and socialize, eat and drink, and tell stories. In the following years the idea, like the interior, has not changed: the floors and furnishings are from another place and time, the walls are lined with placards of famous and favorite guests, and the memories are just as ripe. There is a small table in the front corner that is "reserved for eternity" for Atatürk and always has a bottle of rakı and a lit candle.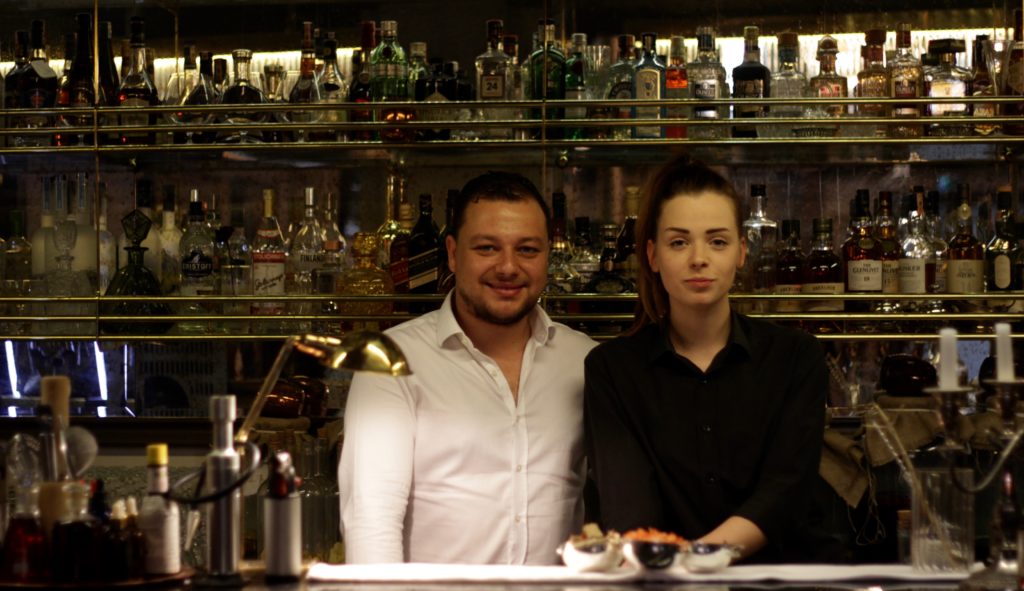 "The restaurant is a museum of memories. It has soul," says Cenk, the mastermind of 1924's bar program, who is accompanied by Luda, his apprentice and bartender extraordinaire, as they talk with us about the history, the cocktails, and their extensive infused vodka menu.
Cenk grew up in Izmir and studied under some of the best mixologists in Turkey and the United States. He tells us that not much about the restaurant has changed except the bar, which was overhauled to accommodate his extensive program of infusion. He calls his drinks "Cooktails" as Luda and him work extensively with the kitchen to construct and develop their cocktail program.
The first thing you notice on arrival are the jars of vodka lining the bar, which at any given time can include 20 different infusions from beetroot, to spicy peppers, and even salmon. The infusion process is complex and time consuming, but delivers on unexpected results. At 1924, they infuse using hot and cold methods and each infusion is documented and tested regularly to ensure it reaches maximum flavor and balance. Cenk likes to think of his program as "culinary mixology" as they utilize culinary techniques like nitrogen, smoking, and foams in addition to the infusion program. He likens the process of "seasoning" the vodka to seasoning a piece of meat.
From Boza to Bourbon: 1924
The signature Yellow Vodka is a secret recipe that Luda guards closely and was a work of labor as the bar tried dozens of recipes to capture the bright yellow vodka's sweet lemony burn. Cenk said that Tsar Nicholas II used to chase his Yellow Vodka with black peppercorns and that patrons who first came to 1924, many years ago, will occasionally show up at the bar and ask for the storied Yellow Vodka.
On any given night you can find Luda behind the bar. She loves spicy cocktails and while this is her first bartending job, she jumped into the depths of 1924's bar program with both feet. She credits all of her abilities and love for cocktails to her mentor, Cenk, and says she will always be a student who continues to push the limits and look for new approaches to mixing cocktails.
The cocktail list is comprised mostly of house infused riffs of classic cocktails including martinis, mules, and the Tanned Russian, which is a sly reincarnation of the lowly Piña Colada. The bar also has barrel-aged Manhattans and Negronis that are aged in new oak barrels, charred on site, for a minimum of two months before serving. The real show stopper of the cocktail list is the Smoked Negroni, which is smoked to order at the bar using apple wood chips soaked in red wine and herbs for 30 days. It's a cocktail that confronts all aspects of the drinking process as the smoke flavor fills your nose at first sip, is followed by the sweet bitter combination on your tongue, and again finishes smoky in your throat.
While the Yellow vodka is the most consumed and the highlight of 1924 be sure to try out the other infusions like beet, which is a bright velvety red and simultaneously delivers earthy and sweet or if you dare for a full burn be sure to try the habanero infusion.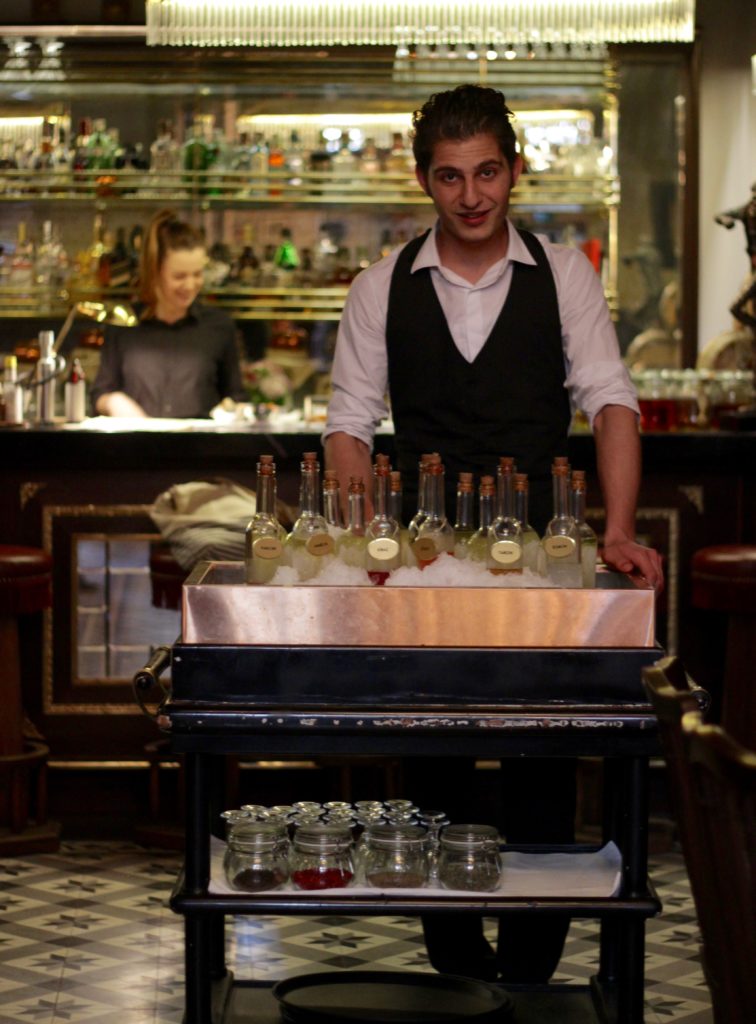 The food is upscale and has its roots in Eastern Europe and Russian cuisine with borscht, piroshky, and stroganoff filling out the menu. They offer a tasting menu every night highlighting the well-known classics and naturally vodka is the main supplement for your meal as a waiter pushes around a cart filled with different infusions to complement your courses or tailored to specific bites.
There is no doubt that 1924 is from a different time. The staff is dedicated to its historic roots, but continues to push the boundaries with culinary expertise to create something new. 1924 walks the fine line of being nostalgic enough to remember old memories and bold enough to make new ones. "We want people to feel something", Cenk says. If you walk out onto busy Istiklal after a meal and are feeling a bit of melancholy it could be the vodka or it could be the experience of traveling through time.
1924 is open everyday except Sunday and is located at Asmalı Mescit Mahallesi Olivya Geçidi No:7-A, 34435 İstanbul
All photos by Svetlana Nekrasova