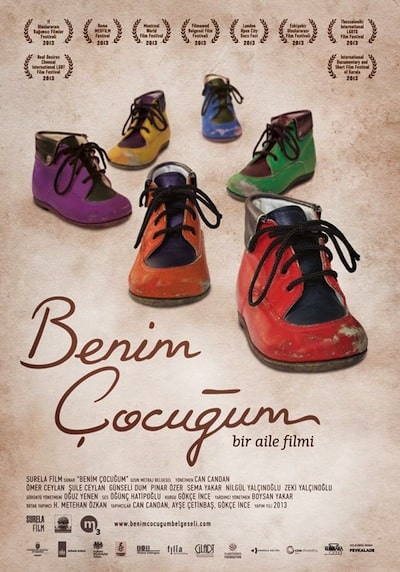 It's LGBT Pride Week in Istanbul, and with celebrations cropping up across Istiklal Street, I thought I'd review a very interesting documentary dealing with LGBT issues.
Benim Çocuğum (My Child) is a rare gem in Turkey's cinematic landscape. Can Candan's feature documentary focuses on parents of gay, lesbian, bisexual and transgender individuals, and the intimate stories they share in front of the camera. Such an approach is very straightforward: In the first part, the parents recount their background and how their children came out to them. In the second part, they gather and interact in preparation for the climax of the documentary, the Istanbul LGBT Pride Parade.
Candan's decision to focus on the point of view of the parents and have them break the fourth wall by directly addressing the audience was a wise move. The 'talking head' format is not just a documentary cliché; it allows us to emotionally connect with the interviewees. We feel their pain, and observe how they gain awareness and accept this new reality. Their children are barely present in the film, but their presence isn't necessary to convey the roller coaster of emotions that these families experienced. We witness each parent recall their journey through the phases of denial, anger, bargaining, depression and, finally, acceptance and support of who their children truly are.
The film's simplicity—devoid of tricks and preachiness—provides an unusually raw honesty. It's a powerful and brave defense of acceptance from within the family, especially in a society still in the shadow of an overwhelmingly conservative landscape. While the upbeat ending at the massive pride march may be a bit deceptive regarding the reality of the LGBT community in Turkey, the film's testimony is absolutely necessary and deserves to be seen by a larger audience. One can only hope that the more this message gets out, the less common it will be to hear of cases like Irem Okan, the 28-year-old transsexual who in 2010 was killed in an incident classified as a transphobic hate crime and to whom the film is dedicated.
You can find the DVD with English subtitles at D&R and Saturn bookshops.
[youtube id="B9CN6m7vccw" width="600″ height="350″]