My wife Özge and I can't afford many luxuries. We're a working couple, with different schedules. We don't even share the same days off.
We put up with it – we slave and toil in our separate lives – all year long just for those precious weeks where we can go somewhere else – Rome, Florence, New York, the Turkish Riviera. But that's a long time to wait, so like most married couples we have to look for little ways to spice things up once in a while, to beat the Istanblues.
Özge had just finished a 10-day slog at the palace. One recent evening she called with a surprise: she'd booked us massages at the Ramada-Asia Inn.
"But we don't have the money," I protested.
"Well, I already put them on the credit card," Özge said. "We can make it. We'll just have to be careful for the next week or so."
Careful! Half the time, we live like Dostoevsky ghosts, subsisting on my wife's cheap (admittedly tasty) soups, the always reliable pasta and other simple dishes that can be left-over to carry a weekday night or two, or three.
But I knew Özge was really tired from the 10 straight days. She needed something fun, and if it was spa treatment, then I was all for it.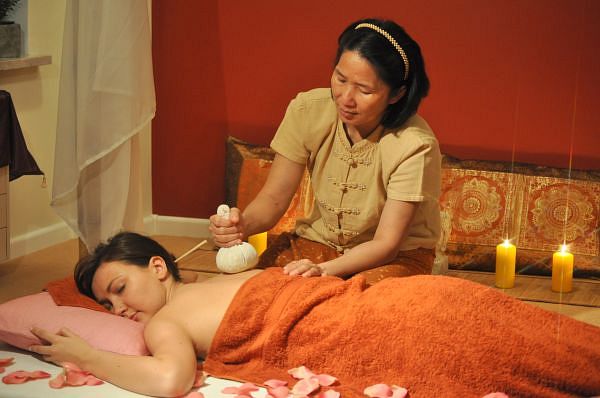 So that Sunday evening, we met outside the Ramada-Asia. My wife came straight from work, taking the ferry boat from the European side over to Kadıköy, then getting a bus. I was already waiting outside when she arrived, looking tired.
"Let's go get our massages!" I said, trying to cheer her up.
Inside, at reception, we were pointed to the lift. The spa was on the third floor.
Our appointment was at 7 o'clock, and it was just half-past five then. Özge confirmed our appointment, and asked if we could start early. Unfortunately, we had to wait.
So we went back downstairs, to a café in front of the hotel. I ordered a beer and Özge had coffee. The service was slow, and the drinks overpriced, as you'd expect from such places. As we waited, we grew depressed.
"How long does it take to pour a cup of coffee and beer?" Özge said, miserably. I'm usually the one to gripe. "I'm you today!" she added.
When the waiter finally came with our order, we drank quickly, paid the bill and left.
Back upstairs, it was just after six. The ladies at the spa handed us some towels, and showed us the dressing rooms.
In the men's room, I changed into swimming shorts, and draped the towel around my shoulders. There were lockers where you could put your stuff.
A sauna was in the back of the dressing room near the showers. There was another one in the ladies' dressing room, and Özge was using that one. Ah, separate saunas. Well, we were in Turkey, not Scandanavia. Too bad.
There was nobody in the men's sauna, so I sat in there by myself for maybe ten minutes. I was reminded of the "Seinfeld" episode . "It feels like a sauna in here!" I cried aloud, letting the joke bounce lamely off the sweating walls.
Well, this sucks. What is it people see in saunas? What is the point of sitting there sweating balls under an intense heat lamp? We live in Istanbul – we can do that in August for free.
So after, I don't know, five or ten minutes, I stepped out. I knew my wife was probably still in the ladies' sauna, so I decided to just have a look around. I've never really been the spa type – it cuts into my drinking time, I suppose.
Still wearing the swimming trunks, towel and slippers, I padded down the hall, feeling strange and naked. There was a gym, but nobody was in there. Hip hop music blared in the background, while the weights and staircases sat silent.
Further down the corridor, I passed the massage rooms. Inside one of the rooms, an employee was sitting in the dark sending text messages on her phone. At the end of the corridor, there was another dark room that had a Jacuzzi and hamam, or Turkish bath. A Jacuzzi – hey! I went to have a dip, but the water was cold. Maybe it wasn't turned on. I looked around for a button or switch, but couldn't find it.
So I decided to sit back on one of the lounge chairs and wait for my wife. There was soothing, meditation music playing on a kind of loop. The song changed to a familiar melody. Where did I know it from? Suddenly, I remembered: it was the theme from "Paradise," a soft-core erotic flick from the Eighties starring the wonderful Phoebe Cates, who is nude in many memorable scenes.
I sat back and listened to the "Paradise" theme song, recalling Phoebe bathing naked under a waterfall. For relaxation, it was better than the sauna, that's for sure.
The song ended, and another endlessly oriental, waves-crashing-on-the-beach New Age melange started. I got out my phone and browsed the Internet for awhile. There was more news about the police raid on Zaman, one of the country's leading newspapers. The usual Syria headlines, news from the war. And Nancy Reagan had died.
"What are you doing, my love?" My wife Özge entered, and came and sat down in the chair next to me. Her hair was wet, and she was wearing a towel over her bikini.
"Nothing. Just waiting for the massage."
"Are you bored?" She teased. "My husband is doing something healthy. Oh, so boring!"
"It's not that bad," I said. Actually, I was rather enjoying the novelty of the place, the relaxing atmosphere.
"Do you want to try the hamam?" Özge asked.
Some women were using it – I'd seen them go in – so we waited until they were done. They were middle-aged women, and they seemed a bit surprised to see Özge and I go in together. Hey – we're married, I thought: Get over it.
The hamam was warm inside, but not as hot as the sauna. It was much less intense. The interior was all marble, and there were two large, flat tables where you could lie. Over next to the wall, there was a bowl of warm, fresh water, and another bowl filled with fresh soapy water.
"Oh, this isn't a proper hamam," Özge said, making an inspection. "There's a proper one in Kadıköy, where they have the three separate rooms. First, a hot room, then a warm one, then a cold one. You pass through each one."
So after just dowsing herself with some of the water, we headed back out.
At seven, the women came and told us it was time for our massages. Two women came and had us lay down on the tables. They went to work, while the music switched to a woman singing John Lennon's "Imagine." I closed my eyes and tried to "Imagine all the people …" while the strange hands rubbed deeply into my thighs and back.
I've only had one other "proper" massage in my life, many years ago in California, when a friend of mine was qualifying for his certificate and needed some practical hours.
My masseuse was Russian, or perhaps Ukranian, and Özge's was a younger woman who was maybe Russian, too, or perhaps from Kazakhstan, or Azerbaijan. The two women communicated to each other in Russian and with us in Turkish.
I tried to enjoy the experience, but to be honest, my girl was a bit too rough. Her hands were strong, and they dug deep into the muscles and nerves to the point where it was, if not painful, at least uncomfortable.
"Why don't you relax?" she asked, in Turkish. She even appealed to my wife, "Why doesn't he relax?" I felt bad for the masseuse, like I was not cooperating. But I just didn't like her style, what can I say?
Özge, meanwhile, had fallen asleep while her girl was working.
The girl worked for awhile on my head – that was the best part. I never knew that the skull, the brain, had these tensions that could be smoothly worked out. I didn't know you could massage a skull, but believe me, my friend, it can and should be!
Before we knew it, the hour was up. The two ladies departed with a short farewell. We retired to the dressing rooms, and a few minutes later were back in our street clothes and on our way.
Outside, it had grown dark. We walked together, looking for the best place to get a dolmuş.
"This way, babe," I said.
My wife, trying to take a short cut, attempted to climb down a little incline to the sidewalk below. But suddenly, her leg bent in a strange way and she fell down.
"Ow-ww!" she groaned, looking up at me with hurt surprise in her eyes.
"Are you OK?" I asked. I was afraid she'd turned an ankle, or twisted her knee from the way she fell.
"I'm alright," she said. She rested for a minute, wincing.
"Are you sure?"
"Yes, it's alright. Damn it, I didn't realize until I went down that the muscles in my legs were so relaxed. They just buckled –"
We had a cigarette and waited a couple minutes, then I helped her up and we walked – she was walking OK – until we found the street where we could get a dolmuş home.
Later, at the apartment, we settled in for the evening.
"I can't believe I fell down!" Özge said. "I mean, five minutes after getting a massage, I have to fall down and ruin it!"
"Well, it could have been worse," I said. "Imagine if you'd broken something. Everyone would ask, 'How did you break your leg?' And you'd have to say, 'Coming out of a massage parlor!'"
"It sounds like an episode of "Seinfeld," my wife said.
"I know, right? I said the same thing when I was in the sauna: 'It's like a sauna in here!'"
"Oh, well …" Özge lay down and got ready for bed. "Are we unlucky, baby? Am I unlucky?"
"I hope not," I said, touching wood.
"Well, can you do me a favor then?"
"Sure, what's that?"
"Give me some massage!"
So I did, starting with the leg she had hurt when she fell.
"So you didn't like your massage?" Özge murmured.
"Oh, it wasn't so bad," I said. "It's just that the lady was too rough."
"Really?" Özge sat up. "My lady was too soft. We should have switched!"
"I didn't know we could do that!"
"Of course we could have," Özge said. "You should have said something."
We both were like: "Next time!"
Next time: Well, whenever we can afford to go again, that is.
Later, I went to the kitchen, sat for a while with a beer and read the news some more. After a while I went to check on Özge. She was fast, blissfully asleep, with the cat dozing at her feet.
She works hard, and it was nice knowing that tomorrow at least she would have the whole day off. Maybe next time we would check out the hamam in Kadıköy.
James Tressler is a writer and teacher. He lives in Istanbul.
Featured Image Source: By Marcin Bober – Own work – CC BY 3.0