Early last month, The Art of Banksy made its world debut, launching at Global Karaköy, a brand new art space located in the heart of Istanbul's trendy port district. The exhibition brings together a £20-million retrospective of the enigmatic graffiti-artist's body of work, sourced from the private collection of former colleague and de facto agent, Steve Lazarides.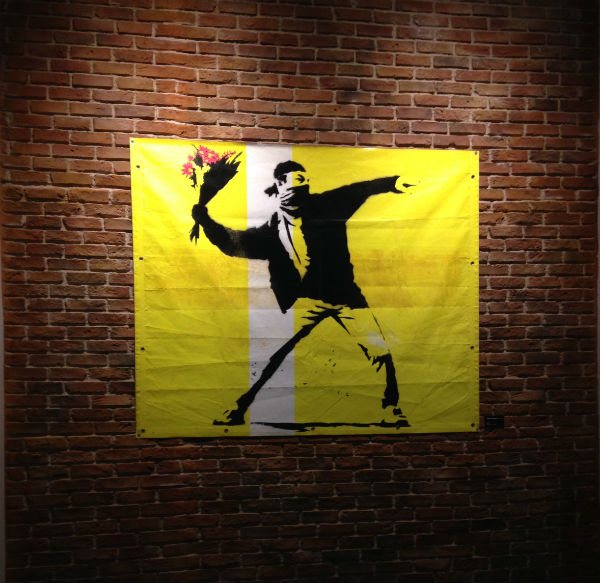 Lazarides, a London-based gallery owner who originally promoted and produced screen prints for the artist, has continued to commercialize Banksy's public installations despite the breakdown of their personal and professional relationship. The unauthorized nature of the exhibition has, rightfully, ruffled feathers of fans and art-enthusiasts. But with Banksy's outdoor installations now frequently targeted by collectors and vandals alike (his Steve Jobs mural in the Calais "Jungle" was recently defaced), this 80-piece tribute production offers a rare opportunity to view original, signed displays of his work.
The showcase at Global Karaköy includes images, video installations and sculptures from a number of Banksy shows, and features many of the satirical artist's most well-known pieces—from the characteristically irreverent Monkey Queen, to the ever-relevant Bomb Hugger, Flower Thrower and Napalm, and of course, the Girl with a Red Balloon.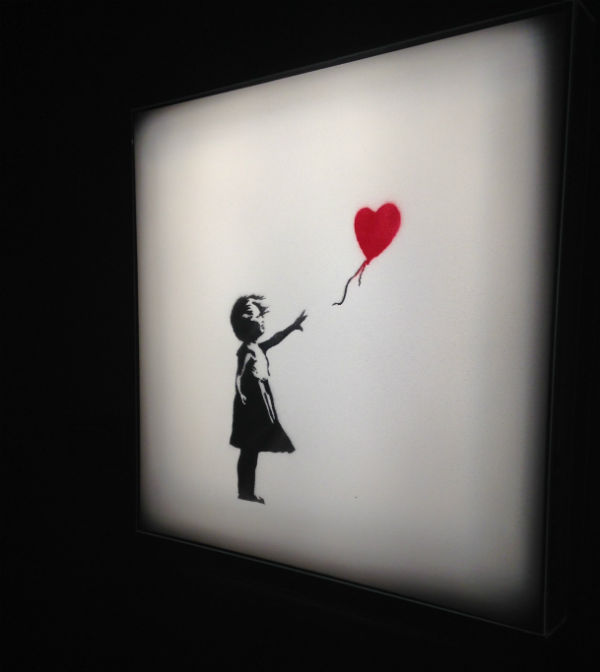 A stroll through the exhibit's dimly lit corridors (meant to simulate the streets of London) is sure to garner new favorites: keep an eye out for a portrait of three sinewy men on the hunt for shopping carts in a wild brush (aptly titled Trolley Hunters); an officer rifling through the straw basket of a defiant, fist-clenching Dorothy, as poor Toto looks on helplessly (Stop & Search); two London police officers locked unabashedly in a passionate embrace (Kissing Coppers); and a handful of colorful £10 banknotes printed with a nostalgia-inducing image of Princess Diana smiling wryly at a private joke (Di Faced Tenner).
To Go or Not To Go?
Criticism of Banksy has been prolific—one columnist even went so far as to call his work "pseudo subversive" and "downright embarrassing"—but, in a world where the value of a creative endeavor is all too often correlated with its level of fringy-ness (snooty book club, anyone? Are you there, obscure underground music/noise?), Banksy's digestible, accessible and often cheeky portfolio is a welcome pretentiousness reprieve for the Justin Bieber-lover in us all.
A small portion of proceeds from The Art of Banksy will go to charities that support refugees and the visually impaired.
About Banksy
Although his true identity remains a mystery, Banksy is quite arguably the world's most well-known and celebrated graffiti artist. Believed to hail from the southwestern English town of Bristol, his work can be traced back to the early 90s graffiti "gang" known as the DryBredZ Crew. Around the turn of the century, Banksy came crashing onto the London art scene with the launch of his breakthrough solo exhibition, Turf War. Since then, he's become a pop-art fixture, staging shows in New York and Los Angeles, with his signature stencil-based tags appearing everywhere from France to the Palestinian West Bank (though notably not in Istanbul). More than just a man armed with a can of paint, Banksy's name has become synonymous with political activism and sharp social commentary, and his foray into filmmaking even garnered the artist an Oscar nomination for Best Documentary. High-resolution images of the artist's work can be found on his official website, Banksy.co.uk.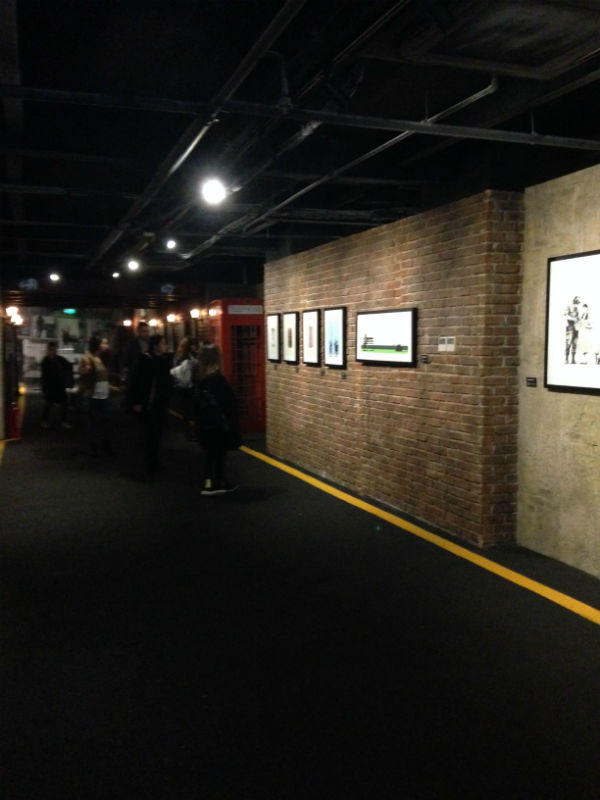 The Art of Banksy is on display until February 29 at Global Karaköy (Kemankeş Caddesi, No: 51, Karaköy), open daily from 10:00am-8:00pm.
Tickets: 40 TL regular, 32 TL student (available at the gallery or online at Biletix.com)
*If at all possible, steer clear of the "graffitied" toilets; but unfortunately, all visitors will have no choice but to exit through the (cringe) gift shop.
All images courtesy of Sally Khalil.
Kemankeş Karamustafa Paşa, Rıhtım Cd. No:51 – Karaköy 34425