I'm going to let you in on a little secret. It has taken me over two years of wanting but failing to make proactive moves and catch a BaBa ZuLa performance… until now. Finally, I can say I've seen the illustrious BaBa ZuLa live in concert.
Psychedelic rock was the beginning of my musical journey, so I arrived expecting colorful theatrical entertainment on stage.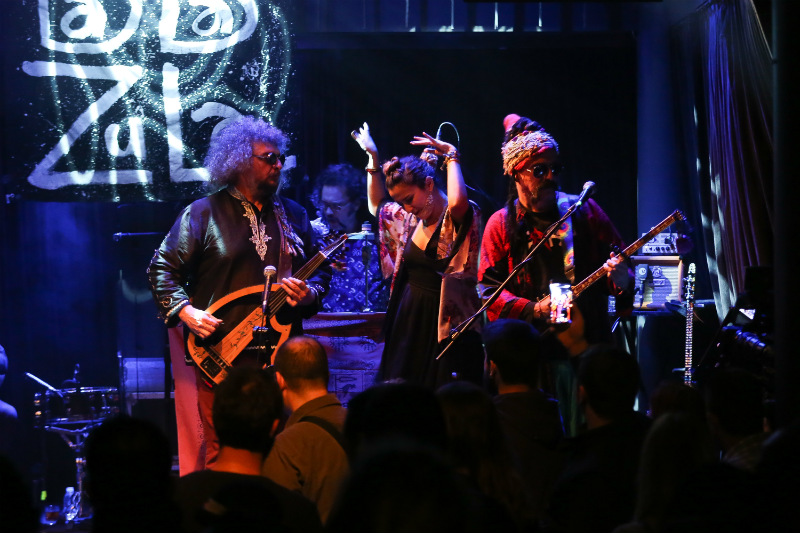 Thankfully, that's exactly what happened. The musicians were outfitted with fun costumes including harem pants and a Sufi inspired head piece, sunglasses indoors, and there was even a tie dye guitar strap. One member wore a Beşiktaş Çarşı t-shirt which I got a real kick out of. No doubt, a nod to their political standing.
Their performance was highly interactive, as they circled through the crowd on multiple occasions. The spirit inside Salon was just what you'd want to find on a Saturday night. Everyone in the crowd seemed like they were throwing back drinks, shaking their groove thing and enjoying themselves.
My visual senses were in overdrive and I found their female vocalist magnetic. Melike Şahin has natural charisma on stage which lends itself to welcoming the crowd into the band's inner circle and treating them like friends. Which is maybe why the audience seemed like seasoned concert goers and long time fans. What I really appreciated was the laid back vibe of the crowd, no poser vibes or judgmental looks, just good time folk doing their thing.
The way I connect to music is through lyrics, albeit being in a foreign language in this case. So I preferred the songs with vocalization. I thought that's where the performance magic was. Staying through to the end though ensures you also get plenty of crazy tribal beats and psychedelic melodies.
A new friend told me that the band usually performs to much large crowds. I can picture them performing at festivals or outdoor venues and it being a big success.
In my mind, Salon is everything a music venue should be with its intimate atmosphere and excellent acoustics. My only suggestion is it would be nice if they had better security in these worrying times.
Sadly, also a part of the modern day concert experience is the blinding light radiating from dozens of phones. As I stood in the back I could see more than a few people's notification pages eagerly awaiting virtual gratification. Behavior like this really takes me out of the moment and more so, obstructs my view. As a result, unless you are a professional or paid staff, I've made it a point not to give likes or engagement to concert photos because they come at the price of annoying your neighbor.
I've been to shows before where the band takes care of in-house business by offering the audience a chance to take a photo and then kindly requests phones off for the rest of the show. Ladies and gentleman, this is the solution we're all looking for.
Anyway, to swing back around. The only thing I'd change is to arrive on time or even early and secure a front row spot. Salon is known to be fairly punctual regarding their advertised start times.
To all the Turkish friends who gave me the response of, "They're cool, but I don't like them too much", and the seemingly aggravating follow up of "I don't listen to Turkish music, just the classics." You're fools! What Baba Zula is doing is highly unique. I don't want to attribute too many hyper adjectives to their sound because the instruments are plenty and the vibes that follow are one of a kind.
The band themselves describe their sound as "oriental Istanbul Rock 'n' Roll that rolls in a futuristic way inspired by the late 60s." Check out their Facebook page for the whole elaborate description. I got a kick out of it.
Listeners of Beats Antique, Gogol Bordello, Grateful Dead, RubbleBucket, Sublime, David Bowie, Hindi Zahra and Barış Manço would be interested in what this band has to offer.
Baba Zula performs all around town, mostly in Kadıköy and Beyoğlu on a monthly basis. With their new album on Glitterbeat Records dropping January 27th, they are set to embark on a world tour through April. But fans in Turkey are in luck. They are swinging back around to play a home-turf show, February 15th at Zorlu and February 17th at Kadıköy Sahne.
You'll find this writer in attendance at the latter. Now that I've gotten my first taste, I'm hooked on Baba Zula's good time vibes.
Image by Ali Güler and courtesy of Salon IKSV.