Turkey's first edition of Queer Olympix will be held from Friday 24 through Sunday 26 August. Taking place at Heybeliada and Kalamış Sports Center, a full program includes a number of sporting events, workshops, and panels. Attendees are invited to participate in several of the different ongoing events.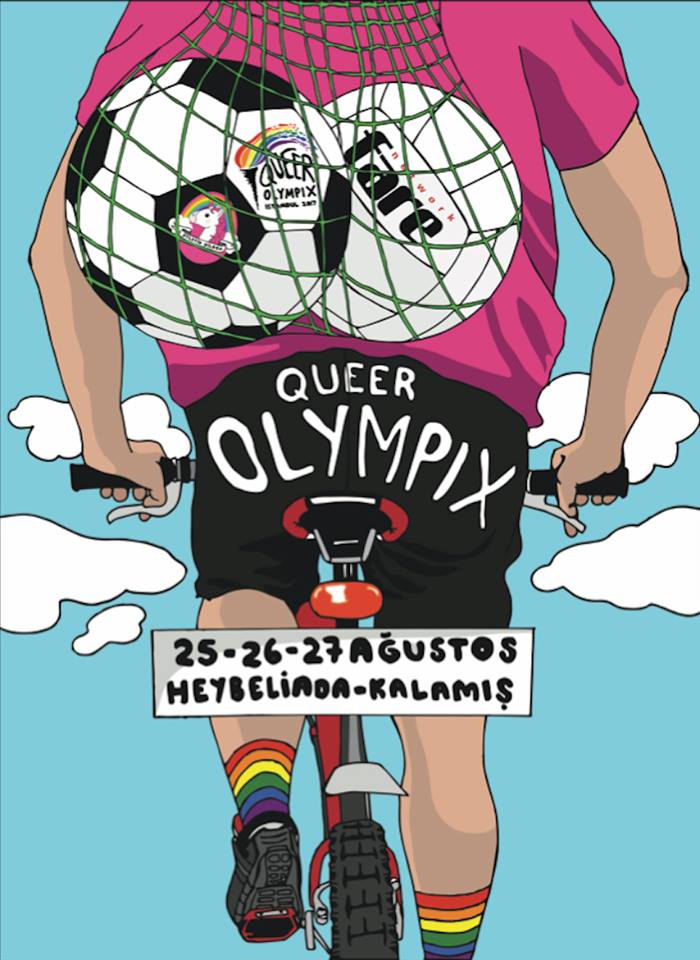 From the organizer:
We, as women and LGBTI+ individuals who have been playing football in different fields, asked ourselves if we could re-create the crowds we yearn for, and if we could set up the sentence "We do exist in public sphere!" through sports this time. Believing that sports is a way to free our bodies and to come together, we hit the road to create the possibility of this experience together and FOR THE FIRST TIME in Turkey!
In the Olympix where a total of nine teams from Turkey and Europe compete, all teams will compete in four different branches: football, beach volley, relay race and long jump.​
Queer Olympix events will begin on Friday, August 25th with cycling tour in Heybeliada and will continue in Kalamış throughout August 26th and 27th. A variety of NGOs will take part in the event area with their stands for two days.
In addition to the competitions, there will be many workshops, forums and film screenings against sexism and homo-bi-transphobia in sports for three days. Participation in events is free and open to everyone. Some events to take place during the Queer Olympix:
Workshop: Yoga
Forum: Experiences of Being Women and LGBTI+ in City
Panel: The Ideal Body and Healthy Community at Nazi Germany: Genetically Diseased and Olympia
Panel: The Gender Games
Workshop: Body Positivity
Workshop: Inoffensive Cheering: When a tongue touches another tongue
Workshop: Self Defense
Workshop: Sign Language
Workshop: A discussion On the Experience of Feminist Fight Club Muay Thai Relating to Self Defense, Violence and Body
We aim to show that a sports world free from discrimination is possible!
—
For more information, be sure to follow the official Facebook event.
Images courtesy of the organizer.