Istanbul lends itself to being a city of infinite potential and countless ideas, reinforced by the numerous creatives one comes across focused on turning their ambitious projects into realities. In the chaos that we call home, finding the discipline, motivation and resources necessary to realize one's goals can be a challenge. Yabangee knows these difficulties all too well, operating for a long time out of cramped living rooms and cozy cafes. Sometimes it would seem, a change of environment is exactly the stimulus needed to take one's efforts to new, never-before-seen heights. For us and many others, ATÖLYE has represented a unique opportunity to do exactly this.
ATÖLYE, based out of trendy Bomontiada, is a welcome addition to the area's ever-evolving colony of forward thinking establishments. Tucked away in the same recently-renovated facilities as popular destinations Babylon Bomonti, Populist and Alt Art Space, ATÖLYE offers its own brand of creative thinking and outside-the-box possibility to one of the city's hottest new spaces. This self-identified 'interaction and creativity platform' is much more than your typical co-working space. ATÖLYE is an energetic, community-driven web of creatives housed under one modern, thoughtfully designed umbrella.
Truth be told, the first morning after ATÖLYE welcomed Yabangee (and by extension, me) to utilize their space was somewhat of an intimidating one. Much like the first day at a new job, I was nervous about the new faces and procedures to get acquainted with. One of the first to arrive early on the day, my morning motivation was injected with an added boost when I saw that a few people were already diligently at work in the common workspace area. After finding an isolated spot to claim for my own tinkerings, I wandered over to the kitchen to find comfort in a cup of coffee.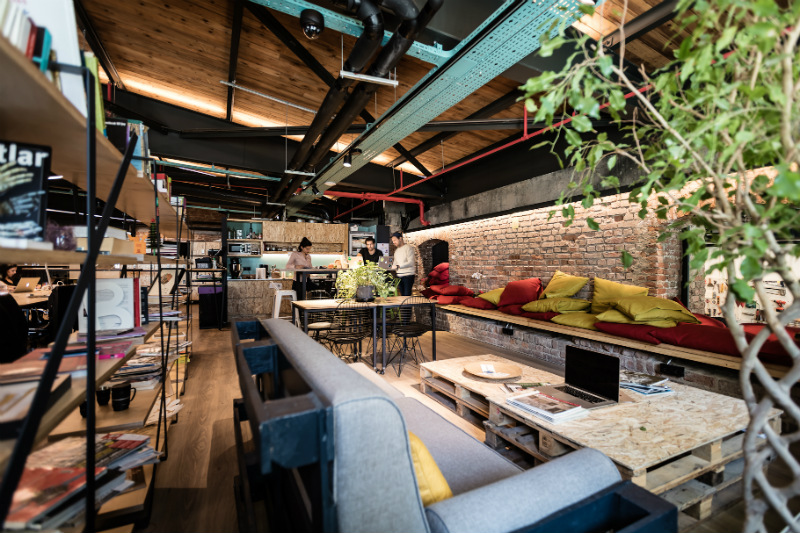 The kitchen is part of an area designated as the living room. In addition to all the amenities you would expect to find in a kitchen, there is also space for people to eat their meals or meet with others, comfortable cushions for a bit of reading (or the occasional break from working at one's desk), bookshelves covering a variety of topics , and most importantly for every person who fuels their day with caffeine — an endless supply of tea or coffee (in this case from Cihangir-based Kronotrop).
Delighting in the revelation of having access to quality coffee throughout the day, my mind was already opening up to all the newfound possibilities that ATÖLYE could offer. After logging in to the wi-fi (which I immediately speed-tested and reveled in), I spent some time browsing the ATÖLYE portal, where the profiles of everyone involved in the community are available. The rich diversity of the various disciplines represented is a clear indication that this is a carefully curated list of creatives. In limiting each field's representation under four different discipline scopes, the community maintains a well-balanced spectrum of skillsets. As a result, the mix of designers, engineers, architects, videographers, illustrators, and various coders that one would expect to find in a co-working space is well represented. In addition however you also find sociologists, lawyers, communication specialists, researchers, business advisers, strategists and more.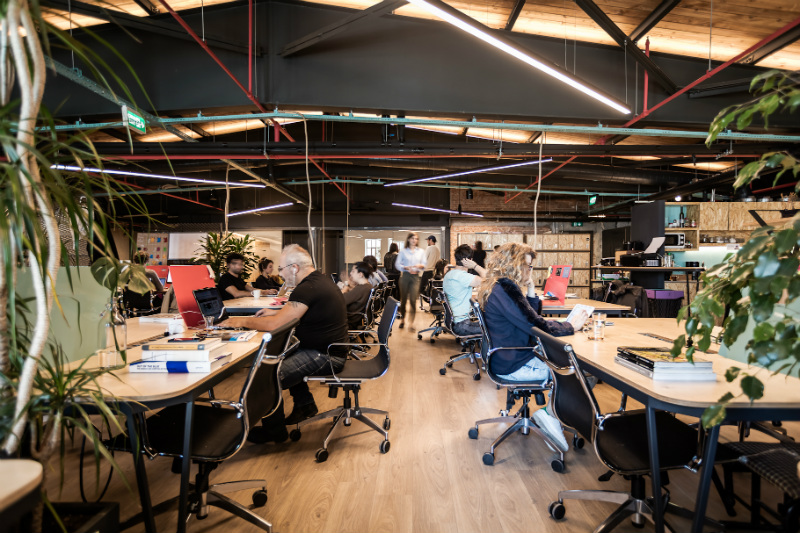 The evening of my first day, I was surprised to receive an email titled "Hoş Geldin Tarik / Welcome Tarik" addressed to the entire community, including some of the details I had provided in my profile. As with all official correspondence, it was in both Turkish and English, saving me the slow struggle of translating. A few follow-up e-mails from individuals shortly followed and before long I was feeling welcomed and admittedly charmed by such a small, thoughtful detail.
The communal atmosphere of ATÖLYE is very much set off by these finer touches. The welcome e-mail and online portal play their part, but it's the open environment that really creates the bridges. Three packages are offered: part-time (10 days/month), resident (24/7) and closed-office. However, these tags are essentially indistinguishable as even the "closed" offices lie behind open doors and see-through glass walls. Perhaps most importantly, resources are shared among the community, with everyone having access to meeting rooms, creative spaces like the Makerlab and access to the various events.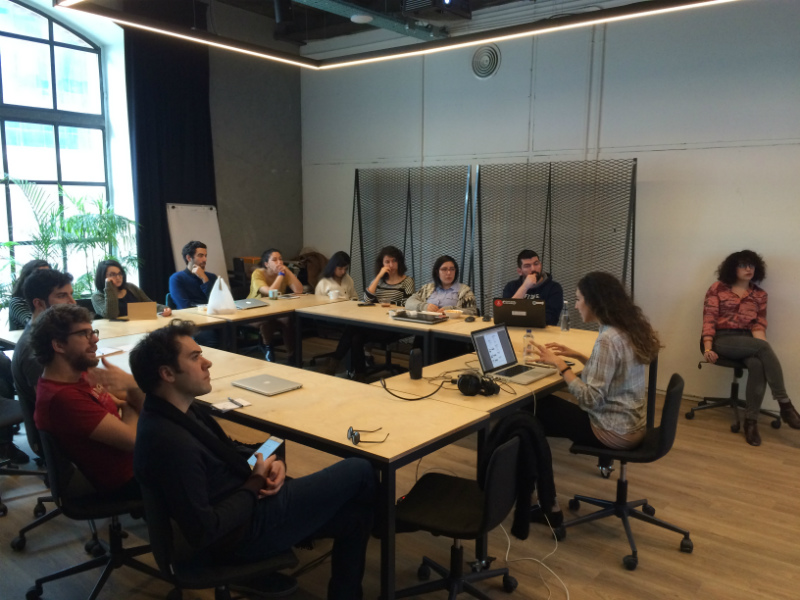 Upon entering the facilities, the first thing you'll notice is the comprehensive schedule on a chalkboard outlining the program for the weeks ahead. These are the times while working at ATÖLYE when the space is absolutely buzzing with energy and you really feel an extra creative spark. At the start of the week the community receives an email detailing the week's events. Many are private and reserved for the community, while others are open to the public. Regardless of the status, you'll find that the atmosphere is always intimate and engaging.
Some of the events are fairly low key, such as Healthy Tuesdays which features a personal trainer discussing the finer aspects of improving one's quality of life or BYOB Movie Nights offering a bit of relaxation from the stress of the workweek. Others vary and are focused on generating meaningful dialogue such as the recent Gender 101 focusing on notions of sexism or 4C1H & The School of Life emphasizing communication and leadership in the workplace. As one would expect, workshops also play a major role, like Sculpting 101 concentrating on the basics of the craft or Uncanny Workshops diving into various concepts behind filmmaking.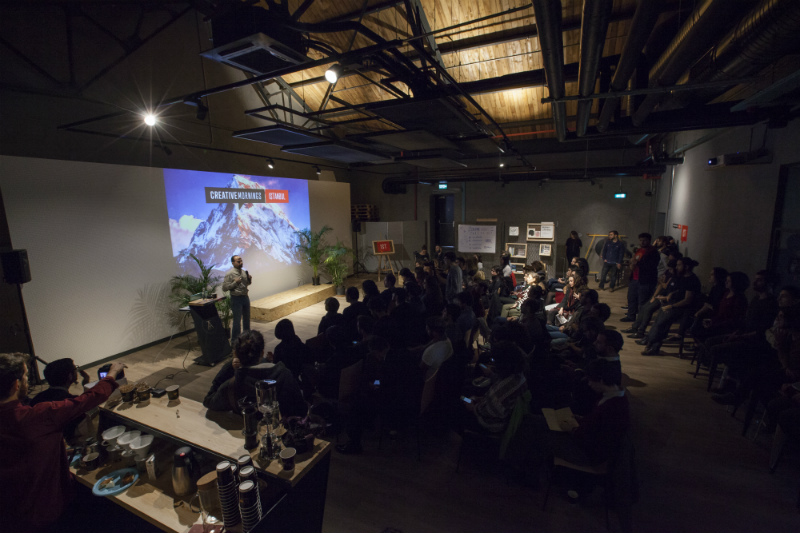 Three staple series of ATÖLYE that especially resonated with this Yabangee coordinator include Creative Mornings, Feedback Sessions and Happy Hour. The first is but one example of the many global projects ATÖLYE is focusing on incorporating into its regular line-up, in this case being a very popular thematic "breakfast lecture series for the creative community" which invites various guest speakers to an engaging way to start the day. Feedback Sessions, a weekly gathering individually dedicated to a particular member's project, is an invaluable opportunity for community members to discuss, brainstorm and receive ideas on their work from the diverse ATÖLYE community. It also allows us to familiarize ourselves with the work of the community at large. Finally, Happy Hour is exactly what the doctor ordered in helping conclude a busy week, taking place every Friday evening with games and variations (such as Shamanic Rhythm Circles) to ensure that everyone has the opportunity to mingle. The beer on hand is brewed right next door at Populist, so there's ample reason to toast to productivity.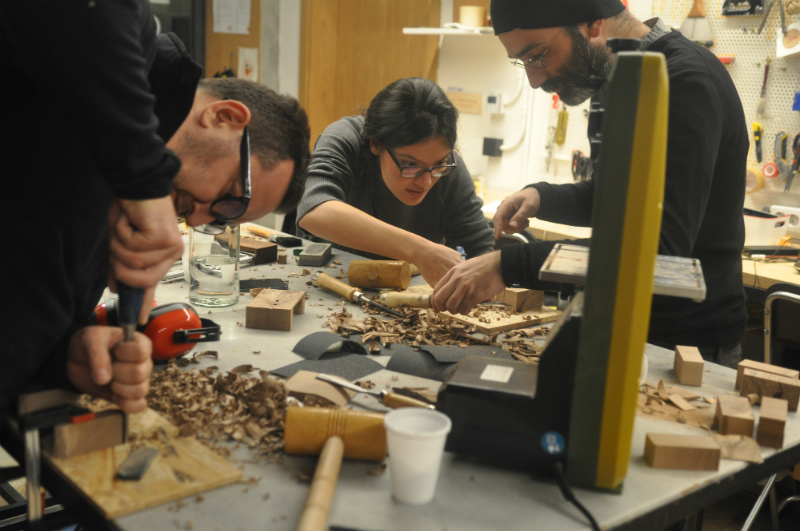 For those keen to engage in hands-on workshops and projects, the Makerlab is a unique and especially modern resource for electronic prototyping, woodworking, 3D printing, textile work and more. While one expects to see designers hard at work on prototypes, it's also likely that you will see a newcomer simply experimenting for the first time with the various tools at their disposal. In an environment that encourages creativity, it's great fun to enter a space with various technologies and to try new things. Having spent much of my working life in front of a computer, I found it particularly fascinating to research the frankly insane variety of possibilities that comes with 3D printing.
In my first encounter with ATÖLYE, I was introduced to the team who ensure the whole system operates fluidly. Working side-by-side with their community in the common area, Atılım, Emre and Mert are approachable and forever enthusiastic about both ATÖLYE at large and the individual projects of their members within. The result is a sense that everyone, via their individual projects, is personally invested in the success of the whole community.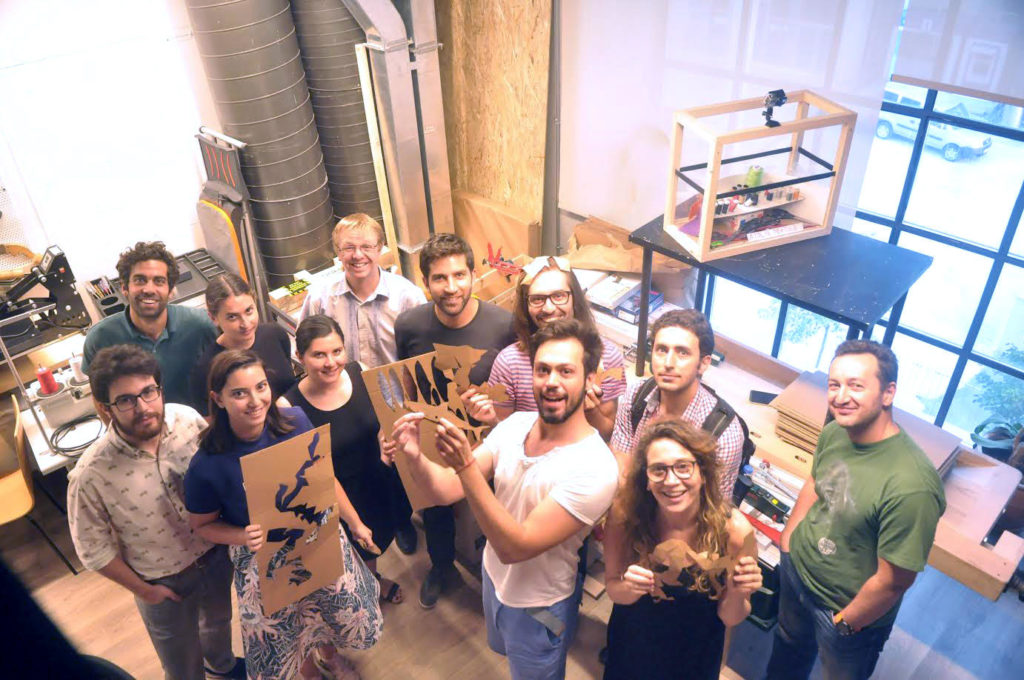 It doesn't take long to realize that ATÖLYE distinguishes itself as a space where creativity is the goal and community is key. You never feel as though you're part of a business, with the usual pursuits of expansion and financial gain. Rather, all the energy and resources are committed to seeking out creatives, providing them a platform to express and improve themselves, and housing this unique society in a manner that promotes collaboration and support. In the big picture it's still a new venture trying to find its role in an often overwhelming city. Nevertheless, the distinct and creative atmosphere that ATÖLYE has managed to foster, not to mention the energy of the dynamic community already assembled there, indicates that the future is extremely promising for this new space in the old brewery.
For more information, visit the official site for ATÖLYE. You can also keep up with the community via their Facebook, Twitter and Instagram. Or simply just drop by for a visit and say hello.
Silahşör Cad. Birahane Sok. No: 1 – Şişli