"O for a beaker full of the warm south," wrote John Keats, capturing that almost marrow-level need for sun after a long time in winter. I didn't realize how much I had missed the South, as an idea and as the real thing, with its sensual heat and smells and space created by vast sea views. It's pathetic, but even Istanbul is too cold for me many months of the year.
Antalya was my first trip of the season after a long school year, and the moment I stepped out onto my hotel balcony with the great blue table of the Mediterranean before me, I felt myself breathing more freely.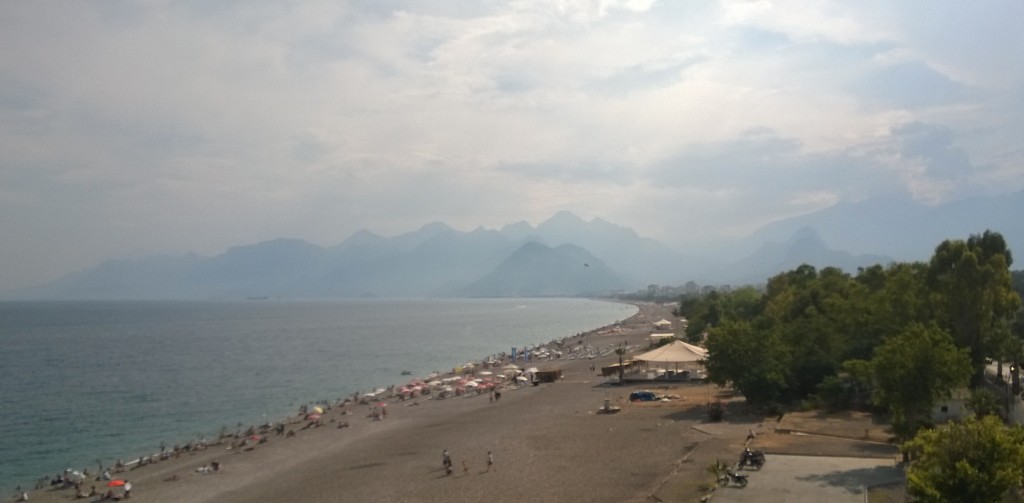 It's a stunning town, and not at all what I expected. I did not expect the mountains. They are like something out of the Far East, these Bey Dağları. Sometimes the clouds are below them, and they seemingly float above the beach. There is a blue smokiness to them like a distant kingdom on the spice road.
I expected model beaches, big resorts and lots of Russian tourists. And Antalya is all that. But there aren't so many tourists, at least in the beginning of June, and the beaches and resorts are on the edge of town. In the center there are cliffs dripping with vegetation, waterfalls, and a surplus of bougainvillea. There is a triple-arched Roman gate through which Hadrian entered in 130 BC, a clock tower and minarets from medieval Seljuk days, and an Old Town of Ottoman houses and cobbled roads. I was reminded that you can't go anywhere in Turkey without wading through history.
Scents of hibiscus and jasmine filled the air and made me feel like I was in a tropical land, yet the "nostalgic tram" that runs along the coast in the city center took my mind to other places. The fig trees were just starting to bud, and their sweet scent was cut by the piney semen smell of the pyrus calleryana, that tree that stinks but sheds its lovely white flowers like an early summer snow. So Antalya is a strange mix.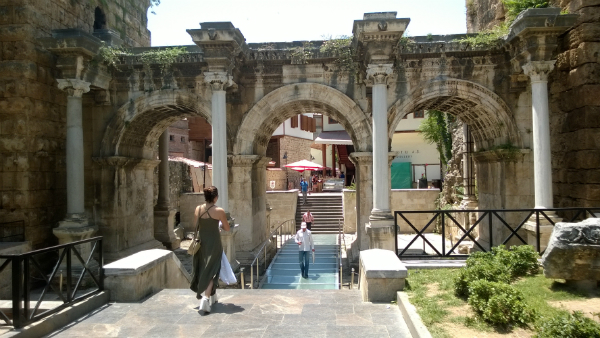 I did not expect overall this largesse in the environment, an almost Italian dolce vita quality to the atmosphere. Perhaps there is some basis in history for this impression, for the city was ceded to Italy for four years at the end of WWI before being reclaimed by Atatürk.
Overgrown parks and outdoor art adorn the city—there are strange sculptures of frogs and cows with giant udders, perhaps emphasizing the fecundity of the area. Another of a giant palm had a live child sitting it. Music seemed to be everywhere too. Işıklar Caddesi is lined with sculptures of musicians playing different traditional instruments. There was an outdoor piano that inspired passersby to stop and break into song. Later I read there is an International Piano Festival here every year in November.
I was walking through the old town, Kaleici (literally "inside the castle"), after an excellent dinner. It had started with a fresh salad of cabbage, chard, julienned carrots and cucumbers, cherry tomatoes and mint sprigs tossed in a sesame ginger lemon soy sauce dressing followed by a main dish of seafood saffron risotto and a glass of Grenache rose wine. Around a corner came a garbage truck spouting Vivaldi's Spring.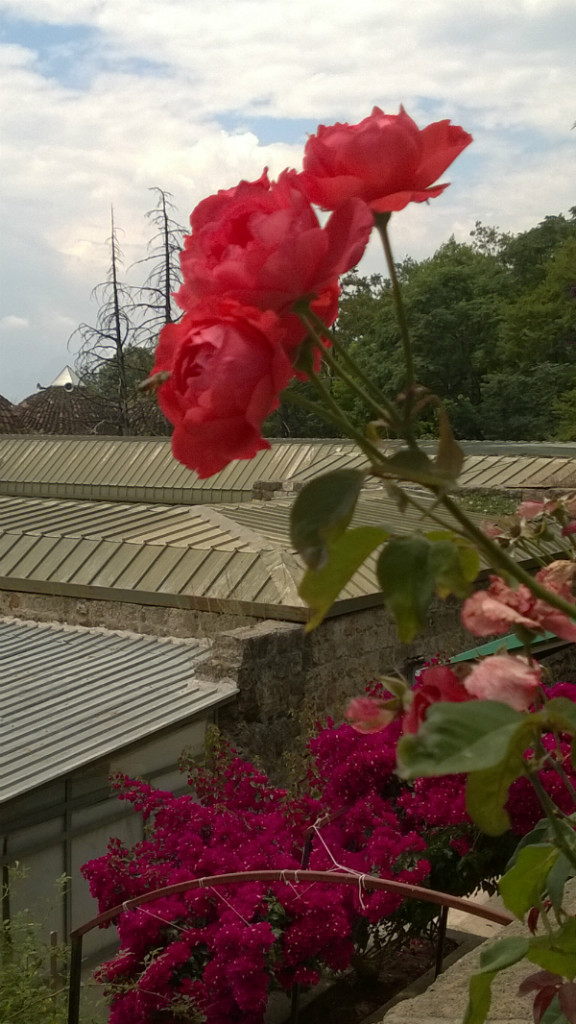 My first day, I walked to Konyaaltı Beach, about a half hour walk. (The other main beach Lara is an even further walk outside town on the other side.) I passed through the center taking in the mute chopped off minaret and the fluted minaret, which is probably the most beautiful minaret I've ever seen. It's made of red brick and still hints of its once inlaid green tiles. I took the old timey tram back to my hotel, and felt again the lovely incongruity of the palm trees, the humidity, the turquoise coast with this old world European capital means of transportation.
These were sybaritic days. One of them was spent in the spa having my first peeling, which consisted of a scrub-down massage in the hamam using Turkish coffee grounds. The aroma was heady. I felt like my epidermis had turned into a steaming pot of coffee. After this was the traditional foam massage in which I was submerged under pillows of foam and then rinsed squeaky clean; afterwards my skin felt as soft as a silk glove. Finally, there was a traditional oil massage outside the hamam followed by a local honey facial mask.
There is a cafe culture that shows off a carefree humor and joie de vivre in Antalya. There was the Yemen Café, a local chain that looks a bit like Starbucks. In Kaleiçi, on the walls outside one courtyard cafe, was written, "The heart does not want coffee and cafes. The heart wants conversation with friends." Next to it was a bar called, "Two Beers or Not Two Beers." My favorite was the Dark Side Café which lured passersby with a chalkboard sign: "Come to the dark side, we have coffee."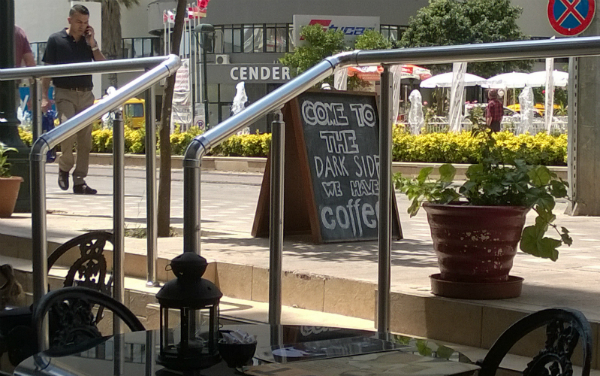 I stepped down out of the sun to a shady outside patio with iron tables and chairs, pots of velvet black petunias on each table. They served me French Press coffee and a cheesecake swimming in chocolate and raspberry sauces that was nothing if not sinister, creating another study of contrasts in this sun-drenched city.