ACHPROJEKT bring their "Ach! Paradies" festival to the beautiful Burgazada island locale of Peyote Cennet Bahçesi on Saturday 26 August. Set to run from 14:00 to 23:00, the celebrations incorporate designers, artists, and DJ performances for a memorable adventure outside the city. Tickets are set at 20 TL (30 TL at the door) and are available via bugece.co.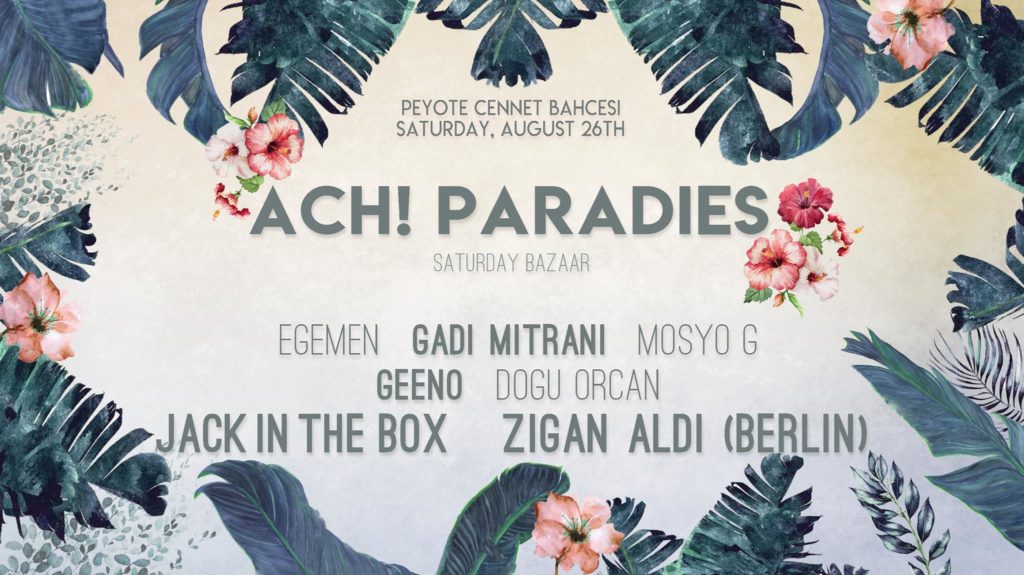 From the organizer:
The new concept of ACHPROJEKT experiences, "Ach! Paradise", fuels modern fairs' sails with winds of island in Peyote Cennet Bahçesi, Burgazada on Saturday, August 26th!
You will find old plaques, vintage products, design clothes, exclusive artworks, tattoo artists, exhibitions of photographs & paintings & sculptures and creative workshops in this one day festival.
A fulfilling line-up will be waiting for us again just like the first event! Egemen A. (ach), Doğu Orcan (Play Tuşu), Mösyö G, Geeno, Gadi Mitrani, Jack in the Box will be spinning to the lust! Last but not least, a special guest from Berlin, Zigan Aldi, will play his best works, including his Foresight Vol 1 EP collaborated with famous names as NU, Stavroz ve Bedouin under London / Brooklyn based TrueColors label.
You are invited to this lovely gathering accompanied with the fruit trees and stunning city view of Peyote Cennet Bahçesi…
△ EGEMEN
△ MÖSYÖ G
△ GEENO
—
For more information, check out the official Facebook event.
Images are courtesy of the organizer.
Burgazadası Mahallesi, Gönüllü Cad. No:60, 34975 Adalar