Contemporary Turkish cinema often oscillates between bland, commercial movies (that range from broad comedies to over-sugared romances) and magnificent under-performing films that demonstrate the concerns of modern Turkish filmmakers. Luckily for us there is a golden land in-between where commercial success meets critical appraisal. That's the case for five of my favorite Turkish films from the last 15 years. From teary dramas to sharp comedies there's something for every taste. These films are also available for non-Turkish speakers on DVD with English subtitles at major retailers like D&R. Note that I purposely did not include any Fatih Akın or Nuri Bilge Ceylan films because I believe that if you are interested in Turkish cinema you should basically watch their entire filmography.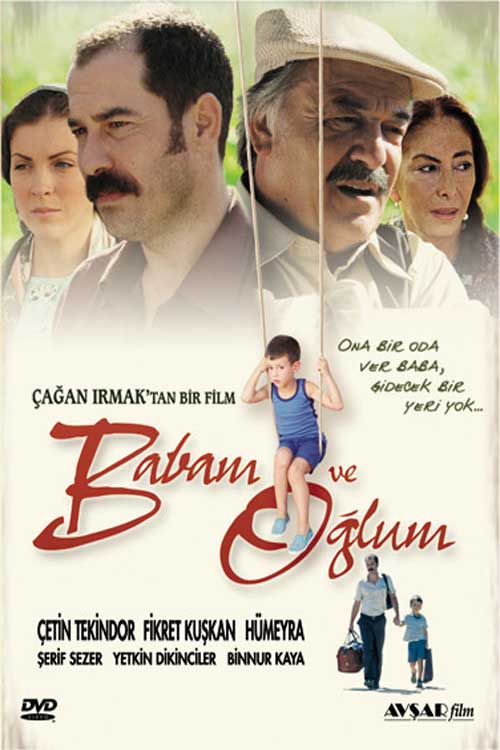 Babam ve Oğlum (My Father and My Son) by Çağan Irmak (2005)
Sadık (Fikret Kuskan) is a leftist journalist who lives in Istanbul in the late 70s. As a youngster, his father wanted him to look after their farm but he ran away instead. The day of the 1980s coup d'état his wife goes into labor. Unable to reach the hospital, the mother dies giving birth leaving Sadık alone with the newborn. Because of his political beliefs, Sadık is imprisoned and tortured. After a long time, he goes back with his 8 year-old son to his village on the Aegean coast. The son, Deniz, whose love of comic books sparks a vivid imagination, is warmly welcomed by his large family but there is still a deep-seeded resentment between Sadık and his father. Silent and bad-mannered, Hüseyin (Çetin Tekindor) refuses to talk to Sadık but along the way he starts to bond with his grandson. This connection will make father and son confront their unresolved emotional issues.
This movie was a great critical and commercial success and quickly became a cult classic in the mid 00s. The film addresses some of the major themes of Turkish cinema including troubled family relationships and longing for one's place of origin. The exploration of three generations of men and issues like the absence of a father figure and coming to terms with the past feel grounded in an emotional truth that is often missing in similar attempts.
Babam ve oğlum suffers from its excessive length – a recurring sin in Turkish cinema – but nonetheless Çağan Irmak gets the right balance of sentimentality and comedy of manners, while the moving final third tugs at the heartstrings.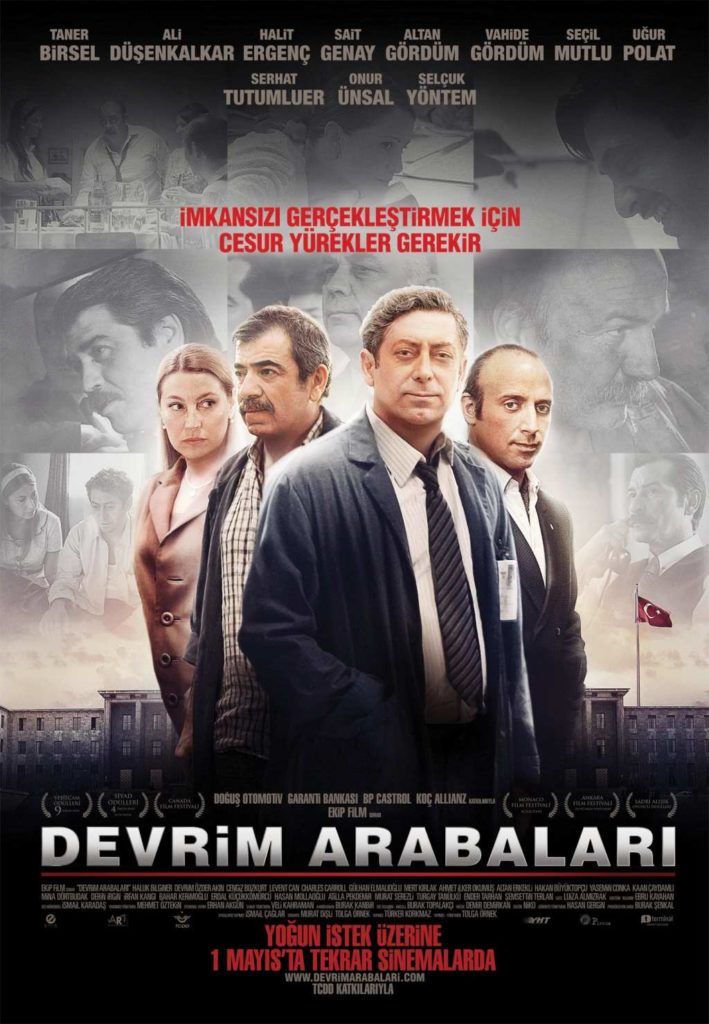 Devrim Arabaları (Cars of the Revolution) by Tolga Örnek (2008)
The 60s were a convulsed time for Turkey. Following the first coup d'état and the importance of developing a strong industry that would render the country less dependent on agriculture, the state railways were commissioned by President Cemal Gürsel to build Turkey's first automobile. A group of engineers had to join forces to accomplish the seemingly impossible task: assemble in 130 days a national car from scratch to be premiered on Republic Day.
Only a handful of contemporary movies successfully manage to pay an affectionate homage to classic cinema while retaining a relevant theme. Devrim Arabaları is among this select group. Tolga Örnek exquisitely unfolds this procedural yet effective screenplay that follows the classic Hollywood narrative of the underdog heroes facing an ill-fated challenge. Taner Birsel leads a solid ensemble playing the obsessive man who gathers a small band around him and inspires them to build a revolutionary car, the "Devrim", that could change the nation's course.
The film has some minor flaws that prevent it from achieving masterpiece status. A sometimes cheesy inspirational soundtrack – another overused trope of Turkish cinema – and occasionally predictable storytelling undermine the effectiveness of the dramatic resolution. Yet the script is so riveting that it achieves the unlikely feat of having a room full of engineers talking about engines be entertaining.
The film celebrates willpower, hard work and the team spirit of entrepreneurs whose dreams can be smashed but never taken away from them. What is ultimately so pleasing about Devrim Arabaları is that it is a heartfelt period movie and a nostalgic look at a time where pursuing a dream called revolution seemed possible.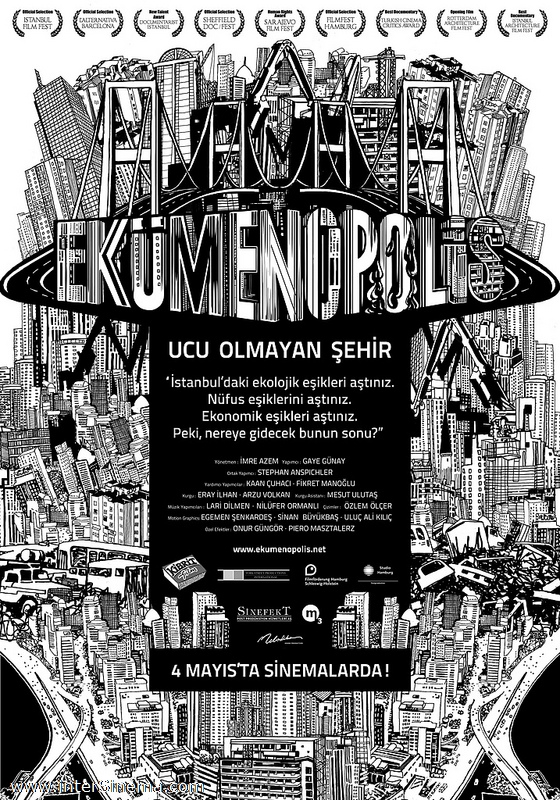 Ekumenopolis: Ucu Olmayan Şehir by Imre Azem (2011)
Turkish documentaries have the freedom to touch upon certain issues that mainstream cinema usually avoids, from the consequences of war (Gallipoli) to the LGBT community in Turkey (Benim Çocuğum). 'Ekumenopolis: City Without Limits' is a documentary that not only explores urban development in Istanbul but also highlights the effects of what happened when neo-liberal deregulation, real estate speculation and government influence decided to sentence the urban future of Istanbul.
Ekumenopolis (a Greek term for 'city made of the whole world') questions the dynamics that lead to the Gezi Park protests as well as a serving as a cautionary tale for polemic projects like the third bridge or the big channel projected in Istanbul.
The fantastic short animation Bir Istanbul Hikayesi (An Istanbul Story), that summarizes the insane urban development of Istanbul over the last 100 years, makes the film worth watching even on its own.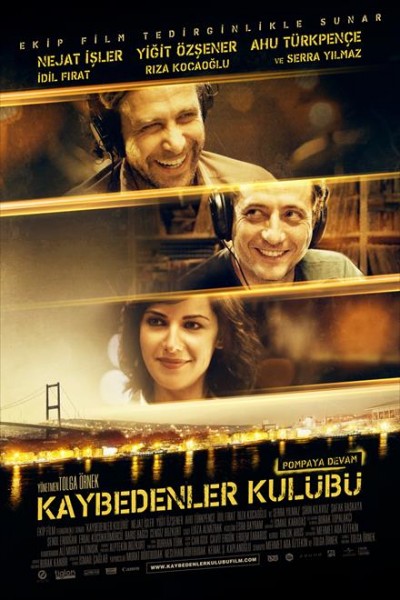 Kaybedenler Kulübü (Losers' Club) by Tolga Örnek (2011)
Kaan and Mete spend their nights co-hosting an underground radio show in mid 90s Istanbul. Unaware of their legions of listeners, they ramble about life, sex and loneliness while drinking, smoking and freely philosophizing. Overnight the show becomes a huge success and the pair of friends will have to deal with their own loneliness, struggles with sudden success, and the pains of growing up.
The film is based on the true story of the legendary radio show that became number one in ratings as a result of its controversial, non-status-quo thoughts and long conversations without taboos. Despite a love story that falls flat, the great chemistry between the two main characters, with inspiring performances from Nejat İşler and Yiğit Özsener, provides ample doses of humor while poignantly portraying loneliness in an overcrowded Istanbul. The movie is mainly filmed in the Asian neighborhood of Kadıköy (it's a treat to figure out the locations throughout the film) and serves as a great example of how fresh and unafraid of being cool Turkish cinema can be sometimes.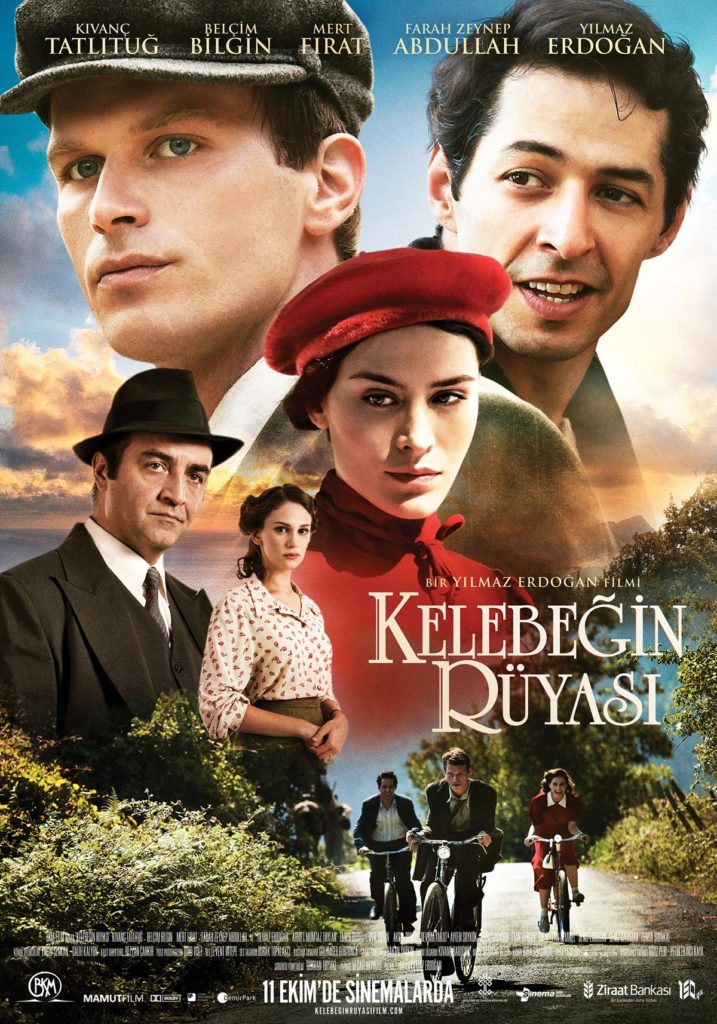 Kelebeğin Rüyası (The Butterfly's Dream) by Yılmaz Erdoğan (2013)
In the early 1940s of Zonguldak, a mining city in the Black Sea region, aspiring poets Rüştü Onur (Mert Firat) and Muzaffer Tayyip Uslu (Kivanç Tatlıtuğ), best friends with opposing worldviews, struggle to see their poems published. They daydream about starting a magazine and try to make ends selling books on the street. Enter Suzan, a gorgeous upper-class newcomer from Istanbul. As soon as they see her, the writers make a bet: they will both pen a poem and whichever she prefers will decide who can court her. What could have become the classic trope of a love triangle between the unreachable girl and childhood friends fighting over her love is quickly set apart from this formula. Thanks to the charm of brotherly camaraderie and a well handled tone shift, the movie offers a sincere portrait of friendship, poetry and illness in times of war. When the film steps into cliché territory, the overall honesty and candid humor makes it thoroughly enjoyable. And when it reaches its dramatic climax, it spares us from the usual melodramatic trickery.
This period drama, loosely based on a true story, was Turkey's entry in the 2014 Oscars. Yılmaz Erdoğan, an eminence of Turkish cinema, writes, directs, and also plays the role of the supportive teacher and revered poet Behçet Necatigil. While the film would have benefited from a shorter running time, Erdoğan succeeds in multi-tasking as evidenced from the long continuous opening scene.
Tatlıtuğ as the poet Muzaffer deserves special recognition. This model turned actor, jokingly known as the Turkish Brad Pitt, adds a layer of melancholy that counterpoints with the joviality of Mert as Rüştü.
What other Turkish films do you think are essential? We would love to hear about them in the comments.
All images intended as Fair Use.