We've done our best to compile events we're aware of. If you think we've forgotten one or want to see your event featured, please send an e-mail (with English press info) to events@yabangee.com.
Yabangee's Weekend Picks:
(Friday) 90BPM @ KargArt Kamufle is going to present his new Album. With support from Da Poet, Parazi, Kayra, Savai and Sorgu.
(Saturday) Hoppala Design Bazar @ Nabu "Set up once a month at a different venue, Hoppala Designer Market continues to bring together young and local designers' products and fashion lovers. With the motto, "Create, Share and Enjoy", Hoppala Designer Market combines different stands with different styles and handmade products like ceramics, jewelry, handbags and much more available at reasonable prices. Each stand owner is given his or her own area of space and artistic freedom to create and design.
Hoppala also invites a non-profit charitable organization to its each event. While creating a platform for young and upcoming designers, Hoppala aims to raise awareness about different social issues."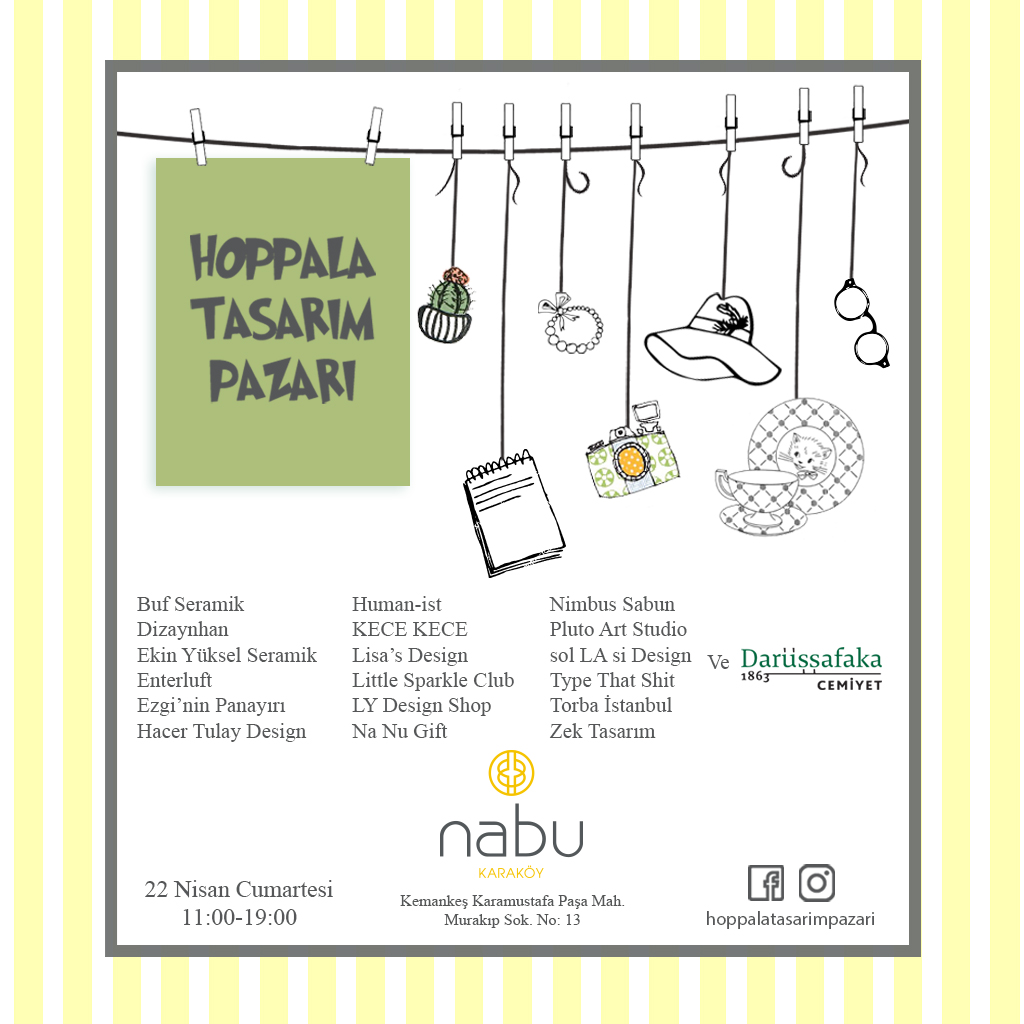 (Saturday) Record Store Day @ Various The day to support your Indie Record Store – This yearly event is celebrated with limited editions, special releases for this day, record store first releases and many more goodies in the participating venues.

(Sunday) Story Telling Expidition @ Balat "Istanbul&I's first 'Storytelling Expedition' will be in Balat on 23 April, 2017 at 13:00. We will be exploring Balat through photography and interviews of the locals who live there. Be sure to bring your camera and your sense of wonder."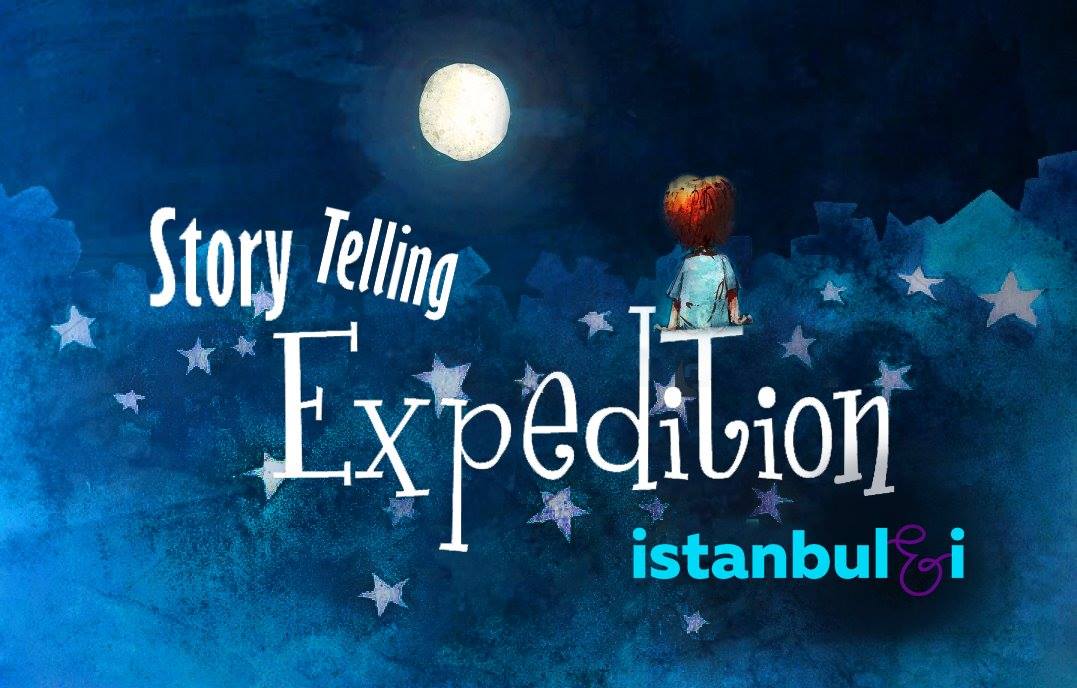 (Friday/ Saturday) "Shall I Paint you a picture" @ Diana Page´s Atelier "South African painter and inter-disciplinary artist Diana Page exhibits her evocations of Istanbul, Cape Town and New York.This week she stages a POP UP exhibition of her recent paintings and digital drawings at her studio on the Bosphorus.The POP UP show entitled 'Shall I paint you a picture?' intends to demystify the art making process for the viewer. Diana is also a guest speaker for the upcoming Expat Spotlight #3: The Arts.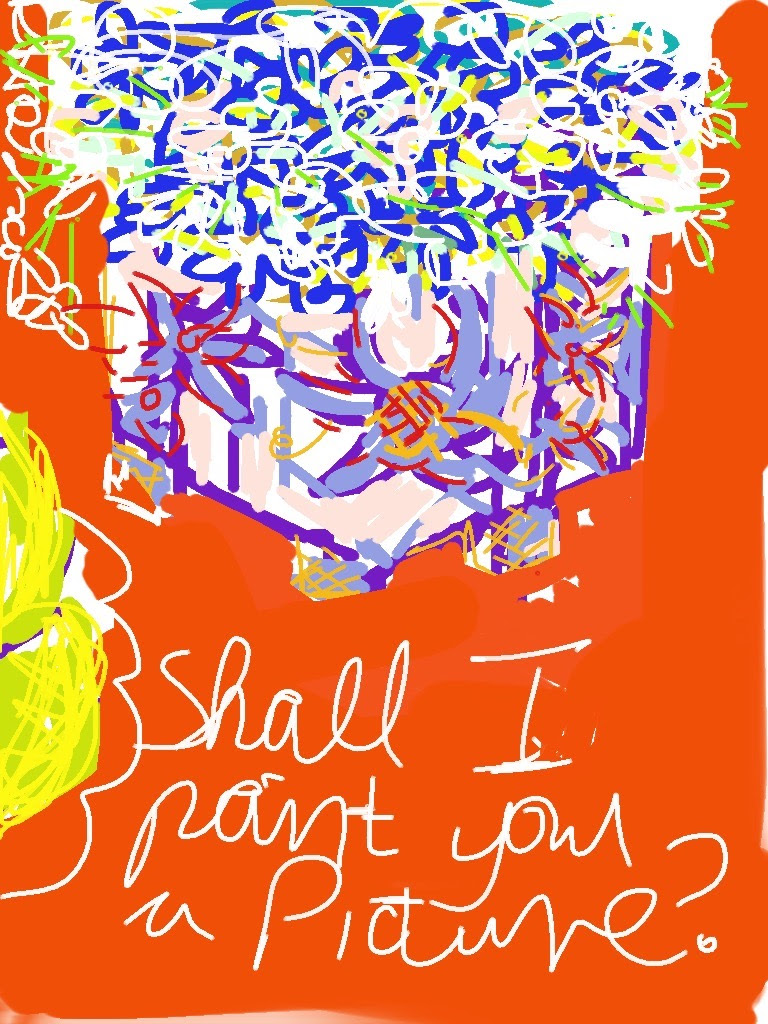 (Friday/ Sunday) FanzineIST Festival @ Various "FanzineIST Festival – Zine* Fest Of Istanbul, a meeting of indie publications inspired by the DIY-culture, will welcome over 135 zines, both local and international.Taking place on venues including Tasarım Atölyesi Kadıköy, Neverland Hostel, Peyote; Arkaoda, the festival will host fanzine tables as well as talks, film screenings and concerts."

Friday:
Gevende @ Salon IKSV "An outstanding band of the alternative music scene in Turkey. Gevende participated in major festivals across Turkey and in many cities throughout the world. Mesmerised everyone with their live performance at St. Antuan Church and the live record album that followed. Composed music for the video game "Monochrama". Their new studio album "Kırınardı" is finally out and they have already shaken the Internet with their music video for "Vertigo" that is set in Çıplak Ayaklar Kumpanyası (Bare Feet Company)."
İstanbul Kadın Orkestrası @ The Mekan The Istanbul Women Orchestra, known for their feminist power and musical finesse live on stage.
CW/A (Clockwork & Avatism) Live – Midnight Session @ Babylon Bomonti
Kadıköy Leo Kulübü Bollywood Night

South Park Watching @ In the Van Watching Southpark, playing games, having competitions and more gimmicks.

Tasting Night & JazzMatiz @ Bunk Roof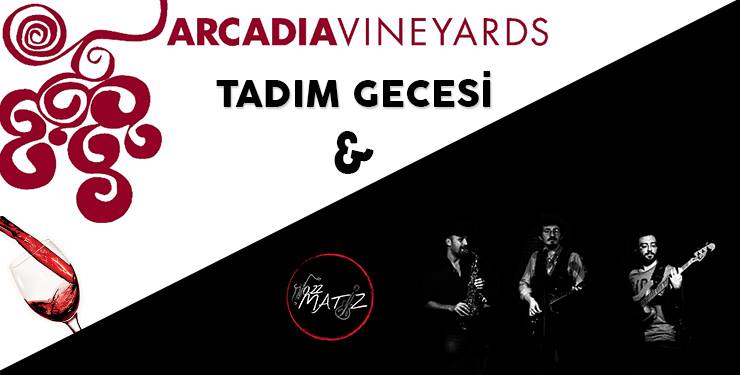 Matinee Istanbul at WANA w/ Sertac Kazan, Lilly, Sarp Akat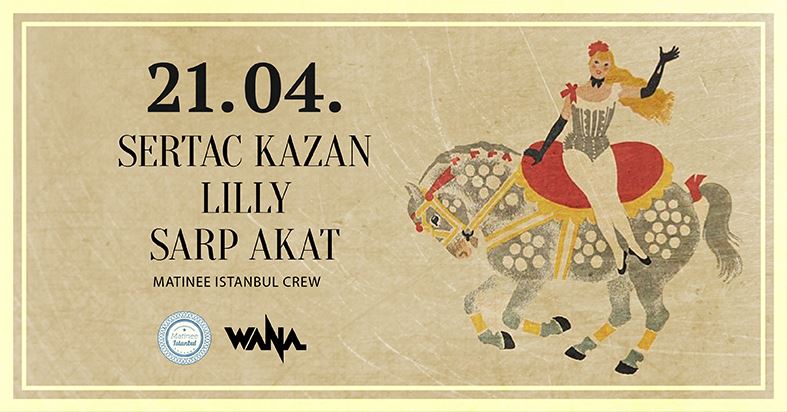 'HICCUP ´Maelstrom` @ Peyote "HICCUP is an out loud reaction, experimenting on synthesized electronic sound and natural acoustic sound by blending them in a pleasant manner. Though HICCUP began performing in early 2015, its members have a long musical history together. HICCUP members Mert and Mustafa first began working on an instrumental rock project in 2010 with four others. After some time, Mustafa and Mert moved on to making electronic music, becoming HICCUP officially. Although their dislike of genres makes it hard to place their music in one genre, HICCUP produces a kind of electronic dance music with an experimental approach. HICCUP resides in Istanbul and has been playing live performances and dj sets in various top-line clubs and scenes for 2 years now."
Saturday:
Lokalize: Hey Douglas @ Zorlu PSM "Hey! Douglas, a talented DJ who has made quite a name for himself in the night scene of Istanbul, will be at #studio on April 22nd as a part of the Lokalize series! A solo project of veyasin, who has proved his success both in music and visual works as well as his collaboration with Evren Besta in the eccentric hip-hop group Mode XL, Hey! Douglas brings the famous psychedelic songs of the 70's together with the disco rhythms of today in his mixes."
Gaudi Midnight Ssession @ Babylon Bomonti
Philogresz @ arkaoda "Hometown is calling: I'm back in Arkaoda after 2 years.
The legendary location has shaped my musical background from the young age when I used to live just around the corner in Moda / Kadikoy district of Istanbul. Means alot, think I've just dropped a tear, now fear! – see you at the otherside"
Italian Food Night @ Komşu Kafe Collective "This Saturday we're hosting one hell of an event: Italian Food Night. Come."
Flört @ Caddebostan Ark music & gigs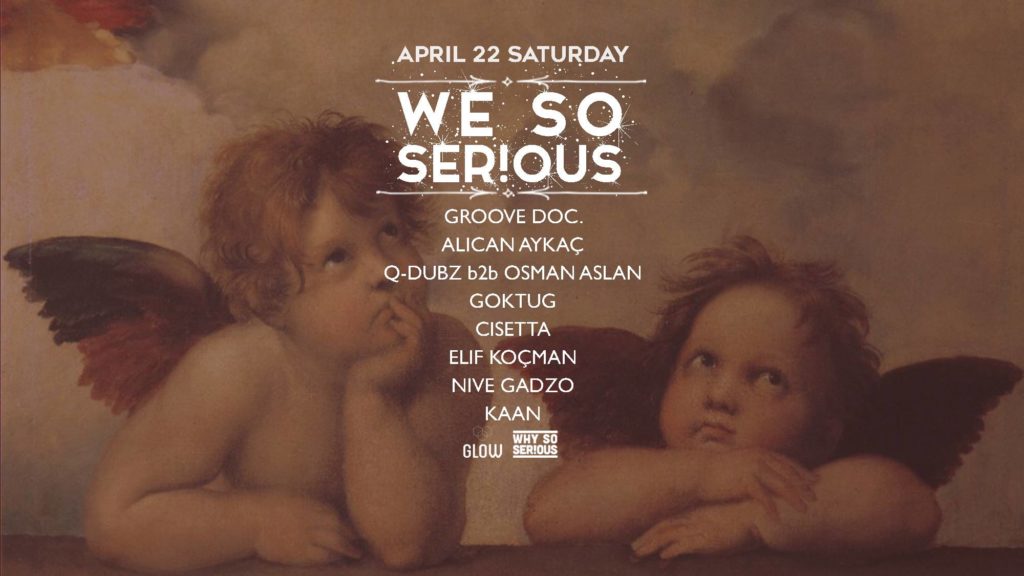 Start your Spring Garden! – Permaculture Workshop @ Circuit – "Let's be ready this year to harvest veggies from our city garden! Whether your garden is on a balcony, patio, roof, window or maybe still just an idea in your head, this workshop will make organization and preparation easier for you. The workshop will explore soil checking, companion planting, relative location, what, where and when to plant, different types of city gardens, and much more. Time to take actions and grow your own food!"
(Ending) "Maybe I'd like to be like you" @ artSümer – "Bahar Yürükoğlu's first solo show at artSümer takes its title from a line in Chris Kraus' 1997 novel I Love Dick. Yürükoğlu's photographs in Maybe I'd like to be like you manifest a longing to better understand one's self through our relationships with others and nature. In her new works, the artist's rather impersonal and quasi-scientific engagement with natural landscapes develops into poignant reflections on the possibility of a democratic order amongst humans and the non-human…"
(Ending) "Mythos & Utopia @ Zilberman Gallery – "The title of the exhibition is derived from the description of Istanbul in Ekrem Işın's book titled Daily Life in Istanbul. Following Cabinet of Curiosities in 2011 and A Carriage Affair in 2014, Mythos and Utopia is the last chapter in the exhibition series that the artist has realized with Zilberman Gallery. In this chapter she looks back at the city's history as well as that of ceramic materials and blends memory and material to construct a new scenery. Now settled in İstanbul after having lived in Ankara and New York, the artist brings together the pieces of the past eons of a city caught between "mythos of the East and the utopia of the West"."
Sunday:
Requiem for Aleppo @ Pages Bookstore Cafe – "In this new production, twelve dancers from around the world come together to express their solidarity with the people of Aleppo through the medium of dance. "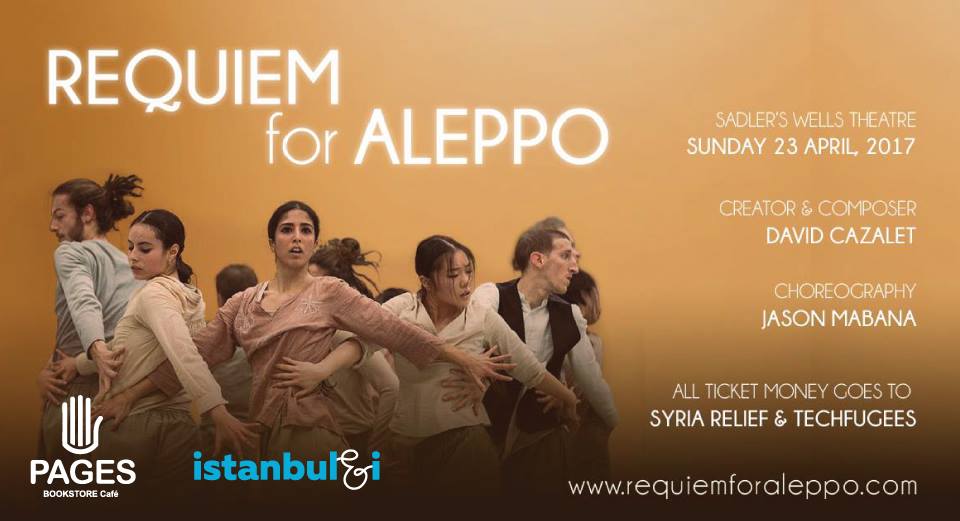 Fanzineist sunar: Poster-iti & Reptilians From Andromeda @ arkaoda "Fanzineist Festival, as an organisation that aims to increase the visibility of independent publishing, is hosting local and foreign zines for the second time. Reptilians From Andromeda consists of the vocal Aybike Çelik Özbey, the guitarist Tolga Özbey (Rashit). Founded as a garage/no wave group in 2013, their 2014 Istanbul recordings were released as 4 eps and 1 lp in US, England and Honolulu. Poster-iti is soldiering on despite the many ill-fated lineup changes. Released with the first lineup in 2005, "Sarı Çizgiyi Geçmeyiniz"'s '77 punk /Oi! influences have transitioned, along with the 2006 vocal change, into 80s influenced raw punk rock."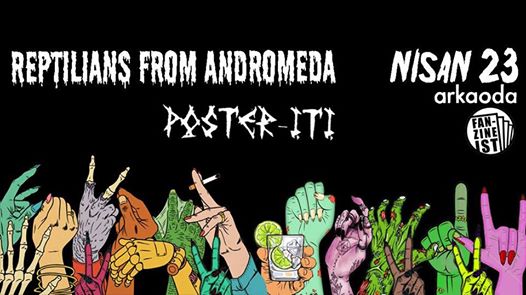 Thai Festival 2017 by Thai Women in Istanbul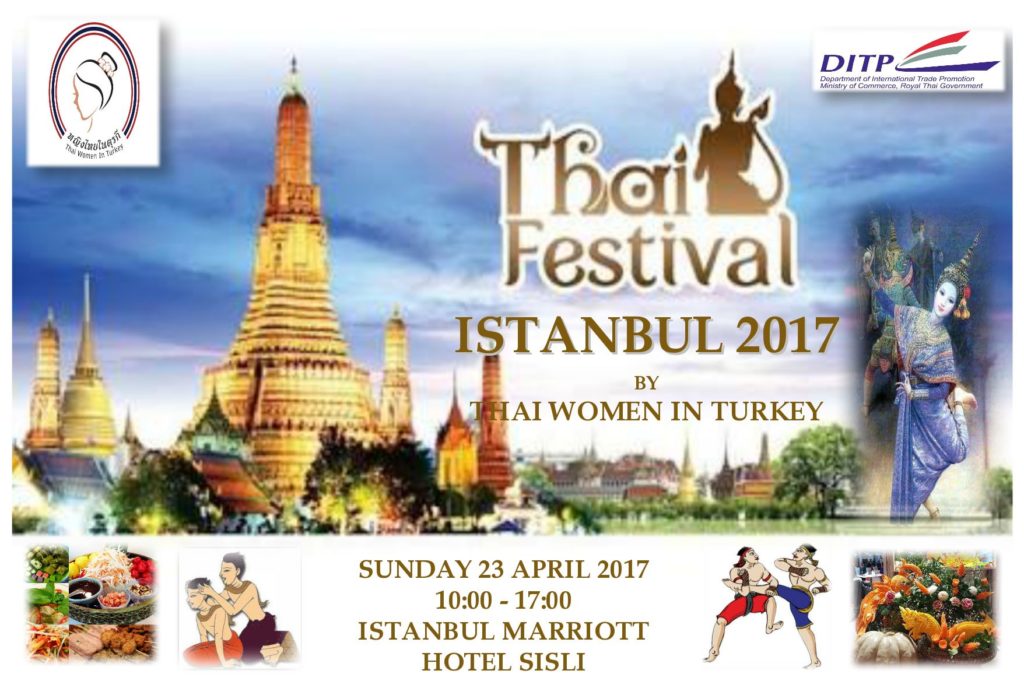 Yoga Picnic @ Circuit Istanbul – "Join us for a special afternoon of yoga and food! Following our Sunday yoga class with guest teacher Derya Çakmak, we will offer a vegan picnic in the space catered by Mahatma Cafe – a local neighbour to CIRCUIT. We will also be serving Club Mate energy drink. All are welcome! Simply bring your yoga mat and appetite for some community yoga and picnicking. No need for picnic blankets, we'll use our mats! #deryacakmakyoga"
Morning Jazz Sessions: Manouche-u Ala @ Tamirane
Siemens Ev Aletleri ile Kahvaltı ve Caz: Deniz Taşar Trio @ Sait Halim Paşa Yalısı
Multiple Days: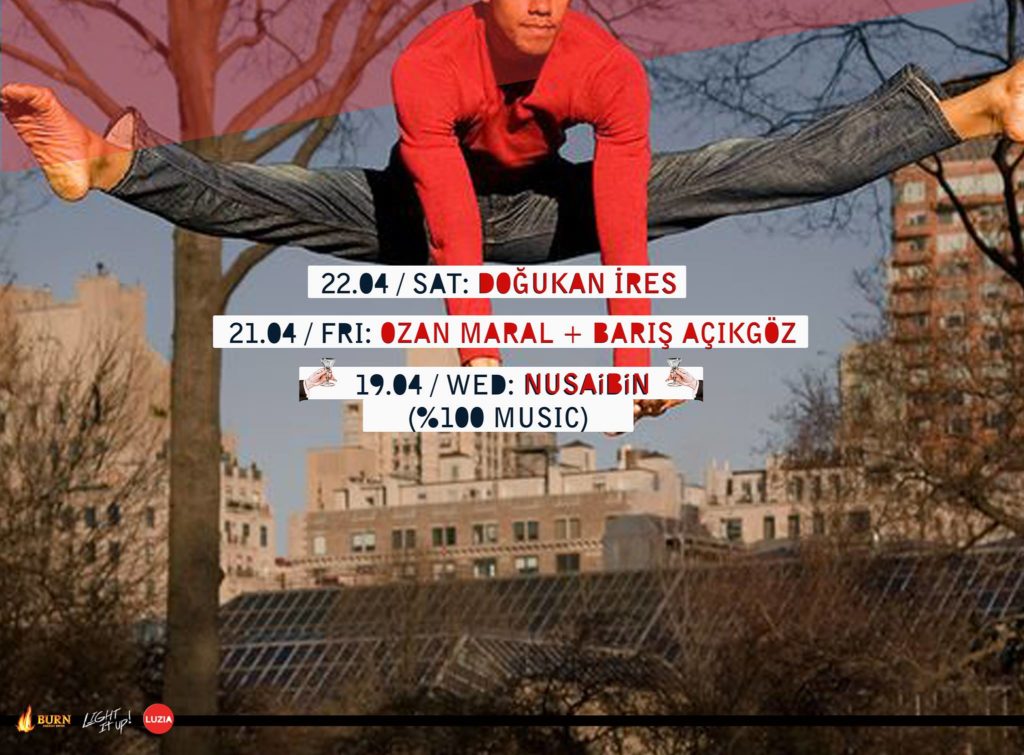 (Saturday – Sunday) Holi Fest @ Event Garden
"In HoliFest Istanbul'17 besides great music and Holi powder, there will be lots of things which you would expect from Indian Culture. To introduce the Indian Culture closely to our guest with the participation of our Indian friends, Indian henna will be applied by professionals, unique flavours of Indian cuisine, worldwide famous Indian textile and jewelleries will be sold by the stands which will be installed in the event area."
(Thursday – Monday) Çikolata Festivali @ Sirkeci Gari – It´s all about chocolate.

Ongoing:
The 2nd Yabangee Instagram Photo Competition: Relationships – "Last year marked our first-ever Instagram photo competition, focused on portraits. It was a blast and we really enjoyed looking through all the photos we received. As we step forward into Spring, we're excited to go outdoors and snap some cool pictures to celebrate the nice weather. Thus, we thought it timely to kick off our 2nd Yabangee Instagram competition, this focusing on the theme of relationships." // Ends Thursday 27 April
Introspective @ Galerie Bu" "As Eda Emirdağ's first solo exhibition in Turkey, Introspective generates a platform of thoughts and emotions that illustrates the artist's story, originating from autobiographic milestones but not strictly bound by them. The exhibition's title refers to Emirdağ's "retrospective" gaze at her own artistic journey, her inner questioning of her identity as an artist, and her first-time "introduction" to her audience within the scope of a solo exhibition." // Ends Sunday 30 April
"Cold Front from the Balkans" @ Pera Museum – "The exhibition focuses on different generations of artists and art groups from the Balkan region. The exhibition avoids the usual unflattering political connotations the region's name inevitably brings up but instead focuses on a natural phenomenon — the wind." // Ends Sunday 7 May
"Wanderer on the Sea of Light" @ Pera Museum – "French artist Félix Ziem is one of the most original landscape painters of the 19th century. The exhibition Wanderer on the Sea of Light presents Ziem as an artist who left his mark on 19th century painting and who is mostly known for his paintings of Istanbul and Venice, where the city and the sea are intertwined." // Ends Sunday 7 May
"Written Room" @ Pi Artworks Istanbul – Written Room mirrors the look of Persian script, yet it is almost as incomprehensible to those who can read the language as those who can't. By defying visitors' attempts to assign it meaning, the script remains locked into its irreducible pictorial graphicness in which meaning cannot be grasped. // Ends Wednesday 10 May
"SONGE" @ Cep Gallery "Entitled " SONGE ", Takayoshi SAKABE 's first solo exhibition in Turkey presents a wide selection of the Japanese artist's production. Born 1953 in Japan, lives and works in Istanbul and Tokyo. He studied art in Japan and settled in France in 1978, studying painting at the "École des Beaux-Arts" in Paris." // Ends Monday 15 May
Fill in the Plant" @ x-ist" "Burcu Perçin's new exhibition, which will meet the audience at x-ist, focuses with a distinctive irony on artificial nature landscapes built by humankind. Questioning the artificial images in landscape constructions in different areas of the city, the artist produces landscapes shaped under the dominance of green. In her new series, Burcu Perçin sheds light on landscape images manifested in green areas by the modern human, while centering her work on its troubled relation with nature." // Ends Saturday 20 May
"Heterotopia" @ REM Art Space – "The exposition includes new media works like video, installations and digital sculptures. "Heterotopia" is a concept elaborated by French philosopher Michel Foucault to describe the architecture space as a solution. Especially art spaces that are transformed by time connected with their nature could be seen more clearly in the heterotypic structures." // Ends Wednesday 31 May
Looking for more events happening in Istanbul? Keep up with our What's On section.