We've done our best to compile events we're aware of. If you think we've forgotten one or want to see your event featured, please send an e-mail (with English press info) to events@yabangee.com.
Yabangee's Weekend Picks:
(Friday) Mosaic Language Exchange @ Wonderland Cafe "Istanbul&I community is bringing an exciting language and cultural exchange program to your neighborhood. Interested in learning a new language? Practicing a foreign language with a native speaker? Want to make globally-minded friends? Come and broaden your horizon."

(Saturday) Story Party Istanbul: True Dating Stories @ dam "Story Party is a show where you'll hear courageous storytellers talk about a time they got played, made, or just tangled up in that love stuff. The show runs approximately one hour followed by a chance to laugh and drink some more."

(Saturday) Housing Crash + iyi @ Vendor Corner "iyi is a 4 piece rock band from Ankara, infusing elements of post punk, post rock and shoegaze. With 2 independent EPs released and more to come, iyi aims to be a band rocketing its tunes to uncharted galaxies. Housing Crash – are a rock band that count pizza among their many influences."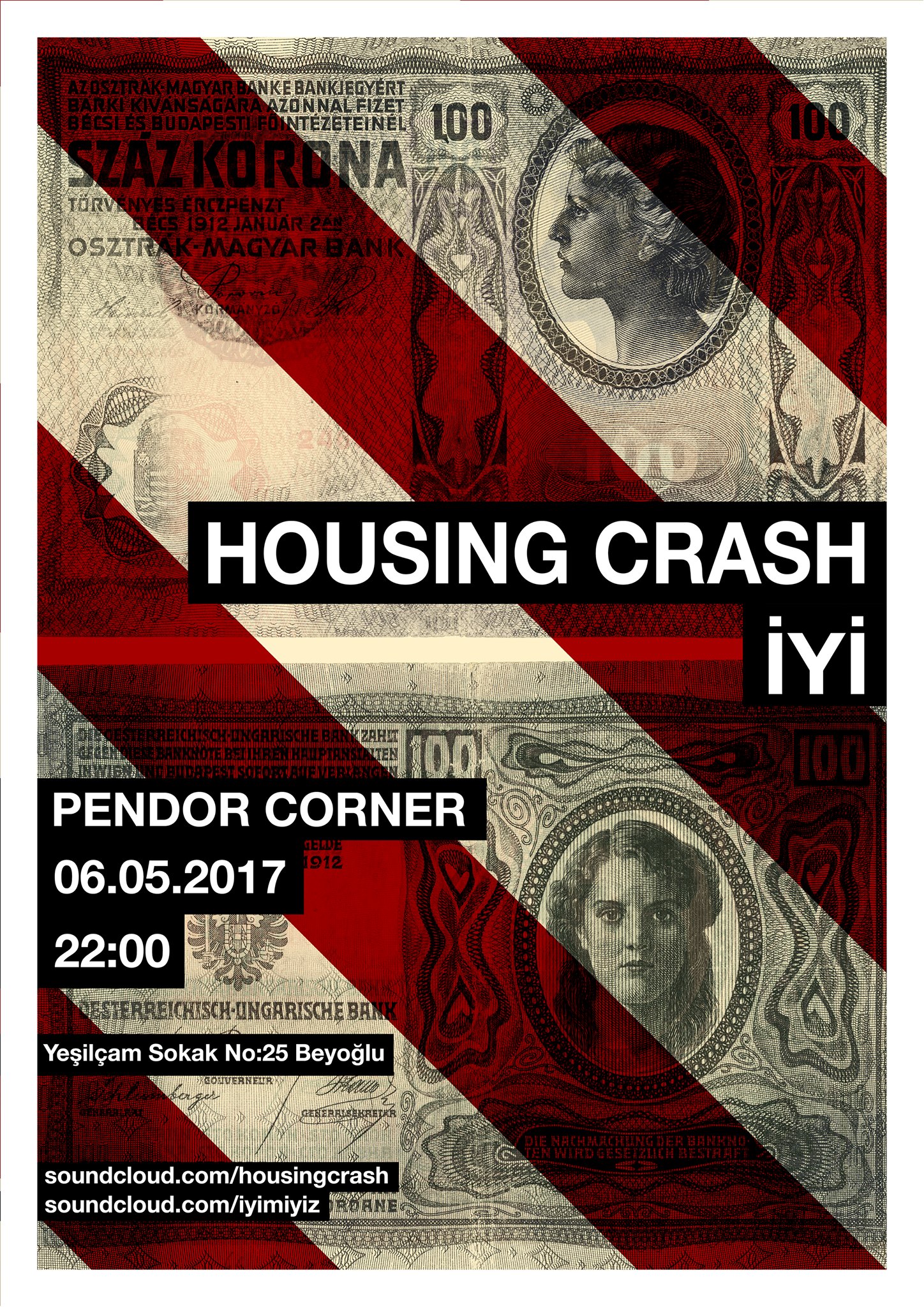 (Sunday) The Handmade Istanbul Spring Market @ St. Helena's Chapel "St Helena's Chapel is a charitable institution that raises cash to assist refugee residents in its St George Hostel (near the Crimean Church), and is not funded by the British Consulate. Our rental funds help Rev. Ian Sherwood continue that work. Your purchases support our artisans as well, so come enjoy handcrafts, food and hands-on ebru painting!"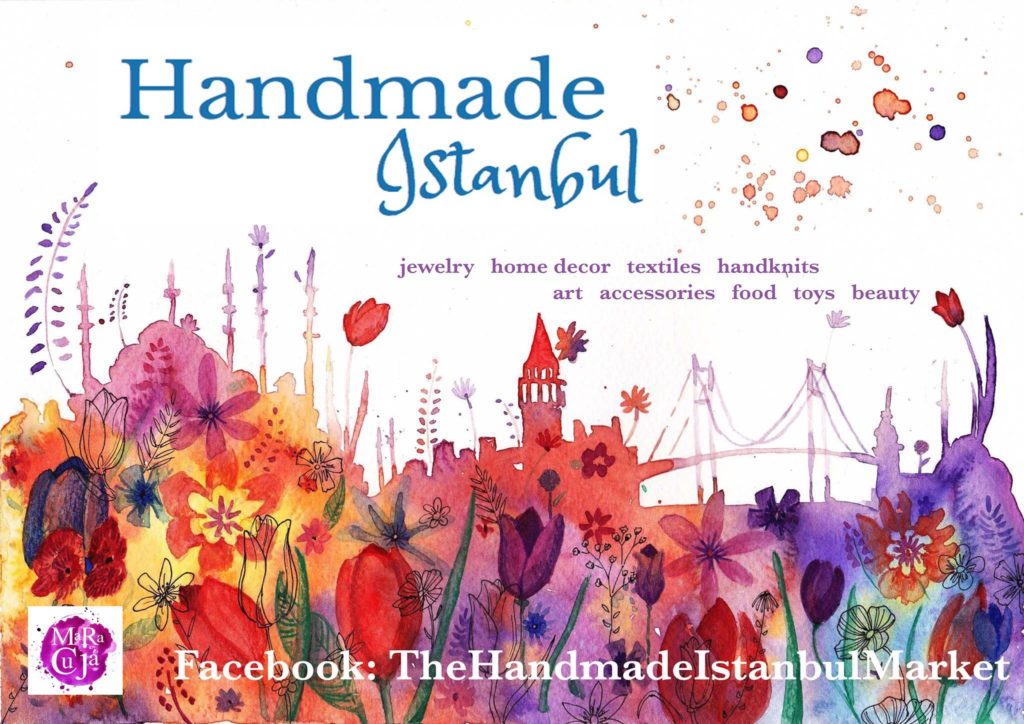 (Friday/ Sunday) Jazz Festival @ Zorlu PSM "Zorlu PSM Jazz Festival will kickstart a brand new tradition in the art and culture scene of Istanbul with the parties, panels, workshops, record market, open air free events, film and documentary screenings it will host along with breathtaking performances that will cover a diverse range of genres under one roof; jazz! Zorlu PSM Jazz Festival, which will also feature shades of blues, electronic, ethnic, funk, indie, classic, pop and rock, will position itself in the middle of the art and culture scene of the city between May 3rd and 12th"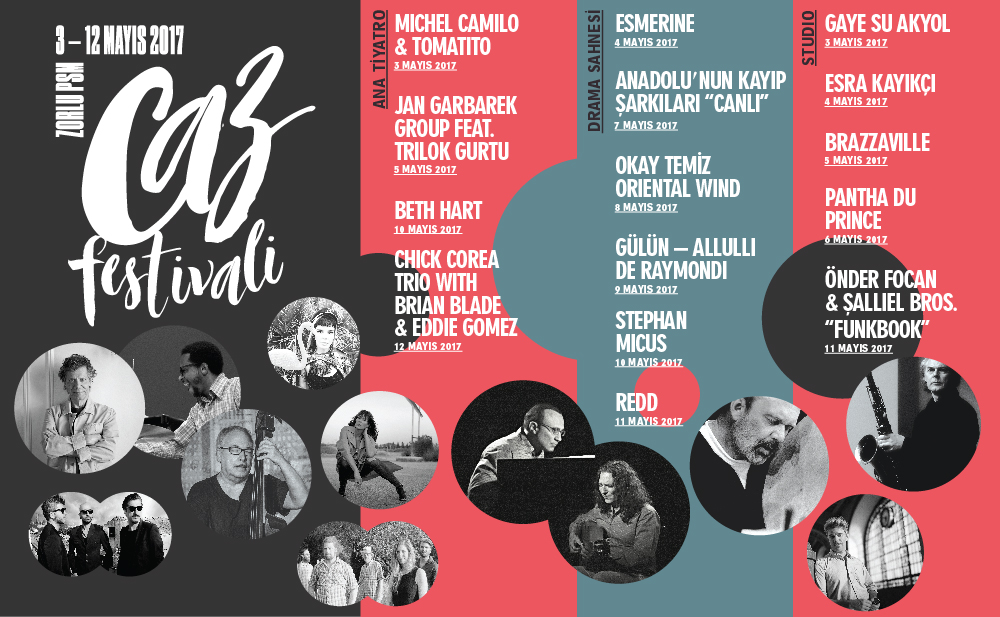 (Saturday/ Sunday) Avosync Label Weekend @ Arkaoda – "avosync is an electronic music collective and record label formed by the people of Venus Music, DECOL New Media Lab and Bug Organization, offering services to electronic musicians in various fields such as publishing, visual design, video production, event organization, etc."
Line Up Friday: Hiccup. Line Up Saturday: Kaosmos, Cava Grande, Akkor

(Ongoing) "PMS" @ Bant Mag. Havuz – "The exhibition features the work of 19 artists as they share their perspectives on premenstrual syndrome. Self-identifying as an enhanced-reality exhibition with an emphasis on utilizing GIFs, attendees are able to download an app and interact with the various works in a unique, personal way."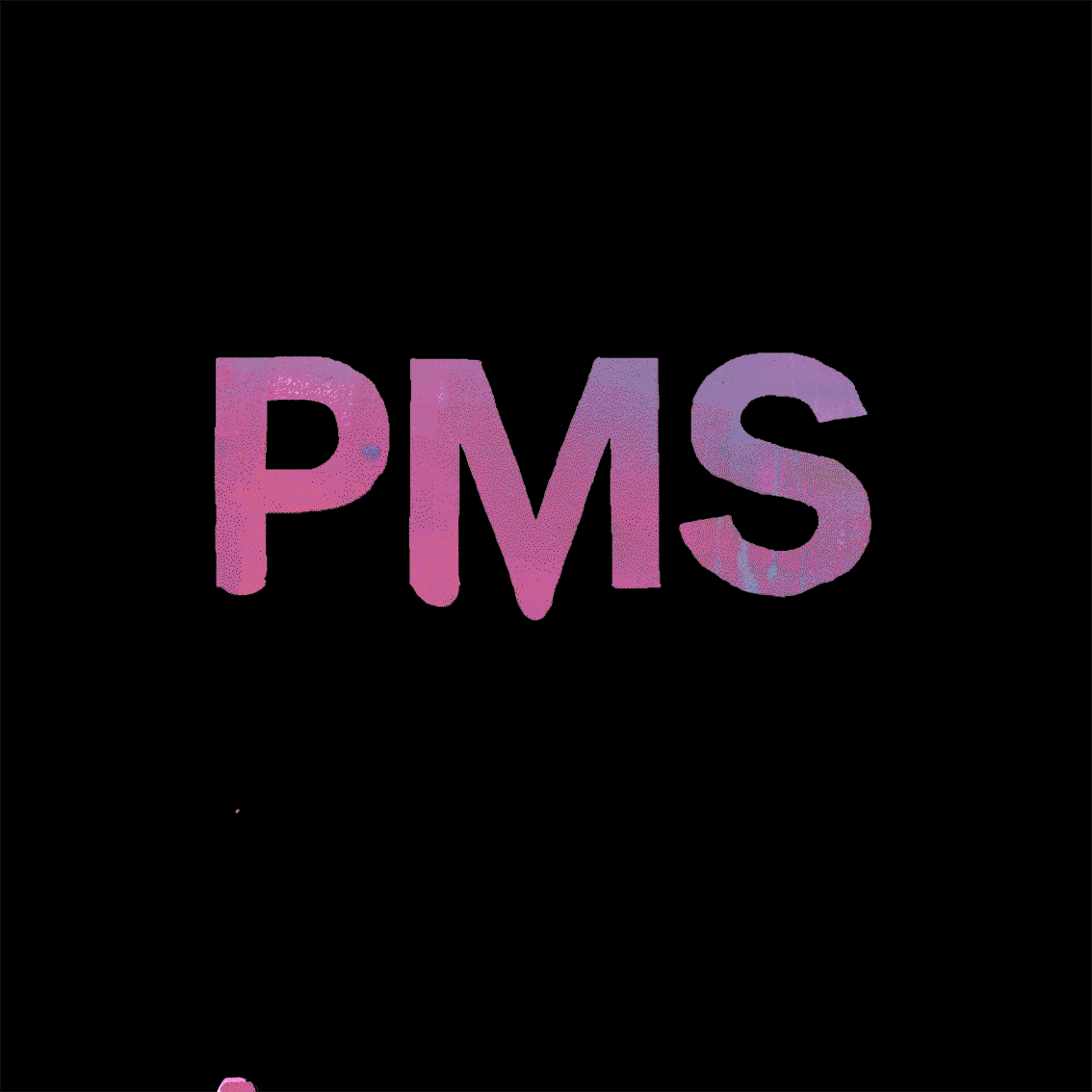 Friday:
Noema (Alm) DJ Set @ Arkaoda "Noema is known for his sexy, deep and magical sound: A unique blend of transcultural dance music, dubby disco and psychedelic house, combined in a highly energetic mix. Since his first DJ appearance in 1997, Noema has worked with the likes of Apparat, Daniel Wang and Dixon among others. His label, The Magic Movement, promises to bring all sorts of transcultural beats to the world's musical equation, while his Magic Jams sublabel takes care of the funky side of house and disco."
Reggae Weekends 4 @ KargART Live: Beton Orman All Stars, Bosphoroots, İstanbul Ska Foundation, Zeytin + "Selektas"

Ayhan Sicimoğlu & Latin All Stars @ Babylon Bomonti
CanSu Aslan "Saydam" @ GitarCafe
Tolga Akyıldız'la %100 Açık Sahne @ garajistanbul

Falafel Night @ Komşu Kafe Collective "This Friday we expect you to visit our regular but still absolutely amazing Falafel and Hummus Night at Komşu Kafe. Have fun, regret nothing and never, never turn down a good plate of hummus or falafel. See you this Friday!"
Saturday:
"Edrine & Food Pairing" Night w/ Pop-Up Restaurant Istanbul "Our recent visit to the Edrine winery brought forth amazing wines. It's a family run vineyard producing high quality wines at reasonable prices. Several bottles and lots of good food later the winery offered to sponsor the tasting part of this event. Your contribution covers the food and extra bottles once the pairing part is complete. Edrine winery has also offered us rock bottom prices for their wines until the end of May. You can put in your order directly with us here or at the event. The price range per bottle is between 20-23 lira plus VAT. We can also look forward to our Sommelier Andrea Lemieux talk us through each tasting. Drink, food and knowledge is a wonderful combination."

Oldies but Goldies @ Babylon Bomonti The best of Rock, Pop and Oldies in one Night.

"Housekeeper Podcast.067" mixed by Ilker Aksungar @ Wunder
Ceylan Ertem @ Jolly Joker "Ceylan Ertem moved to Istanbul in 1999 for her education in musical singing and musicology, where she joined rock band 'anima'. In 2006 their first album 'animasal' was released by Sony Music. She worked, produced, recorded and toured with Philipp Gropper in Germany, with United Fools in France and with Barana in Netherlands. She released her first solo album 'soluk' in '2010' and second, 'ütopyalar güzeldir' in 2012. Both albums were cheered by critics and were seen among the best of their years. The 'Xenopholis' album of her cooperation with Barana was released by Baykuş Music."
Robonima Presents: Nøkken & Midvil @ Peyote Psychedelic/ Heavy Psych Rock
Burn Energy Drink presents: Dominik Eulberg @ garaj istanbul
100 % Metal: Yurttan Gürültülü Sesler @ Salon Radical Noise, Tampon and Ofisboyz, known for their energic concerts live on stage for an evening of noise.

Reggae Boombox @ Nayah Kadıköy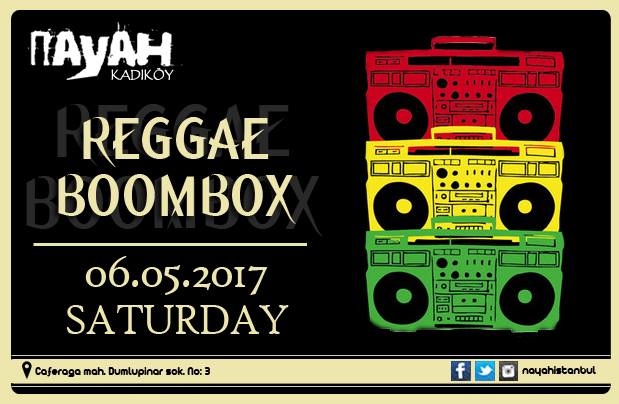 Sunday:
Sunday: Istanbul Color Sky 5K Run @ Caddebostan "Color Sky 5K will be held at Caddebostan in Istanbul on May 7th, don't miss! All ages and sizes are welcome and whether you walk or run, you will certainly have fun. An unforgettable Sunday is waiting for you! It is a very unique and exciting run where the runners don't get timed, but get color 'bombed' at every kilometer. It is not a competitive race, but rather a fun family event, where most people walk or jog."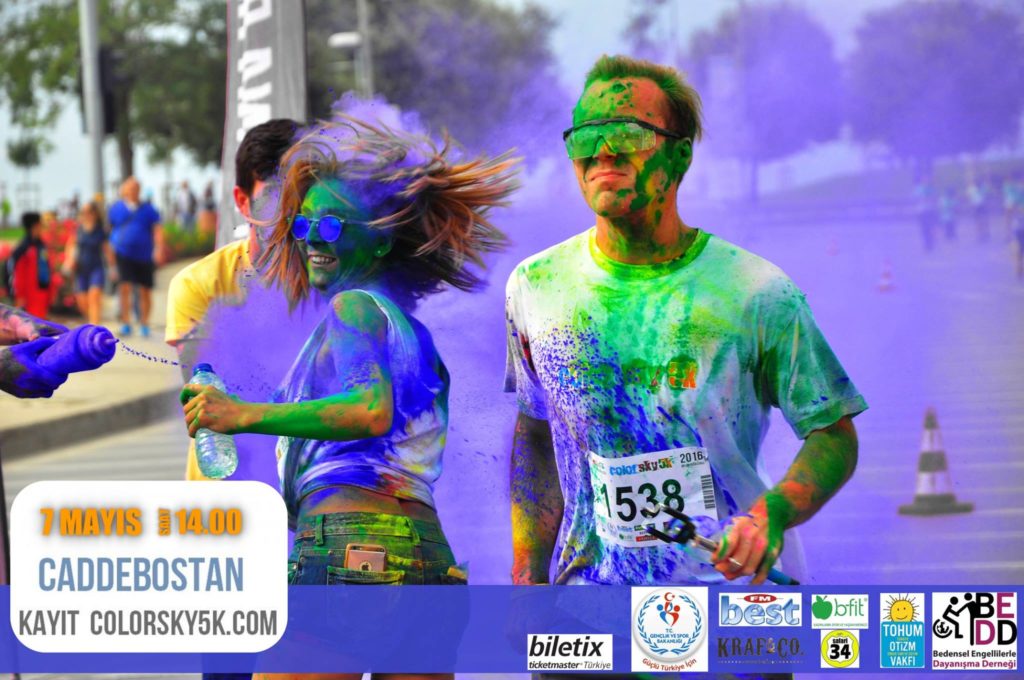 Take Me Up The Bosphorus @ Kaset Kadıköy "Come and try your hand at STAND-UP Comedy. Sign up on the night!"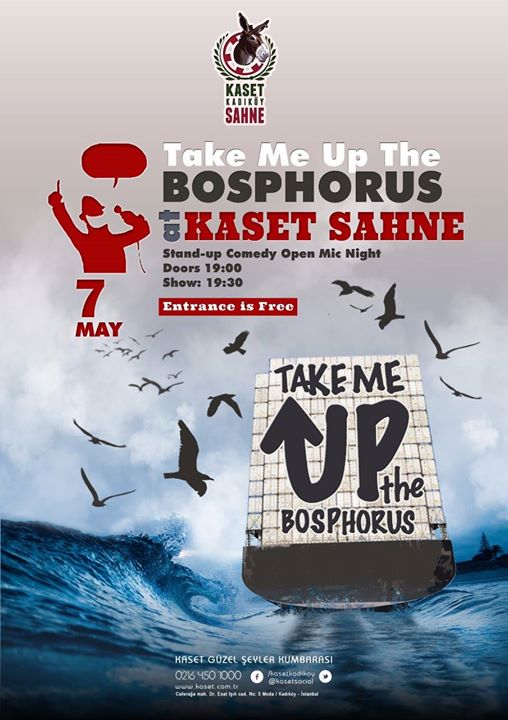 Janek Gwizdala @ Bant Mag. Havuz
Istanbul Alleycat Race – "An alley cat race is an informal urban bicycle race. We're an unofficial grassroots group of passionate cyclists that decided to organize such a race in Istanbul. We're not professional athletes. The style of our race will be checkpoints up front.."
Sunday Matinee OPEN AIR @ Mentha Teras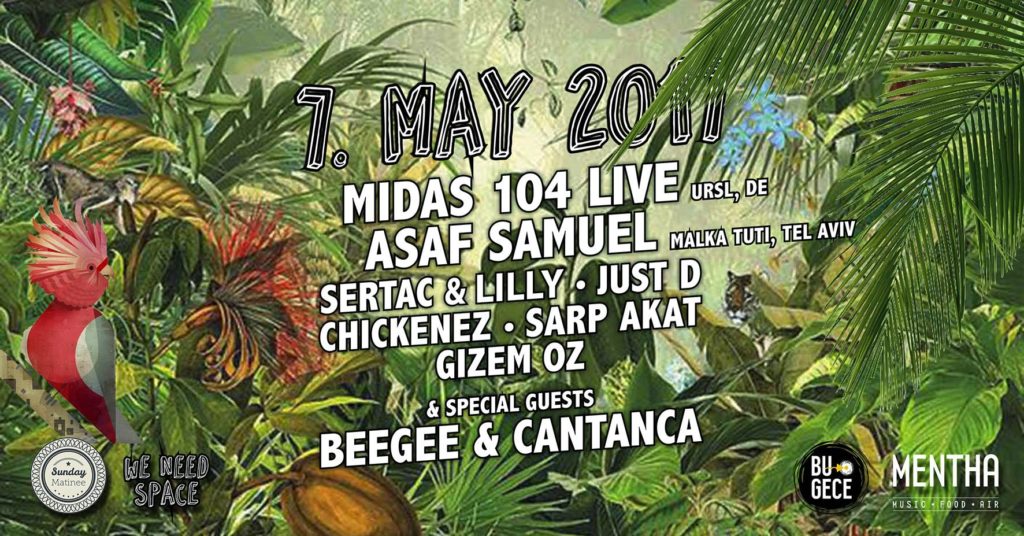 (Ending) "Cold Front from the Balkans" @ Pera Museum – "The exhibition focuses on different generations of artists and art groups from the Balkan region. The exhibition avoids the usual unflattering political connotations the region's name inevitably brings up but instead focuses on a natural phenomenon — the wind."
(Ending) "Wanderer on the Sea of Light" @ Pera Museum – "French artist Félix Ziem is one of the most original landscape painters of the 19th century. The exhibition Wanderer on the Sea of Light presents Ziem as an artist who left his mark on 19th century painting and who is mostly known for his paintings of Istanbul and Venice, where the city and the sea are intertwined."
(Ending) "Wanderer on the Sea of Light" @ Pera Museum – "French artist Félix Ziem is one of the most original landscape painters of the 19th century. The exhibition Wanderer on the Sea of Light presents Ziem as an artist who left his mark on 19th century painting and who is mostly known for his paintings of Istanbul and Venice, where the city and the sea are intertwined."
Multiple Days:
(Friday/ Saturday) Urban Picnic @ Uniq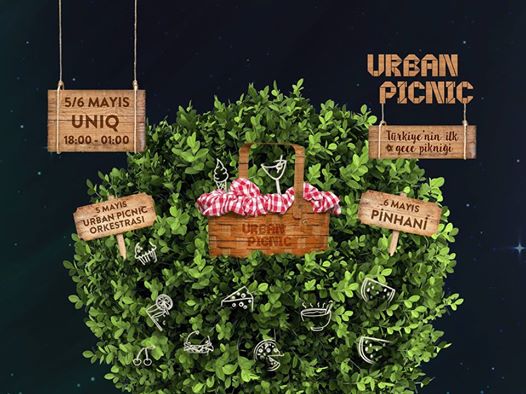 (Friday – Sunday) Karaköy Midye Festivali

(Saturday – Sunday) Tibetan Reiki Training – "The course will cover the first two levels of Tibetan Reiki, with the first day covering the first level, and the second day covering the second level. Instruction will include a morning teaching session followed by each student's individual initiation in the afternoon. Students will receive a manual for each level, and, upon completion of the initiation, an internationally recognized Reiki diploma."
Ongoing:
"Written Room" @ Pi Artworks Istanbul – Written Room mirrors the look of Persian script, yet it is almost as incomprehensible to those who can read the language as those who can't. By defying visitors' attempts to assign it meaning, the script remains locked into its irreducible pictorial graphicness in which meaning cannot be grasped. // Ends Wednesday 10 May
"SONGE" @ Cep Gallery "Entitled " SONGE ", Takayoshi SAKABE 's first solo exhibition in Turkey presents a wide selection of the Japanese artist's production. Born 1953 in Japan, lives and works in Istanbul and Tokyo. He studied art in Japan and settled in France in 1978, studying painting at the "École des Beaux-Arts" in Paris." // Ends Monday 15 May
Fill in the Plant" @ x-ist" "Burcu Perçin's new exhibition, which will meet the audience at x-ist, focuses with a distinctive irony on artificial nature landscapes built by humankind. Questioning the artificial images in landscape constructions in different areas of the city, the artist produces landscapes shaped under the dominance of green. In her new series, Burcu Perçin sheds light on landscape images manifested in green areas by the modern human, while centering her work on its troubled relation with nature." // Ends Saturday 20 May
"Heterotopia" @ REM Art Space – "The exposition includes new media works like video, installations and digital sculptures. "Heterotopia" is a concept elaborated by French philosopher Michel Foucault to describe the architecture space as a solution. Especially art spaces that are transformed by time connected with their nature could be seen more clearly in the heterotypic structures." // Ends Wednesday 31 May
"Everyday's Poetry – Scenes from the Fullness of Life" @ Anna Laudel Contemporary – "Anna Laudel Contemporary presents Everyday's Poetry – Scenes from the Fullness of Life​ displaying critically acclaimed works by Botero​ which have never previously been exhibited in Turkey. This carefully curated selection reflects Botero's artistic exploration of the human experience, imbued with the artist's familiar socio-political insight and characteristically subtle ironic wit, inviting visitors to participate on a journey through the intriguing images of the artist's aesthetic." // Ends Sunday 25 June
Looking for more events happening in Istanbul? Keep up with our What's On section.