Okay guys, we've all had enough of winter. The cozy appeal has washed away and we've had enough of staying inside, going to the same places, and getting sucked into the routine, right? Well here's a not-so-secret secret… I feel like that ALL THE TIME. So here's a two-parter, the story of how I spiced up a hiking trip, and all the information you need to run away to beautiful places on your spring holiday.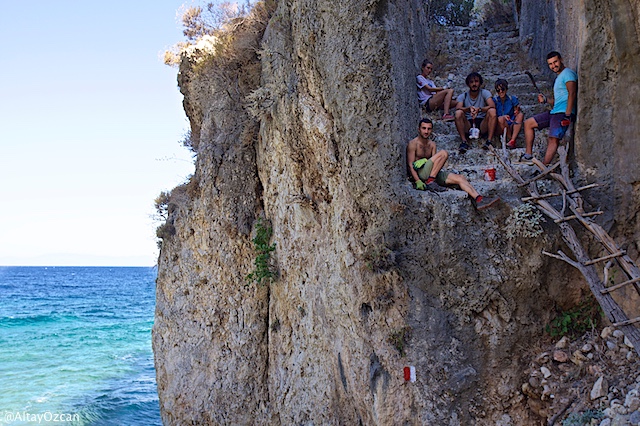 The Carian Trail
The Carian Trail, named after the ancient civilization of Caria, located in modern SW Turkey, was created by a few hiking and history crazed friends over the course of 4 years. By using a mix of ancient stone walkways, traditional shepherd paths, and little used forest roads, the team was able to link 820 km of trail stretching from Bodrum and Karpuzlu, by the Aegean in the West, around the Gulf of Gökova, to Içmeler, by the Mediterranean in the Southeast. Passing historic sites and traditional villages that seem to be straight out of the past, the trail gives walkers a glimpse into the region and its authentic culture, thousands of years in the making.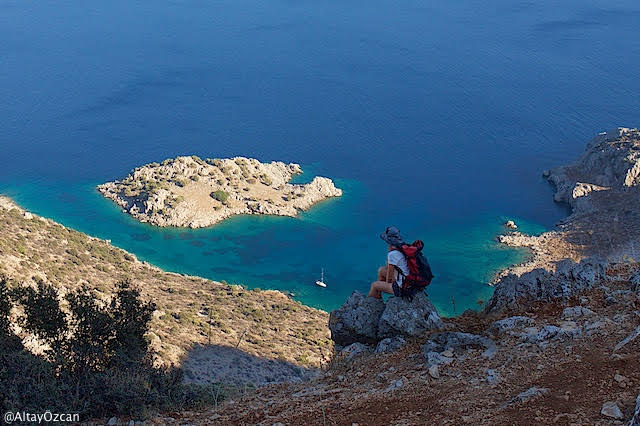 Waymarking
My trip along the Carian Trail presented itself in an unexpected way. While I couldn't live up to the 4 years the creators of the route spent getting lost and trudging through thorny shrubs, I decided to help renew the trail's classic red and white waymarks for four months last fall.
This adventure began in the heat of August, getting up at 5 am to beat the midday Datça sun with Altay (one of the co-creators) reciting some Orhan Veli poem about painting the sky every morning and me chugging coffee. Covering just one kilometer an hour, we would brush the stripes of red and white onto rocks, tree trunks, and fences, whatever we could find. Of course, it being August in Southwest Turkey, I sweated so much that my salt-caked eyes could barely stay open, and clumsy me being the one painting, I slipped and splattered so much that my skin became a work of art in itself. And if you didn't know, Datça is pretty famous for its honey, meaning… bees. But despite all the blood and sweat (no tears, luckily), the views of Datça and the trail itself were amazing. We ate our midday sandwiches while gazing out to Greek islands, took afternoon swim breaks on what may be the last truly tourist free beaches in Turkey, and got so used to seeing ancient artifacts that we stopped even noticing. But the adventure didn't stop there. Datça , Bozburun, the Latmos Mountains, I saw and painted it all. We slept in cars, tents, trailers, and village houses, walked up mountains and down along sandy coasts. I had the chance to meet people who have never used electricity or been a few kilometers away from their mud shacks. I got to see ancient history atop cliffs and inside caves in the middle of nowhere. Waymarking the Carian Trail was much more than just a hike; it was a rewarding test of wills.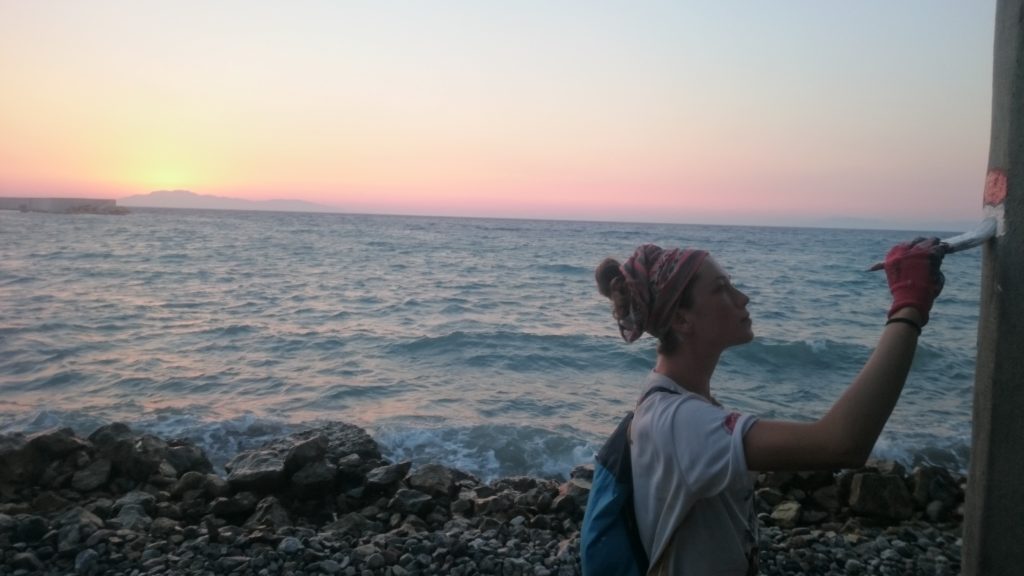 If all of this has gotten the ants in your pants dancing, it's always possible to volunteer, or at least donate a few liras or a can of paint to the cause. Otherwise, I still highly recommend jumping on the next flight to Bodrum or Dalaman and getting your hike on.
Datça Peninsula
Datça is one of the most remote corners left on the Turkish Coast. It's a peninsula jutting out into the Aegean and Mediterranean Seas, making getting there a bit more of a challenge (which means less tourists!). In addition to the city center and Palamutbükü beach, which are commonly visited, there are numerous villages and swimming spots totally off of the tourist track. This section of the Carian Trail reminds me the most of true wilderness hiking due to the jungle-like flora and rocky inlets completely devoid of people. If you are looking for some solitude and adventure, Datça would be perfect.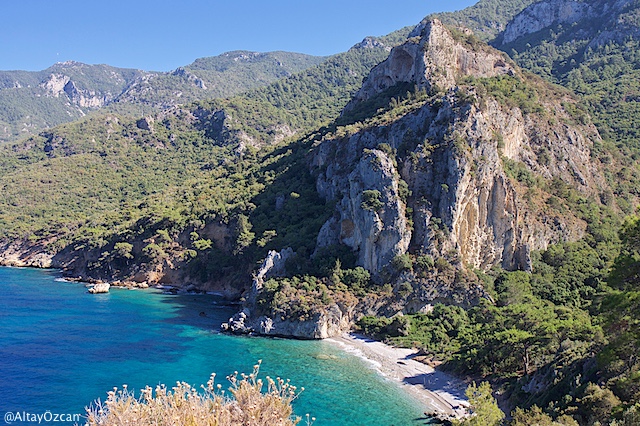 Must see places include the ancient city of Knidos, found on the northern part of the peninsula. The hiking route running from Mersincik to Knidos is one of my favorites, try to time your arrival to the evening, and take a walk to the nearby lighthouse to watch the sun set. If you are into wine, stop by the Knidos Winery, located in the village of Resadiye, before you go and enjoy a glass as you take in the views from the lighthouse. Another Carian trail classic is the Merdivenli (Stair) Cove, also found in the north. Since there is no road going straight to the beach, you will likely be the only one experiencing the refreshing water and views. Don't miss the stairs leading up from the beach, these are likely part of some ancient route to Knidos, but no one knows for sure. Instead of Palamutbükü, head to nearby Hayitbükü where you will find less crowded but equally as nice beachside restaurants and sea. Of course Eski Datça (Old Datça ), although seeming a bit staged for tourists, is super-cute and still worth a visit. There is also a well-known rock climbing area on the peninsula, if you are into that sort of thing.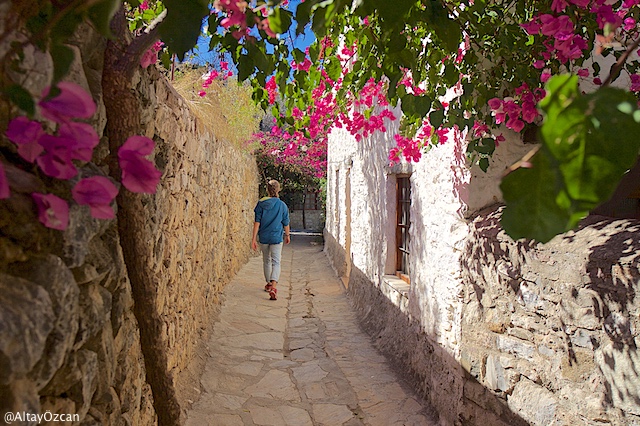 The easiest ways to get to and from Datça are either on the ferry that comes from Bodrum daily in the summer, or by taking a 1.5 hour bus ride from Marmaris. There are lots of places to stay in the city center, or near Palamutbükü or Hayitbükü beaches although these get pretty expensive. The best option for those on a budget is to rent an apartment through Airbnb in the town. A note to through hikers: There are very few guest houses, sources of water, or markets here, especially on the north side of the peninsula. So just remember that you've been warned before loading up your pack with a tent, campstove, and supplies.
…Stay tuned for Part 2!
Photographs courtesy of Altay Ozcan.