The Turkish craft beer scene has been on the march for the last two or three years, and despite rising alcohol prices, 2016 was an amazing year for Turkish productions. Whether from one of Turkey's few microbreweries situated throughout the West of the country, or edgy treats whipped up by multi-national brands, there's plenty to rejoice over in this 2017 guide for craft beer in Istanbul.
First, we start with the top 10 places to find the best beers in the city.
1. Populist
You guessed it – Populist in Bomontiada is unsurprisingly the current number one beer hangout in Istanbul. The fact that it is set up in an old beer factory means it would be a crime for it not to serve great beer, but they have really outdone themselves. With a rotating selection of nearly 20 beers, the variety caters to every taste. They produce an excellent Kolsch and an even better IPA that tastes just like the real stuff in the USA or UK, so don't be afraid to branch out. The vibe is lively, the space looks great, so believe the hype – but better book a table if you try a weekend night.
Bomonti Ada, Birahane Sk. No:1, 34381 Şişli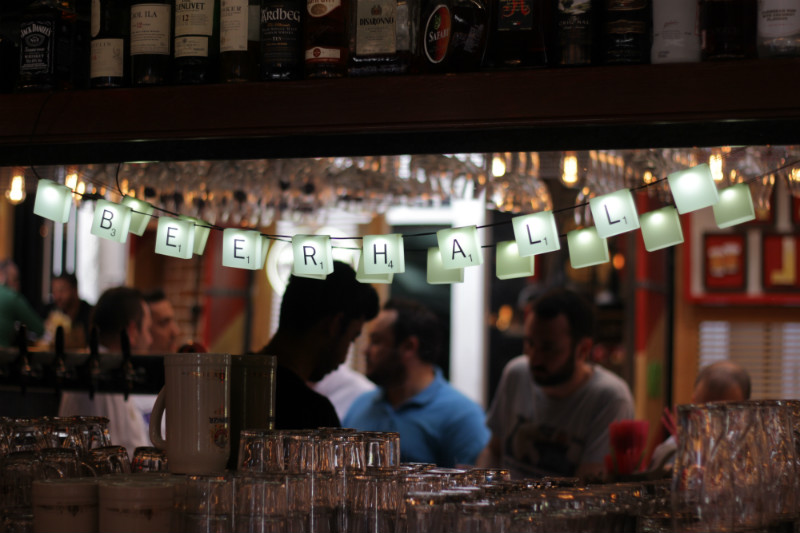 2. Beer Hall
Beer Hall has been a fixture on any bar lovers night out for the entirety of 2016 and with great reason. Its unique interior is cavernous and bustling; it boasts four food carts, long sociable tables, beer pong and free self-serve popcorn. Add to this a huge beer list of both the Turkish craft offerings and tonnes of international beers (and is usually well-stocked – something a few other "beer bars" in the city suffer from) and Beer Hall is a certain hit for a night out with great craft choices.
Süleyman Seba Cd. No:46, 34357 Beşiktaş
3. AYI
AYI has come a long way since its first branch opened in Kadıköy in 2014. Now boasting nine branches all across Istanbul (really, all across), Ayi does a good job creating an old fashioned, rustic feel with a strong beer line up and when their stock is full the choices are seemingly endless. They serve two of their own beers too, brewed by Pera, which should be sampled. The top branch for interior décor is the one in Caddebostan, although their best stocked seems to be the Moda branch.
For branches see http://www.ayipub.com.tr/iletisim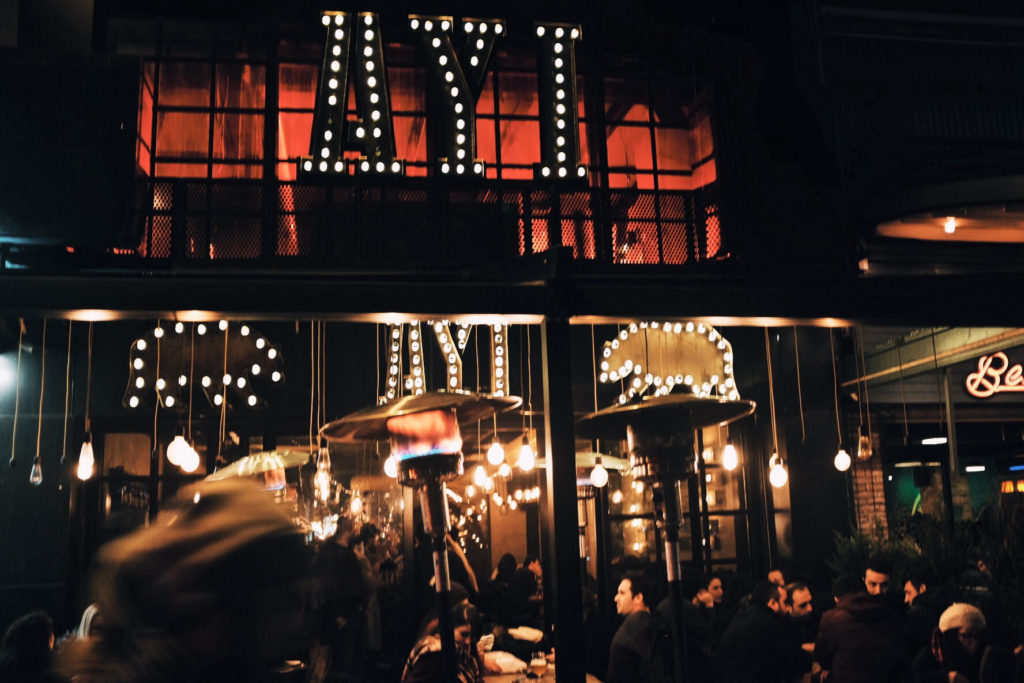 4. Bosphorus Brewing Co.
Coming across as more of a neighborhood pub tucked away behind Gayrettepe metro, "BBC" brews its own beer and is up there with Populist for the best on-site brewed stuff in the city. The vibe is "after work drinks" and their draft selection is absolutely excellent – try their Route 333 or Selanik 81 for a real kick of flavor and variety.
Emekli Subay Evleri, Yıldız Posta Cd, Gayrettepe, 34500
5. The United Pub
If people watching while sipping craft beer is your sport, then this is the place for you. Right in the middle of the Beşiktaş bar and cafe hub, The United Pub serves up plenty of international bottled choices and a handful of imported commercial beers on tap too. One great draw of this bar is that the waiters tend to know their stuff and can advise well – not always the case in beer bars in Istanbul.
Asım Cd. No:26, 34353 Beşiktaş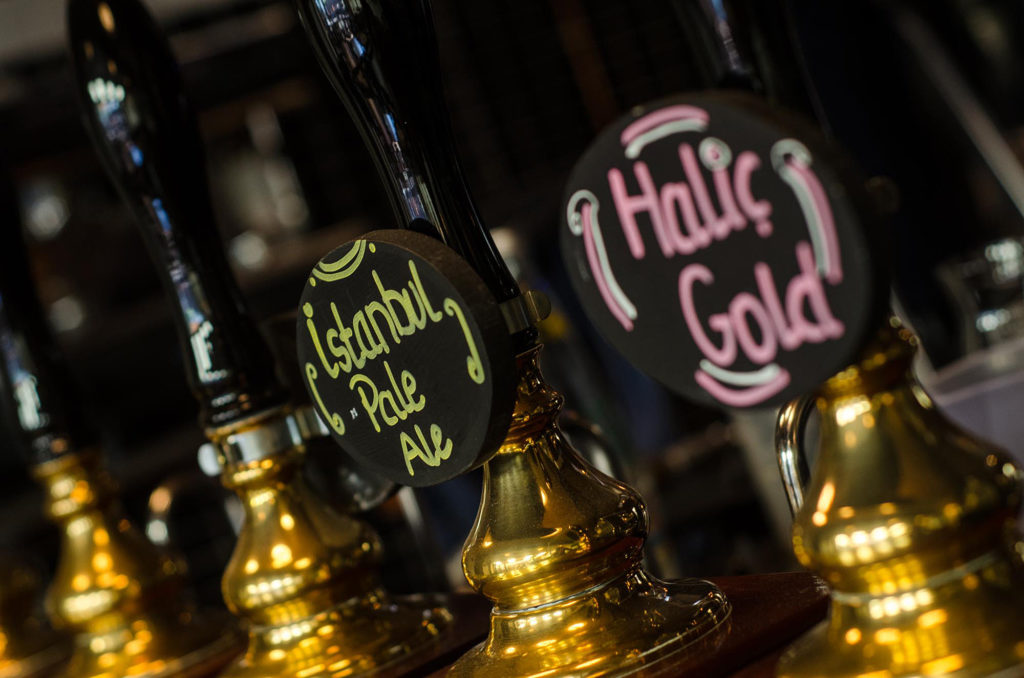 6. Kozmonot
Nisantaşı is better known for its cocktail bars and brunch choices but Kozmonot serves the neighborhood with craft beer admirably. Resembling a smaller Beer Hall, there are plenty of draft and bottle options for international craft beer, and a relaxed neighborhood vibe.
Poyracik sk. No:9-A, Tesvikiye, Sisli 34365
7. Taps
Situated all alone on the coastal stretch north of Bebek, Taps is worth the journey. Some spectacular upstairs seating views combined with a huge beer selection and their own home brewed Pilsner make it a massive hit with locals young and old, and there is also live football on the screens and a solid pub food menu.
Cevdet Paşa Cd. No:119, Bebek, 34342
8. Joker No:19
Just around the corner from Beer Hall, Joker No:19 has been around far longer and its dedicated clientele pack out the huge industrial-style space any night of the week. Bomonti Filtresiz on tap (uncommon to find), most of the Turkish craft beers and at a couple of liras cheaper than Beer Hall, this is an excellent option and tends to stay open much later.
Sinanpaşa, Beşiktaş Cd. No:19, 34353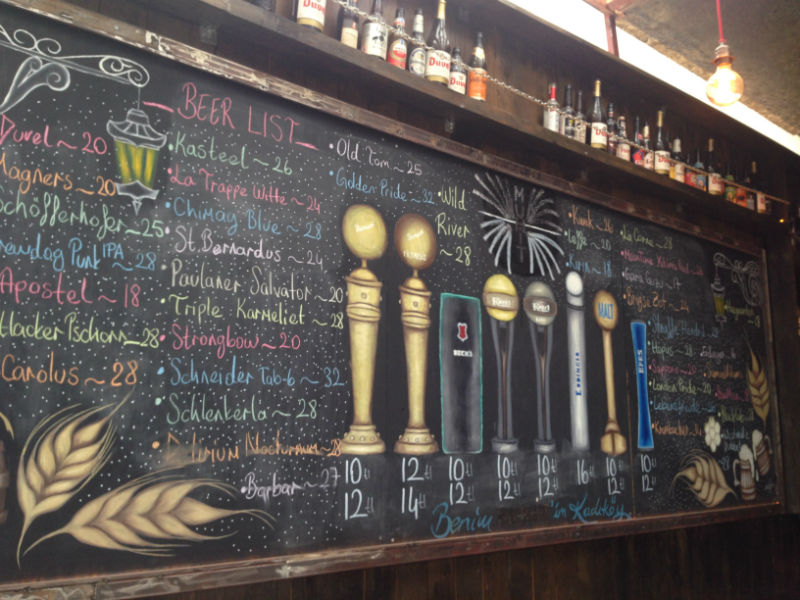 9. Kadıköy No. 30
With a deceptively huge interior, No. 30 serves up a plethora of beer bottles and an interesting draught selection. Its quirky first room with exciting bottle displays and a nifty chalk board showing their tap options gives way into the cavernous backroom where table football and more can be found – they also periodically have live music.
Caferağa, A, 34710 Kadıköy
10. Tekel shops
There are a handful of Tekel shops all over the city that specialize in stocking themselves well with craft beer. Notable (and reliable) mentions go to Rind Wine and Spirits in Moda and Anil Tekel in Ortakoy, who basically have a catalog of their beers and whose staff know their stuff, but realistically just pop into any neighborhood Tekel, scour their fridges and you might just get lucky.
Rind Wine and Spirits – Sarraf Ali Sk No:3, 34710 Kadıköy
Anil Tekel – Dereboyu Cd. No:56, 34347, Ortakoy
And now… the beers!
Without a doubt the success story of the past two years has to go to Gara Guzu. With a cute play on Turkish regional accents, the "Black Sheep" beer has exploded in the past twelve months and its output and variety is hopefully set to continue. At the start of 2016, their flagship Amber and Blonde ales could only be found in a small handful of dedicated beer bars and a couple of well-hidden Tekel shops – now they are featured in most discerning pubs and at a plethora of stores. Building on their popularity, Gara Guzu spent 2016 focused on seasonal and more specific releases – the 1 Yil Amber and the winter Red Ale at the start of the year, the Weissbier in spring, and the Summer IPA in, well, the summer. Though these seasonal releases can be slightly harder to find in, we welcome the wider dissemination of the Amber and Blonde and are excited about what 2017 has in store.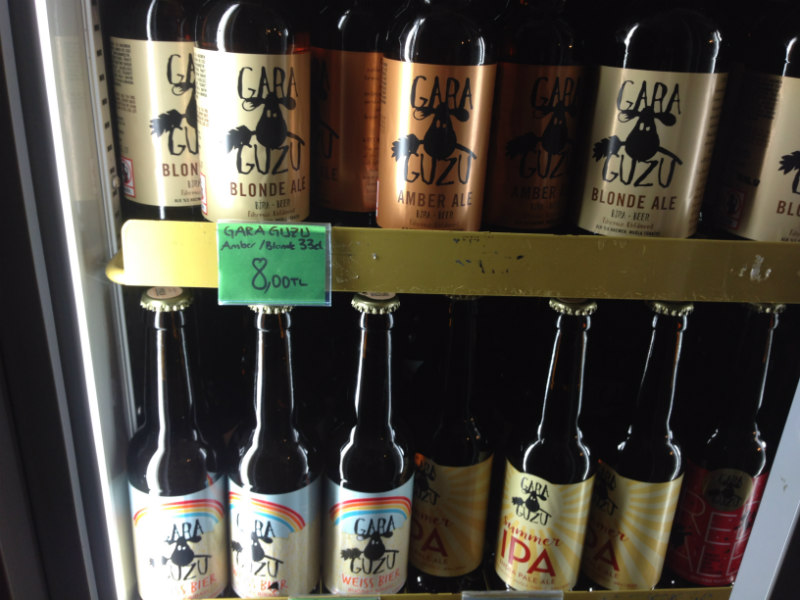 The other major Turkish craft brewery of 2016 was Pera, who focused on a wider dissemination of their already decent variety of beers, despite not crafting any new lines. Their beers generally take on a numeric categorization, which is helpful after having a few; they are also not afraid to experiment with some very unusual flavors: 2 is an amber ale, 3 is a smoked Ale, 5 is their hefeweizen, 6 is cinnamon and 7 is sakizli which is most like a chewing gum flavor – try these latter two at your peril, and let's just say I usually don't go any higher than 5! They also have Zikkim – an IPA with a skull on the label, which in my opinion is by far their most delicious. All of these are fairly easy to find since the latter part of 2016 and at least one variety will pop up in most Tekel shops and pubs, with the most common being 2, 3 and Zikkim. There once was a Pera 1 but this is now discontinued, and don't ask us why they skipped number 4!
A mention should go to the efforts of Efes and Bomonti to keep up. Efes released their "microbrewery" series of ales, with an amber, blonde and red – they taste good and sometimes come in cheaper than GG and Pera. They are found in pretty much every pub in the city and even in Migros. Bomonti refined their Filtresiz beer and this still remains by far the best Turkish mass-produced beer, and they complemented it with the release of a Red Ale, which it should be said tastes nothing like the actual red ales above but still goes down just fine.
Whatever your taste, Turkey is currently catering to it – so go out there and enjoy the brews!
Do you know any top beer places we have missed? Any brews? We would love to hear about them in the comments section!
Featured image courtesy of Sveta Nekrasova.