Mohammad Zaza is an accidental convert to the life of a travelling artist. Born in Saudi Arabia to Syrian parents, Zaza moved to Aleppo in 2005 to attend art school. After the beginning of the Syrian revolution, he lived for periods in Saudi Arabia, Lebanon, Jordan and Egypt, before settling most recently in Istanbul, where he has been for the last two years. This summer he will move to Europe, though he doesn't expect any move to be fully permanent. "Once I tried this travelling situation, I couldn't stop it. I think all my life I will continue to move after every few years, to work and be inspired by new places and the work there."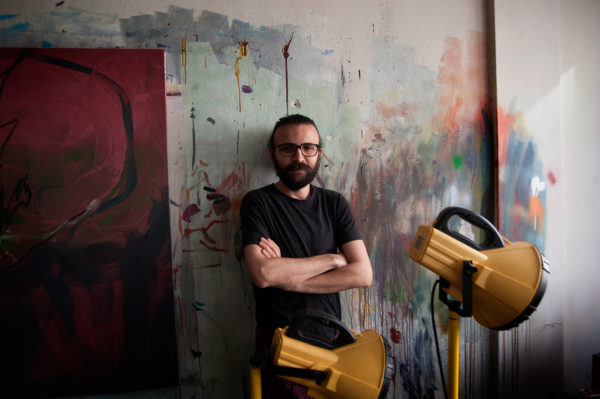 I went to meet Zaza last Sunday afternoon, in his studio and apartment near Taksim. In anticipation of the move, and his solo exhibition in Depo, much of the clutter had been emptied from the spacious front room where he paints. Sunlight flooded in, catching the rising vapours of the coffee (brewed Syrian style, with cardamon pods). Zaza talked about this exhibition as a way of marking his time in Istanbul and giving something back to the city. It felt an exciting moment to meet someone, poised between the satisfaction of work done and the anticipation of new horizons up ahead.
He hopes to devote more time to animation in the future, and is a big admirer of Hayao Miyazaki, the Japanese animator. "Always, the painting makes me feel stuck. When I look at a painting, I can see where this figure came from, and where it wants to go – there is not a big narrative, but there is a small story."
The show at Depo, entitled "The World is Blue like an Orange", presents work produced over the course of the last two years in Istanbul. Fittingly for someone who espouses the imaginative benefits of travel and also works in animation, Zaza's paintings are rarely still. Movement is created through contrasts of order and disruption: the paintings presented here maintain a fine balance between clean, figurative lines and wilder, more abstract movements.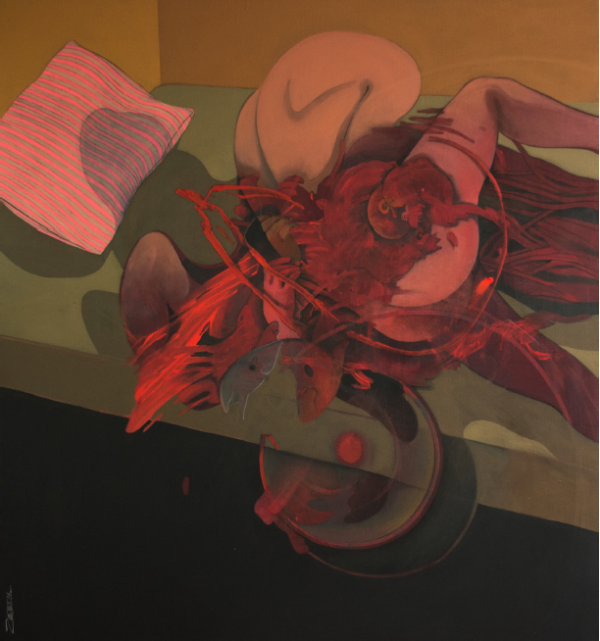 In "Stage of Dreams", a figure lying curled on a bed is shown as torn apart by internal vicissitudes, presented through vivid outpourings of crimson and red. The scene is unreal but somehow immediately familiar: even if we have never and could never see such an image, we can recognise in the bed and the imploding figure a distinct moment of traumatic psychological experience. Zaza's work reminds us of painting's ability to vividly articulate human experience by combining perceptions from disparate worlds in a way that only the human mind can.
Several other works present a similar coming together of the objective and psychological realms. In "The Redman's Journey I" and "The Redman's Journey II", a figure's subjective experience is presented as trapped and cowed by the imaginative nowhere of airplane travel. "I can say that this is me", Zaza says of the eponymous red man of these paintings, reflecting that they were born out of his experiences of travelling after leaving Syria, at a time when movement was a necessity rather than a choice.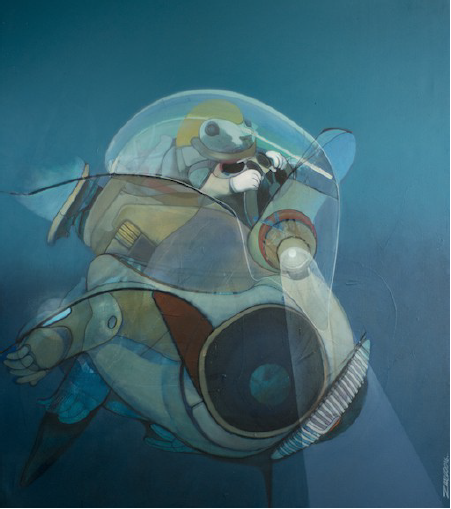 Many of the works here escape references to objective reality altogether. Perhaps the most abstract of these is "Face of the Machine IV", which sets a dark collage of machine-like shapes in pleasing contrast with a tangerine-beige background. Even here, however, there is a tendency for the human to make an appearance, with the title inviting us to see the man in the machine. One of the themes running throughout the exhibition is the fluid borders of seperates states – physical, psychological, natural and technological. Even in "Photosynthesis", where at first glance there is no human presence in sight, the viewer is left to begin to wonder whether there aren't eyes, ears or other orifices lurking within the synthesising thicket of the painting's foreground.
As a whole, this is a show by an artist who is following his instincts and interests where they take him. His is an imaginative and perpetual striving for freedom through movement, both inside and outside the limits of the painting. A viewer of the abstract "Face of the Machine IV" might be surprised to realise that the same artist painted the much more illustrative "The Explorer", in which an anthropomorphic creature put-putts around in an underwater infinity. We are reminded that it is still the artist's prerogative to give full rein to their imagination, before it is their duty to frame an exhibition within a single over-arching concept, as explicable through the medium of an artspeak-laden sheet of A4 paper. As he puts it, "My mind is not established. And I like that. I can consume anything, and put it in a painting."
—
"The earth is blue like an orange" runs at Tophane's Depo until the 18th of May. As part of the exhibition, Depo will host a panel talk on Friday, April 29th at 6.30pm, featuring Syrian artists, writers and activists discussing the impact of forced displacement on creativity.
Portrait of the artist by John Wreford. Artwork images courtesy of the artist.