There is nothing wrong with the beer your father drinks. As my father-in-law says, "It's a sandwich in a glass". But if you seek it out, you can find craft beer popping up all around town. Gara Guzu and Pera are to be found in an increasing number of tekels, and you can find draft beer at Bosphorus Brewing Company in Gayrettepe and Taps in Bebek that will make you forget all about the five Efes you drank (responsibly) last Thursday.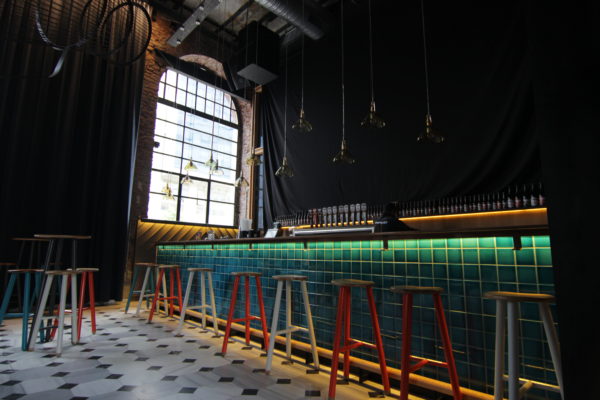 The sudsy revolution has been markedly slower to come to Istanbul than third-wave coffee and craft cocktails, its other beverages-in-arms, mostly because of tax issues and the capital restrictions of opening a brewery. Luckily for everyone, The Populist and its sister brewery, Torch, hope to speed up the maturation process of craft beers in Istanbul with their new location in the hip Bomonitiada (the old Bomonti Brewing facility).
The beer served in The Populist is the hard work, patience, and love of Tobias Palmer, who traveled the world in search of great beer and brewing traditions. He spent time in America, Russia, and China before heading back to his home country of Germany where he first learned brewing techniques from his family brewery. He brings the traditional standards of his German heritage and embraces the two tenets of craft beer: delicious beer and a good time.
Last week, Tobias invited us back into the brewery to talk about life, drinking in Istanbul, and the art of craft beer. The brewery and the adjoining restaurant has been in the works since January 2014, when Tobias moved back to Istanbul with the idea of bringing craft beer to his adopted home. The centerpieces of the brewery, located behind the glass wall of the bar, are the two large copper kettles that are always in production. Tobias keeps a small crew of one, Ali, to help with all of the brewing because he loves the process and the assurance of going through the motions of mashing, boiling and fermenting himself.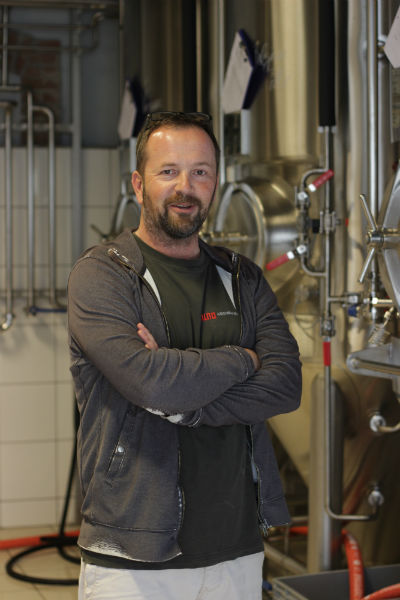 The beer menu currently consists of eight beers on draft, but will expand to around 12 as production gathers pace over the summer. The malts and hops used in the beer are sourced from Germany, USA, and New Zealand and deliver flavor profiles rarely seen in Istanbul. The brewery is small and clean with a precision of utilized space rarely seen in the sprawling microbreweries in America.
I ask Tobias what his favorite beer type is and he rightfully tells me that he loves them all, but if there's one he drinks more than any other, it's Kölsch – the beer of his hometown, Cologne. "Traditionally, it's not a true Kölsch unless you can see the Cologne Cathedral from the brewery" he says as he points to a small figurine of the cathedral sitting on the edge of the kettle. Not only does this Kölsch pass the tradition test, but it also passes the deliciousness test: it is light in color and slightly cloudy and is fruit forward, thanks to the Citra hops (a personal favorite). As Tobias explains, it's a good beer that you can drink all night if you want to.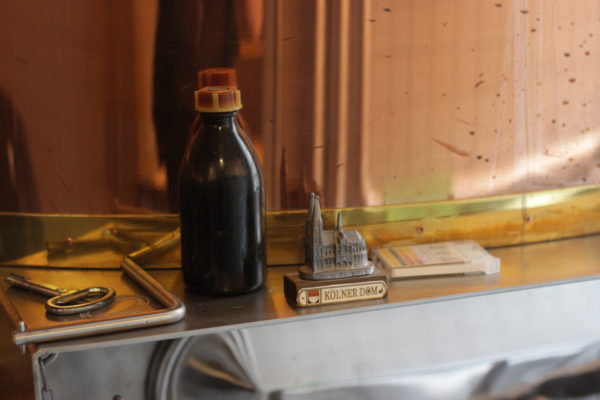 If drinking light beer all night hits a little too close to home in Istanbul, the IPA, a hoppy bitter-forward ale, or the Scottish Ale, which is dark and stormy, will be sure to satisfy. The menu features the aforementioned beer styles in addition to the likes of a German Weiss and Red Ale. When constructing the first line-up of beers, Tobias wanted to give people a hint of where the beer is coming from in order to establish a level of familiarity, hence the more traditional styles.
There are three featured lines on the menu: classics, strong (Belgian styles with high ABVs), and a fusion line. While in the brewery we got a sneak peak of the Torch Stout (surprisingly smooth for the high alcohol level) that will be available in a few weeks. As the brewery is only two weeks old there is a lot to look forward to, but for the time being Tobias is keeping it simple. His goal is make great beer that people can enjoy and hopefully gain a different perspective on what is available in town. They plan to start bottling beer for those who wish to take some home, but as of now there are no plans for expansion or distribution beyond the tap house. At The Populist, the beers are served in two sizes and if you want to try them all, you can get a beer flight of six sample sizes of your choice.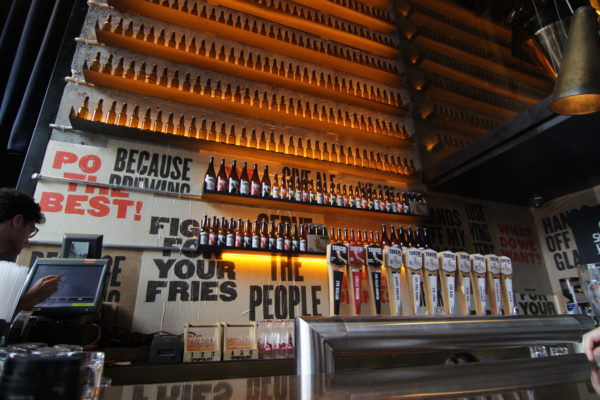 The Populist also offers a full food menu of American-style cuisine that features barbecued meats (smoked in-house) and a cheeseburger that is a must-try. The menu also has a slight Turkish twist and is the only place in town that I know of that has a Kokoreç pide (lamb's intestines wrapped around offal on a "turkish pizza"). The restaurant features three different bars and sprawls over multiple floors. If grabbing a beer and sitting in the sun is more your style, head to the bar and grab a beer in a plastic cup and head to the rooftop terrace or wander the courtyard area of Bomontiada (Bomonti island), which is home to an art gallery, more restaurants, and the live music venue Babylon.
After talking with Tobias, it's clear that the idea behind Torch is not to re-invent the wheel of craft beer. The goal is straightforward: serve people delicious beer. "I want people to come here and have a good time. If they like the beer as well, awesome," he says. It's a humble idea: keep brewing and let the beer speak for itself. I'll be spending as much time as I can at The Populist this summer. If the goal is to bring craft beer home, he's achieved it.
—
As if you didn't need another reason to visit Bomontiada, The Populist is open everyday at noon. You can follow updates via Facebook @ Craft Beer is Coming Home – Istanbul.
All photos by Svetlana Nekrasova.