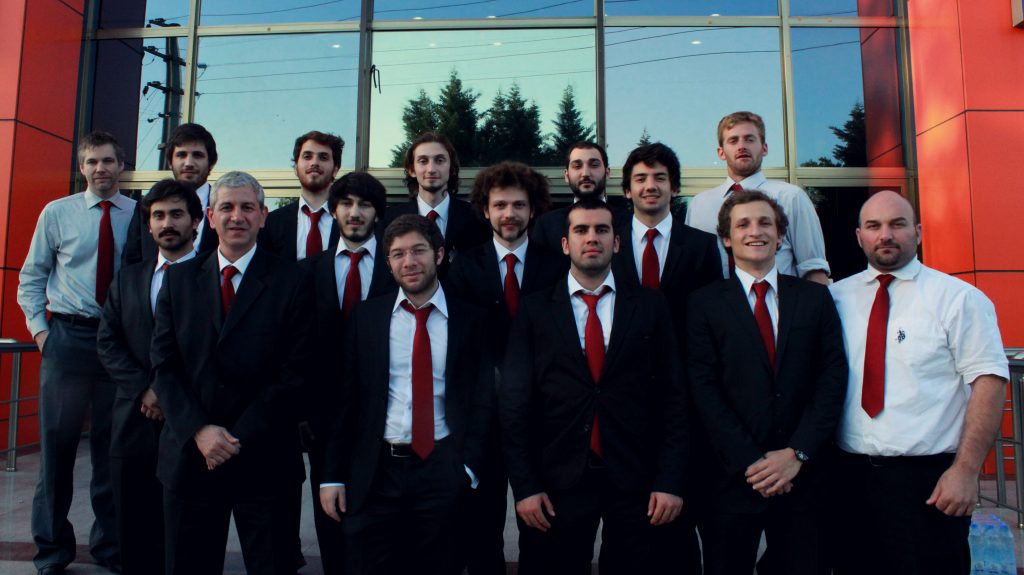 Hockey is a sport that thrives in northern countries like Canada, Sweden and Russia. As such, most people would never guess that ice hockey is a fast-growing sport in Turkey. In February 2013, Koç University hockey coach Michael Jorgensen and short-filmmaker Sveta Nekrasova first discussed an idea to document Koç University's hockey team's season.
What resulted was a remarkable documentary film that follows the Koç University hockey team through its competition in the Turkish first league. The film captures the team's thoughts and emotions during games,  practices, and off-ice activities. Even more than that, it proves the usefulness that sports have in bringing people of all cultural backgrounds together for one cause. Emma Harper recently caught up with Sveta to learn more about her experience shooting the film.
Emma Harper: Tell us a bit about yourself Sveta, what brought you to Istanbul and how did you get into filmmaking?
Sveta Nekrasova: I am originally from Ukraine but before moving to Istanbul I lived in Moscow for five years. I worked as an English-Russian translator in a big construction company and after some time I hated the office way of life and its values. My whole family is very artistic and I was the only one who wasn't doing something creative. My mom would comfort me and say, "Oh, don't worry you also have a talent – languages." Then I got a small camera and began filming everything – it was very shaky and bad quality, but I had some funny things I would shoot and I wanted to show them to my friends. I discovered Windows movie maker and experienced the joy of cutting things, putting them together and adding some music. Then I realized I needed to make as many videos as possible to learn how to do it through practice. So I would send a video as a birthday present to my sister, I made lots of videos of parties or barbecues with friends or of trips. Moving to Istanbul was my dream for a year. I lived in a big city but it was a very destructive, depressing and materialistic place. Istanbul is different – the climate is much better, you get a lot of sun, which is needed for your well-being. People still talk to each other when they meet up without staring at their phones every few minutes – the food is much better, prices are not so high and it is very close to my hometown – just across the Black sea.
EH: You just finished a documentary about the Koç ice hockey team, congratulations! What got you interested in the Koç ice hockey team as a subject in the first place?
SN: Thank you. Well, I have a friend in Istanbul – he is American and I knew him for some months and I assumed he was an English teacher, like everyone else I know here. But then one day we talked and I realized he has an amazing job here living as an expat – he is an ice-hockey coach in Istanbul. At first I didn't believe him – I couldn't imagine that someone in Turkey even cares or knows about hockey, not to mention playing it. And I thought it was too warm in Istanbul for sports like that. But he told me more about his job and about these guys he is coaching and somehow we came up with the idea of making a video about it.
EH: Did you know much about hockey before you started?
SN: Well, since I lived in Moscow and it is snowy and cold for about 6-7 months a year, you need to watch and play winter sports since there is nothing else to do – otherwise people might get crazy. I just checked and there are more than 1,534 skating rinks in Moscow. In Istanbul I know of one big rink, and there may be a few small ones in shopping malls. In Moscow for winter time they even turn all the parks into amazing skating rinks by covering all the paths with ice. There are lots of cafes where you can enter without taking off your skates. People even have dates on ice. So of course I learned how to skate there but I had only really experienced hockey once. I had lots of male friends who were playing hockey since they were kids, just for fun, and they took me to a big hockey game. I had been to football games many times before, but nothing compares to live hockey. It is so fast, tough, emotional, you see things closer, you watch fights, and even though I didn't know the rules I enjoyed it a lot.
EH: Over how long of a period did you film?
SN: I filmed it for about three months, going to the team's practices, interviewing guys and attending some of the games. I even traveled outside of Istanbul a few times to be at the games and had a nice bus ride with the team. I also went to their late practices at the big rink in the city.
EH: What was your favorite scene to shoot?
SN: I enjoyed interviewing the boys a lot. And they might not know it, but I was as nervous as some of them were. That was the first time I did interviews and it was especially hard because we had to talk about hockey. Also, I was worried that, as sportsmen, they wouldn't be very talkative and it would be hard to get something out of them. Surprisingly they all were emotional, passionate and told me lots of good stories. They explained things about hockey, and commented on games and team relationships. All the interviews were about 15 minutes long and I could only include tiny parts of them in the video. Talking to them I realized how hard it is for these guys to play hockey in Turkey, how upset they get sometimes when no one comes to their games, how much they practice and how they wish this sport was more popular in their country.
Another part was shooting in their locker room between the periods. I was allowed to go somewhere that is normally off-limits. Everyone sees them on the ice but people don't know what happens off the ice. Sometimes you see incredible happiness and joy, sometimes anger, before the game you see how nervous they get and how everyone copes with the stress.
EH: Did you get to visit any new-to-you places in Istanbul while filming?
SN: Well, I spent most of my time at Koç University campus. There is small ice-rink on campus where the guys have their practices. Plus, Koç has one great campus, somewhere up on the mountain, with a beautiful forest all around, very quiet and clean. Another place I visited was Silivrikapı Buz Pisti, which is the new regular size ice-rink. Most of the games take place there (they also have open-ice times, where you can rent skates and go skating). I took some of my friends to the games and they really enjoyed watching Turkish League hockey games.
EH: Was this your first full feature documentary? If so, what did you find most surprising about the process?
SN: Yes, it was my first long video. And I didn't plan on doing anything big, because I knew how hard it would be. I was editing for about 4-5 months. I also had one scary moment when my house got robbed in June, right when I finished the filming part. So at first I got only a little upset, but then I realized that I still had all my hockey footage – that's when I cried a lot. Luckily they didn't take the hard-drive.
The most surprising part was when I saw that I had 320 GBs of footage and I needed to watch it all, sort it out, choose what is good or a necessary part of the story, then build it into a narrative. The hardest part was editing games, because a two hour game needs to be edited down to about 2-3 minutes. It would sometimes even take me 3-4 hours to make 1 minute of the video.
EH: Any plans in the works for another documentary?
SN: Well, I have lots of ideas for smaller projects. I have a friend who makes his own music, so I would like to make one video featuring his original music. Another friend writes scripts for short movies and generally likes to help me out with my videos. Basically, I am open to anything that comes my way.
If you want to see more of Sveta's videos, check out her Youtube account. You can also follow the Koç University hockey team on Facebook.