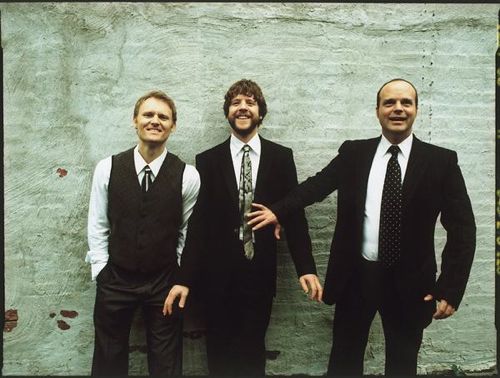 It's Friday night, and I am at our usual hangout for all good things jazz – Babylon Club in the heart of Asmalı Mescit district. The night is fresh and young and an eclectic crowd has gathered in the front, chatting about this and that and smoking our last cigarettes before the show. We are all here for Medeski, Martin and Wood, which this time around in addition to phenomenal John Medeski on piano and keyboards, Billy Martin on percussion and Chris Wood on bass, also features guitarist Nels Cline. I am feeling my feet thump in anticipation to hear their newest repertoire because this is the kind of music that still makes me excited – an intense and often crazy fusion of jazz and funk and soul and rock'n'roll, layered over deep danceable beats and accompanied by a million other avant-garde noises.
MMW, as they are usually referred to by their fans, have been playing together for more than two decades, an amazing feat in today's world of instant fame and forgotten promises. They are really classical musicians – composers and virtuosos on their instruments, but also quite a presence on the American jam-band scene. Speaking about their first musical encounter, Medeski reminisces: "Billy started playing a beat. Chris started playing a bass line. I started playing. And it was instant music." Defying any sort of labeling, when asked to describe their musical style, the band answers – "wide open."
With perfect timing we enter to the left of the stage, and as I am standing right in front of Nels Cline and listening to his guitar, I think – "yeah, this is rock'n'roll", when only a second later Medeski joins in with sounds from one of his multiple keyboards and the feeling changes – phew – psychedelic, and we all go wild, lights and all. Billy Martin follows with a perfect beat and some cowbell bangs, and finally we hear the composition completed with Chris Wood's hard-charging bass rhythms. Every head in Babylon is moving in the same rhythm and all eyes are wide shut with energy projecting from the stage.
There are no breaks! Songs roll one into another, leaving the mesmerized audience little chance to breathe, but every transition is seamless and every climax well deserved. These four musicians and their instruments truly resemble a "single organism, moving gracefully between genre-defying compositions and expansive improvisation atop a relentless groove." But then the boys, having warmed up, start going into deeper territories – their playing more disjointed, their rhythmic collaboration more intricate, and finally, it seems to me, a bit too cerebral for their Turkish fans. Wide open or wide shut, I ask myself, as I look around the room and notice the young and not-so-young Turks snapping out of their initial trance, only to be reenergized by another masterful crescendo.
For the rest of the show, MMW and Cline work up a faster, livelier beat that usually culminates in some hard-rock guitar solos, and even though I am still enjoying myself immensely, I can't help but feel a little angry at my fellow Istanbulites for not allowing a different kind– more introspective and less sexy/fun, energy to make its presence felt here. Oh well, next time maybe!