These last months have not been easy. Our hearts ache for the country that has been a welcoming home away from home for so many of us. As a city coming to terms with recent events, we look inward and find resolve in a place that has withstood the tests of time for well over a thousand years. We invite you to join the Yabangee team in reminding ourselves why we're here and why we aren't yet ready to leave:
1. Istiklal
Never-sleeping, cosmopolitan, ever-changing and steeped in history, the unstoppable energy of Istiklal is here to stay.
2. Turkish breakfasts
Turkish breakfast is an artform that takes some time to master. Without them, our Sunday mornings just wouldn't feel right.
3. Late-night dolmuş rides
Nothing makes you appreciate your life more than careering across the Bosphorous Bridge in a minibus while your driver casually lights up a cigarette.
4. The Bosphorus
The soul of this city leaves a permanent mark on you.
5. You still haven't mastered Turkish
This is the year.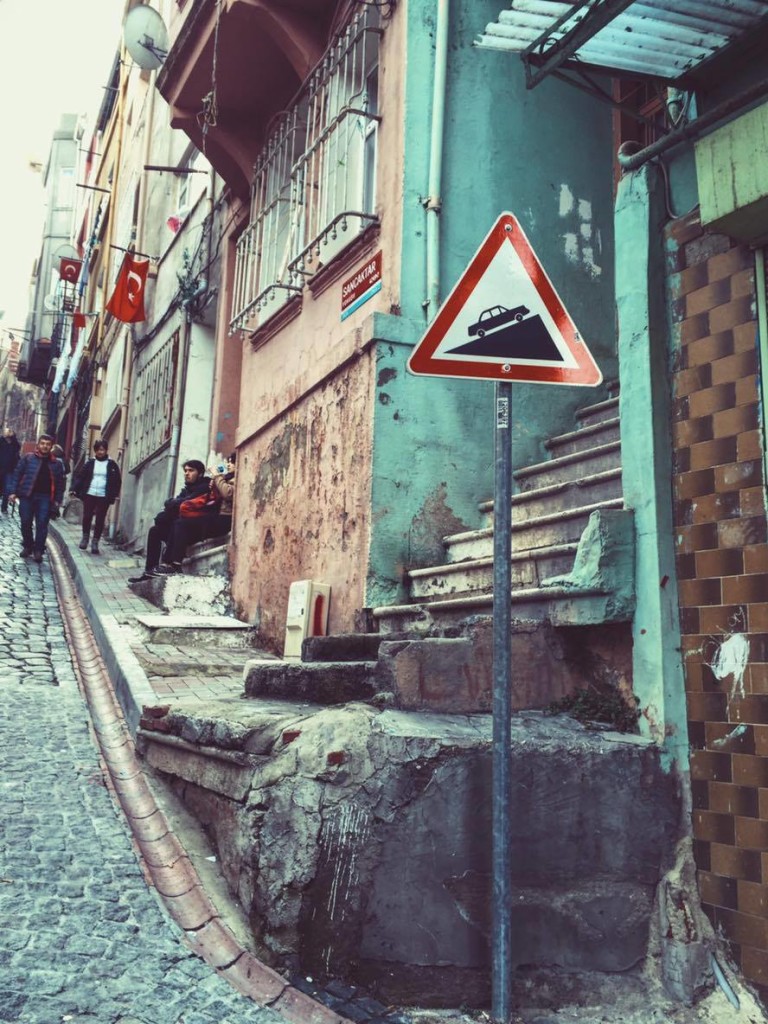 6. Besiktaş Stadium
A modern coliseum by the Bosphorous filled with anarchist football fans? Staying.
7. The skyline
One month away from the city's skyline and you'll be itching to come back.
8. The politicisation of everything
Love it or hate it, there's nothing lukewarm about political opinions here.
9. Foreign Women of Istanbul
The Facebook group that is guaranteed to know the answer to ANY QUESTION. Often genuinely more entertaining than anything on Netflix.
10. Hill workouts
The meaning of "a few blocks away" is extremely vague when you sometimes find yourself climbing a street instead of walking on it.
11. Fishermen on the Bosphorous
A long tradition that's seemingly here to stay. In an alternate universe, the Yabangee editorial team is lined up, waiting for a tug on the line and giving the Bosphorous a good long stare.
12. Special treatment for not speaking Turkish
It's hard to find incentive to learn when people exhibit such patience and kindness at our incompetency.
13. Special treatment for speaking Turkish
Did anyone praise you today for speaking the local language? Yes, of course they did. Extra points for full sentences!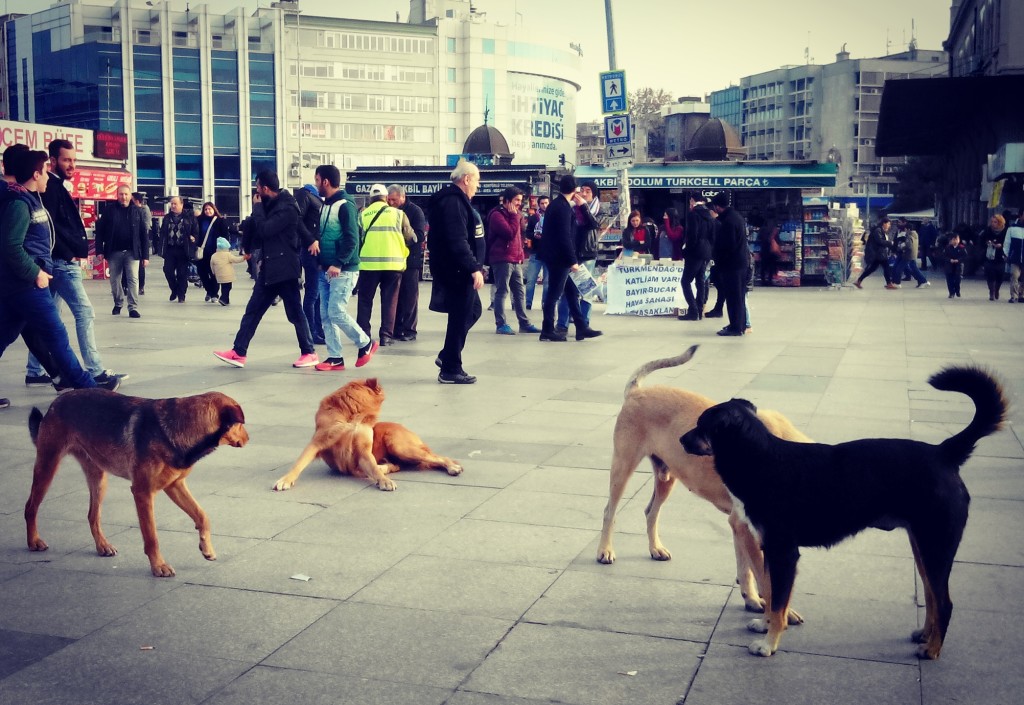 14. Street animals that love you
Take a moment to pet a neighborhood dog. Don't be surprised if he/she now follows you around as you run your errands. Pet a few dogs and get a spontaneous entourage.
15. Meyhane nights
Rakı, mezes, fish, fights, tears, and a clarinet in your ear – special occasion dinners everywhere else are beige by comparison.
16. Tarlabaşı market
For those living near Beyoğlu, Sundays likely involve a trip to this chaotic and delightful market of vegetables, nuts, clothes, cheeses, housewares and more. Where else do you have such a cool reason to wake up early on a Sunday?
17. Local markets
Don't live near Tarlabaşı? That's OK! Chances are your neighborhood has its own weekly market that slows down traffic and adds a bit of disorder into the mix.
18. The Prince Islands
Some of us can get to the islands faster than getting to work. A quick ferry ride can find you lounging on beaches, biking, eating delicious fish and having a horse and buggy ride all in one day.
19. Cheap flights
Now that you live here, you might as well book yourself a ticket to some nearby countries for a fraction of the price it would cost at home.
20. Traces of an older way of life
Cobblers, tailors, antique shops and more can still abundantly be found in many neighborhoods, with great rates and even greater charm.
21. Locals
Adjusting is easy when you're made to feel so welcome.
22. Chivalry
We have never once seen an elderly person (or even middle-aged on occasion) get on public transit and not be offered a seat by someone.
23. Ramadan
Being in Eminönü when the sun sets, the call goes out and tables of people break their fast simultaneously is an unforgettable moment.
24. Incidental fitness
Your building doesn't have an elevator? You just saved a fortune on a gym membership!
25. Neighborhood diversity
Each neighborhood tends to have a unique style and vibe. It's always a pleasure to shake things up a bit and explore a new area.
26. Doves not pigeons
Those lovely mauve doves are infinitely more pleasant than the grey and belligerent pigeons found in many cities further West.
27. Time warps
One moment you're walking in a trendy upscale area and the next you're greeted by facades oozing nostalgia for a different time.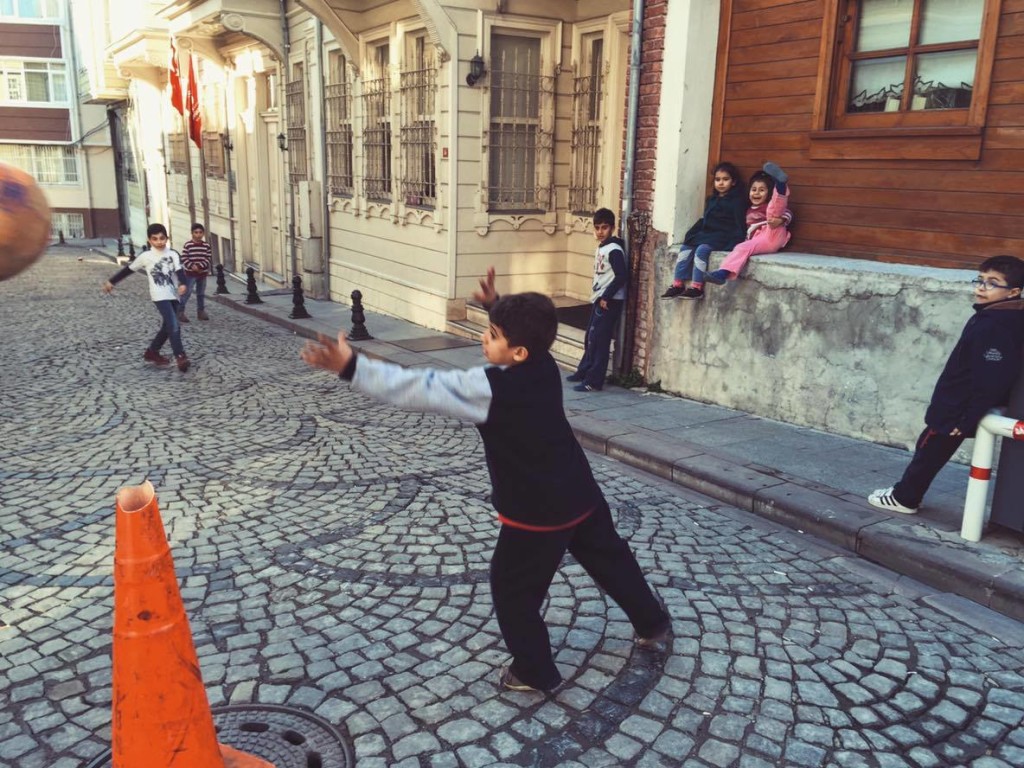 28. Football
You can feel the love for the sport everywhere: kids play it on the street, little pitches are available to rent for a small fee, and the Süper Lig is one of Europe's most exciting.
29. Public phone booths
Eagles in Kadıköy, seagulls and dolphins in Beşiktaş…
30. Cheap haircuts
You can look stunning for half the price it'd cost at home.
31. Car honking
What first seems like an incessant and unnecessary assault to the ears eventually becomes a language you can understand.
32. Contemporary art
Free, beautiful and with an impressive research library open to the public, Salt Galata is a world-class space, while the breadth of the gallery scene here is a match for New York and London.
33. Four Seasons
Spring is Spring, Autumn is Autumn, Winter is Winter and Summer is a mass exodus to escape the heat. At least they're distinct.
34. Football fanatics
The supporter clubs are incredible and important match days are impossible to ignore. Late night honk-a-thons and shouting from various apartments are good indicators of who won.
35. People thinking you live an edgy life
Nobody has to know that you moved halfway across the world to continue binging on Domino's and the last season of Game of Thrones.
36. Taxis hail you
Well, I wasn't planning on taking a taxi, but since you insist.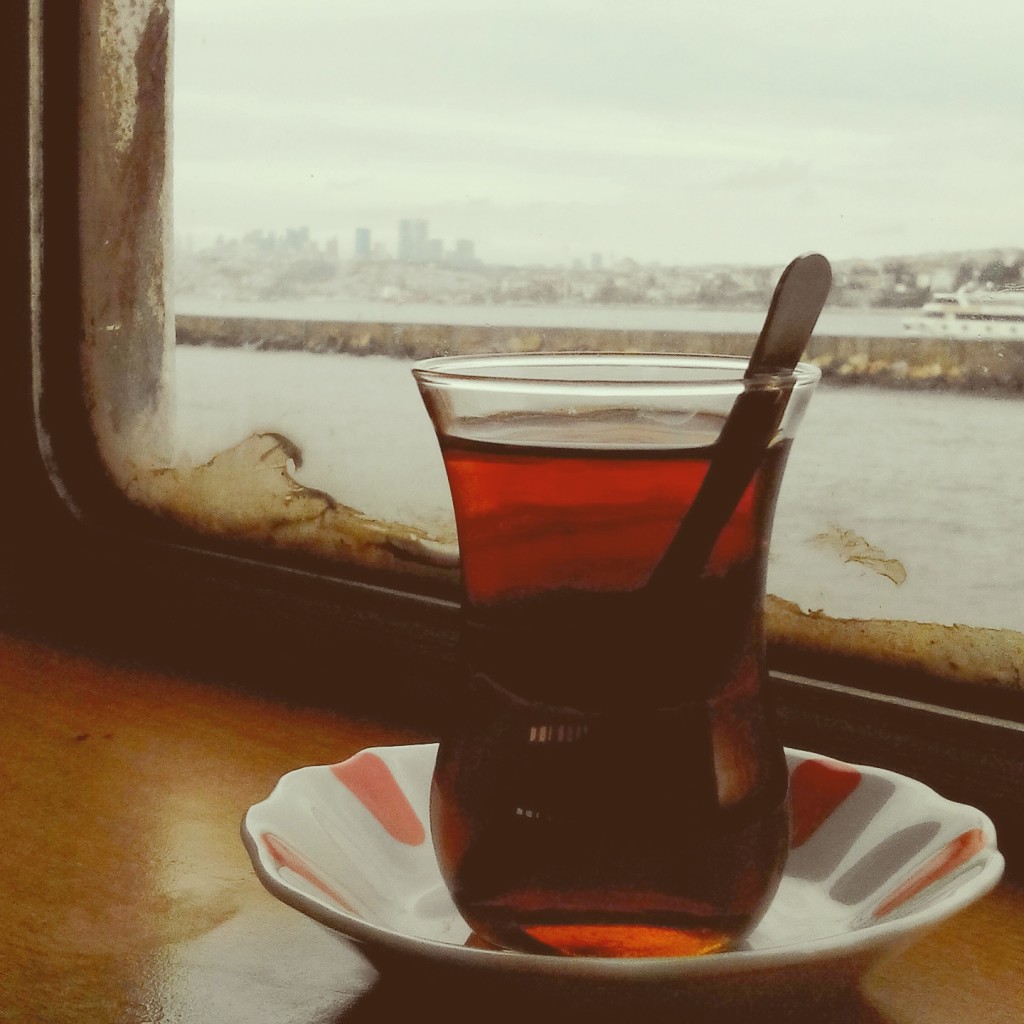 37. Aşkım
You can't leave Istanbul when you have found yourself a Turkish love. One that probably cooks a classic Turkish dish every now and then. Someone who most definitely has a genuine set of emotions that are expressed during rakı nights.
38. Çay
We can't imagine what it's like to not like tea here. Does anybody even hang out with you?
39. The Istanbul marathon
The world's only cross-continental marathon.
40. Grand Bazaar holiday gift shopping
So much more fun than a trip to the high street or mall back home. Haggling becomes so much easier when you aren't actually buying things for yourself.
41. Construction watching
Here, you watch the construction workers, not the other way around.
42. Syrian restaurants
Thanks to Taksim's Al Zaim and the many restaurants of Aksaray's "Little Syria", we finally know what our Syrians friends mean when they rave about their country's food.
43. Yogurt
Name a dish that isn't enhanced with a bit of yogurt. If you're asking, we only buy it kaymaklı.
44. Turkish expressions
There's an app for that? In Turkish there's always a colourful idiom for that.
45. Cheap seasonal fruit and vegetables
Yes they're delicious. Yes they're cheap. Yes it's the best thing ever.
46. Tulips
Maybe you're thinking about Spring, or the festival or çay glasses or any of the other tulip shaped varieties in the city…
47. Everyone delivers
People tend to be surprised that McDonalds and KFC deliver, but eventually you realize that basically anything can be delivered once you get to know local shopkeepers.
48. Beer is delivered!
This deserves a category of its own. No need to interrupt the festivities for a beer run. Get a pack of smokes and some çekirdek while you're at it.
49. Efes
If you love it, you're definitely in the right place. If you hate it, at least it lets you appreciate when places serve other beers.
50. Challengers to the Efes-Tuborg crown
We're no trend-forecasters, but with Pera and Gara Guzu increasingly widespread, we'd say this city is finally getting the beer revolution it deserves.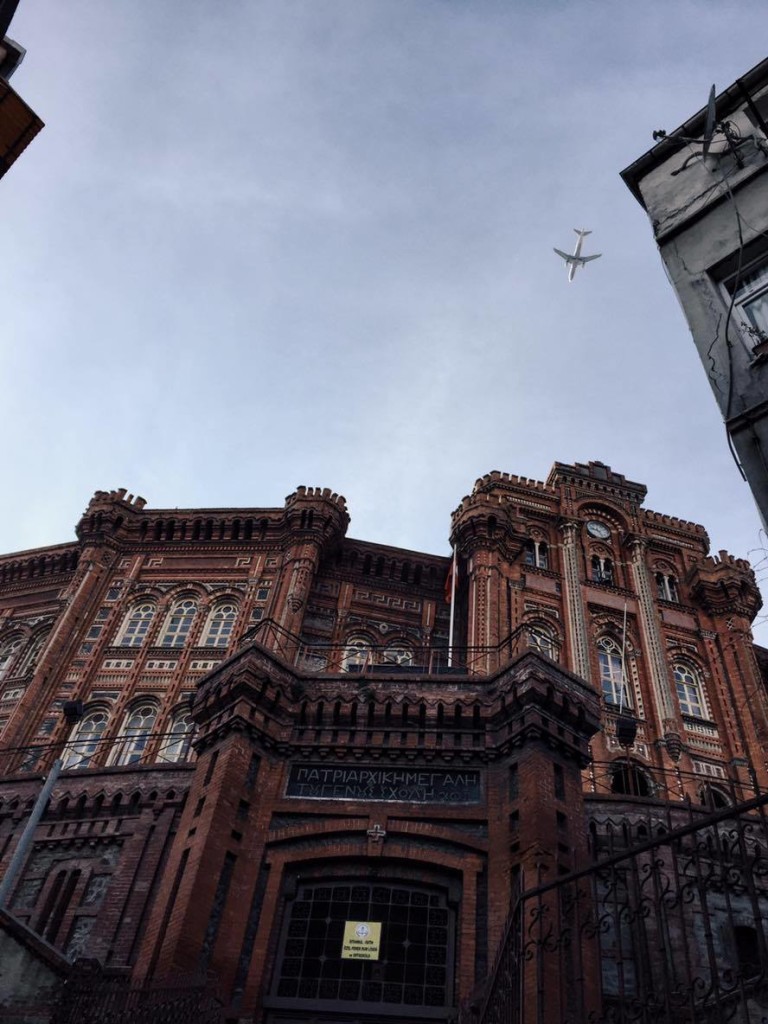 51. Unsignposted beauty
Most of the city's great architecture is unheralded and unannounced, which makes it all the more awe-inspiring when you look up to find some Art Deco gem in Eminönü or notice the infinite detail of the tiling in your friend's apartment hallway.
52. Çekirdek
There is no greater lie than "I'll just have a few".
53. Baklava
Yes, it's true – there might often be too much syrup on these desserts, but two or three with a çay and you'll be reminded of that time you ate all the skittles at your best friend's birthday party
54. Cheap movie tickets
When you compare cinema prices internationally, cinema tickets here are wicked cheap.
55. Cinema intermissions
Okay, so sometimes the timing could be better, but for those of us with weak bladders or sudden snack cravings, the intermission provides a real service.
56. Drinking soup at 4 AM
No matter how unhealthy the amount of alcohol you've just consumed, a bowl of ezogelin (or işkembe with extra garlic if you're going home alone) will sort you right out.
57. Communal pets
Your cat is my cat. Genuine hospitality doesn't just extend to people here. Street animals get so much love from local shopkeepers and residents.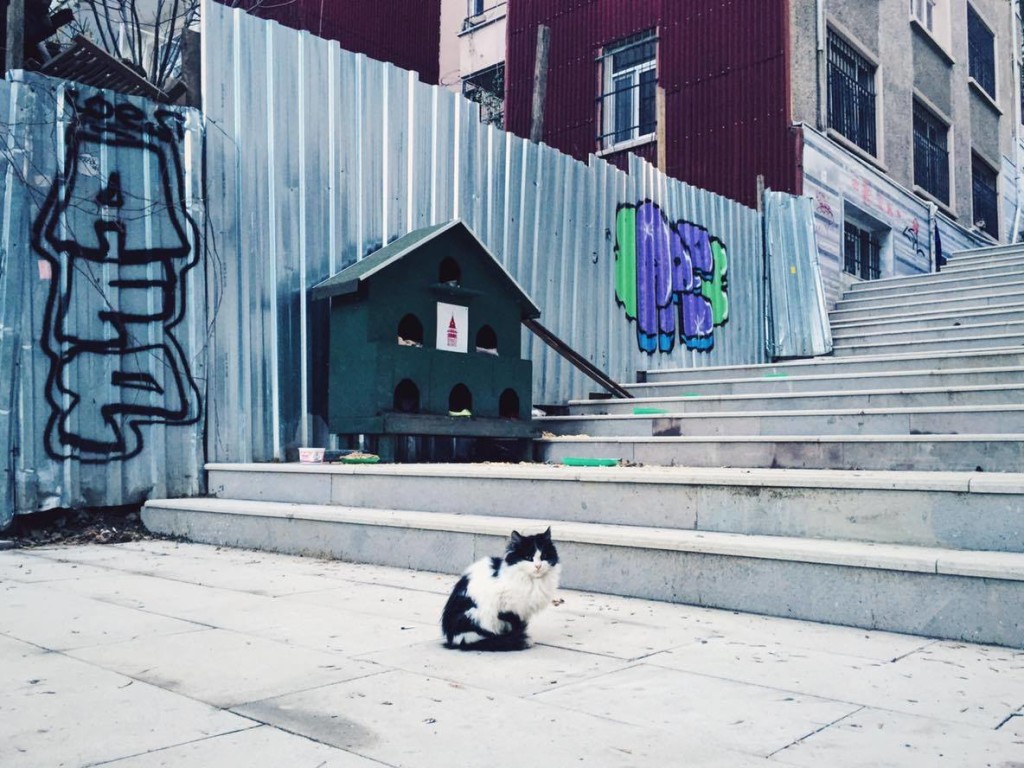 58. Cat houses on the street
Every winter you can catch these little cozy houses pop up on sidewalks. The same people that might bowl you over as they head down the sidewalk are the same people that carefully make sure not to disturb a sleeping kitty as they step around these houses.
59. Balık ekmek
Let's be honest, if you've been here for at least a few months, you have your own guy who hooks you up with the perfect sandwich. It's always worth the Karaköy/Eminönü detour.
60. Teyzes
If they're not cutting you in a queue, these older ladies are generally some of the sweetest people on earth. Always calling you pet names, saying how lovely you are, telling you your Turkish is amazing…
61. "Afiyet olsun."
Meals simply don't feel the same without it.
62. Street mussels
Never mind what the guidebooks say, we always feel better after downing a half dozen mouthfuls of lemony mussel goodness for 50 kuruş a piece.
63. Ferries
Everyone's favourite way to spend 2.75 of Akbil credit. When's the last time you saw someone drinking tea from a glass while feeding seagulls on the public transport back home?
64. Tea gardens
Tea? Check. Ambiance? Check. The sound of dozens of people playing tavla? Check. Well, since we're here, we might as well play a game too.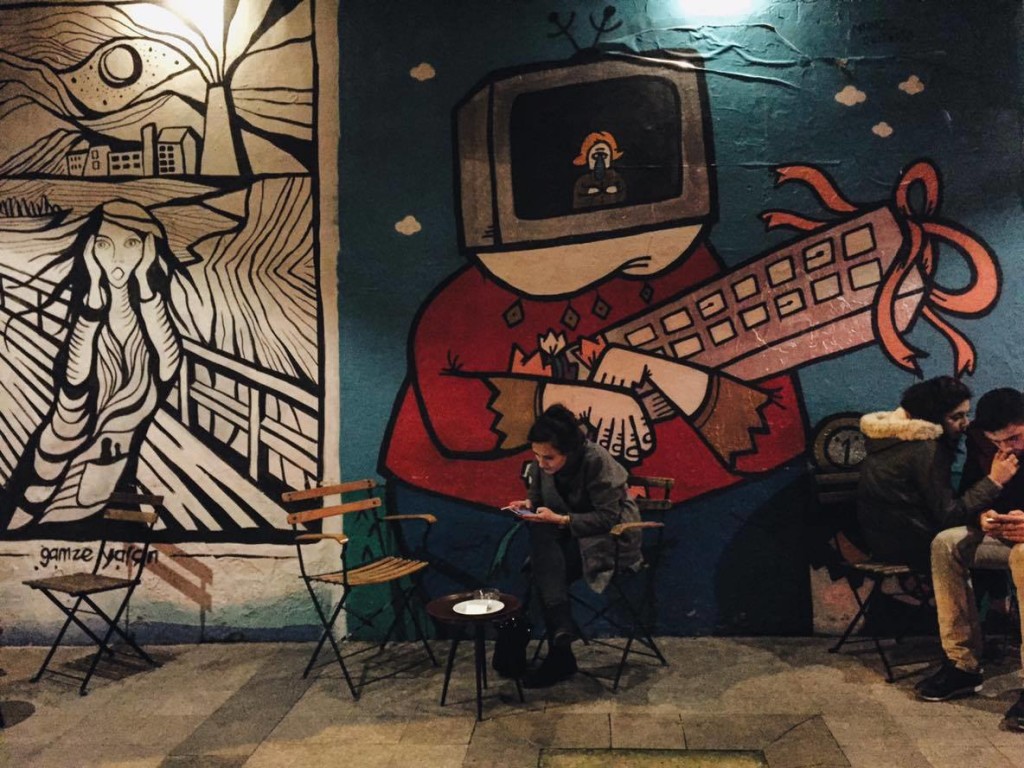 65. The ever-growing street art scene
Man oh man has the street art scene improved over the last few years. We're not sure what happened, but the city is now a proper hotspot for up-and-coming graffiti artists.
66. Complimentary tea
If there is a sweeter sentence in the Turkish language than "çay ikram ediyim mi?", we've yet to hear it.
67. Tiny chairs
Nothing quite like seeing giant men sitting in tiny chairs to play a game of tavla on an equally tiny table.
68. Hospitality
We're not saying people aren't hospitable where we're from… we're just saying it's not the warmly nurtured art form it is here.
69. Reactions to babies
Hello stranger. Yes, I suppose you can have an entire conversation with my baby and ignore me completely.
70. Ikamet (mis)adventures
Who doesn't enjoy the Kafkaesque approach to legally living somewhere?
71. Public transportation 
What's the best way to go, because I can think of about a dozen ways to get there. Thumbs up to doing a pretty fine job of making it possible to get around.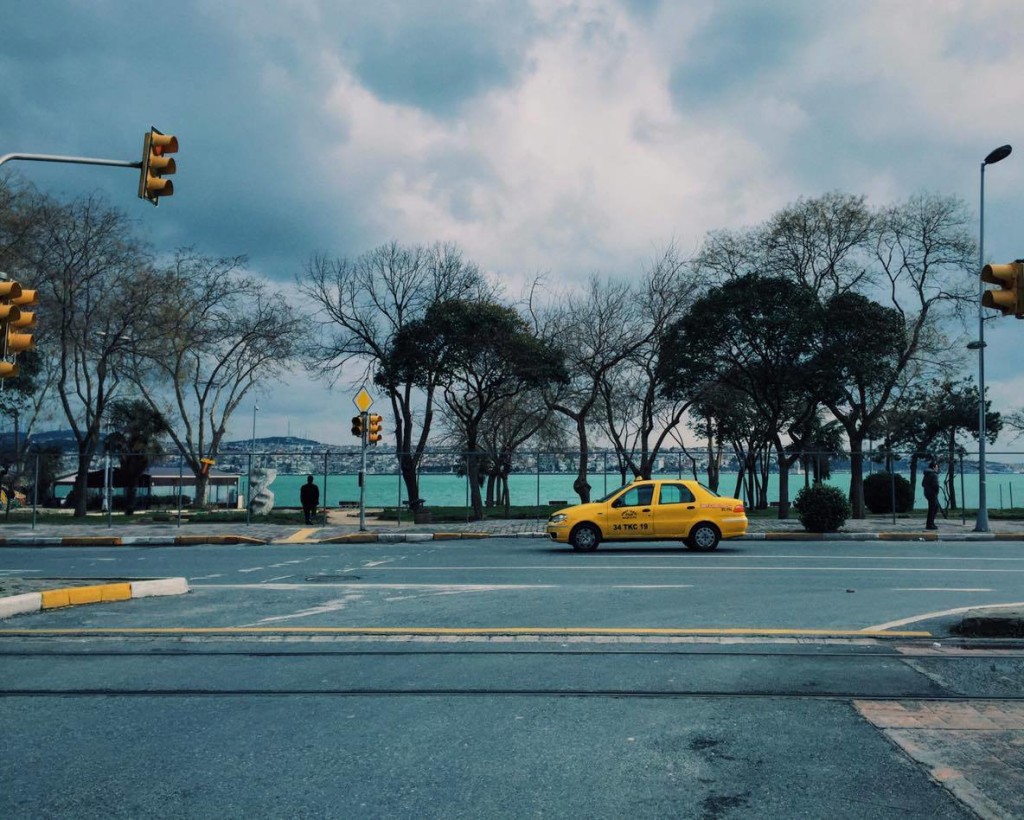 72. Taxi banter
Improve your Turkish, get offered cigarettes, learn the entire political belief system or life story of your driver… all in a 15 minute ride.
73. Snowstanbul
Those few moments a year when Istanbul is covered in an enchanting blanket of white and traffic is absolutely out of hand…
74. Drinking booze in coffee mugs in unlicensed restaurants
Feel smug for one-upping the hipsters back home by having a practical reason for such an affectation.
75. Local shops
Do all your grocery shopping for a week without setting foot in a supermarket. Eventually befriend your local butcher, baker and green grocer. Swear by them and never again visit another establishment.
76. Barber culture
Nothing says TLC moreso than having your nose-hairs trimmed and ear-hairs burned off.
77. Winter (or the lack thereof)
A bit cold, the occasional snowfall, not too long… winters aren't that bad.
78. Private busses
Busses will take you anywhere in the country. Get some tea, get some cake, try to understand the TV shows that are on… not too shabby!
79. IOUs are OK
Realize you left your wallet at home? Short a few lira? That's cool, just hit 'em back later!
80. Massive apartments
It's always surprising when that quaint little apartment building is hiding a massive flat.
81. Turkish coffee
Az şeker lütfen.
82. Sitting on the rocks by the Bosphorus
You can find the best spots to sit and enjoy the view based on how many çekirdek shells are in the area around them.
83. Goods are separated by district
Need lights? Go the light district in Galata. Need outdoor gear? Venture to Karaköy for all sorts of shops for backpackers. Need tools? Wander down to Galata bridge. One of these days we'll make a directory.
84. Belgrad forest
A great green location to take a break from the city for a bit, without having to venture too far.
85. Crowds
Despite the 14+ million people, crowds in Istanbul have a way of being less stress-inducing than crowds in other metropolitan megacities. The neurotic hurrying of Times Square or Oxford Street on a weekend make Istiklal feel like a large group yoga retreat.
86. Colorful steps
They make for cool photos and inject a healthy dose of optimism.
87. "Buyurun buyurun!"
Long repetition has turned this word into a platform for vocal performance. Wander Eminönü and revel in the art form.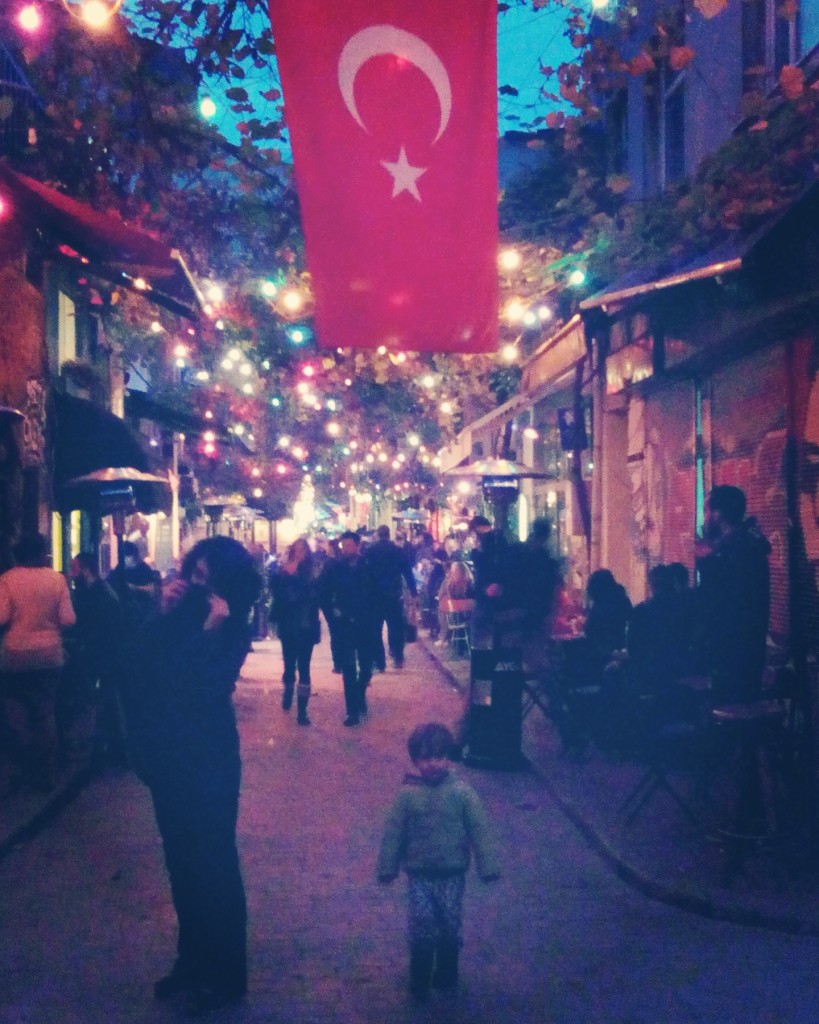 88. Changing continents
Hop across to Asia for that hot blind date; then hop back to Europe on the last boat. Or don't, as the case may be…
89. Cherry blossoms in February
Are those even seasonal?
90. The bureaucracy rabbit hole
Everyone has to venture into the bowels of the State once in a while. Its not pretty and you might come out feeling slightly less human, but nothing beats the satisfaction of coming out with what you need.
91. Many of the ruins aren't cordoned off.
We know you think about getting up there every time you pass the aqueducts.
92. Feriköy flea market
Buy things you didn't realize you ever wanted.
93.Honey and kaymak
A party in your mouth.
94. Tahin Bal
Or as we like to call it – Honini. Its Tahini and honey. Together. In a jar. The best thing to ever happen to toast. And its available at your local Migros.
95. Old city
So many landmarks, so much history and we're still being hearing about more and more hidden nooks.
96. Nargile
While we may not be fond of smoking as a habit *cough*, we can't help but feel that the occasional hookah session has its own aesthetic merits. Plus, an excuse to drink apple tea.
97. Sütçü
Stop drinking that industrial milk from the supermarket, get your milk from a guy around the corner on an unknown day of the week. Unpasteurized is the new healthy.
98. Simit
As iconic as the New York bagel, and just as delicious. If you're asking, we like ours oven fresh, with a side of peynir and çay.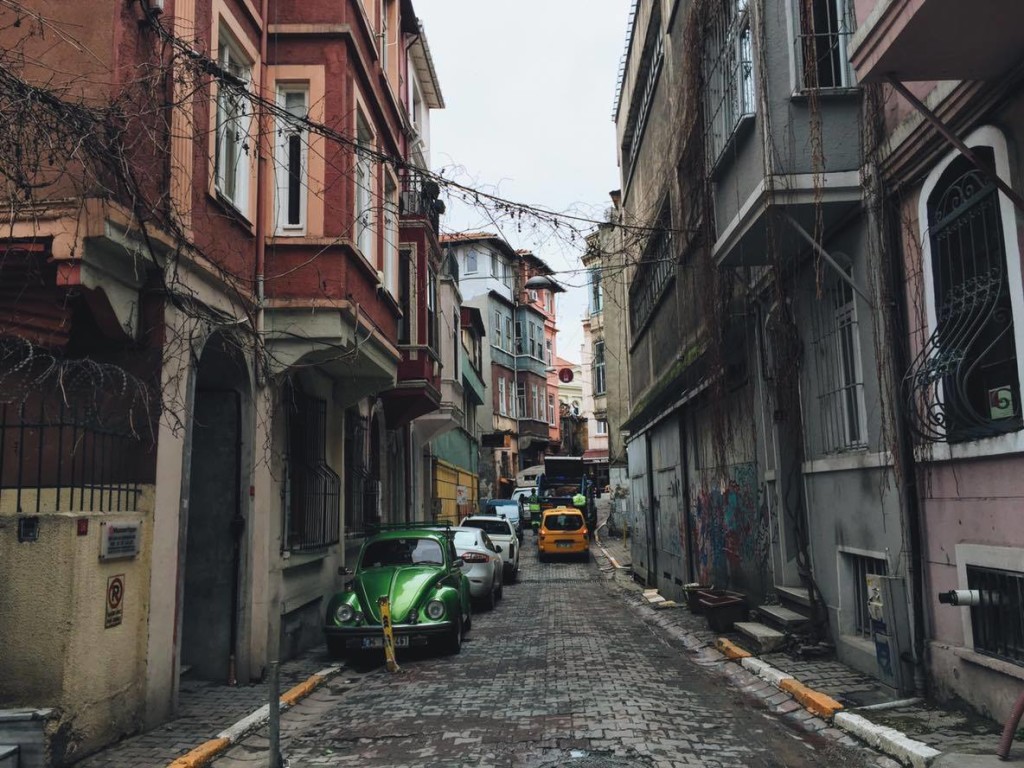 99. Hamams
We didn't even know it was possible to shed that much skin.
100. Hamam employees
Ouch! Ouch! Ouch! … Wow, I feel like a million bucks!
101. Narrow streets
There's no way this car is going to be able to squeeze down this street. Oh no wait, here we go!
102. Hamam towels
Put some of these in your bathroom and people just naturally assume you've got your life sorted.
103. Mantı
Do NOT think about the calories. Instead, think about the time that went into individually rolling each small slice of dough around little pieces of meat. It'd be a shame not to have some. (P.S. Real veterans ask for extra garlic.)
104. Cream cakes
When you cut into them they deflate faster than a balloon and the taste is definitely not worth the calories. But they look amazing!
105. Melancholic music appreciation
If you're ever feeling sad and want some music that expresses those feelings… well you've hit the jackpot.
106. Kahvehanes
Unless you're an elderly man who can play backgammon at speed and use "eyvallah" unironically, chances are you don't spend much time in kahvehanes. But we can't deny we sometimes dream of being local enough to partake in all that familiarity and fraternité.
107. Seven hills of Istanbul
Bonus points if you can name them all.
108. Pul biber
Fact: Quality pul biber can turn a good meal into a great one.
109. Impressive snack packets
Step 1. Open your pack of pretzel sticks. Step 2. Make sure everybody in the room gets at least one. Step 3. Enjoy the one or two remaining for yourself.
110. Always empty ashtrays
You barely put out a cigarette here before they replace your ashtray. It's the little things…
111. Year-round vitamin D
Even in mid-winter you're never too far away from the ability to bask in some proper sunshine.
112. Beaches
Black Sea beaches, Marmara Sea beaches, Aegean Sea beaches, Mediterranean Sea beaches… çok beaches var!
113. Street performers
They come in all varieties here. You can get a dose of some classic Turkish tunes, a bit of energetic percussion or even that one guy near Gayrettepe metro we've heard cover John Mayer on more than one occasion.
114. Guest slippers
A staple of the Turkish household that just makes sense. You know a yabancı has lived here for some time if you pay them a visit and they make you throw these on.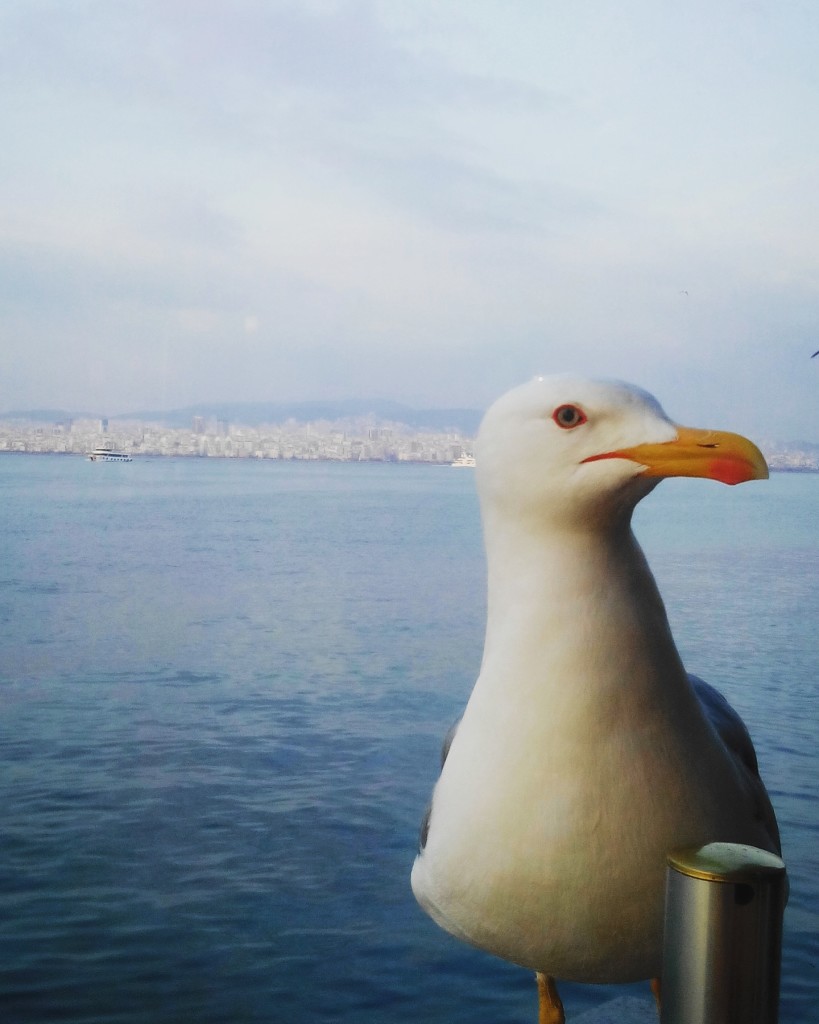 115. Feeding seagulls
Buy a simit, get on a ferry and have some fun as the birds follow along. Endless photo opportunities and the best sort of family entertainment.
116. Dolphin sightings
If you have't seen them yet, you haven't lived here long enough.
117. "Kolay gelsin"
Just another prime example of a phrase that feels great to use and also have said to you. You'll know you're missing Istanbul when you find yourself saying it to a shopkeeper back home.
118. Ülker chocolate
Affordable and delicious. We probably eat way, way too much of it.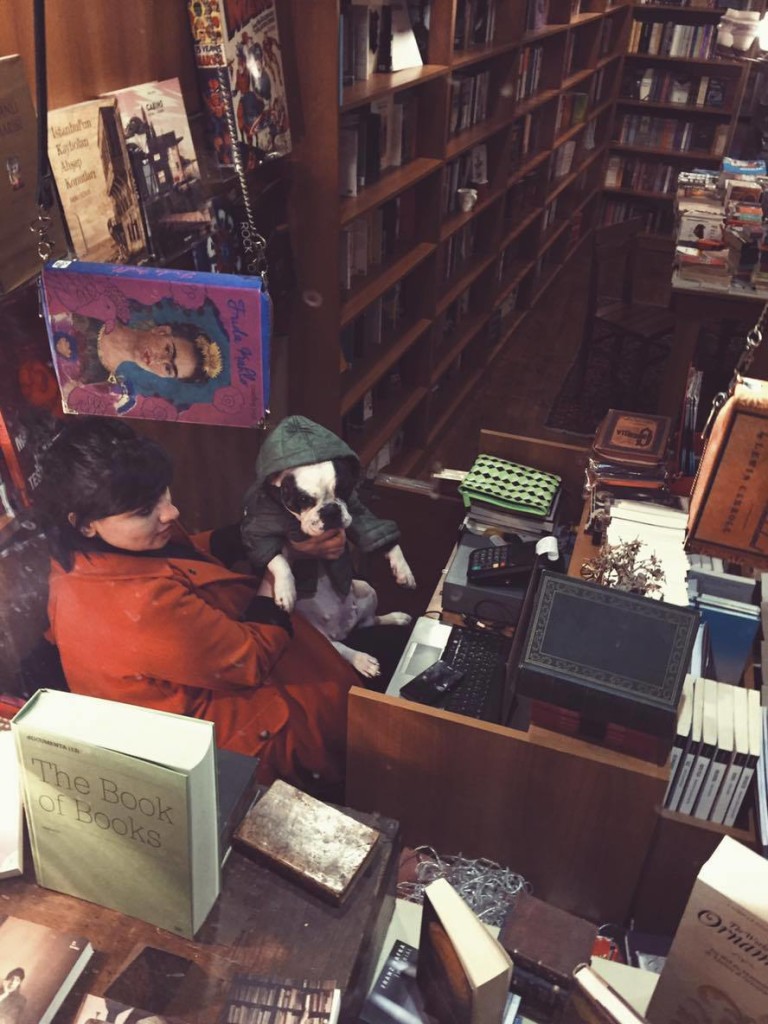 119. The nostalgic tram
For some reason, ding-a-linging past the Istiklal masses as giggling kids hop on and off the back of the tram is an unexpectedly wonder-filled experience.
120. Balat live auctions
Going once, going twice, sold!
121. Live music on the nostalgic tram
You have to be careful not to like any of the songs too much, because the tram will quickly roll away. In Istanbul, it seems, even the most populist entertainment is designed to remind you of the transience of life.
122. Shops adopting animals
Yes that pillow in the window of that shop is for a cat. Don't disturb!
123. Al fresco drinking on Galata steps or Cihangir park
Bottles of beer, some çekirdek, good friends and a historic view are the ingredients of a memorable summer evening.
124. Watch and perfume sellers
Very rarely do we see a successful sale go down, but yenilen pehlivan güreşe doymaz….
125. Rugs
Lebowski's rug has nothing on some of the beauties you can get here.
126. Textiles
So many colors, designs and materials. There's simply not enough luggage space to take most of it home.
127. Beautiful people
Your friends visiting from Wisconsin or Ballinlug West are guaranteed to be impressed by the local talent.
128. Moustaches
Derided as a hipster fad back home, they're a well-respected cultural institution here, so you can wear one with pride and dignity.
129. Apache style
Apache is more than a hairstyle: it's a lifestyle.
130. Special Turkish names when shopping
Hey Shakira! Hey Rihanna! Hey Zidane! Hey Drake! Yes, we've heard them all.
131. Trying to order Starbucks
If you thought the barista was butchering your name back home, you're in for a bit of shock here.
132. Late late clubs
Not ready to sleep at 5AM? You've still got some options.
133. Funicular
Nah, we'd rather not take the stairs up to Galata. Let's just take this extremely historical funicular for 30 seconds instead.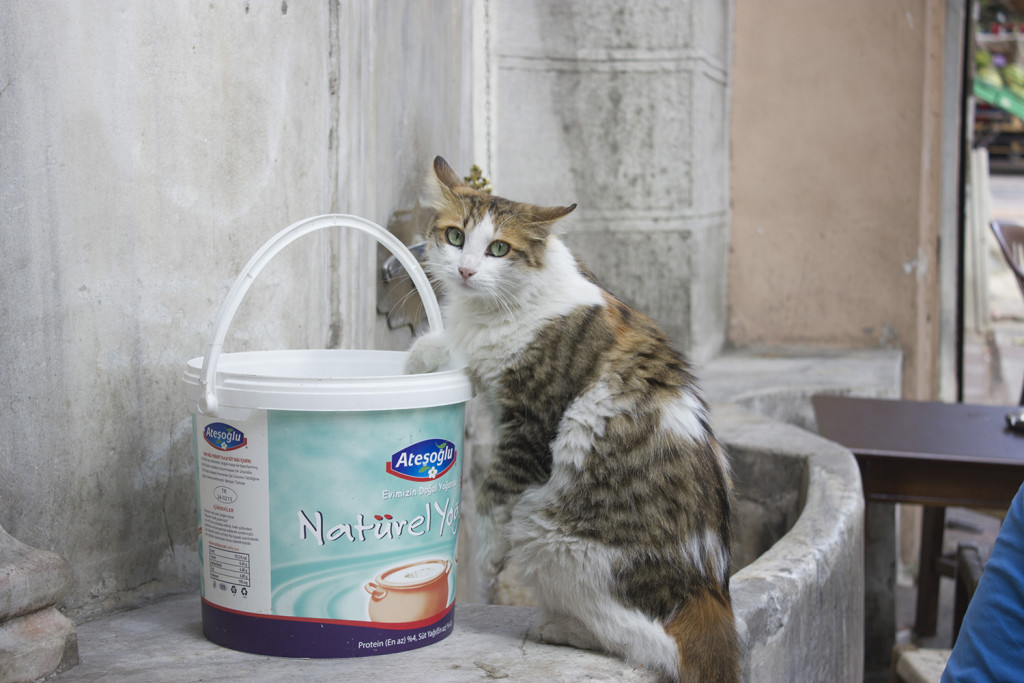 134. Cat chorus
Who needs an alarm clock when you've got a cat in heat outside your apartment?
135. Ayran
It's good with meats, it's good with spicy food, it's good on it's own, it's good for a hangover, it's good to drink out of a tankard when you're trying to feel local… basically it's the best.
136. Persistence
Not understanding what someone is saying has little effect on whether or not they continue to say it to you.
137. Haliç metro stop
Any commute is improved with this metro stop's stunning view. Also home to that brief, tantalising moment in your long commute when you connect with the outside world long enough to get that important message on your phone, but alas never long enough to respond.
138. Its geopolitical location
Look, these are not good news days, we get it. But somehow being closer to unfolding events gives you a more grounded and less hysterical view than you would have back home.
139. Layover visits
Atatürk airport has so many connecting flights come through that you're almost guaranteed a spontaneous layover visit every now and then from an old friend.
140. Second-hand furniture
Want cheap furniture but realise IKEA isn't actually that cheap? Never fear, "Buy-it, Sell-it, Swap-it", hurdacıs, markets and antique shops are here to save you from a world of Scandinavian bland.
141. Hoşbeş cookies
A staple of Yabangee meetings. The ones with coconut are irresistible.
142. Rooftop bars
The variety in rooftop bars/clubs is staggering. Enjoy the view with whatever vibe you're feeling for a night out.
143. Making guests try işkembe and kokoreç
The trick is, don't tell them anything about it. Once they've had some and say "wow this is delicious!", you can inform them of the ingredients. You know they're destined to move here if they end up loving it.
144. Fake money
You can buy fake money in excess for your next music video. Or you can leave a fake Euro note on the floor and trick everyone into stopping to take a second look.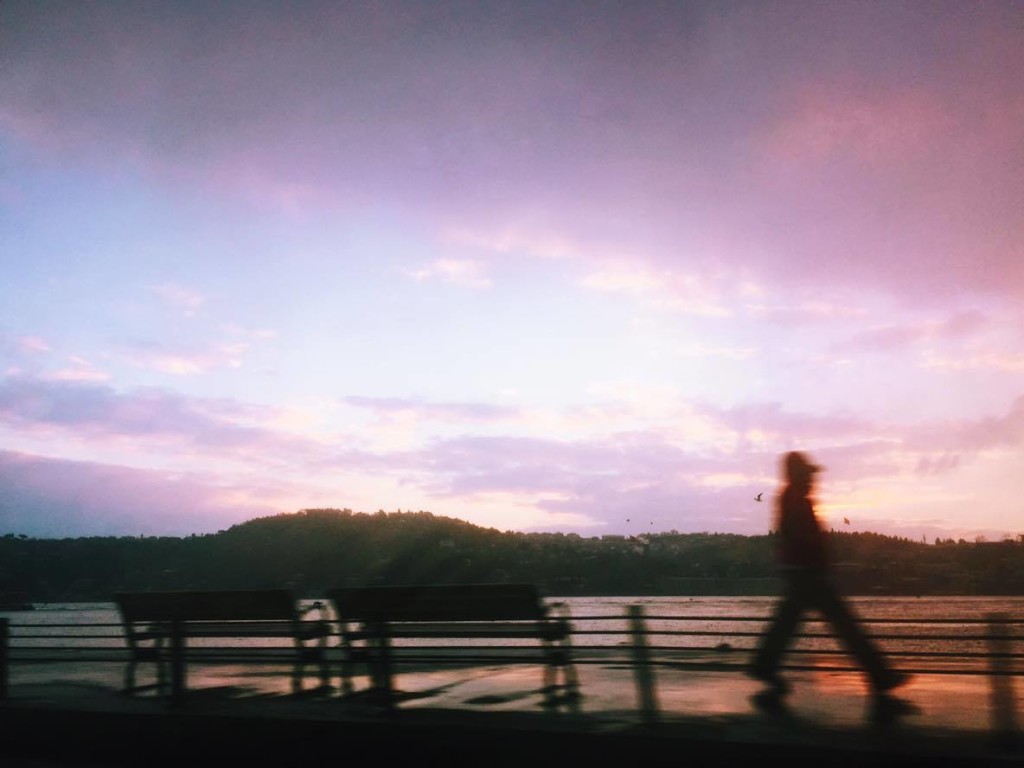 145. Bosphorus-side promenades
Trying to woo someone? Head to the Bosphorus. Feeling stressed out? Head to the Bosphorus. Wondering what you're doing in Istanbul? You get it…
146. Street-side lottery sellers
Don't you have to be a citizen here to actually claim the winnings? It matters not! That New Year's lottery is too big to miss. (Make sure they have an official hat!)
147. Scratch-lottery sellers
A variant of your more classic lottery ticket. These only cost 1 TL and are extremely addictive. You've been warned.
148. Yelling, traveling salesmen
Don't worry, even after years of learning Turkish we still struggle to understand what they're yelling the first few times.
149. Pit-roasted lamb by the aqueduct
If you haven't ventured to the Balat aqueduct for some of their pit-roasted lamb… well then, stop here and sort yourself out.
150. Ships, ships, ships
Old rusty tankers as generals chugging proudly back from war; ferries as children in their never-ending relay race; that occasional yacht, sleek and slender, drawing everyones gaze as she elegantly negotiates the traffic. Istanbul wouldn't be able to perform nearly so well without this enigmatic dramatis personæ.
151. Photography shop windows
You know what we're talking about. They have all the various styles of photos you can get on display. Endless entertainment.
152. LGBT movement
The consistency with which the strength of the LGBT movement continues to grow here is inspiring to witness.
153. Seeking out a place to drink on election day
Have you found your first speakeasy yet?
154. Maiden's Tower
A beautiful addition to the Bosphorus. It's always good fun to tell visitors the story behind it to make up for the lack of actual historical information you're providing for them.
155. Dancing in the streets
Let's form a spontaneous circle and invite people of all ages to dance together. Such a cool and loving way to bring people together.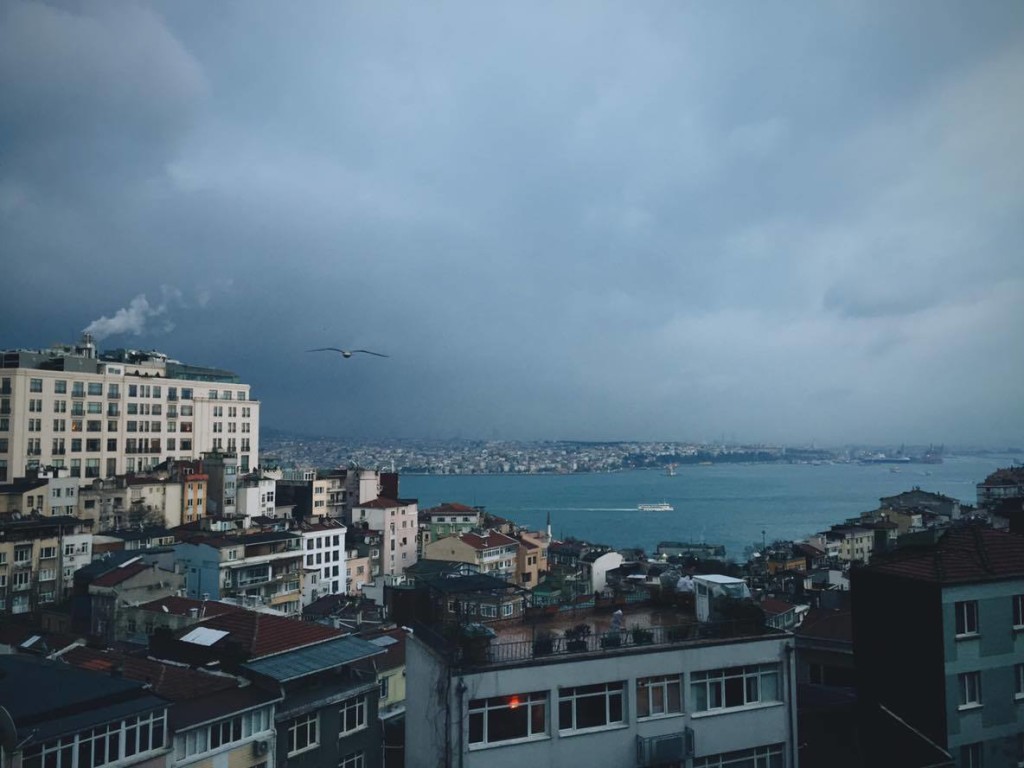 156. Manzara surprise
Every now and then you go up into somebody's place and you're absolutely floored by the view they have. Then you realize you're paying way too much for rent and a view of your neighbor's kitchen.
157. Byzantine city walls
Yup they're still there, chillin' away. We love to scramble up and patrol the parapets.
158. Çay time
Çay is present in this list quite a bit. However, if we've learned anything while being here, there's always enough time for one more çay.
159. Demonstrations
No one likes the taste of biber gaz, but the friendships made in those sour clouds are amongst the quickest to blossom.
160. Christmas lights on Istiklal
On Istiklal, it's Christmas all year long. Nobody here seems to think it's strange, so just go with it.
161. Roses on Başkurt Sokak
We often have Yabangee meetings on this infamous Cihangir street (also home to the delicious JÜS) and it's so easy to tell people to just look for the giant roses… seriously giant.
162. Sahlep sellers
When the crowds on the street part to make way for a man pushing a golden urn full of sweet lotus root liquid towards you, you know it's wintertime.
163. Gülhane park
It's often overshadowed by some of the other touristic destinations in the area, but it's always worth the peaceful detour.
164. Milk desserts
It's amazing how many desserts can be so different, yet so similar. Even tavuk göğüsü.
165. Change
You get the impression that Istanbul is never going to stop reinventing itself ever. Once you leave, you won't be able to go on and on about how drastically different it was when you first arrived.
166. Resilience
The obvious conclusion to this piece. From long before us to the few years we've been around as a group, the city has always managed to stay strong, move forward and inspire. We love having that in our lives.
Did we miss any? Let us know in the comments!