Meet Phil Dexter from Kiron Open Higher Education Istanbul, an online education platform for refugees.
As scenes of refugees in situations of despair and distress have become commonplace in the media, we can often forget that before encountering such tragic circumstances, the majority of these displaced people were able to pursue their profession and hobbies like the rest of us. As a result, one issue particularly arises that needs to be better covered by the media while covering the ongoing refugee crisis — access to education for the young generation. Indeed, globally only two percent are able to pursue an education after fleeing their country.
One year ago, Markus Kressler (still a student at the time) was attending a meeting in Istanbul with Syrian refugees and realized the issues they were facing when trying to enroll in universities. With the help of Vincent Zimmer, a tech-entrepreneur, they created Kiron Open Higher Education, an education platform that would allow refugees to study online from any part of the world. Thanks to their very successful crowdfunding campaign and support from big universities and organizations such as Harvard, MIT and Google, Kressler and Zimmer were able to launch Kiron Open Higher Education in October 2015.
Once students are registered, they can take general education courses and pursue four different educational tracks. After completing their curriculum online, they are able to apply to partner universities, receive certificates validated by the Higher European Higher Education Quality Standards and be more competitive if they decide to join the job market. In addition to their headquarters in Berlin, the online education platform has branches in Amsterdam, Amman, Brussels and Paris.
I had the chance to sit with Phil Dexter, who is in charge of Kiron's branch in Istanbul, to discuss the organization's ambitions in Turkey, upcoming initiatives and challenges.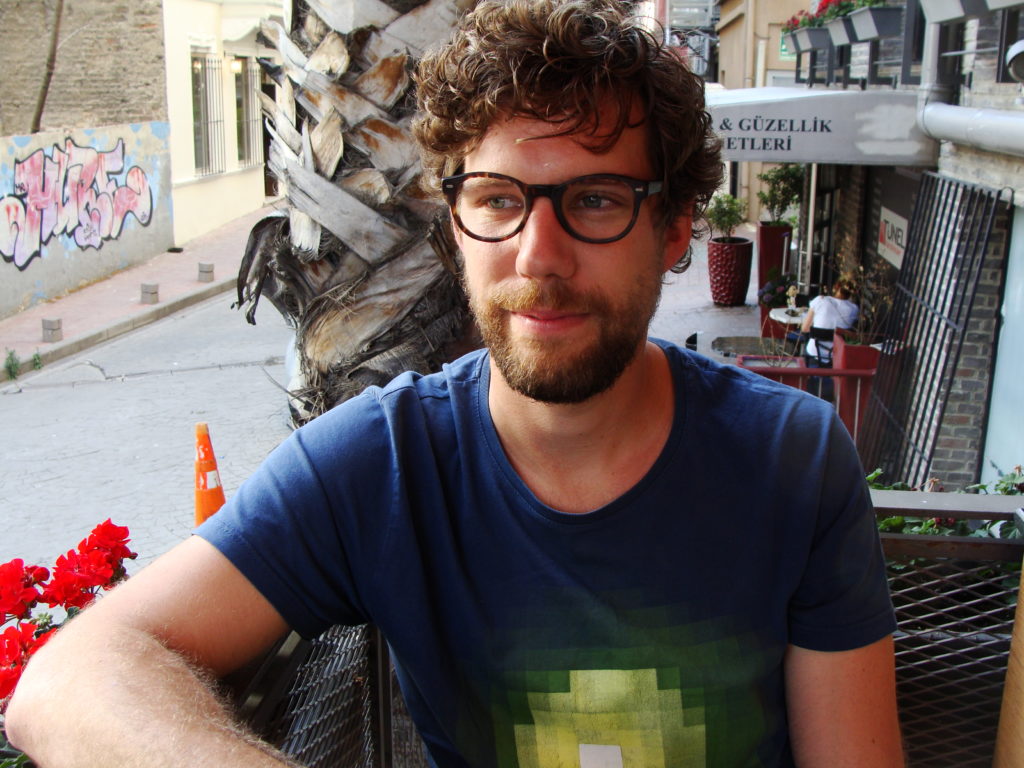 Hi Phil, could you please introduce yourself?
I am originally form Switzerland and I have been living in Turkey for three years now. I was working in the IT sector as a project manager when the founders of Kiron contacted me to outreach the project in Turkey. I first joined Kiron as a volunteer in October 2015 and started working full-time in January.
Before taking part in this project, were you already participating in other projects with a focus on refugees?
To be completely honest, no.
Why did you get involved with Kiron Open Higher Education Project?
We often have this image of refugees begging in the streets and we tend to assume that they always lived that way. But most of the people I have met are well educated and are prevented from finding jobs in their field. And regarding the young people, most of them are stuck and cannot pursue their education. As I got more involved with Kiron, I realized that studying here when you are a refugee is a like playing the lottery (globally about 2 percent get to enroll in universities due to long and tedious administrative procedures). I also felt that there are a lot of initiatives for refugees with a focus on providing basic needs to them when they arrive in Turkey. It is great but not many are focusing on offering education programs other than language courses. I was very impressed with Kiron's objective and wanted to be part of it.
What is Kiron's primary objective?
The goal of Kiron is to be a bridge that allows refugees to avoid long gaps in their curriculum due to language barriers and/or administrative hiatus while getting education at the same time. For instance, some people come to Turkey speaking perfect English but don't know Turkish. Even when they are granted a scholarship, they are facing a stalemate and cannot study. I believe that giving them an opportunity to study from anywhere in the world gives them a sense of purpose and increases the number of opportunities they will have in the future.

How many people are working with Kiron's project?
Worldwide, about 400. In Istanbul, we are not established as a NGO but we are more in the assessment phase of the project. We are a team of six people, four of us working full-time.
Could you tell us more about Kiron's study tracks?
There are four main areas of study: Business and Economics, Engineering, Computer Science and Social Sciences. Before enrolling in one of these, students can also take general education classes and languages courses as well.
What are the biggest challenges your organization is facing?
Oddly enough, funding is not our biggest issue because Google is supporting us. Since we started the project in Turkey, we had to to face a lot of administrative setbacks. The laws and the counsel for education do not recognize university credits from online courses at the moment. This has proved to be a huge problem so far, but we are building an academic strategy in order to come to an agreement with the local institutions. Besides, we are in constant communication with Kiron's headquarters in Berlin and can also count on the support of European Union's institutions and the German government who advocates to the Turkish government to grant the refugees living in Turkey the right to register and study as well.
What are Kiron's short and long-term goals in Turkey?
We are growing our partnerships with Turkish universities and are at the moment in contact with 12 universities that are interested in partnering up with us. Once we solve the administrative issues, we are hoping to start delivering certificates to our students. We also want to be increase our offline presence by organizing events, so students can connect between themselves but with professionals as well and grow their network. We would also like to create students hubs in order for them to have a community in which they can study and support each other. And finally, in a near future we want to be present not only in Istanbul but also in Gaziantep and other cities in Turkey.
For more information, visit the official Kiron site.
Update: Since our interview, Kiron is pursuing its efforts to provide access to education to refugees and has launched a certificate program in Turkey.
Photo courtesy of the author. Logo sourced via Kiron.