The festive spirit is getting into all of us and we're keen to celebrate with everyone before some of us venture home for the holidays. So we thought why not snazz it up a bit with a holiday cocktail party at one of the most unique, scenic, and delicious destinations the city has to offer? Come join us on the Bosphorus seaside at Kiss the Frog on Tuesday 19 December in the magical neighborhood of Rumeli Hısarı and ring in the seasonal bliss.
Arrive early (and hungry) for our fixed menu from 19:00 to 21:00 as our gracious hosts make sure a wide variety of delectable hors d'oeuvres keep coming. Fans of seafood will especially find themselves falling in love. Menu is set at 65 TL and also includes a drink. 😉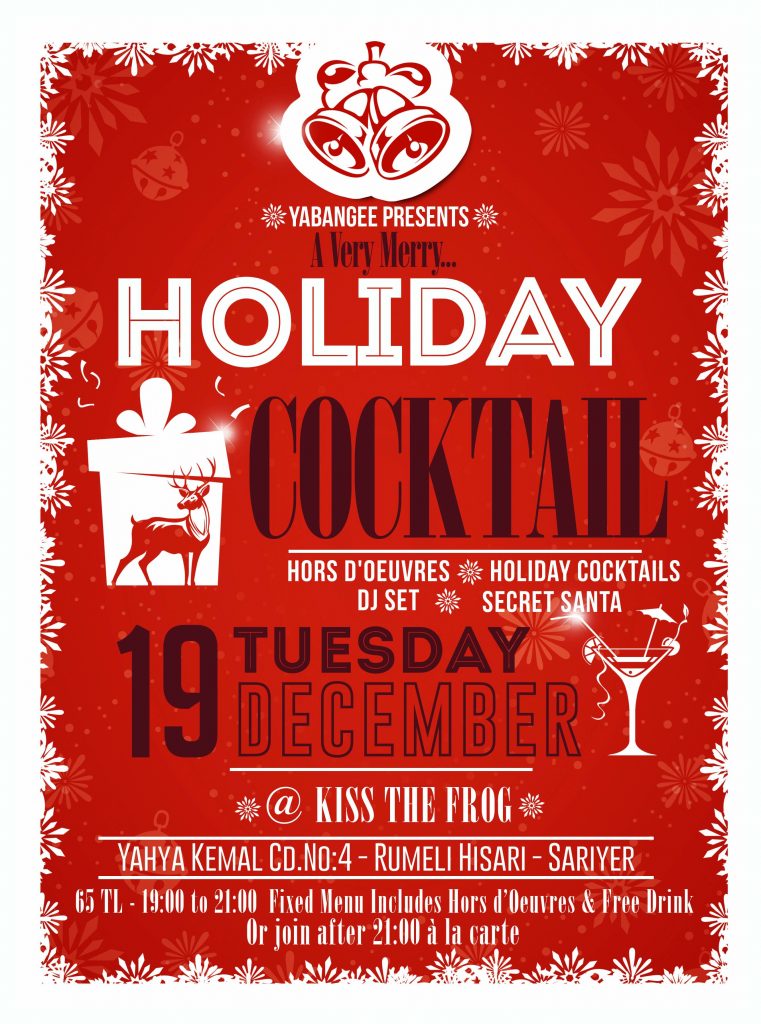 If you're curious about what kind of foods you might expect, stay tuned as we update with photos of their chefs' tantalizing creations.
For those feeling more of an à la carte vibe, you're welcome to join us after all the food samplings conclude at 21:00.
Fresh DJ tunes will keep the party seasonal along w/ the decor, while we also invite everyone to participate in our Secret Santa gift exchange! Don't know the rules? Don't worry. You'll just bring a wrapped gift (5 TL minimum, 20 TL maximum) and we'll find you somebody to exchange gifts with. Just imagine the potential gifts you could get! Try and get fun or creative!
After all the delights, we'll of course hang around after for general revelry and cheer. Happy holidays to everyone out there and hopefully see you soon!
For all the latest updates, you'll want to keep up with the official Facebook event.
Yahya Kemal Cd. No:4 – Rumeli Hisarı – 34470 Sarıyer