This weekend, I visited Nardis Jazz Club, just a few metres away from our beautiful Galata Tower, to catch Luis Ernesto Gomez & Latin Jazz Band. Despite visiting the venue on several occasions, it was my first time with Luis Ernesto Gomez and his friends. The first thing I need to say is that Nardis never disappoints. There's always a real Friday night fever for jazz lovers and this event was no exception.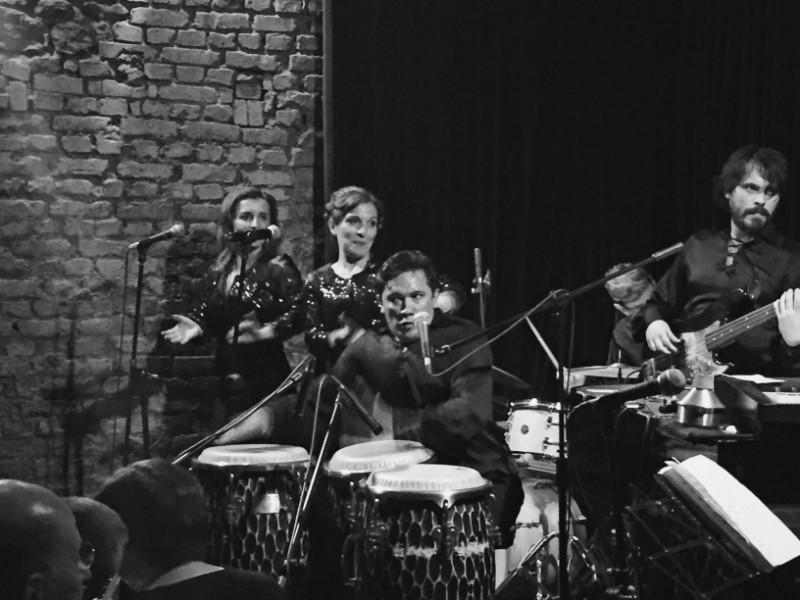 Colombian Luis Ernesto Gomez, now considered one the best tumba chefs in Turkey, leads the band. Gulseren Gomez, lead vocalist, was also in attendance and not only amazingly sang, but also showed us her bilingual repertoire and proved that she can dance! The Latin Jazz Band features Deniz Biber (backing vocals), Elif Akbıyıkoğlu, Osmar Lara (bass), Riccardo Marenghi (drums), Semih Sural (trumpet) and Michel Lotz (piano). The team work here is the real deal.
The concert started around 10:45 PM and it was already crowded, which is no surprise on Fridays. I was sorry just a bit that I didn't get a table on the balcony — the ones with perfect view of the stage — but I can't really complain about standing on the first floor so near to the musicians. There are always free seats on the second floor, but they have a limited view. However, the venue does have TVs for displaying the performance.
I always try to catch Istanbul's outstanding jazz events such as those from Garanti Caz Yeşili, Istanbul Jazz Festival concerts (whose line-up this year has already been announced) or solo performances which take place at Volkswagen Arena, Babylon Bomonti or Salon IKSV generally. But Nardis Jazz Club has a unique perk aside from these other venues. Nardis is kind of a special comfort zone for jazz lovers because you can get the chance to enjoy good jazz music randomly on any day of the week. They are not only bringing famous international performers, but are also opening their platform to many local artists and their bands along with young talents and even conservatory students.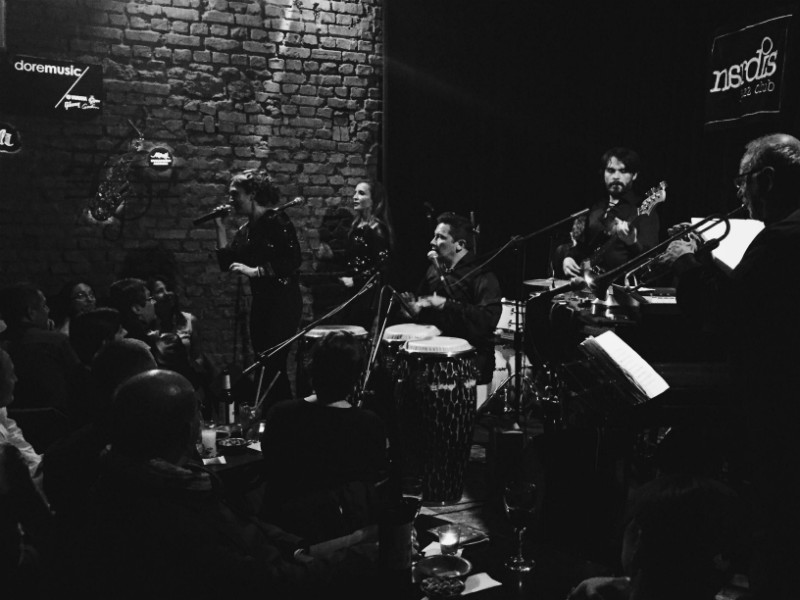 Well — of course considering my taste — there might be no better way to have a smooth, but chill and fun Friday night out filled with inspiring music. When it comes to listening to jazz, Nardis is pure satisfaction. My only complaint this time would be regarding the silence of the audience. Regarding this point, I have to give credit to the couples standing next to us who were (probably) practicing their salsa moves. They added an extra energy to the room.
You should keep in mind that Nardis works with a table reservation system and seating is limited so it's better to give them a call beforehand, especially for a Friday or Saturday night. There is always live music between 10:30 PM and 01:30 AM on weekends. Nardis doesn't keep it quiet during the weekdays either, so you can also likely catch a performance from 9:30 PM to 12:30 AM. Perhaps one of the venue's greatest strengths is you will never find yourself in a disappointed moment because a band comes off the stage after one hour. Yes, really they seemingly don't stop performing until they are sure you've gotten enough of it. They open the doors around 8:30 so it's an option to arrive earlier and have wine & cheese or give a try to their snack menu.
Thanks for the fantastic performance Luis Ernesto Gomez and Latin Jazz Band!
All images courtesy of Gizem Esen.