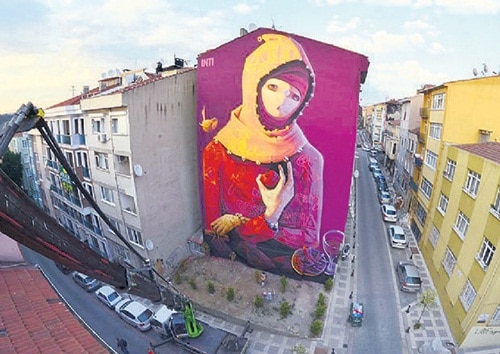 Author's note: Last week, I wrote about the stories behind some of Istanbul's street names, and the week before that I traced some of Kadıköy's history back to its origins as Chalcedon. This week, I thought I'd give some attention to my own neighborhood. It's known as Yeldeğirmeni, or "Windmill."
The story behind the name Yeldeğirmeni is obvious: There once was – you guessed it – a windmill here back in the day.
For those who might not know it, Yeldeğirmeni is located on a hill in Kadıköy on the Asian side of the city. It's a great central location, with the bustling shops and cafes of Rihtim Caddesi a five-minute walk down the hill. For commuters, there is also easy access to the ferry stations, as well as minibuses. And best of all, when you walk through the streets of Yeldeğirmeni, you get that busy, teeming feeling, the proximity of the markets and shops, while also being able to find some relief when you look down the hill and see the Bosphorus, the ships – floating multitudes, and all the worlds they contain – passing by.
All Istanbullus are said to have two throats, the second one being the Bosphorus (the word Boğaz means "throat"). This saying underscores the strong, even organic, connection that Istanbullus feel with that splendid piece of aqua-logic. I feel the same way, even as a yabancı. So I like to keep it in view.
****
Back to Yeldeğirmeni… In Ottoman times, the neighborhood was home to a number of Armenian and Jewish families. These days, mostly working Turkish and Kurdish families reside there. Also, it is fairly popular with foreign Erasmus students, as well as English teachers. So some of the foreign influence has been retained.
As a resident of Yeldeğirmeni, or "Windmill," the past few years, it's been interesting to see some of the changes the neighborhood has undergone.  When I first moved there, I shared a flat with some German Erasmus students. The neighborhood seemed pretty run down, beaten up by the winds of time and neglect.
I remember one poor bakkal, whose shop was so woebegone, unpromising that I felt sorry for him and decided to go in and buy something. Lo and behold, when I surveyed his sparse shelves, I noticed that most of it had gone off. The lettuce and carrots and other vegetables in front were pitifully near-rotten, and I didn't even bother looking at the eggs or dairy products. As I left, feeling apologetic, the look in the man's eyes was as resigned and weary as his ancient suit.
A lot of the neighborhood seemed to feel the same way.
But there were a few highlights. For example, there was Damla, this old-style pizzeria, dating way back, where they bake pide and lamahcun in this large brick oven, taking it out with long, wooden poles. That place is still there, and always pumpin', but if you don't mind waiting a bit the results are cheap and wonderfully delicious.
****
Gradually, the past couple years, the neighborhood has improved. The arterial street that passes through the neighborhood was torn up and replaced, and the sidewalks here and there have also been redone.
More importantly, a certain measure of kültür has begun to arrive. This past year, we've seen the arrival of a vegan restaurant, Mahatma, with a colorful, pastel theme, appear in what was once an empty, deserted corner. Each evening you pass by there are young people sitting out on the patio in front, having their vegan dinner, sipping tea and chatting. My girlfriend and I have tried Mahatma; they have good breakfast – lots of hummus, other spicy mystery spreads, vegetables, etc, for about 15 TL.
Nearby, at least two other cafes have sprung up. One of them also has a gallery inside, with paintings by local artists. Speaking of art: local artists have painted giant murals on the walls of several of the buildings. One of the murals depicts a covered woman holding an apple, while another is of an elephant; just what the images mean eludes me, but who cares? They look nice.
The one thing that had been missing from our neck of the woods – a bar! – opened just a few months ago.
The bar, although it seems a bit sparse and rudimentary, serves its purpose on those evenings when we Yeldeğirmenites might not feel like walking over to Barlak Sokağı, or – far worse – risking those seedy, dodgy bars down the hill near Rihtim Caddesi, where you're likely to get way over-charged for things you didn't order, if not offered a filthy-looking prostitute (Yes, that actually happened to me once).
****
Like any good Istanbul neighborhood, Yeldeğirmeni is anchored by its bakkal.
Although the old guy and his beat bakkal are long gone (Where do these people go? What happens to them?), the neighborhood has since seen the arrival of a much better one, and business there is thriving.
The one I am referring to is positioned perfectly on the corner of two intersecting streets, directly across from the old pizzeria and within a stone's throw of the bakery.
By one of those odd Istanbul chances, I happened to know its proprietors from when they used to own a shop in Çiçekçi. For whatever reason (possibly rent prices), they relocated to Yeldeğirmeni about the same time I did. I've watched the bakkal slowly grow and prosper along with the neighborhood's rebirth.
The bakkal is owned and operated by two Kurdish brothers, who each day trade day and night shifts. In the evenings, when you pass by, or go in to make a purchase, you are sure to see their friends – people from the neighborhood – sitting outside or standing near the cash register, watching the football matches or following the news on a TV set.
The interior of the bakkal has changed as well. The brothers have resurfaced the floor with a handsome light wood, added a security camera, as well as an air-conditioning unit for hot summer days. Most recently, they've added one of those computerized screens where you can buy match tickets and even book holidays. Who knows what they'll add next?
****
Alas, some fear that all good things must and will come to an end. There are those who look across to the European side; one recalls news articles written about "the gentrification of Beyoğlu," and so on. There is always the unquiet speculation that within a few years' time, this part of Istanbul too will be claimed by the big investors, who will want to dismantle the rustic, hard-won charm of the neighborhood in favor of high-rise flats; the escalating rent prices will then drive out the neighborhood's working class populace.
Ah, with this city, who knows? At any rate, it's been a secret pleasure being witness to Yeldeğirmeni's quiet renaissance these past few years. Perhaps, for me, it's one of those things that mark the passage of time, and somehow make you feel less foreign. You feel at home – or almost.
James Tressler is the author of "Conversations in Prague," and "The Trumpet Fisherman and Other Istanbul Sketches." He lives in Chalcedon.
What are Letters from Istanbul?
Istanbul is a million villages woven, one might even say, thrown together, rather than a single vast city. The city is best understood by understanding little bits at a time, one person at a time. It is a city that defies perspective, for it is constantly shifting. It is an endless parade of street musicians playing simple, overlapping melodies, rather than a symphony orchestra striking a single majestic chord; it is an intricate mosaic rather than a grand oil portrait, the pieces of the mosaic each giving meaning and sustenance to the whole.
All that sounds a bit high-flown, I know. But to paraphrase James Joyce, the universal lies within the particular. So, that's the intent of these Letters: to gather up those mosaic tiles one at a time, and to find the little stories that fall between the cracks. Hopefully the pieces of that mosaic will add up to an interesting portrait of this city a lot of us call home.