Undoubtedly one of the most surprising qualities of Turkey's international community is how few foreigners have taken the time to learn Turkish despite choosing to live here. Excuses vary from simply not having the time, to not thinking it's practical to go beyond the basics, to thinking that courses are too expensive. Regardless, one can assume with confidence that every group of yabancılar in the city has least one person embarrassed by their current language level.
Asya Tömer answers these concerns with enthusiasm — offering flexible, affordable, comprehensive courses for students of all levels in a fun, community-based environment. The institution, a two-minute walk from the Mecidiyeköy metro and Metrobus, also functions as a resource center providing education and consultancy services for aspiring students and professionals hoping to apply within the Turkish university system. Editor's Note: Asya Tömer has recently expanded to include a Fatih branch. 

Courses focus on the main aspects of language education with an in-depth approach to writing, reading, speaking, listening, vocabulary and grammar. This includes everything from lessons utilizing the assigned coursebooks and extraneous materials, to the inclusion of culturally relevant audios, videos and optional field trips.
Levels range from beginner to advanced, with each level being composed of 160 hours of class-time over the course of eight weeks. The course materials are primarily comprised of textbooks from Yunus Emre Enstitüsü, which build upon each previous text as students progress through the levels. Under the guidance of the institute, Asya Tömer has built a course program that is both relevant and thorough, while also providing the tried and tested experience of an internationally recognized program. Typically, these courses are structured as four hours a day, five days a week. Levels are broken down as such:
A1 (Beginner) – For those just getting started on their language learning journey, this level teaches the very fundamentals of the Turkish language. Students can expect to complete the level with a strong understanding of basic Turkish grammar and vocabulary, enough to meet one's simple daily needs.
A2 (Pre-Intermediate) – Taking a much more targeted approach to developing students' Turkish, this level is appropriate for those looking to expand on basic grammatical structures and daily survival Turkish. Students can expect to complete the level with a more nuanced understanding of grammar and more situation-specific resources to draw from.
B1 (Intermediate) – This is where things start to get especially interesting, as students are able to expand on a strong foundation to express themselves in a more self-assured manner. The focus on wider vocabulary and more complex sentence structure allows students to share their feelings and offer opinions on issues in a more natural way.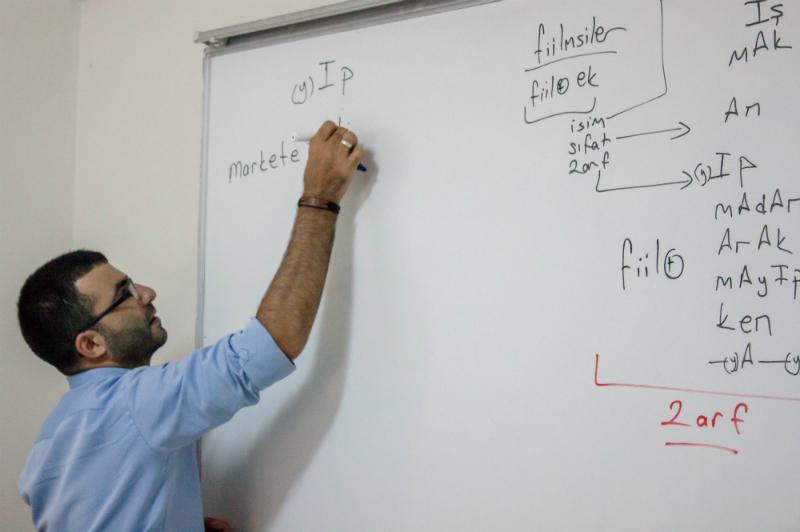 B2 (High-Intermediate) – Students at this level are able to quickly and fluently offer thoughts and opinions on more complicated issues. At this level students can expect to spend more time focusing on long-form expression such as high level essays and detailed presentations.
C1 (Advanced) – The dream of any yabancı's language pursuits, completion of this level will leave students with the ability to comprehend newspapers, magazines, academic literature, and so forth. Students can also expect to find a firm understand in differences between dialects and accents.
At the conclusion of each level, students are given a comprehensive exam on which they must at least score 60% to advance to the next level. If students are unable to pass, instructors will work with students on the relevant areas in an effort to pass a make-up exam.
Class sizes vary, but are generally around six to fourteen students. Those enrolled tend to be from a variety of backgrounds, thus often making Turkish rather than English the default language of conversation for those hoping to connect with classmates. This is an especially beneficial form of immersion, as it forces students to constantly integrate what they've learned even when dealing with their peers.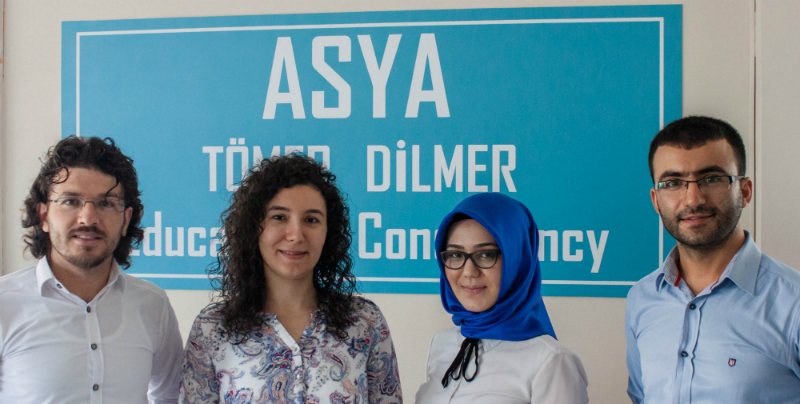 All instructors at Asya Tömer are at the very least bi-lingual, with relevant degrees of higher education in language teaching. As a result, their passion for teaching regularly shines through when working with students in the classroom setting. The instructors also regularly integrate authentic materials in the forms of songs, videos, newspaper clippings, literature and more into the scope of their lessons, providing a bit of cultural relevancy that has a wide variety of beneficial applications outside the classroom.
As part of their consultation services, completion of the program does allow students to take an exam and attain certification recognized by the Ministry of Education in Turkey. Something like 90% of public universities and many private ones require recognized certification from prospective students. Asya Tömer works with several institutions in both sectors, arranging discounts and helping with the application process every step of the way. They'll also assist interested students connect with the over 60 TÖMER branches if need be. For those requiring internationally-recognized certification, they'll happily arrange examinations with Yunus Emre Enstitüsü and often sponsor their fees.
As students continue to advance together, there are plenty of opportunities to foster these relationships in the form of field trips to museums, galleries, film screenings and so forth. Football matches, picnics, and other forms of general outings are also regular occurrences. Additionally, there's a break room and small cafe area within the school for students to spend time together and continue these exchanges. As Turkish is the only common language that includes everyone, it's an excellent way to truly immerse oneself in tackling the language head on.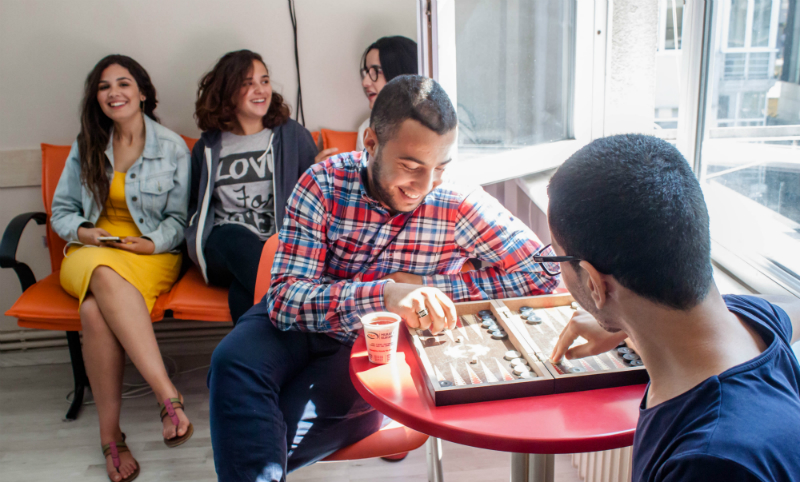 Interested students or those wanting to learn more can simply fill in the form below. You'll be invited to sit in on a lesson (or more) if you're curious if it's the right fit. Depending on the level and availability of those interested, students can opt to jump right into one of the ongoing courses or wait for a new course to begin. If it seems like a few prospective students prefer a particular time (via the form), they're also more than happy to create a new course to fit the respective schedule. If you're curious about your level, an optional entrance exam is available.
As it's possible to assess your level with an exam, this is just to get a general idea of where you think you are. (Optional)
An intensive summer school course will also kick off from August 21st to September 15th (although it's possible to jump in a bit late and try to catch up). This course focuses students meeting five days a week at their relevant level alongside a number of international students visiting for the immersive program. Completion of the course will present students with a relevant certificate.
For any specific questions or concerns, feel free to contact info@asyatomer.com or reach out to them via phone at +90 212 211 21 22 or +90 553 799 1713. For more details, be sure to check out the official page for Asya Tömer. You can also follow them on Facebook and Instagram.
Images courtesy of Michael Barngrover.
58 Büyükdere Caddesi, 3rd floor, Mecidiyeköy – Sişli