Most of us foreigners living in Turkey struggle with learning Turkish. It's quite common to find internationals living here for five, ten or even fifteen years and still can't read a Turkish newspaper. Many don't have the time or motivation for proper classes, and can often get by with a minimal amount of survival Turkish. When everyone in your social circle speaks your native tongue, it's easy to become apathetic about learning the language of the locals.
Duolingo is a popular, crowd-sourced language learning and text translation platform aiming to remedy such difficulties. It is available free of charge. With over 20 million active users, this platform is an ever-evolving approach to utilizing game mechanics to understand the fundamentals of grammar and vocabulary. Users gain experience points (XP) as they push through courses, mastering a massive skill tree and earning digital currency (lingots) along the way. Lingots can be used in an online shop to purchase quizzes, customization items and more. Users compete with each other on regularly updated leaderboards and participate in discussions about translations on the site's open forums. This is a great way to get feedback on anything you don't understand. Users who already have a bit of Turkish can move into higher levels via the placement test, although it can also be a very humbling experience.
March saw the long-awaited Turkish course transition from the incubator to the beta phase. The response has been immense, with over 3 million users subscribing, the app version (Android and iOS) being speedily released (a true indication of the course's success), and the fully stable version glimmering on the horizon. Selcen Öztürk is responsible for over 60 percent of the course and is a steadfast responder to community questions. She took some time to chat with us about the course's development and what we can expect for the future.
Thanks for taking the time to discuss with us! Before we get into the new course, could you tell us a bit about yourself?
I am a native Turkish speaker. I was born and raised in Ankara, Turkey. After studying molecular biology and genetics in METU, I moved to Heidelberg, Germany in 2008. I did my master's and Ph.D. studies in cancer biology there and worked as a scientist at the German Cancer Research Center until recently. As you can see, I have a background in the natural sciences and had no linguistic or language teaching education actually! But I like teaching in general and love learning languages myself. I also love etymology (my favorite dictionary is Nisanyan Sözlük, besides ekşi sözlük, of course).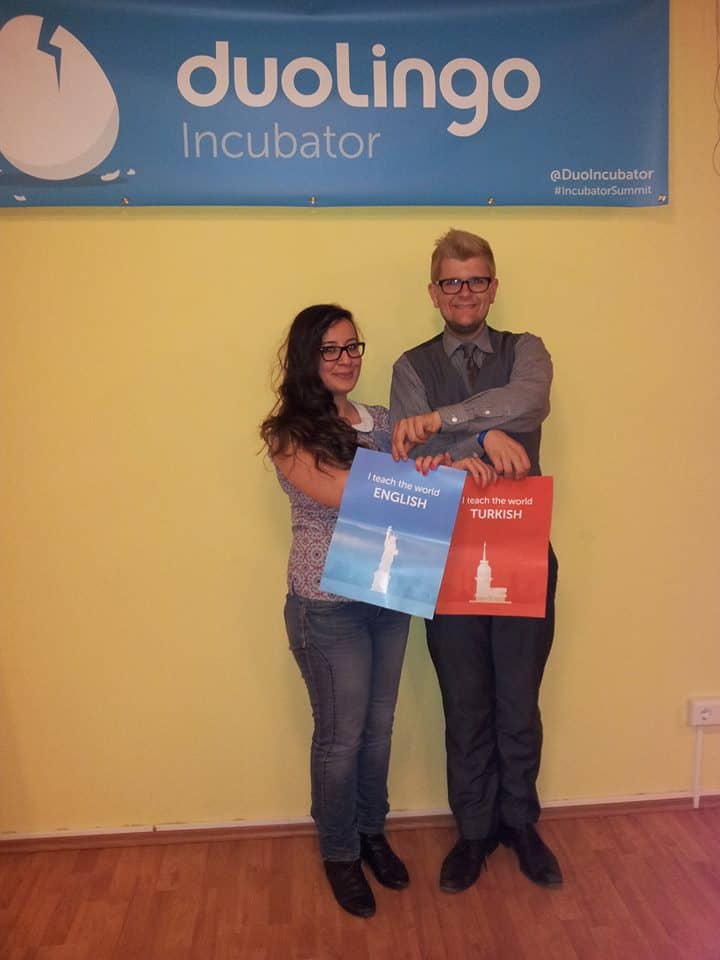 Have you always wanted to share Turkish with others? What made you decide to go down this path?
I discovered Duolingo when it was in its beta phase in May 2012 after listening to the TED talk of Luis von Ahn. In October 2013, they decided to launch the incubator where volunteers could create language courses. As a language lover, I was amazed by the idea of teaching Turkish to the whole world and also teaching English to Turkish people. Although English is taught in schools in Turkey for several years, the education is often not good and most people can speak only very basic English after school. I applied immediately to teach English to Turkish speakers or Turkish to English speakers. In November 2013, I was invited together with Barış Obdan to create the English for Turkish Speakers course. Initially, it was not possible to create courses teaching new languages so we worked backwards, creating the Turkish course based on the English one.
It can be overwhelming for yabancılar trying to find something of quality among the massive amount of resources for learning Turkish. How do you think Duolingo can help?
Duolingo teaches languages in a really fun way, and our course is one of the most enjoyable courses on Duolingo, I promise! I moved to Germany without speaking any German. I could only do some beginner courses at first but did not have time to continue afterwards. I also did not need it for my studies, and my friends were all from different countries. So, we kept speaking English also in our social life. When I found out about Duolingo, I hadn't done any German course for more than three years. I simply had no motivation, and I also found German very difficult. But once I started the German course on Duolingo, I really enjoyed learning German. Several other friends joined, too. We even competed with each other. It really helped me a lot.
As for Turkish, we are aware that is not very easy to learn, and similarly it was not easy to design a course to teach it. We worked very carefully to design a course that's teaching a lot of things in small chunks. It was also really great to have a native English speaker who learned Turkish a couple of years ago, Alex Williams (AlexinTurkey on Duolingo) on our team. He has actually learned Turkish and he is a linguist, unlike the rest of the team who are all native Turkish speakers. He really knew what is more difficult for learners and what fundamentals should be covered before teaching something specific. In the end, we believe we have created a really good course, and this has been confirmed by many people who have already finished it.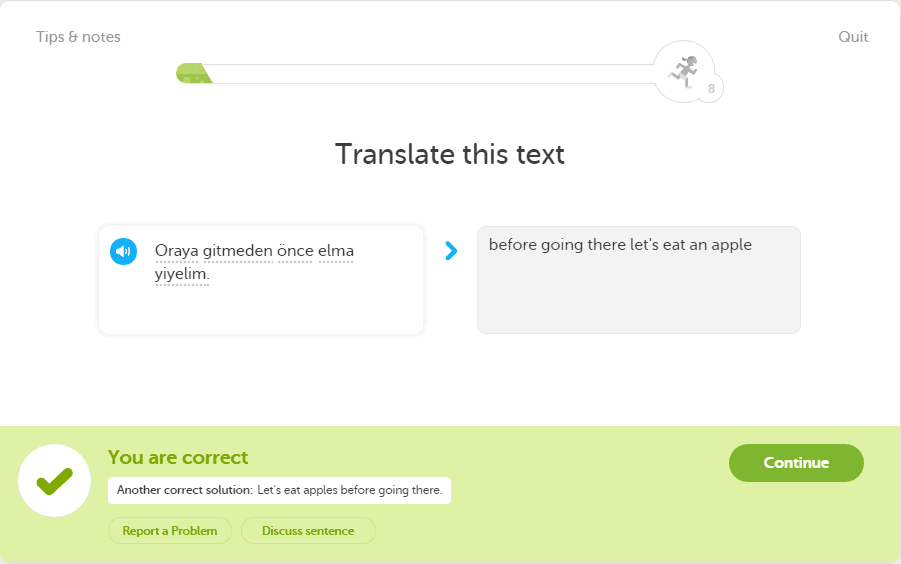 Could you tell us a bit about your team and the process of making the course? You've contributed over 60 percent of the content to the course and it's taken quite some time from what I understand.
Initially, the idea was to create this course with the same team who created English for Turkish Speakers, and they all agreed. However, in the first couple of months we really did not have the required tools to teach Turkish or any other agglutinative language [languages with words made of suffixes]. Unfortunately, the other team members decided to leave, but I didn't give up. I created some of the course by myself. Luckily, I found many talented volunteers including four more native Turkish speakers: Nur Hut, Emel Bilgin, İlke Ilgaz and Gamze Bilsen. As I mentioned, a native English speaker, Alex Williams also worked with us. After the release of the course we added Utku Yasa to the team. I contributed a lot to the course, but without the help from all others, the course would not be available right now. It also would not be half as good.
Duolingo provides templates to create courses. Once the language tree is created for a language, it is very easy to create courses for teaching this language to speakers of other languages. For example, for English for Turkish Speakers we had a ready-made English tree; the skills were ready, the words in them and the sentences created using those words were ready. We only had to translate them, and of course add as many alternative translations as possible. Creating a course that's similar to a language with a tree is also not so hard, as one can easily adapt it.
However, Turkish was the first non-Romance, non-Germanic language on Duolingo, so we had to create everything from scratch. In addition, the incubator is not optimized for agglutinative languages, so we had many bugs that had to be fixed by the developers. That's why it took quite some time.
The course is currently composed of 200 lessons, outranking Irish as the shortest on Duolingo. Is this a result of the beta phase, the nature of the language itself or something else entirely?
It is both actually.
Due to several problems mentioned earlier, creating a Turkish course on the incubator was very difficult. Although it has improved, it is still difficult. We have to keep track of all suffixes taught and add them manually to new words. We were all getting a bit tired when Luis von Ahn, the cofounder of Duolingo, encouraged us to release the course in its current form, get feedback and maybe edit or expand later. We have received very good feedback so far and we are hoping to expand it a bit soon.
It is also short because several words in other languages are actually just suffixes in Turkish, so of course they don't count as words. And unlike most other languages, verbs are regular. So after we teach some verbs in some tenses, we usually do not repeat them while we are teaching new tenses. And as a spoiler, the Ukrainian course to be released soon is actually much shorter than ours.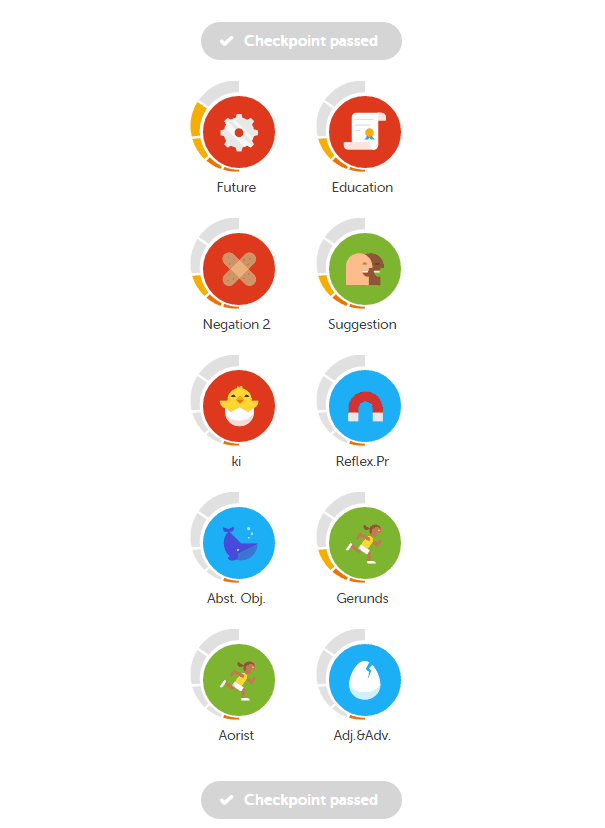 One of the biggest draws of Duolingo is the community that surrounds it. Do you have any advice on how to best engage the community and get the most out of the experience?
It is really great that Duolingo has sentence discussions where users can ask anything about the sentences that they did not understand. So far, we have been answering every single question there! This is available on the web and the Android app, but unfortunately not on the iOS app. Of course, it is much easier to discuss things on the web. Although using the apps is a great way to spend time in the absence of a computer, I recommend that everyone use the web version from time to time.
Both the team and learners post a lot of interesting cultural and linguistic information in the forums. So, to learn even more Turkish on Duolingo, users should read those posts and also feel free to ask anything language related in the forums and discuss with others.
Are there any other resources out there that you'd point Turkish learners to? Do you have any general advice for maximizing learning potential?
Although Duolingo teaches through practice, we also added tips and notes (i.e. grammar explanations for almost every skill). I recommend that everyone read them before practicing a skill. Unfortunately, they are not available on the apps, but only on the web. In general, I highly recommend that learners immerse themselves in Turkish. Watch Turkish movies and TV series, try reading books even if they are children's books, listen to music and don't be afraid to talk to natives. Just try! We created an external sources list that learners might find useful, too.
Thanks so much for your time and congratulations on going live! Anything else you'd like to mention?
Thank you. I am very happy to talk about our course! Currently, the English for Turkish Speakers course has almost 3 million users and the Turkish for English Speaker has about 100,000. Although the Turkish course is still in the beta phase, most problems have been fixed. So, at the moment it is very reliable. I would like to wish everyone good luck learning Turkish and I also recommend that those who are bilingual apply to contribute to courses on incubator.duolingo.com.
—
Interested? Be sure to register for the course and download the iOS, Android or Windows app. Looking for some fun competition? Check out the Duolingo Turkish Learners Facebook Group or add this Yabangee contributor as a friend on Duolingo.
Image Sources – Duolingo & Selcen Öztürk