Sandrine Ramboux is a Belgian expat who has called Istanbul home for the past decade, together with her husband and two daughters. A 20 year veteran of the banking industry, today she is the founding director of C@rma, a pro bono platform in Turkey that aims to connect Turkish civil organizations with corporate sources of support and pro bono volunteering. Over the past couple years, she has led C@rma through all the challenges and struggles of being a startup in the civil society sector of Turkey. Although her organizational model is a proven one in the European market, it remains the first of its kind in Turkey. The role of civil society in Turkey is one that has developed uniquely throughout the ups and downs of the country's recent decades. The result has been the persistence of a significant divide between Turkish civil society and Turkish business and skilled professionals. The influx of Syrian refugees and the generally supportive role that Turkish authorities and society have taken toward them has reinvigorated Turkish civil society at large. Many new organizations have been founded in the past five years, serving a greater variety of domestic and international causes and communities than ever before. In this growth period, Sandrine and her team have poured themselves into developing C@rma's NGO support services. To date, C@rma has brought hundreds of Turkish and foreign professionals in Istanbul together with over 50 NGOs operating in Turkey.
Recently, Sandrine sat down with Yabangee to discuss her journey and that of C@rma, as well as to discuss their JANA project, which is a set of new initiatives in partnership with Patica, the US Embassy, and EBRD.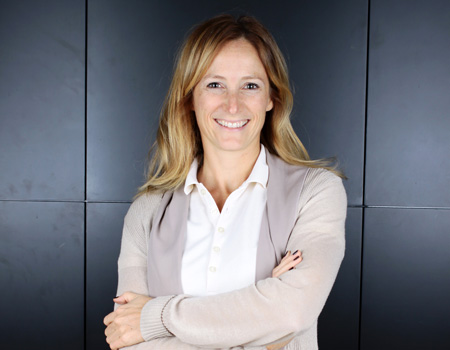 In a nutshell, what is the story of how you came to Istanbul?
My husband and I always wanted to experience living and working abroad. When we received the opportunity to move to Istanbul, it was just an immediate "Yes!" That was back in 2006. Istanbul was for us something totally different, but on the other hand, still very close to Europe. I started to work for ING here in Turkey at the moment when they purchased the Turkish bank, Oyak Bank.
How would you describe your life here? What has changed? What are the challenges? What advice would you have for other professionals looking at moving to Istanbul?
The situation is quite different now than when we came 10 years ago. Since then, the economic situation has changed a lot, the political one as well, and there are now three million refugees in Turkey. I think that when I arrived, the hardest challenge was coping with the lack of long term planning and the high degree of flexibility that one needs to have. I understand now that since things are always changing so fast, there is no need to plan. But to cope with that, one needs to have the nerves to deal with everything being done at the last moment with a smile, because everyone is really kind. My advice? Just go with the flow.
What was your inspiration for founding C@rma? Were there both personal and professional motivations?
Professionally, I've always been thinking about ideas to develop myself. Some ideas I've had since I was a child, but they had always remained just a dream. Sometimes my ideas really developed into quite elaborated ones, and so this time I thought, "Why not try it for once?"
Personally, I wanted to contribute more to society, to see how I could use my skills to do something good that was not only financial. Since I couldn't find what I was looking for, I decided to launch C@ma. The idea of C@rma at the start was one marketplace to do everything: find info on NGOs, donate money, donate time, lend money to some projects or even invest in some projects… After a while, I just kept the pro bono/skill-based volunteering and the NGO information parts.
After deciding to found C@rma, what were some of the challenges you faced as an expat? Were there specific procedural issues or unexpected aspects of realizing C@rma's mission in Turkey?
As a foreigner, I think in every country, it's never easy to navigate the administrative aspects of creating a company, finding an accountant, identifying the relevant rules, etc. I think it is already quite a job in one's own country, but then in another language, starting from zero, was a challenge. Then in Turkey, everything requires a little bit of networking. So of course I had to build that as well to start making a name for myself in the NGO world, earning the trust of everyone and pushing my way past the barrier of "she wants to help for nothing, there must be something behind this".
At this stage, I wish my knowledge of Turkish was better mainly to be able to identify incentives and grants to which I could apply. I think on the other hand, once one finds out how to do something, it's actually quite easy to do everything, like going to speak with someone from tax office to get information, etc…
What advice do you have for other expats who are thinking to startup businesses or social projects in Turkey?
I would say to anyone willing to start a social project in Turkey, foreigner or not, that it is very hard because most social projects are aimed at changing the way people see things and, at the moment, it is not the right time. Most people have other worries in mind that to start seeing things via another angle is just not what they want to do.
Otherwise, business-wise, I still believe in the economic prospect of Turkey and the benefits of the large youth population. From what I am seeing around me, I would advise anyone not living in Turkey to find a reliable Turkish partner, but of course this is always itself a challenge.
In a nutshell, what is the JANA project? Is it a C@rma project or a separate initiative?
JANA is one of the projects of C@rma for which we are also partnering with Patica, a gamification company, and with other individuals.
We started JANA because most of us wanted to be a larger part of the solution to the refugee issue. JANA's mission is to facilitate the economic integration of migrants by leveraging their skills and their ideas and by building collaborative communities. We have two main projects: JANA BIZ, funded by the US Embassy, which aims at building sustainable and registered revenue streams for mainly women refugees and JANA SAVE, funded by EBRD, which is promoting financial inclusion among disadvantaged migrant communities, which are mainly refugees, and also disadvantaged Turkish communities.
What motivated you to pursue helping refugees with financial education, saving, and entrepreneurship?
With C@rma, we are a matching platform. We are identifying needs and then finding the suitable person to solve the issue of the NGO, so we are never as involved as we would want to be. With JANA, we wanted to do something different. The situation of refugees is now reaching a new phase where they need to build revenues in Turkey. They have received training, but what is happening next? How can they take that extra step to use their training to generate revenues? What we can see also is that most of the women from the community centers are without husbands and have never in their lives worked professionally. So there is also work to be done on their mentalities and their motivations to start something they've never done before. We thought that maybe using some tools from the private sector could be another approach to support the development of these businesses.
What are some of the challenges the Jana project has faced or overcome since its start? Are there any particular misconceptions about the refugees you work with that affect your work?
Most of the people do not know what the real situations of refugees are. They think that most of them are in the camps, so our first goal is to post on our website or Facebook whatever we find out in order to share our knowledge.
The second thing is that there is a lot happening in Turkey and I think most of the Turkish population has a lot of things in their heads which dissuades them from showing a lot of empathy towards refugees in general. Which I understand totally, this makes collaboration with the private sector quite difficult unfortunately.
Do you think that refugees are treated differently by expats and local communities? Is there a difference in the kind of support or welcome they receive?
I think indeed that expats, or let's say "foreigners", have a more open view on refugees, but this might be because they are not going through the same struggles of Turkish people. Turkey is one of the last countries in the World Giving Index showing that Turks are not used to supporting NGOs, community centers, etc… either with their time or with money.
What kind of future do you see for the refugees who succeed in the JANA programs?
Haaaa, the biggest challenge is to find sales channels for all the products currently produced by the refugees, and then maybe to review the products to fit market expectations, and then to see if this is really what the women want to do to work on it. That would be the first question, wouldn't it?
Once the beneficiaries would have a little bit money, we can support them to make sure that they see how to save a part of it and to plan for the whole year. With that, we hope they will feel less insecure about the future and since they will start paying taxes, they could feel more integrated into Turkish society. It won't be charity anymore but real business. Let's see!
Keep up to date with Sandrine Ramboux and the various projects of C@rma via their official site.