Going on weekend getaways is one of the perks of living in Istanbul. The Mediterranean sun is just a hop, skip and a jump away. A beach weekend in Ceşme, visiting the fairy chimneys in Cappadocia, trekking through Butterfly Valley. Yet as much as Turkey has to offer in a wide range of getaways, it isn't always so easy to get yourself to the airport on a Friday afternoon – it often involves a hop on a bus, a skip on a tram, and a jump on the man next to you on the extremely crowded metrobus. I've tried almost every route to the airport. Depending on how much baggage, time and money I have, I vary my course to get there either the fastest, easiest, or cheapest way. Unless you live in Taksim or Kadiköy, your trek to the airport will most likely be longer than your flight. And who knows what the traffic will be like, most likely bad or worse. I much prefer to stay out of unpredictable traffic and take public transport when possible. You may even ride up to four of five different forms of transportation in one day! Here are a few alternate routes, other than the Havataş bus, to the two airports of Istanbul, Atatürk airport and Sabiha Gökçen International airport.
Atatürk:
1. If you live anywhere in central Istanbul on the European side or along the M2 green metro line, getting to the metrobus might be much faster that getting to Taksim. Coming from Etiler this is definitely true. Get your elbows ready at Zincirlikuyu metrobus station if you'd like a seat. Otherwise just go with the flow and hop on once the mad rush of seat grabbers settles down. Take the metrobus towards Avcılar. Transfer at Zeytinburnu to the M1 red metro line. Take this in the direction of the airport, Havalimanı. And you're there! Note: you may also transfer at Bahçelievler or Ataköy/ Şirinevler but Zeytinburnu is a very easy transfer if you have baggage.
Total cost: 5 TL from Zincirlikuyu
Total time: 45 minutes to 1 hour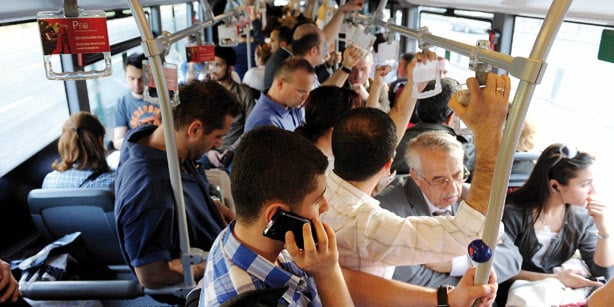 2. If you have the time and don't want to battle with the metrobus folk or if you're picking up or dropping off visitors to Sultanahmet, this route might be for you. Find your way to the T1 blue tram line that starts at Kabataş (the M2 green metro line meets up with the T1 by way of the F1 Füniküler that runs from Taksim to Kabataş). Transfer to the M1 red metro line at Zeytinburnu. Take this in the direction of the airport, Havalimanı. And you're there!
Total cost: 4 TL from Kabataş
Total time: 1 hour 10 minutes.
3. Asian siders- this one's for you! As if we haven't seen enough forms of transportation already, I'm going to throw in a boat now. Yes, there is a fast ferry from Bostancı and Kadıköy to Bakırköy, which is near the airport. Living on the Asian side just got a whole lot cooler. "I'm on a boat…" Anyone? Anyway, arrive in style to the ferry port and hop in a shared taxi at 10 TL each or 20-25 TL if you're alone.
Total cost: 15-30TL
Total time: 40 minutes for the ferry from Bostancı, only 20 minutes from Kadıköy! Then around 20-30 minute taxi ride depending on traffic.
Sabiha Gökçen: 
1. Getting to Sabiha Gökçen airport is the bane of my existence. All of the cheap flights are out of this airport yet it takes so long to get there. Sometimes double the time of my flight! Last weekend I went to Cappadocia and tried a new route. It only took me one and a half hours from my door to the airport! New world record! For a one hour flight. Womp womp. Again this one requires the use of the all mighty metrobus, serious life saver. From Zincirlikuyu take the metrobus over the bridge towards Söğütlüçeşme. Get off at Uzunçayır. Take the exit which says IETT Duraği. Wait under the overpass for the E-11 express bus to Sabiha Gökçen airport. If you are able to time this right, you can make it to the airport in one hour.
Total cost: 6 TL
Total time: 1-2 hours depending on traffic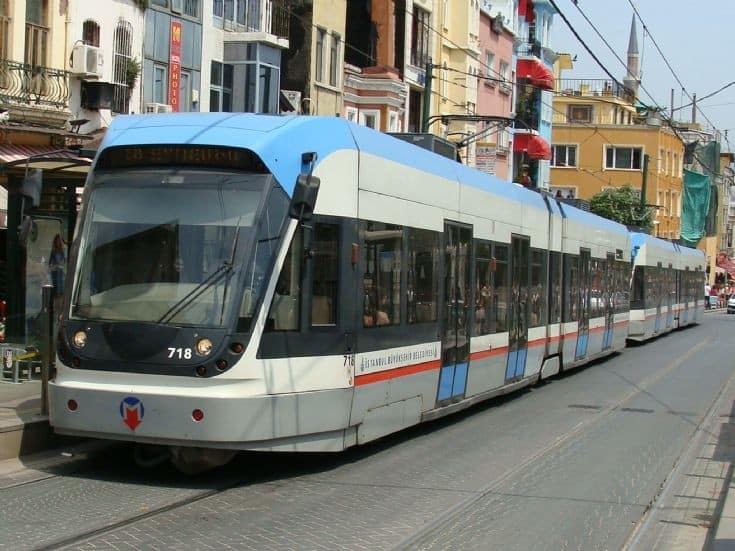 2. This one is pretty easy but you have to take into account the bridge traffic. I usually take the most stress-free ways to the airport if I can. Sometimes the stress comes from having to carry all of my bags up and down stairs and sometimes it's the traffic and time of day. If I know there won't be too much bridge traffic and I don't have more than a small rolling bag or backpack, and the stars are aligned, I take this route. Take the bus or metro to 4.Levent and find the bus stop. Hop on the E-3 express bus to Sabiha Gökçen. Easy-peasy.
Total cost: 4 TL
Total time: 1.5-3 hours.
Word on the street is that they are extending the M1 red metro line to connect to the Mamaray and the M2 green metro line at Yenikapı. This will make getting to Atatürk airport easier from almost everywhere! Keep your ears open!
Website for the IDO ferry: http://www.ido.com.tr/tr/yolculuk-oncesi/341-bostanci-kadikoy-bakirkoy
Website for the metrobus, express bus and regular bus: http://www.iett.gov.tr/en
Website for metro: http://www.istanbul-ulasim.com.tr/en
Really convenient website to plan your journey in Istanbul combining bus, train, metro, tram, and many boat lines: http://www.buradanoraya.com/istanbul/en/index.htm
Do you prefer a different route to the airport? Let us know in the comments!
Liz Liberatore is a contributor to Yabangee