In collaboration with ATÖLYE, Yabangee continues to present Expat Spotlight, a monthly series showcasing the freshest, most inspiring contributions being made by Istanbul's diverse international community to the city's cultural, sporting, humanitarian, and business spheres. An opportunity to share moving stories, reflect on personal experiences and participate in a resourceful dialogue, we invite foreigners and locals alike to come and embolden others.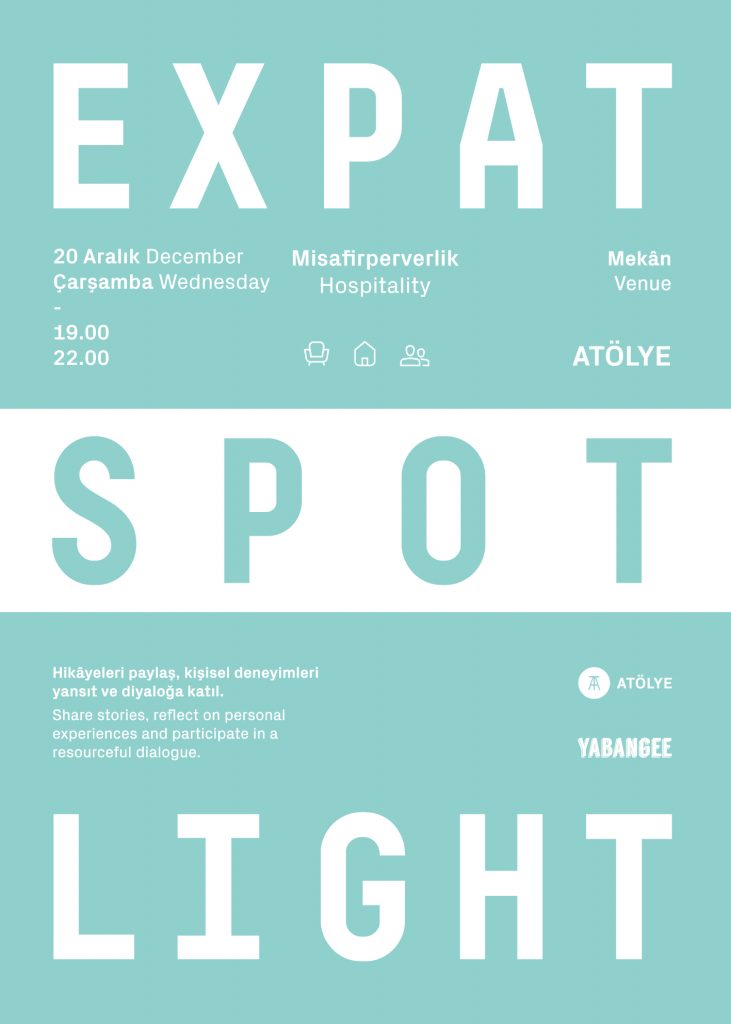 Taking place in English, the eighth Expat Spotlight event is set for Wednesday 20 December, centering on the theme of "Hospitality."
The event is free.
The event starts at 19:30, with doors set to open at 19:00. No need to RSVP to join.
Guest speakers:
Tas Anjarwalla is an editor and writer from the US who, like many fellow expats, just can't quit Turkey. She first lived in the Black Sea city of Duzce before moving to New York, then Istanbul, then San Francisco, then Istanbul again. Tas is excited to have made it back in time for hamsi season, and loves eating her way around the Bosphorus. She has written and edited for CNN, Vice, YouTube and a variety of Istanbul publications, and used to write the Google Doodle scribbles. Tas is a former Yabangee editor and now manages the @Yabangee Instagram account.
Antony Doucet, originally from Orleans studied Hotel & Tourism Management at the Hotel School of Blois in France. From 1997-2010, he worked at Hyatt International in both operations and sales positions at Hyatt Regency Paris Charles De Gaulle and the Park Hyatt Paris Vendôme, where he held the position of Director of Guest Relations. In 2008, he was transferred to the Park Hyatt Istanbul Maçka Palas in the position of Director of Guest Experience. In 2010, he joined Istanbul-based The House Hotel Collection as Hotel Manager of The House Hotel Nisantasi, before being promoted to Director of Sales, Marketing and Communications, building the brand from one to 3 properties in Istanbul and Cappadoccia in the space of five years. He is also the brand director of Kerten Private Equity for their hospitality activities (The House Hotel, The House Residence, Ouspace Serviced Offices and Frikadell Burger). An expert in global marketing, networking and the luxury industry, Antony Doucet is also a food editor and contributor to the prestigious Louis Vuitton City Guide to Istanbul.
Pat Yale is a travel writer who has worked for everything from Lonely Planet to The Guardian via Time Out İstanbul. She is also the author of a Handbook for Living in Turkey and co-author of Istanbul The Ultimate Guide. For eighteen years she lived in a restored cave-house in Göreme in Cappadocia but for the last fifteen months İstanbul's Cihangir has been home. She is currently looking for a publisher for her book about travelling in the footsteps of the British explorer Gertrude Bell in Turkey in the early 19th century.
Anil Sethi is from Delhi, India and has been living in Istanbul since mid 2008. He has been a major Indian leather accessories supplier to all the leading brands in Turkey, such as LC Waikiki, Defacto & Kotton. He is also very socially active with the Indian community in Istanbul as a Vice President of their community. He has served as Couchsurfing Istanbul's leading ambassador for over nine years. His all time favorite job is to make friends.
Benoit Hanquet (a.k.a. Selim), originally from Belgium, has been living in the heart of Istanbul for more than twenty years. Though he was in the textile business for many years, he now focuses on guiding in Istanbul's backstreets and on long distance hikes throughout Turkey. His favorite dish is 'patlıcan dolması' (eggplant stuffed with rice and spices served as a cold starter), a typical dish of southwestern Turkey.
To stay in the loop on all developments, check out the official Facebook event.
Tarihi Bomonti Bira Fabrikası – Silahşör Cad. Birahane Sok. No. 1 – Şişli 34381