Color runs are making a much-acclaimed return this summer with several scheduled around Turkey. Istanbul's Color Sky 5k Run is taking place in Caddebostan (& Bağdat Caddesi) on Sunday 7 May starting at 14:00. Tickets are available via Biletix. Be sure to bring your ticket and photograph ID on the day of the race. Other runs include Bursa on Sunday 14 May and Ankara on Sunday 21 May.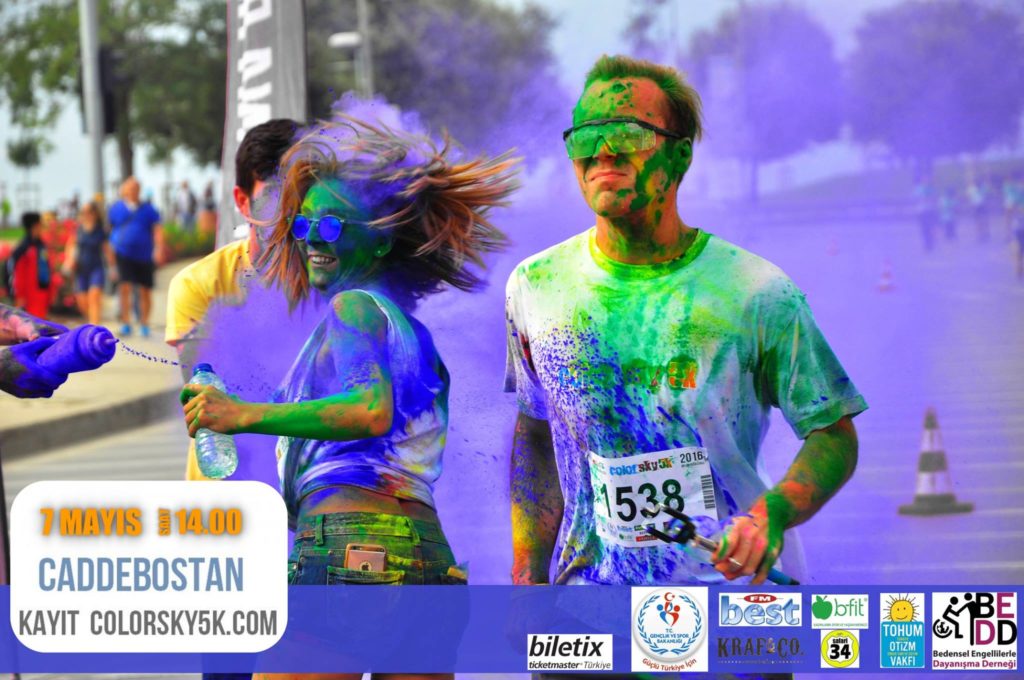 From the organizer:
Color Sky 5K will be held at Caddebostan in Istanbul on May 7th, don't miss!
All ages and sizes are welcome and whether you walk or run, you will certainly have fun. An unforgettable Sunday is waiting for you!
What is Color Sky 5K Runs?
It is a very unique and exciting run where the runners don't get timed, but get color 'bombed' at every kilometer. It is not a competitive race, but rather a fun family event, where most people walk or jog.
What is Color Powder?
It is 100% corn starch with food grade dyes. For most people the colors come off after a wash, but it may take more effort on certain people. To make it easier you should use plenty of sunscreen and hair lotion. More tips can be found here, and online.
Run Packet
Your Color Sky 5K Packet includes a race bib, T-Shirt, temporary tattoo, color powder and a wristband. You will pick it up on the day of the run. Check out the event page for details.
Charity
Color Sky 5K supports The Solidarity Association for the Physical Disabled (BEDD). There are more than 9 million disabled persons in Turkey. Since 1993 BEDD delivered thousands of wheel chairs to the disabled via donations and charity events.
There is a wheel chair donation ceremony at every Color Sky 5K event.
Color Sky 5K supports Tohum Autism Foundation to help increase the public awareness about Autism.
—
For more information, keep up to date with the official Color Sky 5K page.
Featured Image Source – Press Release