Editor's note: Anyone interested in camping on Burgazada should be aware that it is in fact illegal to camp on the Princes' Islands and that many of the island's residents are firmly opposed to such practices. 
I love hosting people and showing them around the city. Friends, friends of friends and Couchsurfers—not only do I love meeting new people, but I also enjoy the city more when we discover things together.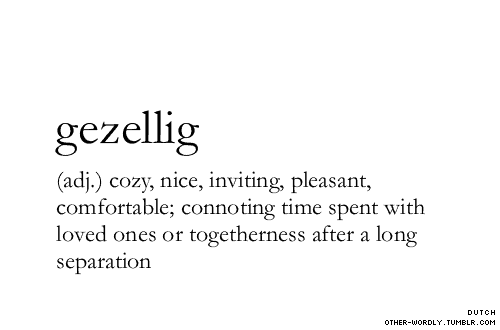 The Dutch word "gezellig" means "cozy", "quaint", "familiar", etc. Turkish has a complimentary idiom "sefa pezevengi" (direct translation: lotus-eating pleasure pimp), which is used to describe a person whose purpose in life is pursuing their own pleasure. So, when my Dutch friends told me they were coming to visit, I made a plan to create a gezellig atmosphere as only a sefa pezevengi could do. I got the idea to go camping somewhere close to Istanbul and avoid the city in a challenging way.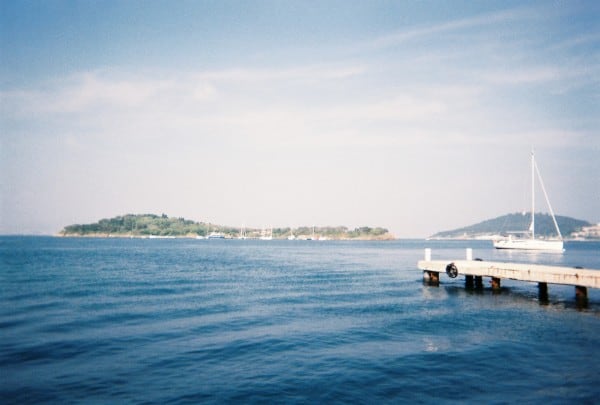 According to my Istanbulite friends, Kınalıada is rich, Heybeliada is poor, Büyükada is touristic, and Burgazada is sophisticated. Since it is not very touristy and has more natural environment, I chose Burgaz as our destination. So, we took the boat from Kabataş and we arrived on the island after about an hour.
We wanted to go to the other side of the island where Kalpazankaya Restaurant is located and find a spot somewhere in nature. We found out that there are four options to go to that spot: walking, which takes around 40 minutes; horse-drawn carriage, which costs 70 lira for four people; renting a bike; or little boats, which you find by asking around. I didn't want to take a carriage; I'm boycotting them for their poor treatment of horses. Neither renting a bike nor walking were convenient enough options for a lotus-eater like me. So, we found someone to take us by boat, which ended up being cheaper than a carriage.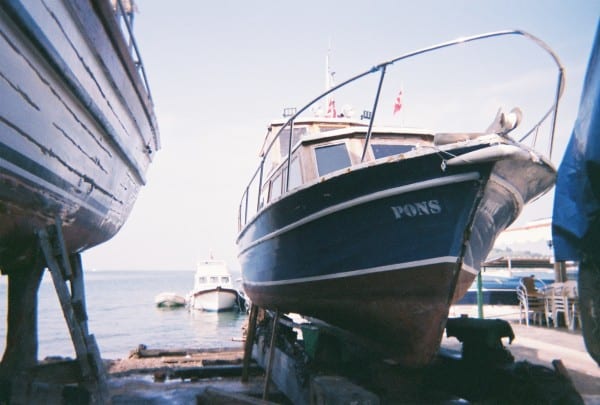 We went to get some groceries. Although we had already brought a lot of things from Istanbul, we found that you can get anything you need in the island markets. We even bought a disposable barbeque set for eight lira. Afterward, we took a walk, admiring the beautiful wooden houses along Gezinti Street.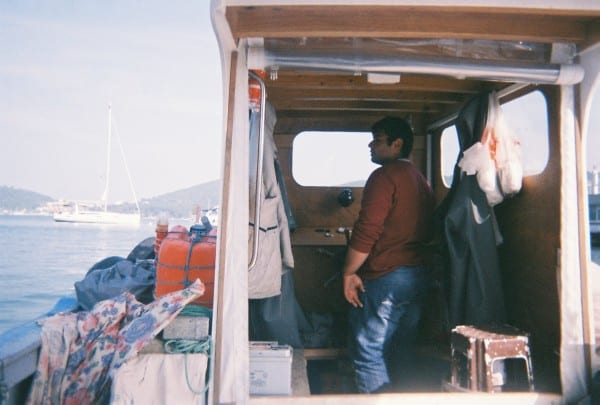 We were a little bit hungry and decided to sit at Barba Yani, one of the most famous restaurants in Burgaz. Then we were off to the other side of the island. It took 10 minutes to get there, and the view on the way was pretty amazing. We asked around to find out where to set up our tents. We grilled some sucuk ekmek (sausage on bread) on a brassier that our neighbors gifted to us.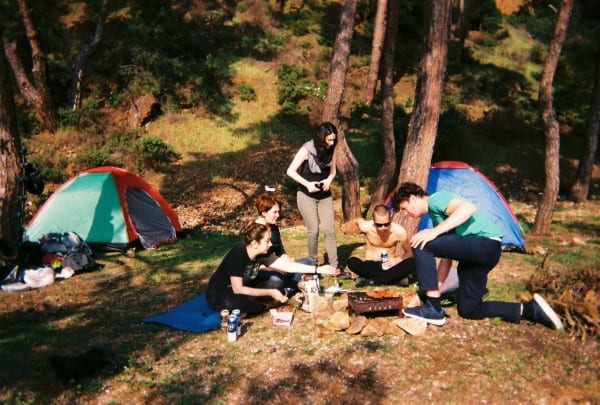 In 2003 Burgaz suffered a terrible forest fire, losing four square kilometers of forest, so these days there are strict regulations about building fires. Of course, we didn't know about this policy, so we made a small fire in the evening. Eventually, the authorities came and told us to put it out. As I mentioned before, the Dutch know how to make a gezellig atmosphere; they heated some rocks on the fire, put them on the brassier, which they carried into the tent. Covered with blankets, the tent served as a sauna that evening thanks to the brassier filled with heated stones.
The evening was a little bit chilly but plenty of spirits and lively conversation made it easy to enjoy watching the dolphins, the boats, the heavens and the sparkling sea.
The day after, some of us even had chance to swim and we had a rakı balık brunch at Kalpazankaya. On the way back home, everybody was tired but satisfied. It was a wonder to have such natural beauty in the middle of Istanbul.
C. Pelin Isbilen is a contributor to Yabangee