Some places are institutions. They are so good and so perfectly embody their craft that their name becomes synonymous with their art. For Turkish coffee, that place is Mandabatmaz. Almost everyone I talk to and everything I've read declares that it is "THE BEST" Turkish coffee in Istanbul. And I have to agree. Cemil, the man behind the marble counter in Mandabatmaz, takes coffee grounds, water, and fire, and transmutes them into something otherworldly.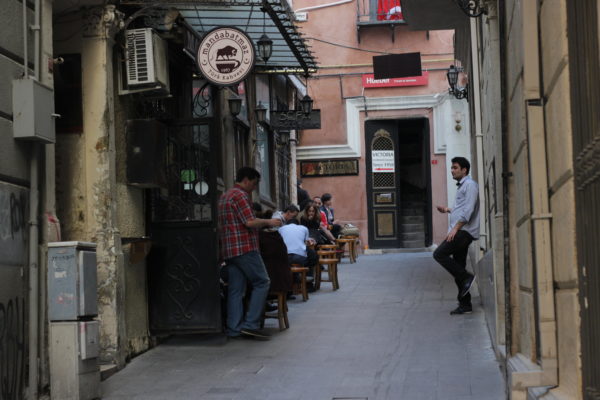 Mandabatmaz has been tucked in a narrow street just off of Istiklal (across from St. Antoine's Cathedral) for nearly 50 years and Cemil has been stirring the Turkish delicacy there for nearly half that time.
Cemil's brother first opened Mandabatmaz in 1967 and it hasn't changed much since. The interior is small and lined with wooden stools. The walls are pasted with all the trappings of a Turkish shop: a picture of Atatürk, newspaper articles, and small paintings that seem to have been left in the same place for the last 49 years. Outside there are short tables and stools that line the wall of the pedestrian street and they always seem to be full with foreigners and locals alike, stopping in for a quick coffee.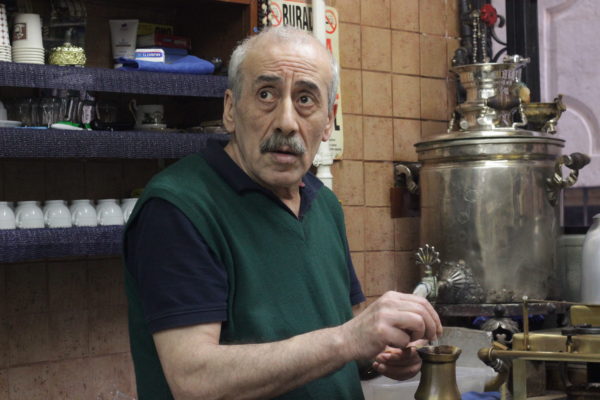 Cemil took over for his brother in 1992 and now makes coffee daily with his son Cengiz, but in all the years he's been stirring coffee the process hasn't changed. He stands behind his counter top with a two-burner range, a samovar, and a box of coffee grinds and white sugar. He starts by rinsing the cezve under hot water from the samovar and adds sugar (you can order with a little, a medium amount, or a lot of sugar) which is topped with grounds and more hot water. He stirs. There are no measurements, only his quick hands turning freestyle spoonfuls of grounds that time and repetition have mastered. He adds more water, stirs again, and sets the full cezve on the burner. The colorful and doll sized cups are rinsed under hot water before the thick and dark coffee is poured into them.
Every coffee is mixed for a total of two minutes. He repeats this, on an endless loop, for the majority of his day – the only wrinkle is the amount of sugar. He prefers his with only a little.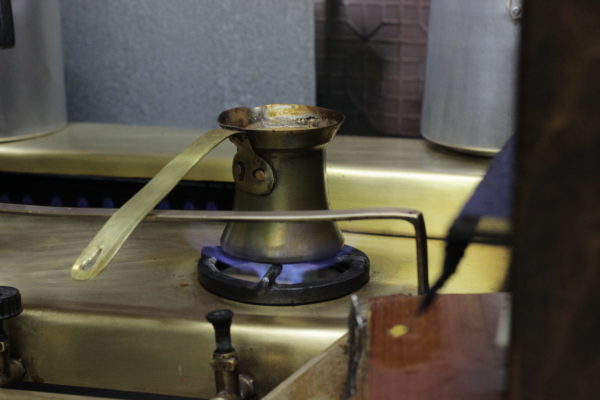 You can find Turkish coffee on almost every street in Istanbul, but you will be hard pressed to find anyone that does it with the care and artfulness of Cemil. Beyond the craftsmanship you also won't find the flavor anywhere else. The beans are imported from Brazil and are roasted specifically and only for Mandabatmaz in Istanbul. The finished product is rich and, as the name of the shop suggests, is so thick a water buffalo wouldn't sink in it.
After a few sips of coffee, which has lingering flavors of chocolate and smoke, you are left with a thick layer of what looks like fudge. There are no fortune readings or stories to weave from the grounds, just the deep satisfaction of drinking a coffee made by a man that's been doing it the same way for nearly a quarter of a century.
—
You can find Mandabatmaz at Olivia Gecidi No: 1/A, Beyoglu, Istanbul (the alley across from St. Antoine's Cathedral on Istiklal)
All photos by Svetlana Nekrasova.