Considering the largely editorial nature of Yabangee's workflow, the Makerlab at ATÖLYE has always been a place of great interest to us, with very little practical opportunity to make use of the facilities. The space is host to a trove of various tools, machinery, and prototypes, and it's quite typical to see designers hard at work behind the glass walls working on projects representing many different fields. Ayşe Esin Durmaz is a designer at heart and has spent a great deal of time nurturing the Makerlab into the useful resource that is today. While having a background in the field of design, Esin's entrance into maker culture very much involved diving right in and starting with a blank slate, learning as she progressed. In many ways, this is an accurate expression of the culture at large.
When we learned that Esin was headed off to Germany to explore her own creative path, we thought it prudent to take some time to speak with her about her experiences as a designer, the state of maker culture and the open source community, some of the Makerlab workshops at ATÖLYE, and the challenges inherent in working within such a role.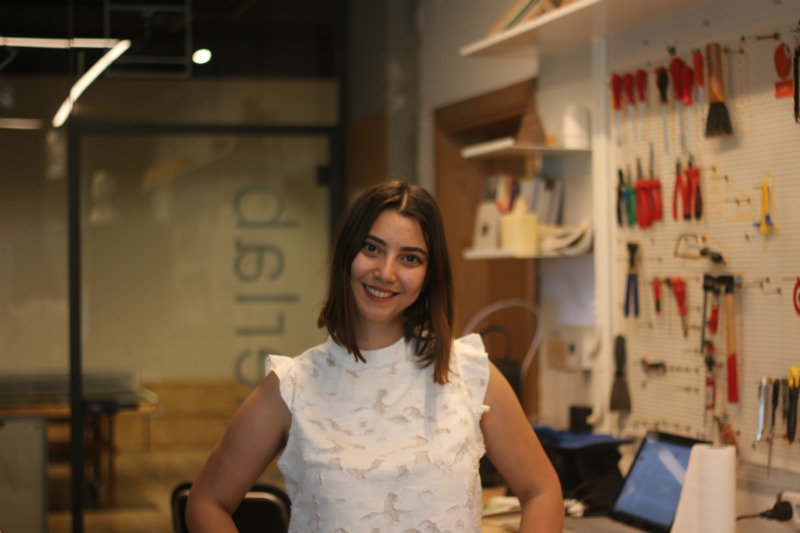 Could you tell us a little bit about yourself and your background?
I just recently graduated from Kadir Has University as an interior designer. During my university education, I was first interested in arts and installations, especially with how crafts and arts converge. Then I decided to shift my focus to furniture design. After this decision, I went to Milan to begin an internship. There, I was introduced to the Fab Lab culture. I did three projects on open source design. I returned to Turkey and knew I had to get a job while continuing my studies. I had worked at Mixer Arts Gallery for a while, when they were in Tophane. At this point though, I really wanted to be a maker and to work in a space where I could focus on elements of design with the necessary machinery as well. I found ATÖLYE and began working as an intern. After I finished university, I became a Makerlab associate here.
You speak a bit about open source design? Could you elaborate a bit about this in relation to your field?
Open source design goes hand in hand with developing technology. Everything is a result of the internet. There was a separation between the designers and craft and woodworking spaces for example, but now open source is creating new connections. So open source design allows for people to share their designs and someone totally unrelated can go and download the designs and do it themselves. You don't have to go to a factory or manufacturer anymore. It's a new relationship with the assembly line.
Could you tell us a bit about your past projects and experience? Your portfolio shows you've worked with the Design Biennial here, as well as having produced your own clean desk project.
During my second year of university, I participated in the 13th Istanbul Biennial in "Co-Action Device: A study with İnci Eviner". It was a great opening opportunity to become more involved with crafts and interdisciplinary experiences. However, my first real meeting with open source design was in WeMake. When I first went there, they asked for me to both do a project they assign, as well as provided the opportunity for me to focus on my own project. So they assigned an open source design with 50 different joints. We tried to produce it and exhibit it. People could come and see the joints themselves and then decide if they'd use them in their own design projects. In doing so, I learned how to create and work with open source files, how they relate to users and so forth. Before the internship, I didn't really know anything about it. I started with a clean slate.
So after this, I pursued my own project called "clean desk". I chose six different joints from my initial project and designed around it. Then I put together the documentation and uploaded it to the open source community.
The term "maker culture" is often referenced in the creative community. Could you enlighten us on what that embodies?
Maker culture is about correcting the assembly line. If you need something, you shouldn't have to buy it. You can make it on your own. These rapid prototyping tools, like 3D printers, CNC and laser machines, are beyond the do it yourself culture. Yea they're connected, but you traditionally needed a factory. Now you can just take the materials and shape it from the start. If you need something like a knife or something has broken, you can use your own design or download one and do it. The culture grows daily. There are makerlabs and Fab Labs. Fab Lab, being the internationally certified version from MIT media lab. Makerlabs are slightly more informal, but still have the necessary equipment.
Maker culture boils down to everyday people. It's not about producers, designers or engineers. Everyone can produce to meet their own needs. It's not dependent on the free market.
What is the state of maker culture in Turkey? How does it compare to Milan?
In Turkey, the main issue is a dependency on design sourced from the internet, and not so much production of one's own designs. In Milan, it was a different experience, especially in my education there. There was an emphasis on designing your own products, doing your own research, and so forth. Nobody really worked with you on teaching anything, they just gave you a very basic orientation and then you're on your own. It's actually a philosophical approach of the culture, you learn a lot on your own.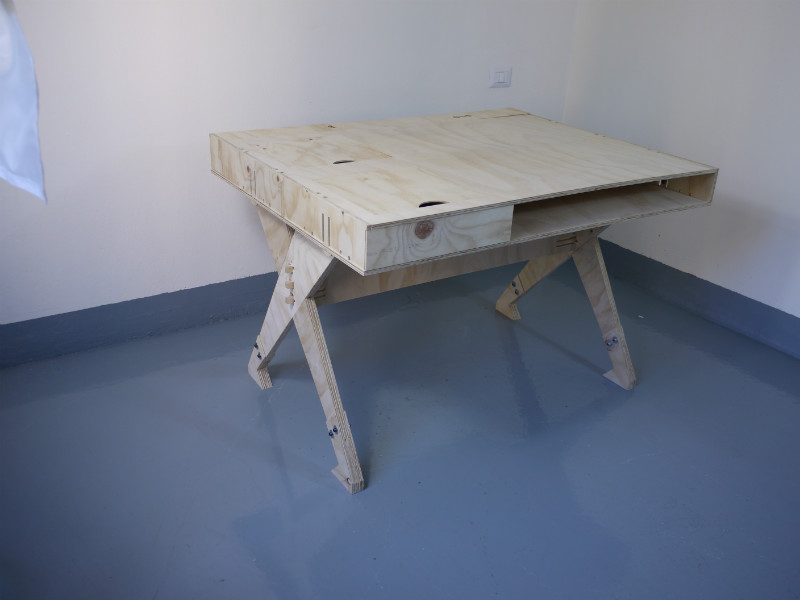 Could you tell us a bit more about the relationship and process between design and prototyping?
In the normal process of design, you basically go to a factory, producer, etc. and you spend a lot of money, it arrives and maybe you don't like it and you have to try it again. The real design process involves designing and prototyping again and again. Maybe after five attempts you can have a clearer look at the final product. I experience it daily. Even if I am making a small box, I can end up prototyping again and again.
What about the costs related to prototyping?
The machines themselves can be quite expensive, but the materials used are actually quite affordable. The maintenance associated with the machines as well can be expensive.
What is your day to day like at ATÖLYE?
My day to day in ATÖLYE is focused primarily on operations. For example with a company, I work on modelling, producing prototypes, exchanging feedback with them, and so forth. With members of the community here, they usually come and work on projects themselves. I prefer a hands off approach, so that they can work out their issues themselves. I also host workshops here regularly. This involves a focus on the content, bringing people to the Makerlab, how we can create a maker community here at ATÖLYE, etc.
Could you tell us a bit about operations here and the workshops you lead?
New members especially tend to come to workshops. For example, in our community workshops, we host around three a month. There's Makerlab orientation, which shows how things work, the processes behind them, details about the various machines, safety processes, and so forth. The other workshops can vary.
Could you tell us a bit about some of the challenges in this kind of work?
The biggest challenge is having people work on their own projects and learn from their own experiences. I feel my role is to offer encouragement, but to not really participate in the trial and error process. The struggle is that I can often wind up being too involved in the process. It's a big process, from design to production. It's really big. People can struggle with adjusting and it does require a bit of practice. So it's important they also get a feeling of having done it themselves.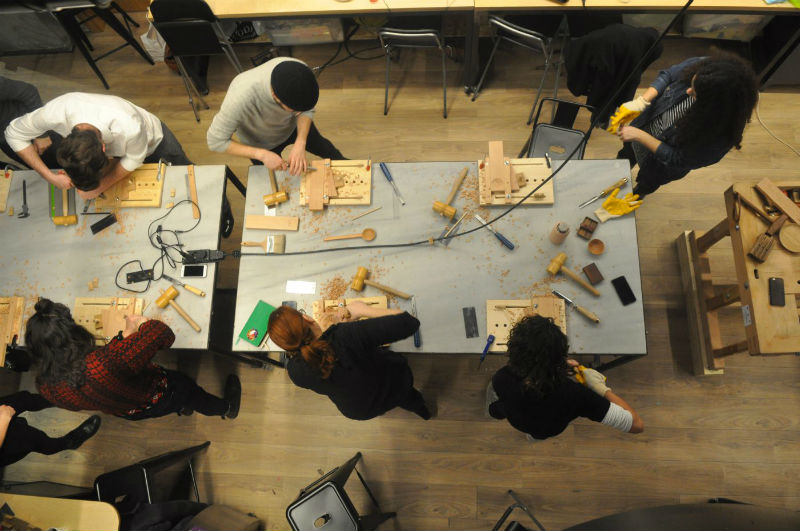 You've mentioned you've got a bit change coming up with your move to Germany. Could you tell us a bit about that?
I'm moving to Germany for six months to work in a Fab Lab there. I want to take a break from operations and management to focus on my own designs and production. Being a recent graduate, it's a good opportunity to find my own way for a while.
As we're an advice publication for foreigners living in Istanbul, are there any lesser known places or tips that you'd like to share with our readers?
I recommend walking more in Istanbul. Don't use public transport. You find so many more small, local places. Just walk everywhere. The road from Beşiktaş to Sultanahmet is a personal favorite. You pass Kabataş, Karaköy, Eminönü, Sirkeci, all the way to Sultanahmet.
For more information on ATÖLYE's Makerlab, visit the official page.
ATÖLYE Spotlight is a new series on the inspiring community members of Istanbul's most creative space.
All images courtesy of Ayşe Esin Durmaz or sourced via the official site.