In their influential role as one of the city's foremost creative hubs, ATÖLYE has launched a number of ambitious projects focused on guiding the local community in new, innovative directions. As they continue to develop these relationships and lay down additional targets, both in Istanbul and abroad, ATÖLYE communications coordinator Emre Erbirer has experienced firsthand what it's taken to ensure their success, as well as lessons learned from their various challenges.
We took some time to speak with Emre about his role at ATÖLYE, what it's like to foster the city's creative community, as well as what we can expect from ATÖLYE in the year ahead.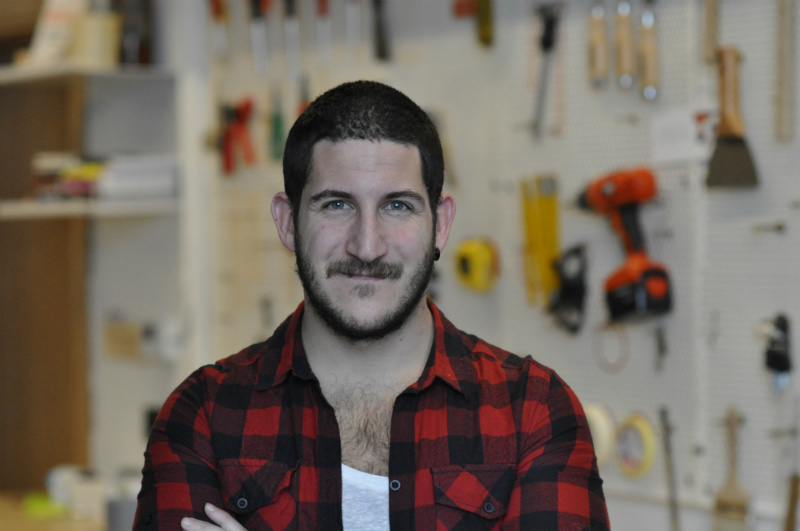 Could you tell us a little bit about yourself and your background before getting involved with ATÖLYE?
I first studied management of performing arts at Bilgi University. After which, I studied marketing communications at the same university. While in university, I started writing for several magazines, as well as beginning work as a freelancer at different arts and culture companies during my first year. After, I started a full time job in the marketing department of IKSV, where I worked for four and a half years. I was responsible for all the digital marketing and communications there. Soon after, I passed to Doguş Publishing Group where I worked with Vogue Magazine. I worked there for more than a year as an executive assistant to the editor in chief at Vogue Turkey. She was also the president of the publishing group.
After Doguş Publishing Group, I passed to ArtInternational, a contemporary art fair. It was only a month before partners of the fair decided to cancel it because of the political and economic situation. I lost my job only after one month, so I started searching for a new job and I was pretty depressed around that time because I was looking for a job where I could fit in, that would also be inspiring for me. I saw the job opening at ATÖLYE on Facebook, because my friend from university, Aylin, was here and discussed it with me. After that I came here and met with Engin and Kerem [co-founders]. They believed in me and hired me. This was in September. Since then, my team and I are responsible for all the communications here.
That seems like quite a diverse background of experience.
Actually, I came from the arts and culture side. Also the publishing side. Here, we don't really do arts and culture, but we're still in a creative business. So it's all about creativity and creative industries. Basically, I'm not involved with the regular FMCG, finance, construction, and telecommunication sectors. I just love all the creativity and inspiration. ATÖLYE is inspiring because they bring together all of these multidisciplinary people and scopes.
Could you describe your role in a bit more detail?
I'm responsible for all communications of ATÖLYE and our projects. In talking about communication, I'm basically the outside face of ATÖLYE. We do corporate communications here. We organize different events or we go to fairs, conferences or symposiums. Also, we do media communications here. We're involved with all the traditional and digital media and organize the PR and digital materials. My team is responsible for different areas like video, animation, graphic design, digital communications and that kind of stuff. The third side is marketing communications. We produce all the traditional and digital marketing materials as well, like posters, flyers, banners, the website, events, etc. A fourth aspect is community communications and internal communications within the team. I try to work to improve team coordination and communication, because we are a diverse team of 20 or 25 people. We're not so many people, but we don't have an HR department or internal communications department, so I've started to work on this kind of communication as well. Our team is always evolving.
Of the 20 or 25 people on the team, how many would you say you work with day to day?
We're a multidisciplinary team and work with everyone on different projects on a daily basis; our team is involved in every project. But if we have to talk about a daily routine, my team and I are responsible for every aspect of internal and external communications. On our team, we have Bala, who is responsible for all kinds of communications with me. We have two graphic designers, Barış and Şevval. And also, we have Özgür, video director, and Murathan, video editor. We also have an assistant for different projects, Özge. And Emre, our intern.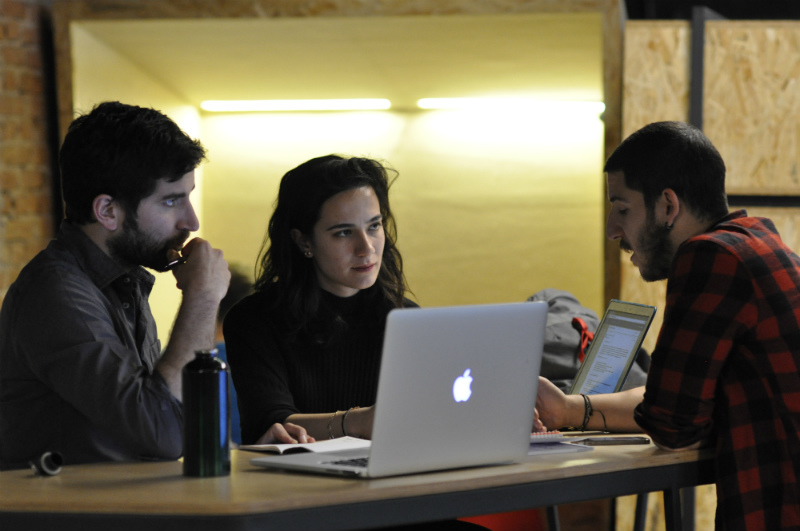 Why ATÖLYE? What sets it apart from other co-working projects for you?
I've worked in different companies, for example a non-profit foundation that is one of the oldest culture companies in Turkey — more than 45 years old.  So it was a foundation, but it was also still a corporate company. Our team was around 80 to 90 people. I was working in the marketing department with 15 people and all we did was marketing, communications and sales. After that I worked in Doğuş Publishing on one magazine, which was all about fashion and the fashion industry.
But here, even though I work in communications, every day I get to talk with different people. Engineers, designers, sociologists, editors, developers, technologists and so on. Every time I talk to someone here, even if we're just having a coffee, I get inspired from the different aspects and learn a lot. The thing I love is that every day I learn something new here. It's inspiring and very different than in other companies or co-working spaces.
What are some of the projects you're currently working on? Any particular highlights?
Our team will be starting a project with the British Council. Several months ago we did a project with them on creative hubs mapping. We found all the creative hubs in Istanbul and reached out to them, researching their scope, where they work, what they do and various other aspects. This time, as a version two of this project, we will map them. We'll focus on how they are related, what they do together and what they could potentially do together.
How will that work in regards to sharing the information?
The map will be live on Graph Commons, which is an open platform for everyone. You can join the platform and create your own maps. You can see how the dots on the maps are related. So we will do an open map and people can join and add their information or they can find a new relationship with these creative hubs. Or they can even find a new project between them. So for example, they see a creative hub working on technology and another working on design, they can utilize both to work on a design and technology project. It will help these hubs work on collaborative efforts.
imece is another project taking place here, partnered with Zorlu Holding and S360. This project is all about social innovation and social change. Young people — entrepreneurs or students for example — can join the platform and create their projects and solutions for social issues in Turkey. This includes issues related to women, education and disabled people. These three topics are the first the platform will engage. So young people can come together and work on generating solutions to these issues.
How many people at ATÖLYE are involved?
imece has their own team of three people. From ATÖLYE, more than 15 people have worked to grow the project. My team is responsible for the communication strategy and the communication materials. At imece, our scopes embody a wide range from system design and learning and innovation processes to creative design and communications.
Could you tell us a bit about ATÖLYE's relationship and/or collaboration with the international community? What are your long-term objectives in this area?
In Turkey, there are different types of co-working spaces. Some have more than three branches just in Istanbul. They're focused on expansion in regards to square meters. Here at ATÖLYE, we're focused on expanding our relationships and our wider net. We try to do collaborations with our members in our community, as well as with the international community outside of Turkey.
The first thing we did was work with the different creative hubs and co-working areas in Europe. We started collaborating with different co-working areas and hubs in Spain, France, UK, etc. Our community can work there when abroad. For example, if they're in London or Paris, they can have a place to work without worrying about fees.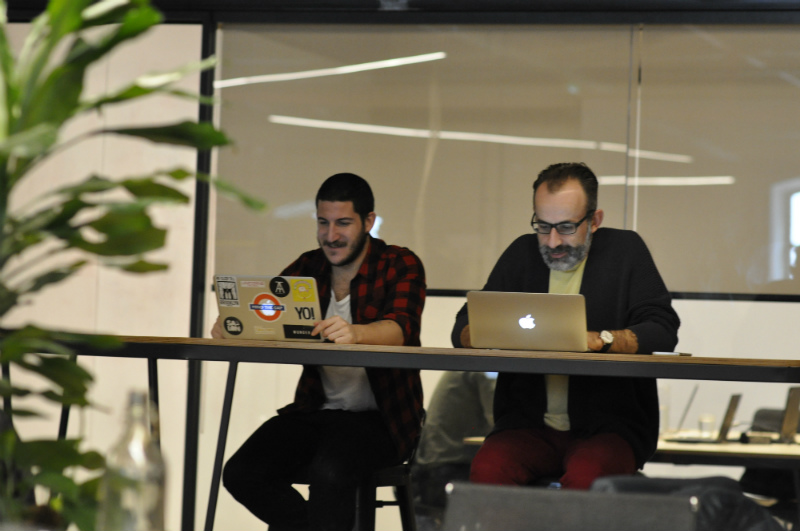 What has the relationship and reception been like for ATÖLYE in both bomontiada and the Bomonti area more generally?
bomontiada is actually a project of Pozitif, a part of Doguş Group. They started to work on this project two years ago. One year ago they opened it, and here in bomontiada, there is a variety of creativity and creative industries. For example, in bomontiada, there's Alt Art Space which represents the arts and culture side. There's Leica Gallery and Leica Academy which is the photography and educational side. Babylon is the music and performance side. There are also restaurants like Kilimanjaro, Kiva, The Populist, Delimonti and Monochrome which are the gastronomy side of the area. We, ATÖLYE, are the creativity and interaction side of bomontiada. People generally come here for just a specific reason, maybe they want to watch a performance or concert, or they want to go to an exhibition or they want to eat and drink something. At ATÖLYE, people come here for different reasons. They can attend an event, they can just want to be our member, they could want to do a project with us. We bring creativity to bomontiada and that's something we love. For this reason, we are connected with all the other members of bomontiada and do different projects with them.
What should we expect from you and your work with ATÖLYE in 2017?
We're hoping 2017 will be a good year for us. Last year was a disaster with the political and economic situation, both in Turkey and around the world. This year we need more hope and creativity. That's why we're trying to develop here and do more international projects. That's our plan actually, to do more international work. Right now, we have a spatial design project in Munich, so we are trying to figure out what more we can do in Europe and the States. In 2017 we'll expand our projects worldwide.
As you know, we're somewhat of an advice publication for foreigners living in this fine city of ours. Any tips or hidden gems around here that you'd like to share with our readers?
I live in Kadıköy on the Asian side. The Asian side isn't really the touristic side of Istanbul, but Kadıköy is an old part and a hot spot for tourists and locals. There are some great hidden spots there. Yeldeğirmeni is one of them. It's in a little bit of a popular area in Kadıköy. There is one place there that I love, it's called The Badau. It's actually a jazz club and small restaurant. In that small jazz club you can eat chicken and rice in Turkish style, as well as Turkish mezes. You can listen to jazz and drink your raki. It's kind of a cool jazz club concept that I love. The food is amazing there, because the owner does all the food by himself. He's also a jazz musician and a radio programmer, as well as an editor. All the yabangees should go there.
To keep up with Emre and learn more about what he's doing, visit his website kulturlimited.com or drop him an e-mail at emreerbirer@gmail.com.
ATÖLYE Spotlight is a new series on the inspiring community members of Istanbul's most creative space.
All images courtesy of Ayşe Esin Durmaz.