With Eurovision being a week away, selected artists are already making their way to Kiev, Ukraine, where this year's song contest will be held. 43 countries will be competing for first place, with fantastic and diverse entries living up to this year's slogan "Celebrating Diversity". You might be wondering what this song contest is about. And with a stronger than expected fan base, club and even an association here in Turkey, I will use this opportunity to look back at the fantastic entries Turkey has sent over the years. But first, here is a brief history of this highly-anticipated song contest.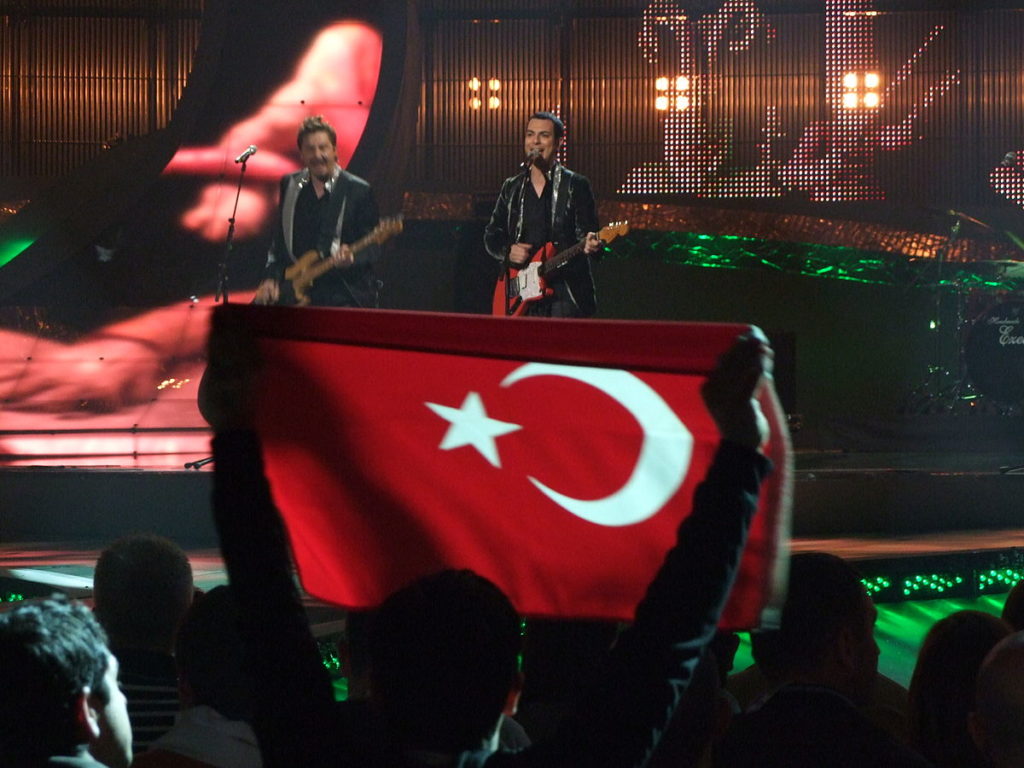 What is Eurovision?
Eurovision Song Contest is an annual international song competition that first started in 1956, shortly after WWII. The Eurovision Broadcast Company (EBC) aimed to use this contest to re-unite a then war-torn Europe into a strong continent again. The idea originally came from an Italian song contest, and initially, served as a chance to test out television.
Countries in Europe and Central Asia send in song entries, sending forward an artist that was chosen to represent country. Selected artists are then given a spot in one of two semi-finals, to compete and gain a place in the grand final. 10 acts are selected from each semi-final – based on performance, vocals, creativity, uniqueness, and likability – and thus, proceed to the grand final. In the grand final, these countries, along with the "Big Five" – The United Kingdom, France, Germany, Spain and Italy – and the country that is hosting the competition that year, compete for the first place.
On the day of the grand final, the points are awarded by jurors from competing countries, and through public voting. The country with the highest number of points wins the competition and hosts the song contest the following year. The country that has won the most amount of times is Ireland, winning the contest 7 times. Luxembourg, France and United Kingdom have won 5 times, followed by Sweden and the Netherlands, whom have won 4 times.
Turkey in Eurovision
Turkey's last performance took place in 2012, winning 7th place out of 42 acts. This year, various Turkish news sites announced that Turkey will not be attending this year. However, international and national fans can't help but wonder when Turkey will make its huge comeback. Even when watching Eurovision performances on YouTube, you still come across fresh comments wishing Turkey will make an appearance and put a wonderful show like they usually do. And to commemorate the fantastic entries, here are 5 of my favorite Eurovision entries from Turkey.
5) Athena – For Real (2004) in Istanbul, Turkey – Won 4th place of 36 entries
Following Sertab Erener's victory in 2003, the 2004 Eurovision contest was held in Istanbul's very own Abdi Ipekçi Arena. Athena, a band led by judges of today's Ӧ Ses Türkiye Gökhan and Hakan Özoğuz, represented Turkey. Athena gave audiences a great and fun experience and song, which combines punk, Turkish drums and beats, and trumpets, perfectly. Also, Gökhan is probably the only person in Turkey that can pull off the ska punk outfit, with the green peace signs stitched on the inside of his jacket and all, in present day, and still have people dig it.
4) Can Bonomo – Love Me Back (2012) in Baku, Azerbaijan – Won 7th place of 42 entries
This song easily made it on the list because of various things. From backup dancers who break-dance and creatively transform their ordinary bat-like capes into a boat to Can's energetic performance, what's there not to love? Sadly, this was Turkey's last performance at Eurovision and we are eagerly hoping and waiting for an announcement in 2018.
3) maNga – We Could Be the Same (2010) in Oslo, Norway – Won 2nd place of 39 entries
maNga, previously led by one of Turkey's famous singers, Ferman Akgül, was already doing great, winning various awards including Best European Act at the MTV Awards. The band members bring back Linkin Park 'meteora-esque' vibes, all with a robot/power ranger girl with a saw.
2) Sertab Erener – Everyway that I Can (2003) in Riga, Latvia – Won 1st place of 26 entries
https://www.youtube.com/watch?v=axJt-Rw2Urg
This song is truly a fan favorite, even today. This song is thought to have easily changed the courses and set the bar high for Eurovision entries. The song incorporates Turkish beats, strong vocals and memorable and catchy lyrics, and belly dancers, securing a number one spot, in the hearts of the judges and fans.
1) Mor ve Ötesi – Deli (2008) in Belgrade, Serbia – Won 7th place of 43 entries
My personal favorite, hands down, and still one of Eurovision's favorite entries. For a second, you even forget that they are live. The lead singer, Harun Tekin, has such a wonderful and crisp voice, and the band members do awesome tricks because they are CLEARLY owning the stage. Their performance is lively, energetic and incredible! Surely made fans and the audience deli. (heh)
And there you have it, my favorite Turkish entries to Eurovision. There are also a few honorable mentions which will be posted below. Hopefully, we will get some good news that Turkey will compete soon, giving the wonderful nation a huge comeback that was looked forward to, with a brilliant entry. Turks do have brilliant taste in music and food. Here's to Turkey 2018!
Featured Image Source: Mor ve Ötesi, Turkey, ESC 2008 final – by Daniel Aragay – CC BY 2.0